Beautycon Box is a quarterly beauty subscription box that sends you $100+ in amazing beauty and lifestyle products in every beauty box. With today's Beautycon Box review, we're unboxing the Winter 2016 Beautycon Box. Every season, Beautycon works with a different curator to select the best products to include in your box. The Winter 2016 Box Curator is Dulce Candy.
Beautycon Box includes a product card that lists each of the beauty products in that month's box. Here's a first look at our Winter 2016 Beautycon Box.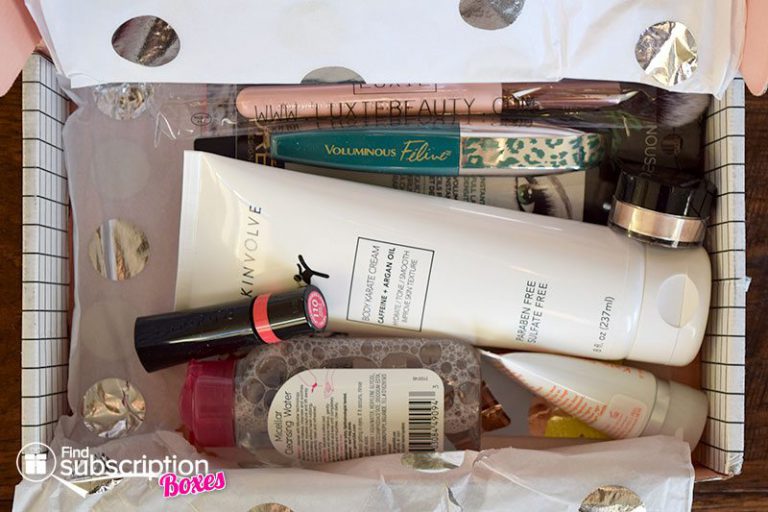 Inside the Winter 2016 Beautycon Box
There were 11 beauty and lifestyle treats in our Winter Beautycon Box.
Body Karate Cream by Skinvolve, Retail: $40
A daily lotion with a kick, this body cream is blended with pure caffeine and argan oil.
Botanic Fiber Facial Mask by BioBelle, Retail: $5
This cutting edge facial mask is made with TENCEL, a biodegradable fiber made from wood sourced from sustainable forests.
Voluminous Mascara Primer by L'oreal Paris, Retail: $9
Add length and volume to every lash with this lightweight eyelash primer.
Voluminous Feline Mascara by L'oreal Paris, Retail: $8
Get instant volume and fullness with this ultra-glossy black mascara to achieve the new cat-eye look.
ExfoliKate by Kate Somerville, Retail: $24
Reveal a glowing, fresh complexion with this exfoliant that deep cleans pores while balancing and renewing your skin.
Rimmel London – The Only 1 Surprise Lipcolor, Retail: $7
Get long-lasting color, comfort and moisture with this all-in-one lipstick.
Micellar Water by Garnier, Retail: $5
Remove makeup and cleanse your skin with this all-in-1, multi purpose cleanser.
Chocolate Soleil Bronzer by Too Faced, Retail: $7.99
Get a sun-kissed glow using this all-over bronzer made with real antioxidant-rich cocoa powder.
Illuminati Highlighter by Artist Couture, Retail: $14
Use this all-nature shimmering powder to add a slight silver and champagne-hued glow.
Lippie Stick in Beautycon Pink by ColourPop, Retail: $5
A limited edition and exclusive color, this lippie is packed with moisture and adds color with a glossy finish.
Rose Gold Tapered Highlight Brush 522 by Luxie Beauty, Retail: $24
This vegan and cruelty-free highlighting brush has soft, antibacterial bristles and is perfect as an everyday highlight brush.
BONUS: $50 ALI & JAY Gift Card to jump start your wardrobe.
Winter 2016 Beautycon Box Review Wrap-Up
We were so excited to receive our Winter 2016 Beautycon Box and couldn't wait to see what Dulce Candy selected for this season's beauty box. It was amazing to see how many items were in the box and loved the variety. Everything from beauty tools to makeup to skincare products were in the box. We can't believe how much value Beautycon packs into one beauty box for just $29!
When it comes to make-up, mascara is one of our staples. The L'Oreal Paris Mascara Primer does a great job of defining and adding volume to your lashes. When paired with the Voluminous Feline Mascara, you can get even more volume and length for dramatic eyes.
During the Winter, your skin can look a little pale, which makes the Too Faced Bronzer and the Artist Couture Glow Powder great additions. Use the bronzer to add color to your skin. It's made with real cocoa powder! Then, add some glow to your face, lips, eyes or body with the Artist Couture Glow Powder. The Luxie Beauty highlight brush is the perfect brush for applying the glow powder, or any highlighter, on your cheekbones, brow and nose.
For your lips, Beautycon included two lip colors. The Rimmel Lipstick in Pink A Punch is a bold and vibrant pink color that's perfect for making a statement. It goes on smoothly, delivering both color and moisture so your lips never look or feel dry. For a more neutral look, use the exclusive Beautycon shade of the ColourPop Lippie Stix. It has a warm, nude hue and glossy finish.
Next, we have some amazing products for your skin. At the end of the day, you can wipe away makeup, dirt and oil with the cleansing water. We especially love that it leaves your skin feeling clean, without any residue.
For some extra TLC, you can use the face mask or the exfoliating treatment. The ExfoliKate treatment smells wonderful (almost like a cinnamon chai) and tingles when you first apply it. Our skin felt so soft and smooth after just one use. The decadent Biobelle Face Mask is another great way to nourish your skin. It has chocolate and acai, as well as Biobelle's serum, to help restore moisture. The chocolate also helps hydrate and soften your skin while the acai berry minimizes the appearance of fine lines.
Finally, the Body Karate Cream from Skinvolve is the perfect way to improve the skin tone for your whole body. This paraben-free and sulfate-free body cream uses caffeine to boost your skin's circulation. It also uses Argan Oil to combat dry skin. It will leave your skin feeling smooth, rejuvenated and smelling great.
What was your favorite Winter 2016 Beautycon Box beauty treat?
Beautycon Box Free Box Offer
For a limited time, new subscribers who sign-up for an Annual Box subscription will receive a bonus box FREE! That's over $500 in beauty products for just $99!