Join Roxy and Jett as they scout about the galaxy guiding your child through delightful learning adventures aimed at discovering the wonders of the universe!
Space Scouts is a monthly subscription program designed to engage your child in fun learning activities, hands-on discovery, and exciting challenges. Each month your child will explore a new place in Space — stepping into the worlds of space exploration, space science, and astronomy.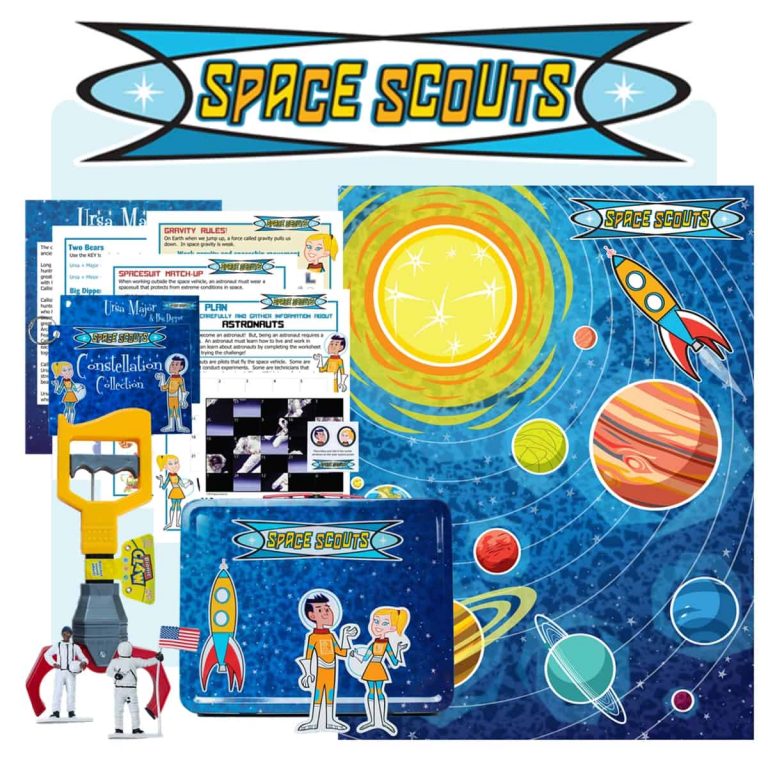 Explore and collect! With Space Scouts, your child will curate several unique collections. Your child will develop skills through organizing and classifying, while learning to be responsible for their collections. Space Scouts offers a stellar collection of solar system magnets, poster stickers, constellation cards, and souvenir toys to keep your child shooting for the stars!
Month 1 your child will receive –
• Introduction to the program
• Lunchbox — to use as a play-space for the magnet collection
• Solar System Poster — to use as a map and base for the sticker collection
• Constellation Card Cover & Ring – to hold the constellation card collection
• Sticker Scramble
• Solar System Activity Sheet
• Constellation Activity Sheet
• Souvenir Toy
Months 2-24 your child will receive –
• Scout Plan
• Magnet for the Lunchbox
• Sticker for the Poster
• Constellation Card for the Ringed Collection
• Sticker Scramble
• Activity Sheet
• Constellation Activity Sheet
• Souvenir Toy
Space Scouts is designed for children ages 6-12. Choose the one that's right for your child — Space Scouts Junior offers activity sheets suitable for ages 6-7, while Space Scouts offers more challenging activity sheets for ages 8-12. The collections in each are identical.
You'll love to see the excitement as your child anticipates the arrival, explores the activities, and curates the collections! Space Scouts is a stellar vehicle for launching your child's interest in science and technology!