IPSY is a popular beauty subscription box that delivers five products each month. Once you subscribe, your membership will automatically renew every month. If you decide that you no longer want to receive your monthly box, you can cancel anytime without any hidden fees. Here's how.
How to Cancel IPSY Box Subscription
All it takes is a few steps to cancel your IPSY box:
Log into your account on IPSY.com.
Choose Edit Account Settings.
Click Membership.
Choose Manage Membership.
There should be an option to select "Help me choose my membership."
Once you select "Help me choose my membership," a pop-up should appear that will ask if you want to skip a month instead of canceling. If you'd like to go that route, you can choose to skip the next month.
If you want to go ahead with the cancellation, choose Continue cancellation.
Once you choose to cancel, IPSY will ask you to choose two reasons why you are cancelling your subscription.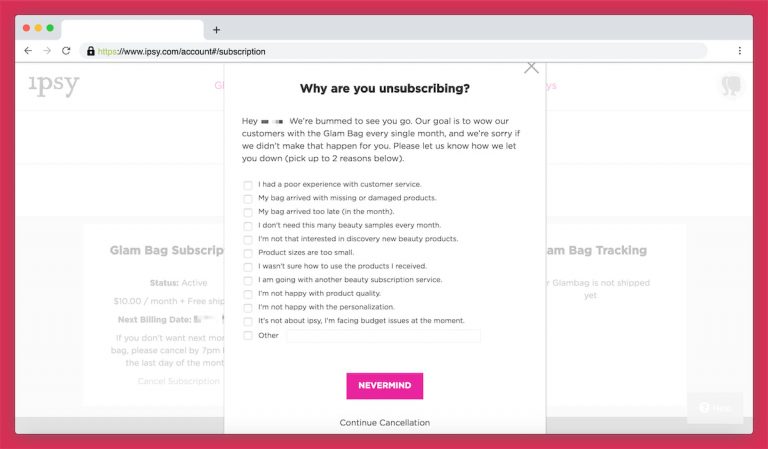 After you select your reasons, IPSY will send you an email with a link to confirm your cancellation.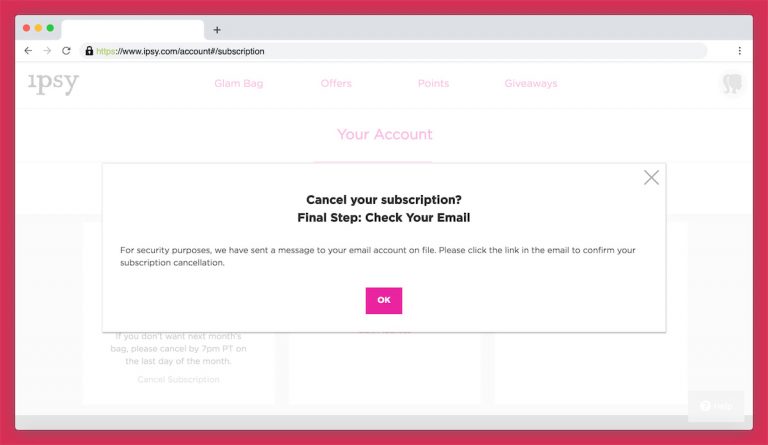 Before you click on this link, make sure that you are still logged into your IPSY account. If you are not logged in when you click the link, your subscription won't be canceled.
If you don't click on the link to cancel, your cancellation request will not be processed.
Trouble Canceling?
Some people have trouble canceling their subscriptions. They get to the point where the pop-up appears, and they can't seem to find any other options to continue with their cancellation request. The issue seems to be common with people using Chromebooks.
If you're having trouble completing the cancellation process, try using a different device. Most people have no issues canceling from their smartphones. Switching devices may do the trick and help you complete the cancellation process.
How to Avoid Being Charged for a New Bag
If you want to cancel before being charged for the next month's Glam Bag, you will need to make sure that you cancel at the right time.
According to IPSY, you must confirm your cancellation by 12pm PT on the final day of the month to avoid being charged for the next bag. If you miss this deadline, your subscription will not end until the next month.
What if You're an Annual Subscriber?
If you paid for an annual subscription and you decide that you want to cancel, you will still receive the rest of your IPSY bags for the year. However, your membership will not renew for another year.
How Do You Cancel Your ISP Waitlist Spot?
If you sign up to be on IPSY's waitlist and decide that you don't want to commit to a subscription, you can remove yourself from the list by contacting IPSY's customer service.
Final Thoughts
IPSY makes you jump through hoops to cancel your subscription, but they do have an online process that does work if you follow all of the steps properly. Just make sure that you complete the process by clicking the link in the cancellation email IPSY sends.