The Kiwi Crate free gift offer is back by popular demand. Kiwi Crate offers a family of subscription boxes for kids, ages 3-16+, that have fun activities and projects that inspire creativity. For a limited time, save 25% off your 1st crate + get a FREE gift with any new Kiwi Crate, Koala Crate, Doodle Crate or Tinker Crate subscription when you use Kiwi Crate promo code PLAYING at checkout.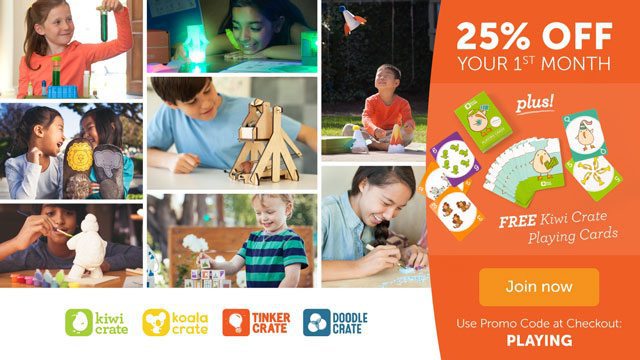 Choose the Kiwi Crate box that matches your child's age and get your 1st crate for just $14.95 + free shipping with code PLAYING – a 25% savings. You'll also get a special deck of Kiwi Crate Playing Cards as a free gift.
Save 25% off Your 1st Crate + get a FREE Gift with new Koala Crate, Kiwi Crate, Tinker Crate or Doodle Crate Subscriptions today! Use code PLAYING at checkout.
Kiwi Crate promo offer PLAYING available through December 31, 2015 or while supplies last.