We have the geek theme for the August 2016 Powered Geek Box! We also have a sneak peek into this month's geeky collectibles. Powered Geek Box delivers a  monthly subscription boxes of epic items for geeks, gamers, and nerds. The Powered Geek Box August 2016 geek theme is Villains!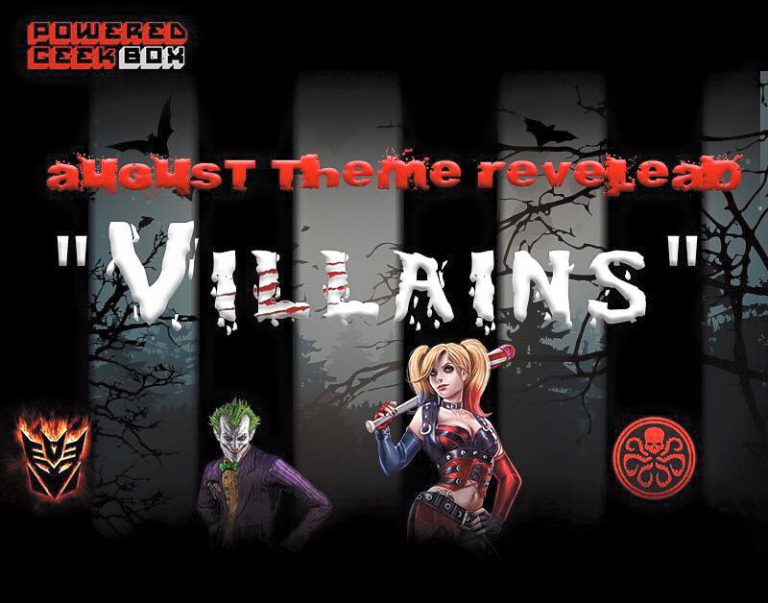 This month is all about the villains: The masterminds we love to hate. We know them as the ones who concoct diabolical plans to scare civilians and give heroes a real reason to try and be heroes. Whether it's for world domination or as an act of revenge, these bad guys love to be bad.
August 2016 Powered Geek Box Spoilers
Powered Geek Box has also shared box spoilers for the August box. This month's geek box will have geek goodies from Suicide Squad! While not confirmed, it looks like there may also be collectibles for Joker, Voldermort (Harry Potter) and Star Wars.

Are you excited about the Villains-themed Powered Geek Box?
Hurry, August 2016 Powered Geek Boxes are only available through August 17, 2016. Reserve your box today!
August 2016 Powered Geek Box Coupon
Through August 17, use Powered Geek Box coupon code SUMMER3 to save $3 off your first Premium Powered Geek Box!