Citrus Lane delivers a monthly subscription box for babies and toddlers – from newborn up to 5 years – right to your door. Each Citrus Lane box features mom-approved books, toys, and other products to match your child's age and stage.
We have our first Citrus Lane July 2015 box spoilers! Here's a look at some of the products that could be in your July Citrus Lane subscription box.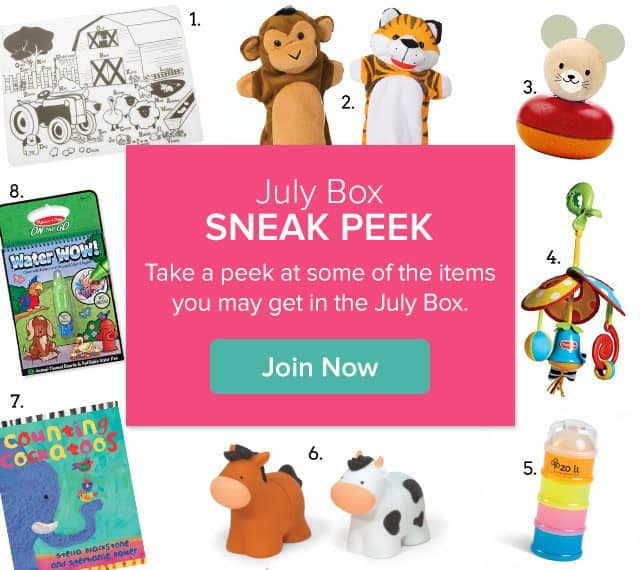 1. modern-twist Kids Mark-Mat Silicone Coloring Placemat: Farm Buddies
Modern-twist brings art to even the littlest table. Made from silky food-grade, hand silk-screened silicone, the mats won't crease or rip. The mats are ideal for travel and mealtime activities. The kid's placemats feature creative, playful designs that will amuse and inspire little tikes.
2. Melissa & Doug Zoo Friends Hand Puppets,  Ages 2+ years
Four simple glove puppets in an animal theme make it easy and so much fun to act out scenes, practice new vocabulary, and spend quality time playing together. Great for motor skills and self-confidence, too!
3. Wood Mouse Rattle
4. TinyLove Pack & Go Mini Mobile
Charming clip toy for on-the-go fun and engagement. Stimulates baby's senses and curiosity. Bell-shaped wind chime makes pleasant sounds in response to touch. Basic patterns & colors attract baby's attention.
5. Zoli On-the-Go Snack/Formula Dispenser
Easily feed your baby when you're out and about. Each container individually seals to ensure foods stay fresh. It's a breeze moving formula to a bottle with the easy-pour spout. No spills or mess! Just stack as many containers as you need, and tuck them in your diaper bag for a day of fun.
6. Melissa & Doug Pop Blocs Farm Animals Learning Toy, Ages 6+ months
Five adorable animals pop together, pull apart, and add up to a farmyard of fine motor fun! Ten linkable pieces include five heads and five tails to make a horse, cow, sheep, pig, and hen . . . or any mixed-up combination. The colorful pieces, compatible with all Pop Blocs play sets, connect with knob-and-socket closures that are easy enough for little hands but provide nice resistance work for growing motor skills and finger strength.
7. Counting Cockatoos by Stella Blackstone, Ages 1-4 years
Count to twelve with help from tumbling tigers, winking owls and more, while you search for the two cockatoos hidden on every page. This clever counting adventure makes the perfect gift when paired with Alligator Alphabet.
8. Melissa & Doug Water WOW! Animals – ON the GO Travel Activity, Ages 3+ years
This exciting paint-with-water coloring book includes four reusable pages and a refillable water pen. Simply use the pen to color in each scene–details and vibrant color appear with every stroke! Then let the page dry to erase the pictures and fill it in again and again.
Which July Citrus Lane box spoiler do you think your child would love the most?
Citrus Lane Free Gift + 30% Off Promo Code
For a limited time, save 30% off your first Citrus Lane Box and receive a FREE Pet Pals Activity Book when you use Citrus Lane promo code ARTIVITY at checkout. Your first Citrus Lane box costs $20.96 + free shipping after savings.