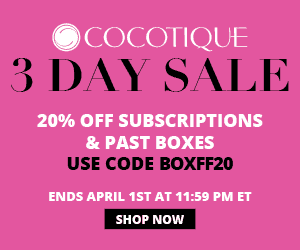 Stock up on Spring and Summer must-haves and save during the COCOTIQUE 3-Day Customer Appreciation Sale! Through April 1, 2016, save 20% off all new COCOTIQUE subscriptions and past COCOTIQUE boxes. Use COCOTIQUE coupon code BOXFF20 at checkout to get your discount.

If you've missed the Creme of Nature Takeover box, it's back in stock. One of the COCOTIQUES best selling boxes, you can save 20% off this box too!

Shop now and use code BOXFF20 at checkout to save 20% on all COCOTIQUE subscription past boxes

COCOTIQUE coupon code expires April 1, 2016 at 11:59 PM EST.