Escape Monthly has revealed the vacation destination and box spoilers for the July 2015 Escape Monthly subscription box. Each month, Escape Monthly delivers a monthly box of spa, food, and other luxury products from a featured vacation spot to help you relax and renew in your own home.
The July Escape Monthly destination is New Orleans!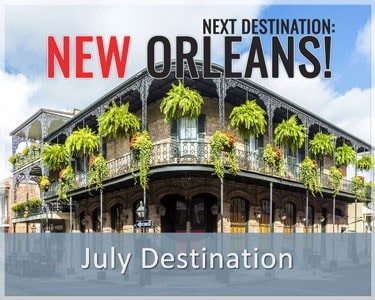 New Orleans is one of the world's most fascinating cities– And to anyone who's visited New Orleans, it's obvious how truly unique a melting pot of culture, food and music (particularly as the birthplace of jazz) it is, making it one of America's most culturally and historically rich destinations. This city is often referred to as the "most unique" in the United States. New Orleans calls, so let's Escape!
Escape Monthly July 2015 Box Spoilers
Escape Monthly has also shared 6 of the 10 items featured in the July Escape Monthly New Orleans box. Here's a peek at the Escape Monthly July 2015 box spoilers!
1. Andy Roo's Shrimp Spice
These are Andy Roo's specialties. Forget the grill, in south Louisiana, BBQ shrimp means shrimp bathed in a buttery, spicy sauce, and Andy Roo's has nailed it! This BBQ Shrimp Seasoning is all you need to create a gorgeous dish that's just begging for a hunk of warm French bread to sop up the sauce.
2. Bocage Pralines
There is nothing like a creamy, roasted pecan praline! Pralines (pronounced PRAH-leens in the south) are often referred to as pecan candy, but only in New Orleans.
3. N.O.L.A.S. Emulsified Sucrose Scrub in Blue Like Jazz Scents
hese luxurious scrubs are loaded with Vitamin E and other skin-saving antioxidants like rice bran oil, avocado oil and coconut oil to create a delightful exfoliate. The aromatic combination deeply penetrates the skin's surface, leaving your body feeling moisturized and silky. Dip your fingers in and get ready for rejuvenation!
4. Cafe du Monde Beignet Mix
Brought to Louisiana by the Acadians, beignets are fried fritters, sometimes filled with fruit. Square, not round and with no hole in the middle, beignets are most often covered with powdered sugar.
5. The Voodoo Doll
One of the most popularized and misunderstood tools associated with the art of voodoo is…the voodoo doll. The pin in the doll is actually used to symbolically concentrate energy on a certain area of the human body, mind or spirit – to heal, not hurt, the individual represented by the doll.
6. Eye Pillows
This sumptuous 4″ x 8.5″ silk eye pillow is filled with organic flax seed. Use at room temperature to meditate, heat for 30 seconds to relax before bed or freeze in a freezer bag for several hours and use relieve eye strain or headaches.
What do you think about the first Escape Monthly July New Orleans box spoilers?
Escape Monthly 20% Off Coupon
Visit New Orleans with July's Escape Monthly box. Save 20% off Escape Monthly subscriptions for life when you use Escape Monthly coupon code PARADISE at checkout. Your first Escape Monthly box is just $39.95 + FREE shipping with code!