Escape Monthly is a monthly subscription box for travellers and adventurers, delivering small-batch delicacies, artisan-crafted bath & body products, and unique local treasures from around the world every month. Join Escape Monthly today to receive November's Arizona Escape box and get a FREE Greek Escape Monthly Box PLUS save 20% off your Escape Monthly subscription for life when you subscribe using this link.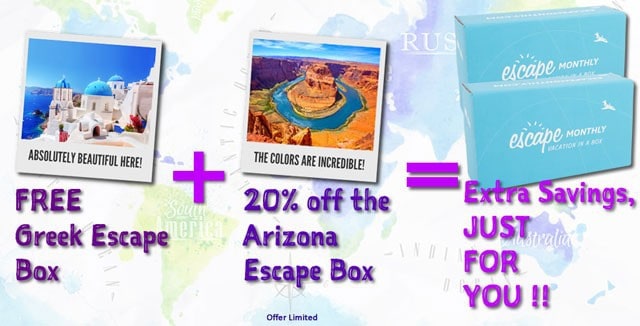 The November Arizona Escape Monthly box is packed with unique products from the Grand Canyon State including a handmade, matching necklace and bracelet, a unique Arizona chocolate bar and a Route 66 commemorative travel mut!
Save 20% off November's Arizona Escape + get your FREE Greek Escape Monthly Box today!