GlobeIn has announced the first theme for the GlobeIn June 2017 Artisan Box! Every month, GlobeIn Artisan Box subscription boxes deliver handcrafted items – like home decor, kitchen items, or accessories – made byglobal artisans from around the world. This year, GlobeIn started offering subscribers the choice between two new themes each month. The first June GlobeIn Artisan Box theme is REFRESH!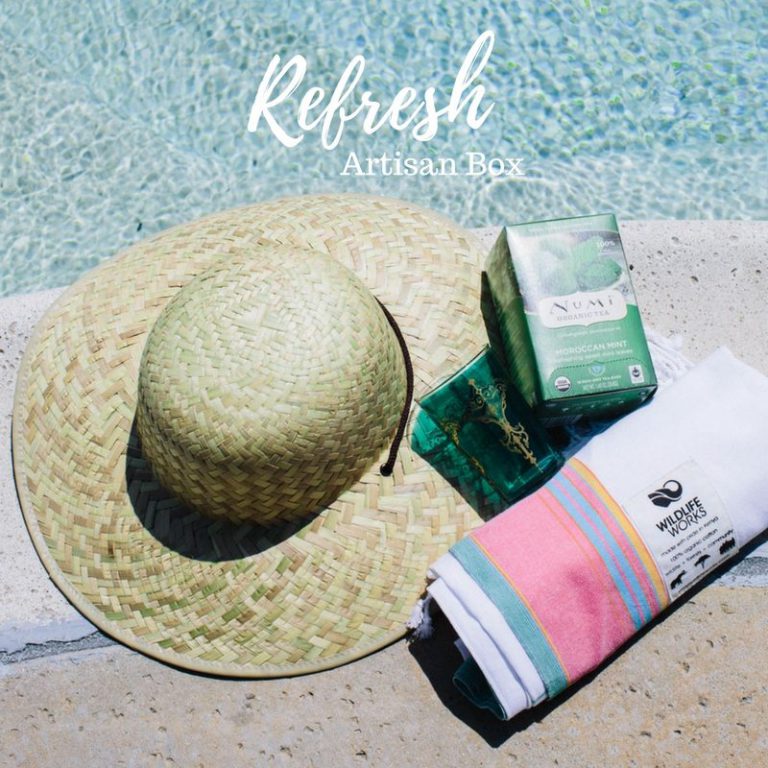 Picture yourself trudging across an endless desert plain. You're exhausted. You're parched. You're unbelievably bored. But then, in the distance, could it be? A glimmering circle of crisp blue…

The items in this collection are things that makes you say ahhhh, that's better. And they're no mirage! They're real and here to revive you. Your mint tea and glass, wide-brimmed hat, and poolside blanket come from Mexico, Kenya, and Morocco—places where people know how to thrive in the heat. Now they're sending their tricks your way. We invite you to turn the page, flip the pillow, and refresh!
GlobeIn has also announced the second June Artisan Box theme – Al Fresco!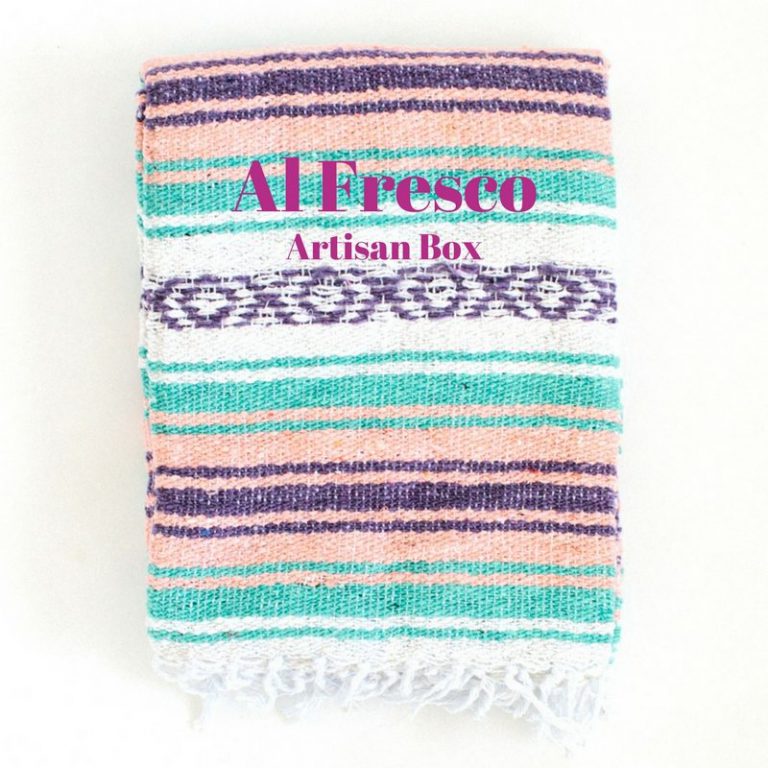 In the art of the good life, you're no amateur. Therefore, in the spirit of keeping you on the cutting edge of joie de vivre, we offer this upgrade to your open air accoutrement.

Because being outside is great, and eating outside even better, we've made sure your new blanket is extra roomy, your enamel plate durable and lightweight, your snack delicious and nutritious, and your utensil holder just plain helpful.

And because an outdoor affair is a sumptuous one at heart, the items in this rainbow-colored collection are anything but plain, chosen as much for function as for sheer delight. Enjoy!
June Artisan Box options are available for all active subscribers in their subscription settings June 1st-June 5th.
GlobeIn June 2017 Artisan Box Spoilers
We also have our first June GlobeIn Refresh Artisan Box Spoilers. First, there is a  Hand-Painted Tea Glass from Morocco – a retail $15 value!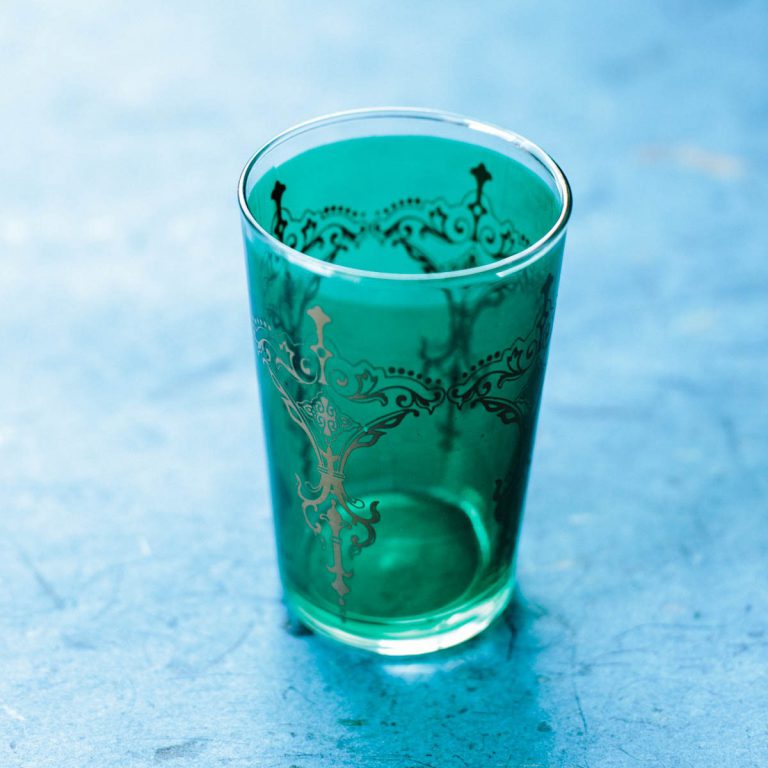 Material: Recycled Glass

Suggested use: Fill with tea, water, wine, coffee, or juice—or improvise a candle holder. Hand wash only.
Based on the description and image of this month's Refresh Artisan box, it look like the Refresh box may also have:
Numi Organic Moroccan Mint Tea
Wildlife Works Poolside Blanked
Palm Leaf Wide-Brimmed Hat
What else do you think could be in the June Refresh GlobeIn Artisan Box? Check back in a few days for more June GlobeIn Artisan Box spoilers!
We're still waiting for official box spoilers for the June GlobeIn Al Fresco Artisan Box, but we're guessing this hand-woven blanket is in the box.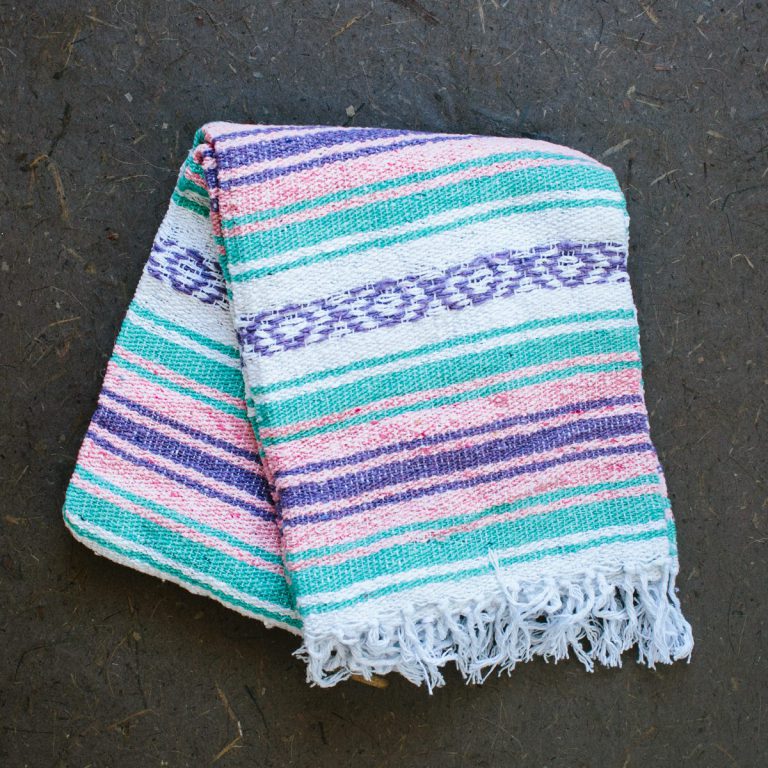 GlobeIn June 2017 Coupon
Save on new GlobeIn subscriptions! Use GlobeIn Artisan Box coupon code WELCOME to save $10 off 3 month of longer Artisan Box subscriptions.