Give your child a monthly Citrus Lane box, and they'll receive a box of toys, books, and other kid-friendly products, selected to match their age and stage every month. Citrus Lane has just announced box spoilers for the July 2014 Citrus Lane box.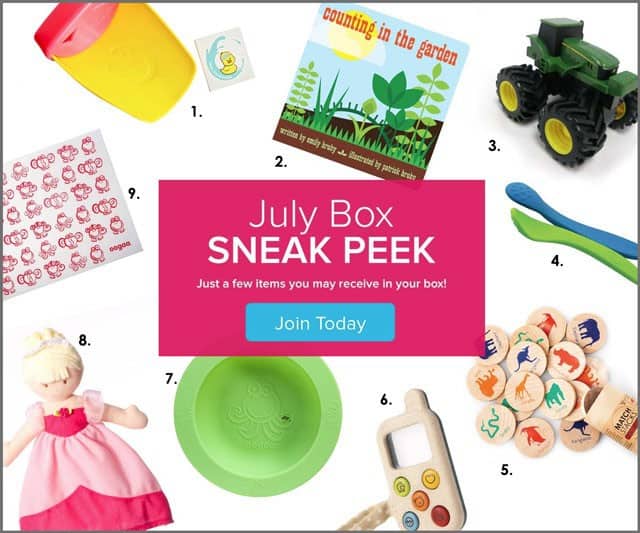 Here's a look at some of the box spoilers that could be in your July Citrus Lane box (clockwise starting top left):
Spoiler #1: Aqueduck The ORIGINAL Faucet Extender
As essential as soap, the ingenious Aqueduck makes cleanup with little ones easy by extending the spigot's stream. No more lifting fast-growing tots to reach the flowing faucet—the Aqueduck easily attaches to nearly any standard tap, making cleanliness a cinch at home or on the go.
Spoiler #2: Counting in the Garden Board Book by Patrick Hruby and Emily Hruby
 "Counting in the Garden" celebrates the joy of growing flowers, fruits, and vegetables in one's very own garden. This chunky board book is a visual feast from one to twelve.
Spoiler #3: ERTL John Deere Monster Treads Tractor
Produced by Ertl and officially licensed by John Deere, the John Deere Monster Treads Tractors are ready to tackle any obstacle that lies in their path!
Spoiler #4: oogaa Baby Weaning Spoons or oogaa Baby Mealtime Truck Spoon
 oogaa baby Mealtime Spoons are a perfect first spoon, starting at 4+ months. BPA free, soft, safe silicone, non-toxic and easy to clean. Dishwasher safe, microwave safe, electric sterilizer safe and freezer safe.
Spoiler #5: Tree Hopper Toys Match Stacks (Zoo Animals, Numbers, Backyard, or Transportation)
The Match Stacks tokens from Tree Hopper Toys are durable, portable, and super cute memory and matching game designed to be enjoyed by kids of all ages.
Spoiler #6: Plan Toys My First Phone or Plan Toys My First Camera
 Get a call with the PlanToys phone! A magnifier screen and a colorful beaded dial pad make a wonderful toy for interactive play and help to develop children's dexterity and cognitive skills.

Point, focus and click Young children will love "taking pictures" just like the grownups, when they have My First Camera from Plan Toys.
Spoiler #7: oogaa Baby Feeding Bowl
Award Winning colourful 9oz bowls. No more chips, breaks or loud noises when these bowls go whoops-a-daisy. BPA free, no harsh chemicals and easy to clean.
Spoiler #8: Fancy Prancy Finger Puppet Cinderella by North American Bear Co.
Fairytale friend in tricot with hidden leg pocket feature for finger puppet play. Favorite storybook character comes to life in an active playful way to make reading more fun.
Spoiler #9: oogaa Silicone Placemat
oogaa silicone placemats are non-slip, flexible, fun and easy-to-roll. BPA free, no harsh chemicals and easy to clean. Dishwasher safe, microwave safe, freezer safe, and electric sterilizer safe.
What do you think about the July Citrus Lane box spoilers? Which item do you hope is in your child's July Citrus Lane box?
Not a current Citrus Lane subscriber? Use Citrus Lane coupon code SAVEHALF to get your first Citrus Lane box for just $14.50 – a 50% savings!