Loot Crate has just announced the May 2015 Loot Crate theme and revealed the contents of the May Mega Crate. We also have a sneak peek into the Loot Crate May 2015 box with our first box spoilers.
The Loot Crate May 2015 theme is UNITE and will feature collectibles and geeky items that celebrate all the ways that teams Unite.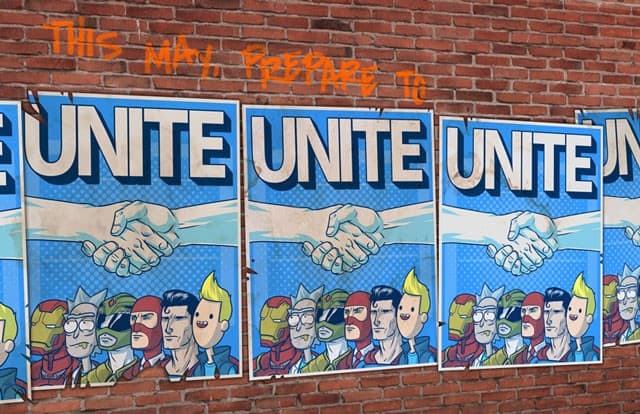 We're gathering all our friends, painting animal-shaped robots our favorite colors, and prepping for an EPIC team up! Why? Well two heads are better than one, there's strength in numbers, and we had like ten whole notebooks full of awesome, unused band names. Get set to travel across dimensions, battle evil, capture some flags, and just plain have fun!
Loot Crate May 2015 Box Spoilers
Loot Crate has also shared some exciting May 2015 Loot Crate box spoilers! The Loot Crate Unite crate will have an EXCLUSIVE licensed t-shirt, exclusives from Marvel's Avengers, Power Rangers, Team Fortress 2, Bravest Warriors, Rick and Morty and more!
Loot Crate May 2015 Mega Crate
Loot Crate randomly selects one Loot Crate subscribe to receive an amazing monthly Mega Crate prize. The May 2015 Loot Crate Mega Crate is valued at over $2,500!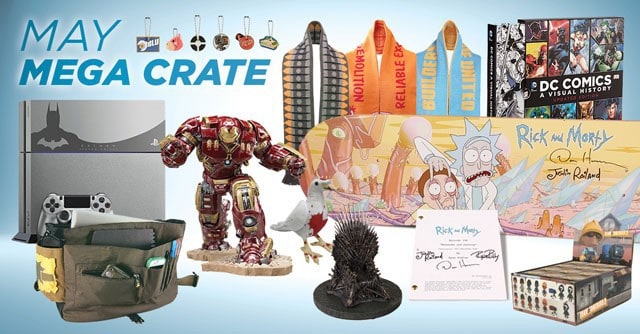 Here are the amazing prizes in the May Loot Crate Mega Crate:
TF2 Blind Box Portable Mercs 3″ Vinyl Figures (Set of 12)
DC Comics A Visual History (Updated Edition)
HBO's Game of Thrones 7″ Iron Throne Replica
Signed Rick and Morty Script
Signed Rick and Morty Skateboard
Playstation 4 Limited Edition Batman: Arkham Knight 500GB Bundle
Kotobuklya ArtFZ + Avengers Age of Ultron Hulkbuster Iron Man Statue
Team Fortress 2 Buck Banner Backpack
Team Fortress 2 Archimedes Plush
Team Fortress 2 Red Team Scarf & Blue Team Scarf
Team Fortress 2 Buck Banner Backpack
Team Fortress 2 Vinyl Keycaps- Team Fortress 2 Logo
Loot Crate May 2015 Coupon Code
Want the May Unite Loot Crate box? Subscribe by May 19th, 2015 to reserve your Unite Loot Crate geek and gamer subscription box! Save $3 off your first Loot Crate box when you use coupon code NEWS3 or use code FINDBOXES to save 10% off any Loot Crate subscription.
Looter News: May 2015 Theme Reveal

Are you excited about the May 2015 Loot Crate theme and box spoilers? Which is your favorite Fantasy franchise?