Luxor Box, a luxury subscription box, has revealed their first March 2016 Luxor Box spoiler! They've also shared a few hints about the Luxor Box March 2016 box.
The Luxor Box March 2016 box will include a WeWood "Date" Watch – a $125 value! Your wood watch will be in either Beige, Chocolate, Teak or Brown/Army.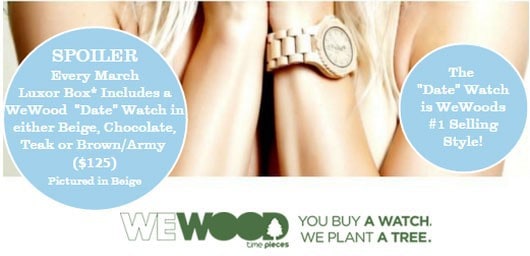 Feather-light, smooth and made from 100% natural wood, WeWOOD is the eco-chic way to tell time. Born in Florence Italy, the city of art, beauty and crativity, WeWOOD consolidates the Italian ability to architect unique items and the necessity to care for the environment. WeWOOD teams up with American Forest to plant trees all around the U.S. WeWOOD in partnership with American Forests & Trees for The Future has planted more than 450,
Are you ready for the March 2016 Luxor Box hint? The March Luxor Box will feature more than one "home" item. The retail value of March's Luxor Box is over $350!
The WeWOOD Date watch has a classy and stylish design and is a great time piece. What do you think about the first March 2016 Luxor Box spoiler?
Join Luxor Box today to reserve your Luxor Box.
The $125 WeWOOD Watch is NOT included in the Luxor Box "Petite." OVER $350 retail value does NOT include the Luxor Box "Petite" Box.