The Powered Geek Box Black Friday Sale is now live! Subscribe to Powered Geek Box today and save $7 off your 1st Premium geek box! Use Powered Geek Box coupon code BLACKFRIDAY at checkout to claim your discount.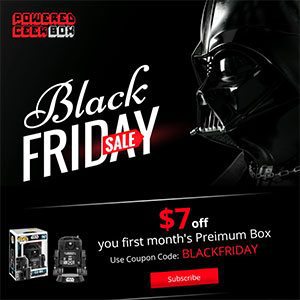 With a Powered Geek Box Premium subscription, you'll receive 5-8 Premium geek items delivered to your door each month. Your 1st box is only $22.95 + shipping after savings.
Check out the December 2016 Powered Geek Box spoilers to get a sneak peek into next month's geek box.
Shop the Powered Geek Box Black Friday sale today to save on your monthly subscription box for geeks. Subscribe today and save $7 with code BLACKFRIDAY.