If you're a geek, gamer, and love getting epic loot, now's a great time to subscribe to Loot Crate. New Loot Crate subscribers can save $3 off any Loot Crate subscription when you use Loot Crate coupon code SAVE3 at checkout.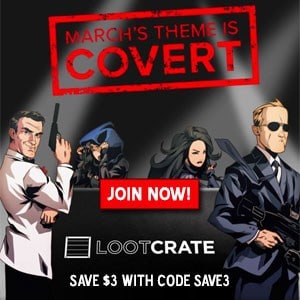 Loot Crate Bonus Gift
For a limited time, subscribe to a 12 month Loot Crate subscription and get a Loot Crate t-shirt as a FREE bonus gift – a $15 value! No code is needed – it's included automatically with every Loot Crate 12 month subscription!
Want more Loot Crate savings? Use our exclusive Loot Crate coupon code FINDBOXES to save 10% off any Loot Crate subscription – that's a $21.54 savings on 12 month subscriptions PLUS your FREE t-shirt!