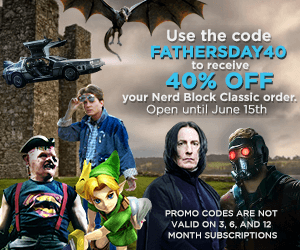 Have a nerdy Dad? Gift him a monthly mystery nerd box this Father's Day with Nerd Block. For a limited time, save 40% off of your first month of new Nerd Block Classic subscriptions when you sign-up for monthly subscriptions.
In addition to the 40% discount off your first Nerd Block Classic, all Nerd Blocks will also have a FREE $10 credit to ShirtPunch.com. ShirtPunch is the provider of Nerd Block's exclusive nerd t-shirts.
Check out our June 2016 Nerd Block Classic box spoilers for a sneak peek into this month's nerd collectibles.
Don't miss your chance to save on your first Nerd Block Classic. Join Nerd Block Classic today to save 40% off your first monthly nerd box!
Nerd Block Classic 40% discount expires June 15 2016.