Scent Trunk is a niche fragrance subscription box for men and women. Shop the Scent Trunk Labor Day sale and save. For a limited time, through September 8, 2015, new Scent Trunk subscribers can save 40% off your 1st Scent Trunk box when you use Scent Trunk promo code longweekend at checkout.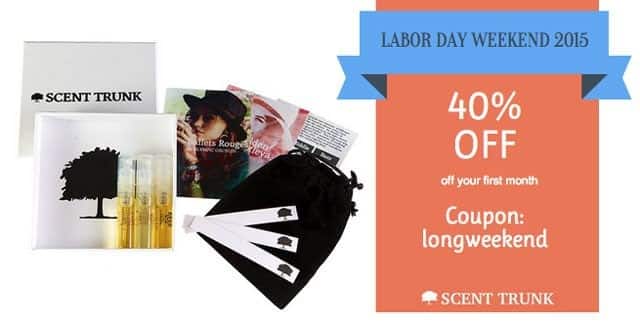 Every month, Scent Trunk subscribers receive a customized selection of 3 niche cologne or perfumes, select to match their scent preferences. Subscribe to Scent Trunk today and
your first Scent Trunk box is just $10.80 + free shipping with code longweekend – a $7.20 savings.
Read our latest Scent Trunk reviews to learn more about the Scent Trunk subscription experience.
Save 50% Off Your 1st Scent Trunk Box with code longweekend today!
Scent Trunk coupon code expires 11:59PM EST, September 8, 2015.