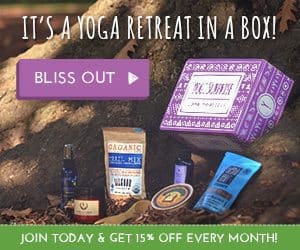 Get a yoga retreat in a box every month with Yogi Surprise! Join Yogi Surprise today and save 15% off your Yogi Surprise subscription for life when you click this link and use Yogi Surprise coupon code YOGILOVE.

Choose from a Yoga Lifestyle Subscription, which sends 6-8 lifestyle items, or the Yoga Jewelry Subscription, which sends jewelry and a snack.

Don't miss this lifetime discount! Click here to join Yogi Surprise and get a 15% off savings for life. Use code YOGILOVE at checkout.