Stickii Club is a monthly subscription that sends out cute stickers each month. Each box contains 5-6 sticker sheets, 1 – 2 stationary items, a bag of individual stickers, and a Stickii storage folder. Shipping is $1 to U.S., 1.75 to Canada, and $2.50 to anywhere else.
There are three different Stickii Clubs: cute, retro, and pop. Each style is themed differently each month! Today I will be reviewing April's Cute Pack.
My Stickii Club subscription arrived in an adorable envelope, covered in planets and shooting stars. It also had gorgeous stamps, which feels fitting for a sticker box!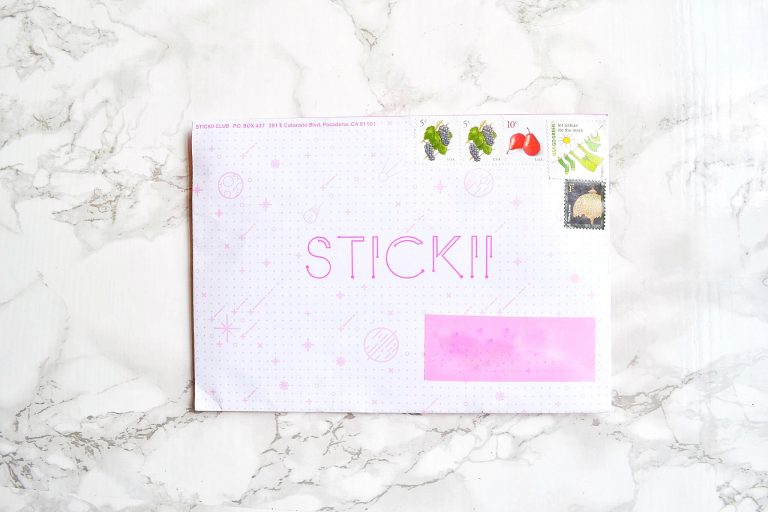 All of April's Cute Pack arrived in this plastic organizer sleeve. This is perfect storage for somebody who collects stickers, or scrapbooking supplies.
There are several holes punched into this sleeve, so that it can fit a range of binders.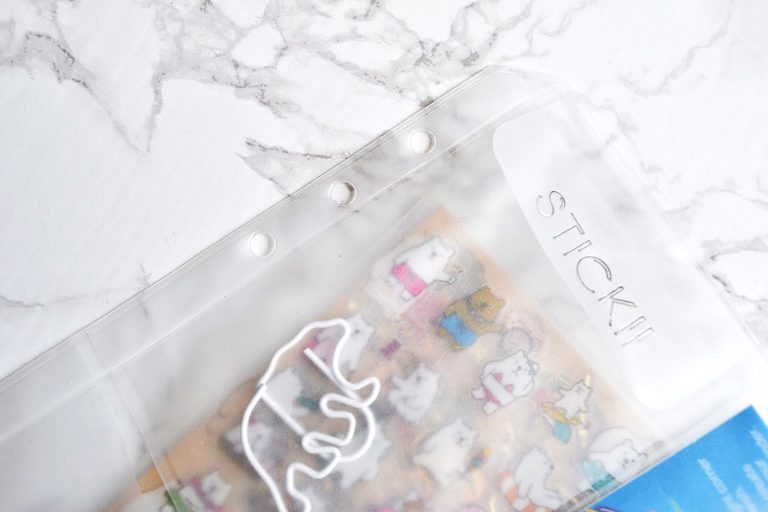 April's Cute Pack theme is "Bear Beach Picnic." I received these little theme stickers, which are meant for labeling your organizer.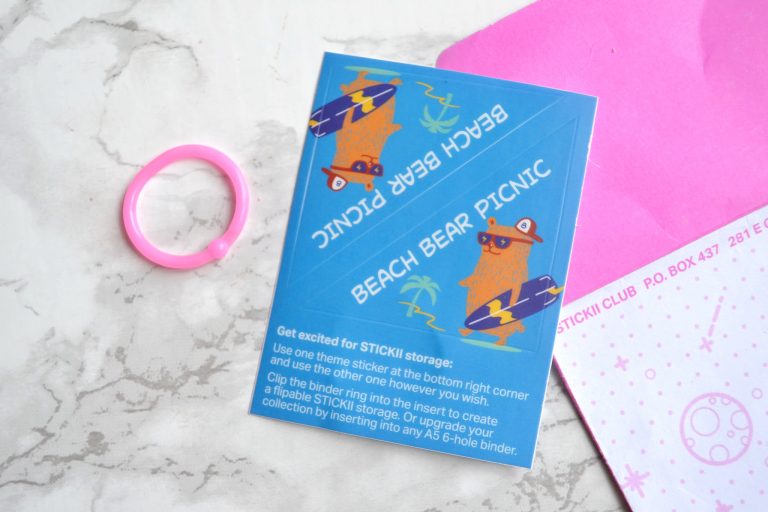 I also received this cute polar bear shaped paper clip. I didn't even know that shaped paper clips existed; now my world is rocked!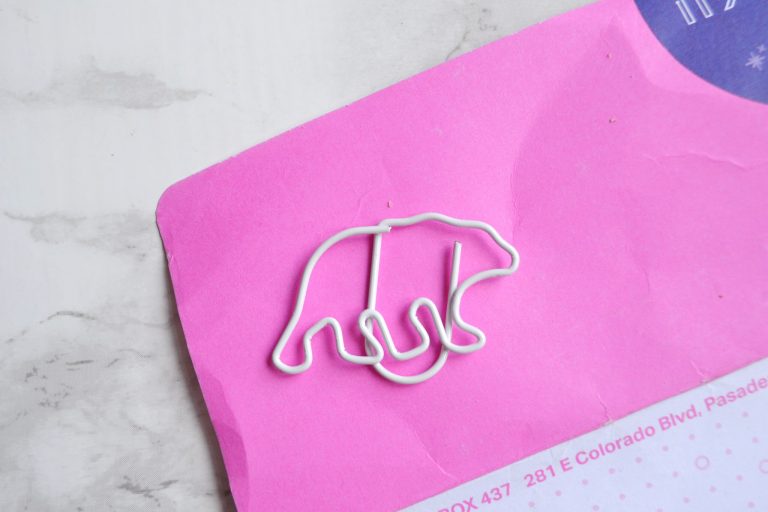 Okay, on to the stickers! Because April's Cute Pack theme was "Bear Beach Picnic", I received a mix of bears and beachy stickers! There were five full-sized sticker sheets and two smaller sheets, as well as a bag of individual stickers. I can't believe there were so many things in this little envelope!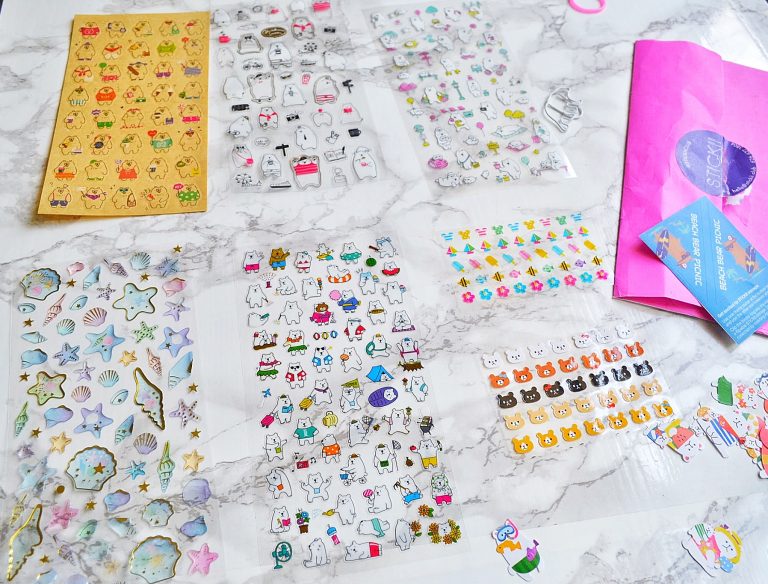 First, let's take a look at the full sized sticker sheets.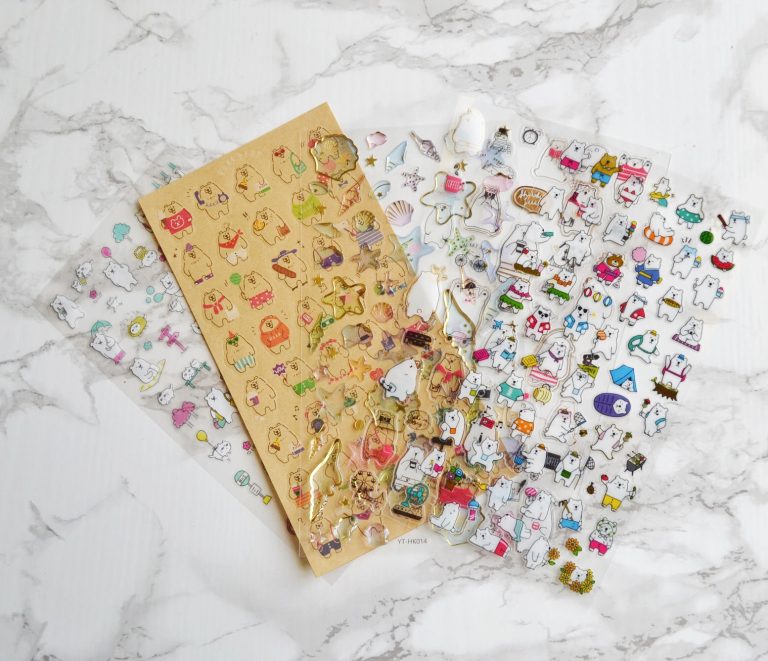 This brown sticker sheet really stood out to me, because the rest of the sheets are clear. The brown sheet is covered with bears, each holding various human items. My favorites are the bear holding a baguette, and the bear with a selfie stick.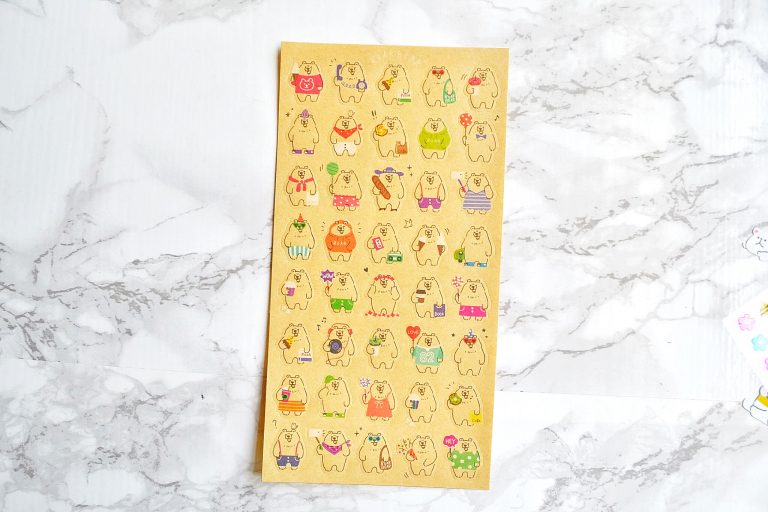 This ocean sticker sheet also stood out to me, because it was covered in bubble stickers. I love their raised texture, and that you can see right through them! The sheet has starfish, clam shells, oyster shells, and conch shells. I think these are absolutely beautiful, and I really like the ones outlined in gold.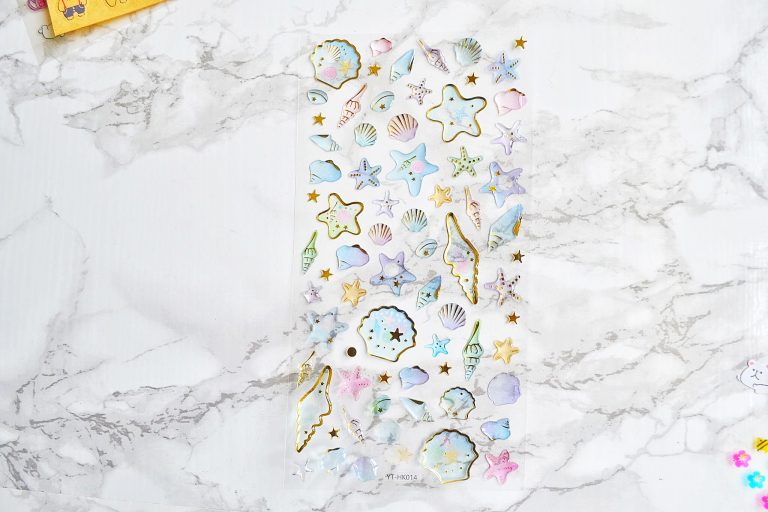 The third sheet I received is covered in bear and various park stickers. For example, some of the bear stickers include a bear having a picnic, and a bear riding a bike. The park stickers include signage, lamp posts, and trees. This has a very spring-like feel, which is fitting because this was April's Cute Pack.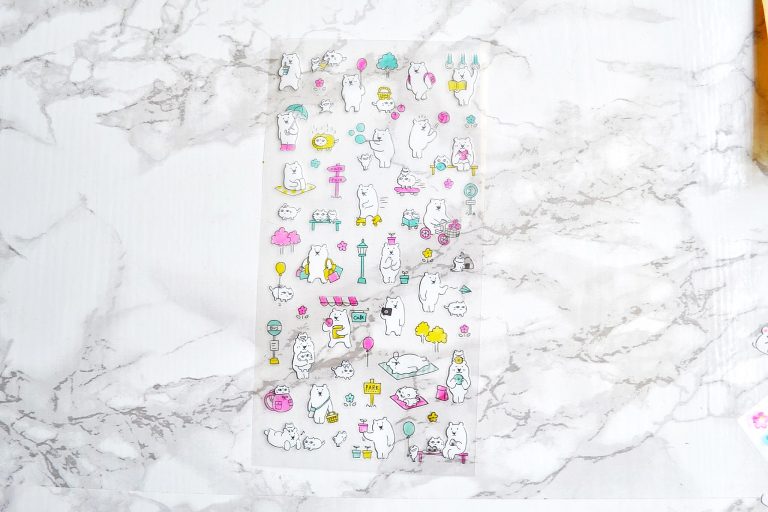 The fourth sheet really ties together the Bear Beach Picnic theme. Some of the bears are beachy – for example, wearing one is doing a hula dance, and another is tubing. Others are picnicky – one bear is eating watermelon, and another is manning a grill. My favorite is definitely the bear's head popping through a pile of flowers!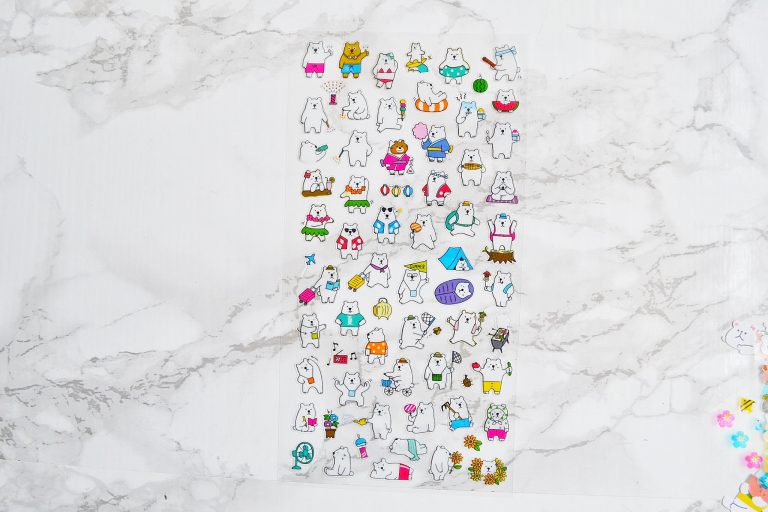 The final full sized sticker sheets has a black and hot pink color scheme. I'm not quite sure what the theme is (besides bears); some of the various activities include skateboarding, reading,drinking coffee, and stretching. There are also camera, bike, and ferris wheel stickers. If I had to guess, perhaps this is a "Bear In the City" themed sheet?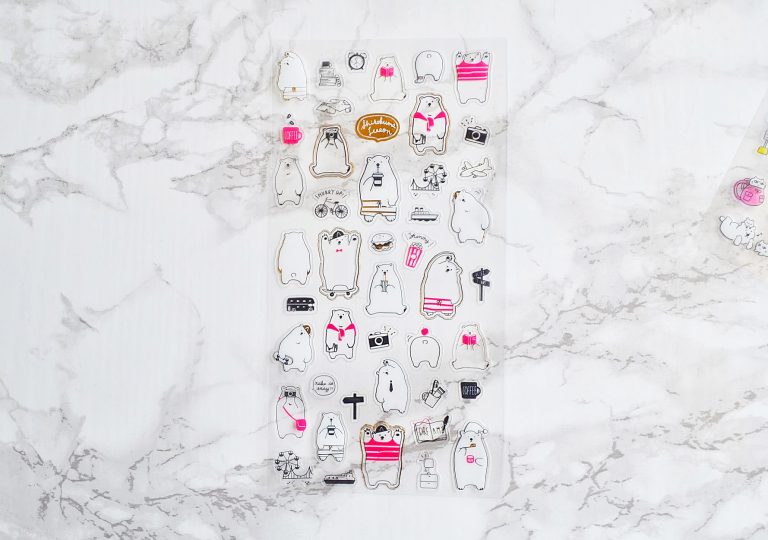 I also received these two smaller stickers sheets: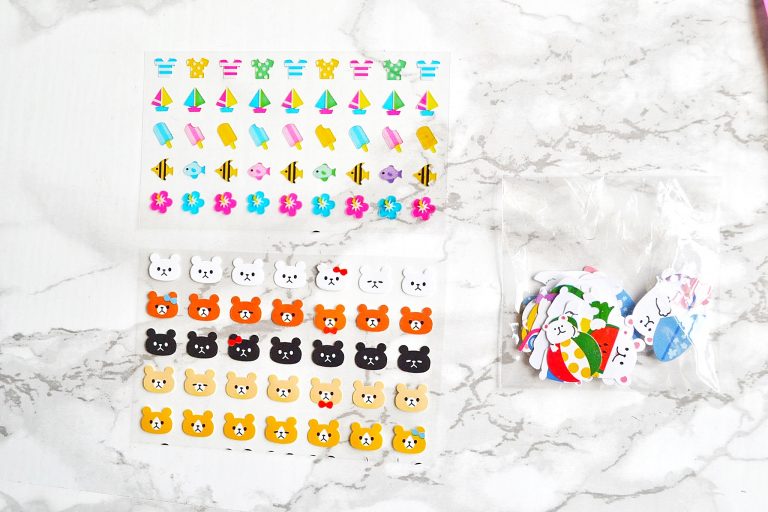 And last of all, I received a bag full of individual stickers! These are my favorite stickers in the entire bag, and I love giving them to my students as rewards.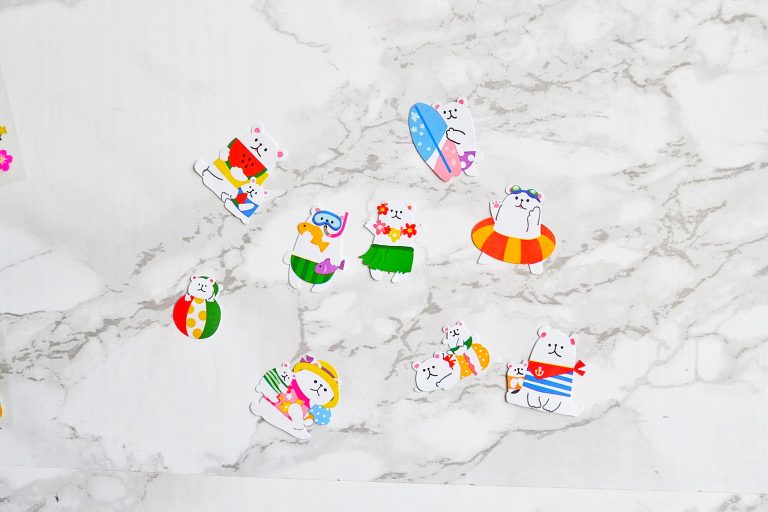 Wow, there were so many stickers in this box! The April Cute Pack felt well curated, and the each of the sticker sheets complemented each other. I think this is the perfect box for somebody who enjoys scrapbooking or journaling. You get so many high quality stickers, for only $10!