GlobeIn Artisan Box delivers monthly subscription boxes filled with a wonderful assortment of highly curated, artisan-made items from all over the world based on the theme you choose. GlobeIn's mission is to "deliver joy by empowering and connecting remarkable, remote artisans to mindful customers." GlobeIn offers several different subscription plans, gift options, and shopping on their website to benefit social good. With today's GlobeIn Artisan Box review, I'm unboxing our April 2017 GlobeIn Sustain Artisan Box.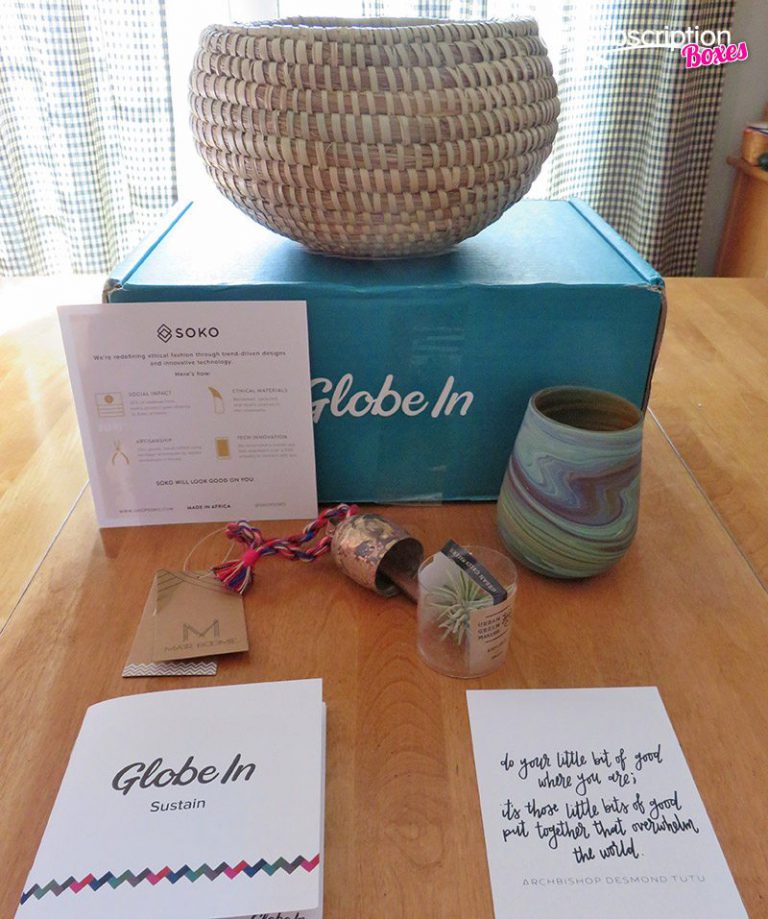 GlobeIn's manifesto is spelled out on their website. Each GlobeIn subscription box contains a pamphlet describing in detail each item, its provenance, how it benefits the artisans, and suggested uses.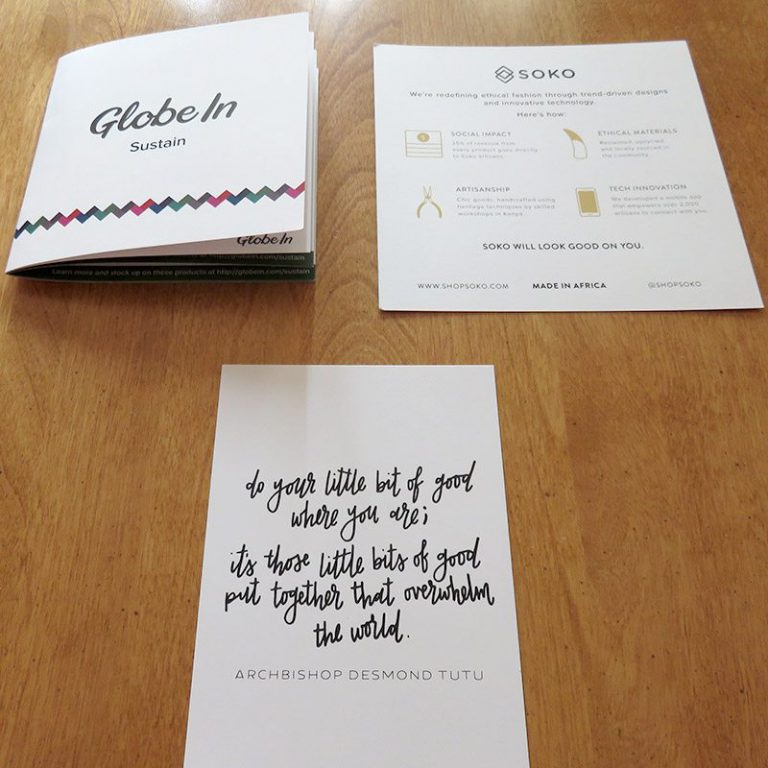 Inside the April 2017 GlobeIn Sustain Artisan Box
There are several themes available this month. The April 2017 GlobeIn Sustain Artisan Box focuses on the global effort and the upcycling of some items or using items which come from renewable sources, everything impacts and goes through transformation. We're given a quote from Archbishop Desmond Tutu to reflect on as we enjoy the contents herein. GlobeIn is also featuring products from SOKO:  a brand known for their use of innovative technology to empower artisans while making a difference with social impact through providing more revenue to the artisans and still using ethical materials in creating handcrafted items.
We received an Air Plant from Japan's Urban Green Maker. Founded after Takuma Nitta lost his home during the 2011 tsunami, he wanted to enrich other's lives through green by helping those in disaster-affected areas plant trees to help rebuild their lives: one tree at a time. The sale of plants, in partnership with environmental organizations, funds tools and education to those in need. My son will enjoy keeping the low-maintenance plant on his desk.
This month's basket is the Kaisa Basket Bowl from Dhaka Handicrafts in Bangladesh. Kaisa is a wild grass that grows along the riverbanks and is a renewable resource. Dhaka is a fair trade organization which helps to improve the lives of the artisans while teaching them finances to encourage self-reliance. It's perfect for holding knitting or even a plant.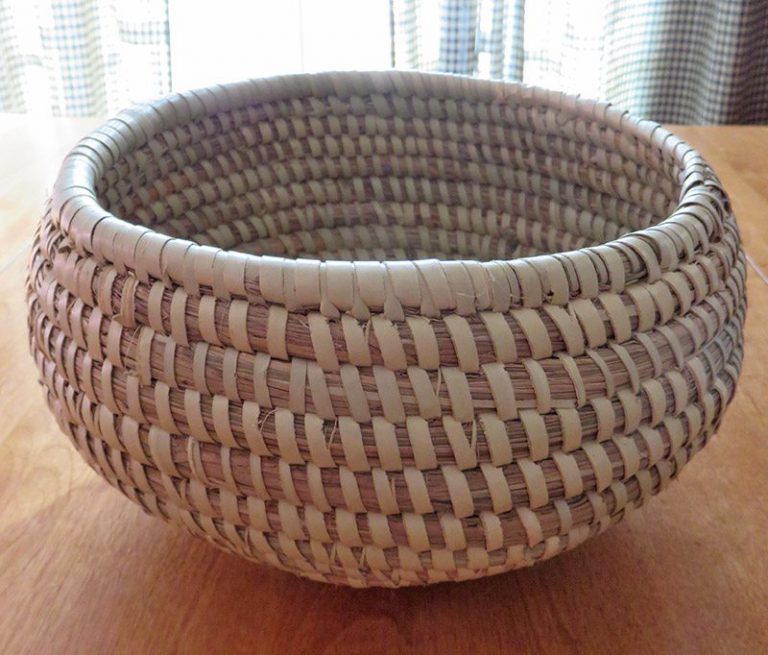 The Upcycled Bell has a soft chime which is hammered into shape from recycled tin and iron sheets. Originally made for use with livestock in the Kutch region of India, no two play the same tune. Because of the drought, the cattle breeding is not viable for many as a source of income, but the international sales of the bells are keeping the art form alive. I can place it on my inside door knob to alert me when the kids come home from school.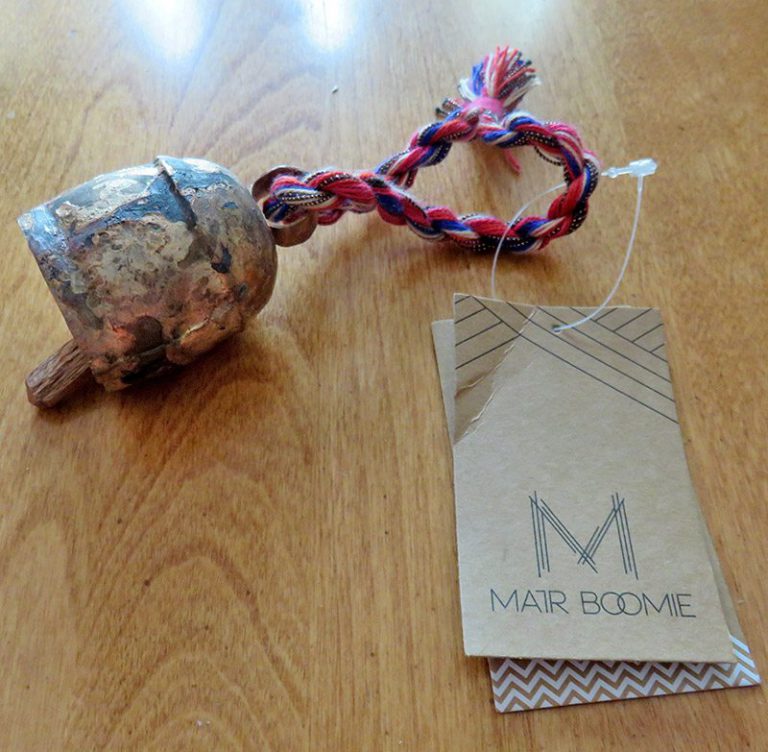 The Recycled Glass Tumbler is crafted in the Hebron area of Palestine, one of the oldest cities in the world where glass-blowing dates to the 14th century. Phoenician glass art was once reserved for wedding ceremonies, but now it's available for everyday use. Created from recycled bottles collected locally, the glass vessels are lead-free and safe for kitchen use as a drinking glass or perfect for a tea light on the dinner table.
All of the items showcase how goods from all over the world create a circle to unify us while making a positive impact though "environmental, cultural, financial, and emotional sources of sustenance."
The pamphlet included gives more in-depth information on the artisans and companies, a better understanding and awareness of safe job conditions which can impact steady employment in the industries supported, as well as a positive effect on the quality of life for the artisans. GlobeIn's partnerships bring to light not only artisans in the world, but how supporting the artisans helps reduce poverty by employing many in a global setting.
GlobeIn's Artisan boxes offer many curated lifestyle products each month with an array of customized themes, discounted up to 50%, supporting artisans in over 40 countries.
GlobeIn Artisan Gift Box Coupon
For a limited time, save $10 off 3 month of longer Artisan Box subscriptions. Use GlobeIn Artisan Box coupon code WELCOME at checkout to claim your discount.