Home Made Luxe is a subscription box with Pinterest-inspired home décor projects at a price less than retail. Created by a mom desiring time to craft and create, she designs the one of a kind projects each month with her mantra: Create a beautiful home one project at a time. You don't have to be a mom to create the decorative items in your Home Made Luxe craft subscription box. Anyone who craves a creative outlet will enjoy making the projects. With today's Home Made Luxe review, I'm unboxing the April 2017 Home Made Luxe subscription box.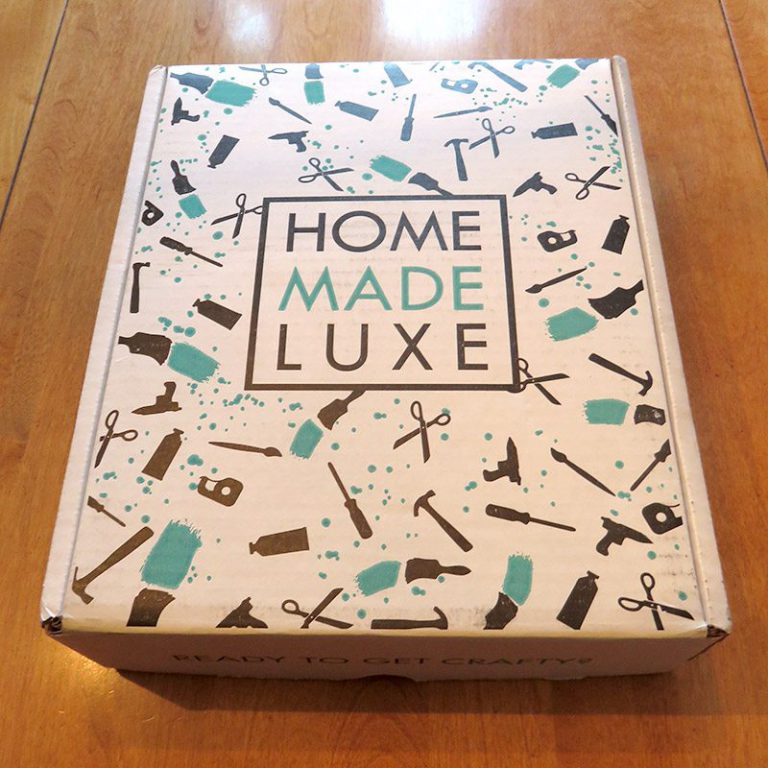 Inside the April 2017 Home Made Luxe Box
The April 2017 Home Made Luxe project was the Floral Ampersand Project. It's a complete kit with everything needed except a glue gun which most crafters already have. Inside was a Large Ampersand made from sturdy cardboard, floral foam, white acrylic paint, box cutter, flowers and leaves, glue sticks, paint brush, and a paper drop cloth.
In addition, the shipment contained a Freebie Inspired craft to try: a bottle of Pyore brand non-toxic concentrated cleaner with instructions to make the organic cleaner and a Bajan Texas Spring Clean printable list of where to use the cleaner for Spring Cleaning time. Plus there's a bonus recipe to make Toilet "Bombs" for cleaning the toilet with ingredients you may have in your pantry or you can find in any craft store.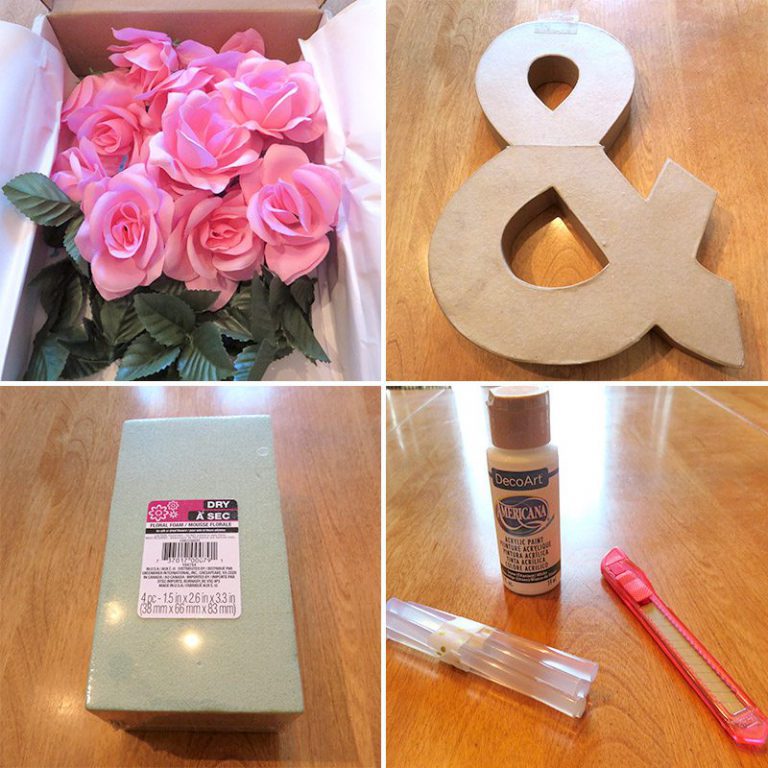 Creating the project was very easy and perfect for a beginner. Because of the sharp cutter, if you decide to share crafting time with a child, the cutting and glue gun use should be done by an adult or an older child under supervision. This would be a fun craft for a teen girl. I prepped my table by putting down the paper drop cloth. I also put a self-healing cutting mat underneath to protect my kitchen table. You may want to have a cutting board handy. I also recommend having a small bowl of ice water on hand in case you accidentally touch the hot glue. The Ampersand was cut in half for shipment. The step-by-step instructions are clear and easy to understand.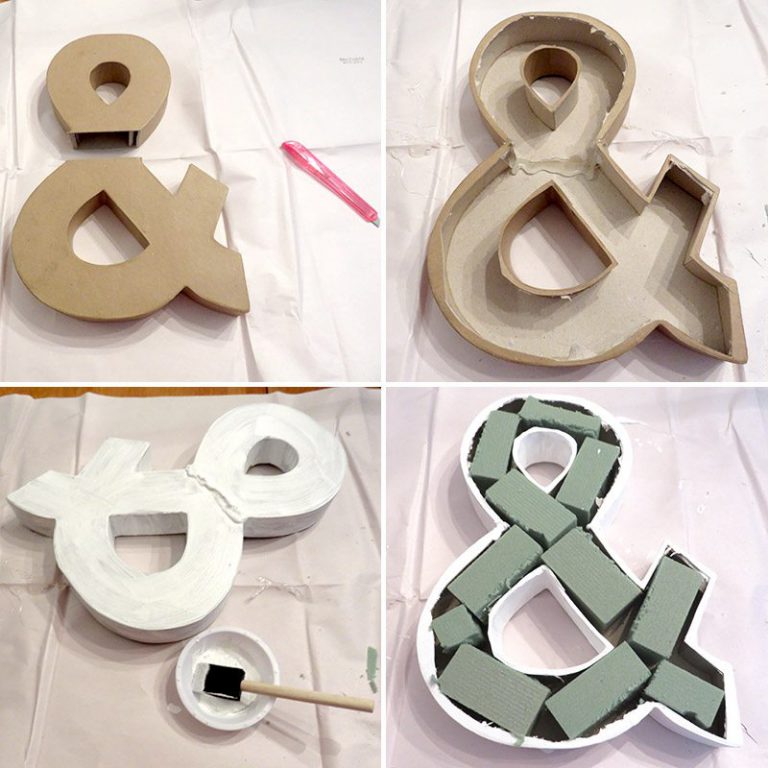 First, I cut around the top of both halves to make room for the floral foam used later, then I glued the halves together. After that, I painted the exterior—I used three coats, but there is no right amount, it's your choice on how many layers of paint you use to match your home décor—and let it dry between coats. Acrylic paint is a quick-drying paint. While the paint was drying, I cut my foam with the box cutter to fit inside the Ampersand. You want it to be slightly recessed and may have to trim it down and test it inside to find the perfect fit. When the Ampersand was dry and ready, I used the hot glue to adhere the foam inside the Ampersand. Immediately after that, I adhered the flowers and leaves to the floral foam with hot glue, but you could just push it into the foam. I wanted to make sure mine was extra secure. When using the glue, you may get a few strings, but they're easy to pull off the arrangement. That's all there is; I finished mine in about two hours. Your time may vary with your experience, layers of paint, etc…
I haven't made the cleaner yet, but I will as soon as I set aside time for some Spring Cleaning. There's a cute door knob hanging card for the "craftaholic at work" with a coupon on the reverse.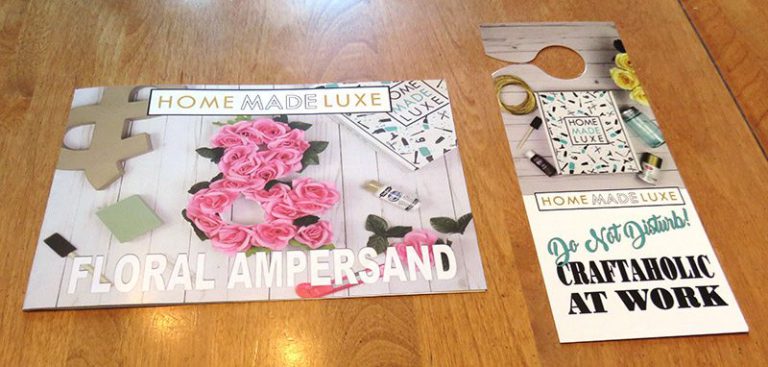 There's enough paint leftover to use on another project you may have at home. I really enjoyed making the Floral Ampersand craft in the April 2017 Home Made Luxe box. It's perfect for brightening my home for Spring.
Home Made Luxe has several subscription plans, and you can purchase one as a gift or give a gift card. There are a variety of items on the website which can be bought a la carte, too. There's even a party pack if you want to have a girls' crafting night at your house. Home Made Luxe makes crafting simple by having everything you need together in one box! You'll be the envy of your Pinterest-loving friends.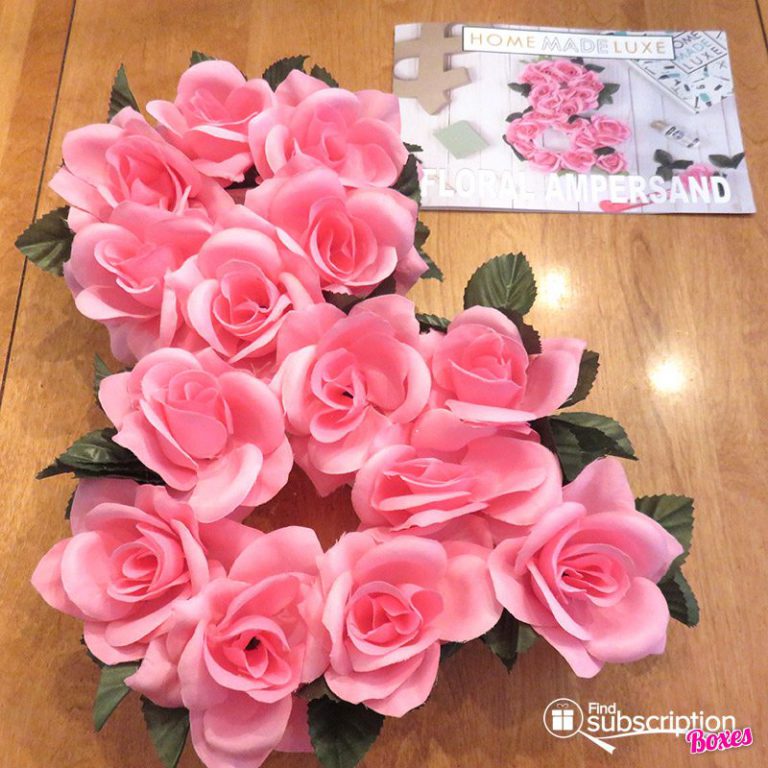 Home Made Luxe Coupon Code
For a limited time, Home Made Luxe is having an Epic Sale! Click here to join now and use code EPICSALE to save $20 and get your 1st box for just $9.99 + shipping!
Coupon expired? Use exclusive Home Made Luxe promo code FINDSUB to save 10% off any Home Made Luxe subscription!