Powered Geek Box is a premium geek subscription box that sends a monthly mystery geek box filled with officially licensed and branded collectibles for geeks, gamers and nerds. Powered Geek Box offers two subscription plans – a premium geek box that sends 6-9 geek items plus a monthly t-shirt and a Deluxe box which includes 4-6 items plus a monthly shirt. With today's Powered Geek Box review, we're unboxing the April 2017 Powered Geek Box.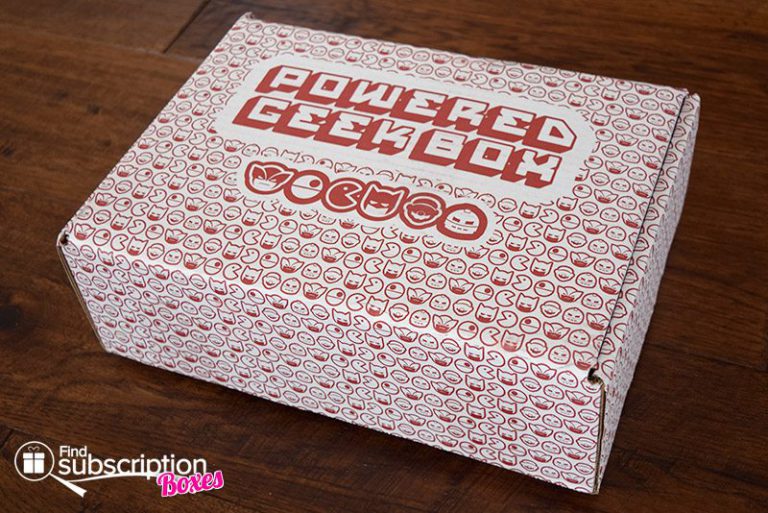 Powered Geek Boxes feature a variety of geek and nerd items like geek t-shirts, vinyl figures and other geek, gamer, and pop culture gear. Here's a first look inside our Powered Geek Box April box.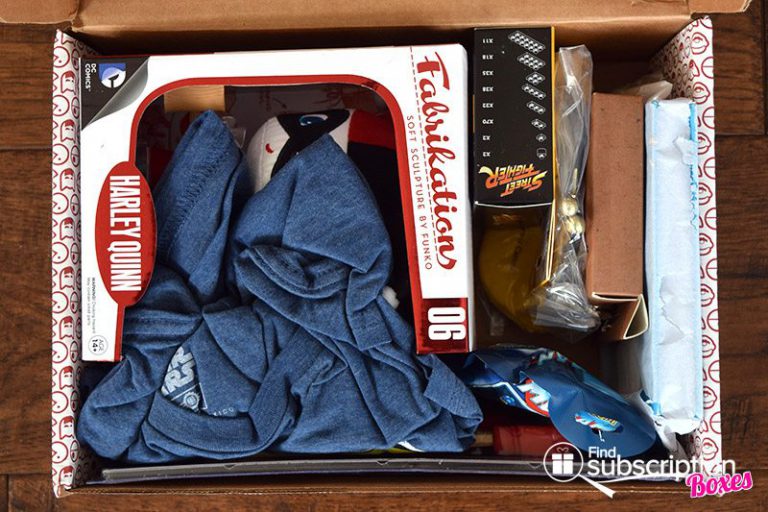 Inside the April 2017 Powered Geek Box
There were 9 geek and nerd items in our April 2017 Powered Geek Box.

Star Wars T-Shirt
Fabrikations Soft Sculpture by Funko – Harley Quinn
Punch'd Out Pencil Toppers
Batman Speed Bottle Opener
Gentleman's Club Emergency Hip Flask
Wonderland Cotton Canvas Coin Purse
Wonderland Notebook
Mega Man Backpack Hangers
Pixel Bricks Street Fighter – Ken
Powered Geek Box April 2017 Box Review Wrap-Up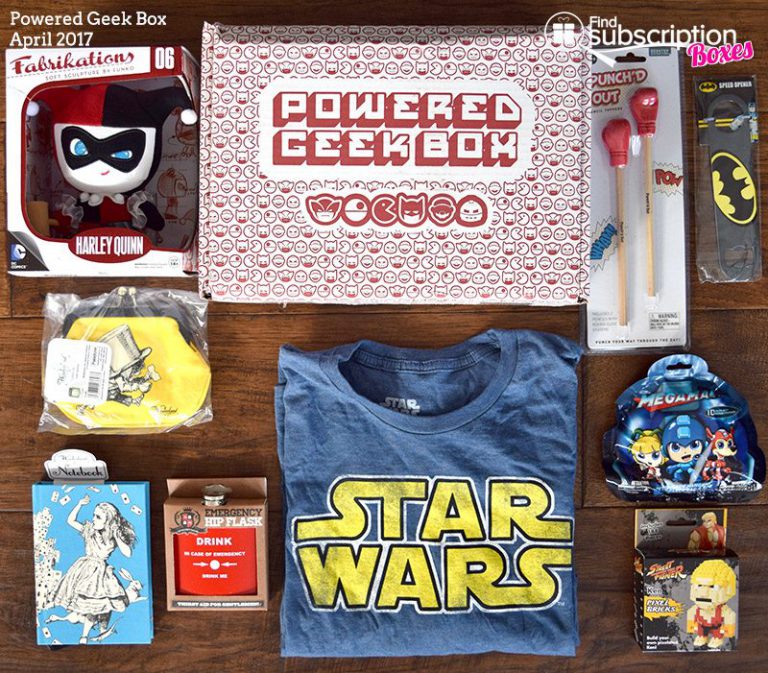 One of the things we love about Powered Geek Box is that with EVERY BOX, they always have great quality and a great variety of keep collectibles. The Star Wars t-shirt is simply epic. This heather blue cotton shirt is super soft and has the familiar Star Wars logo printed on the front.
April's Powered Geek Box figure is the Harley Quinn Soft Sculpture from Fabrikations by Funko. This cute figure features Harley Quinn in her black and red costume, with a mischievous grin on her face.
There were two geek accessory items in the box. First up is the Gentleman's Club Emergency Hip Flask. The 6 oz metal flask is an easy way to ensure you always have something to drink – from water to something a little stronger. (Please drink responsibly, of course.) Next is the Wonderland Cotton Canvas Coin Purse. Inspired by Alice in Wonderland, this bright yellow canvas coin purse id decorated with Mad Hatter artwork. It fits easily into your purse to keep your coins handy.
Another Wonderland item in the box is the blue Wonderland Notebook. The cover of the notebook features an original illustration of Alice and a set of playing cards. There are 300 pages, each lined and illustrated with playing cards across the top and bottom.
The Punch'd Out Pencil Toppers are an easy way to add a bit of fun to your work space. Just stick them onto a pair of pencils and get ready to fight it out with a co-worker.
We've received the Batman Bottle Opener, Mega Man Backpack Hanger and Street Fighter Pixel Bricks in a previous Powered Geek Box, so Powered Geek Box might have added them as bonus items.
What was your favorite April Powered Geek Box collectible?