Birchbox Man is a monthly subscription box for men, delivering a customized box of lifestyle and grooming products. Birchbox Man subscriptions are $20/month or $195/year. Each month's Birchbox Man box has a different theme. The August Birchbox Man theme was Summer Camp and featured products that help you "channel your inner woodsman."
The August 2014 Birchbox Man box arrived in the traditional green box with the Birchbox logo on the side.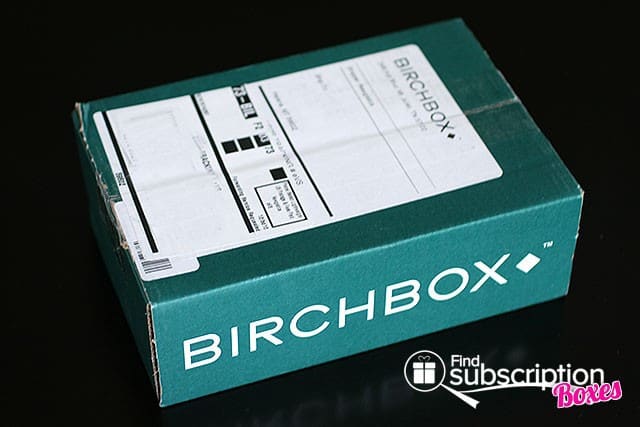 The inner Birchbox Man box is a drawer-style box. Pulling out the drawer revealed this month's product card that shared information about this month's theme as well as product information for each of this month's samples.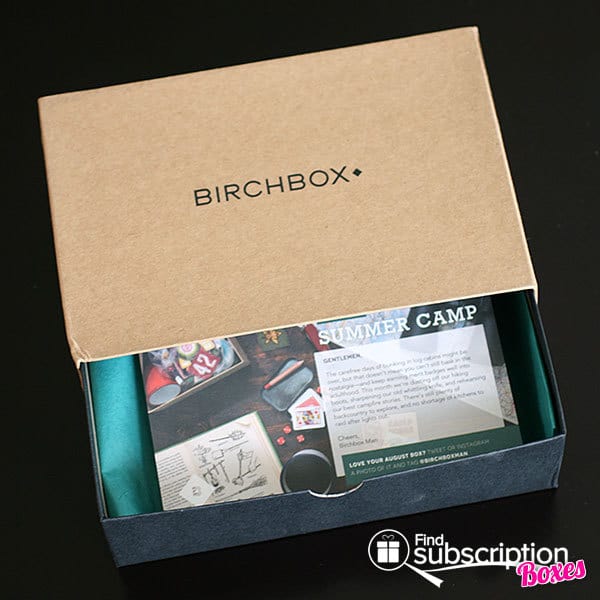 Removing the card and the blue tissue paper gave us our first look at our August 2014 Birchbox Man box.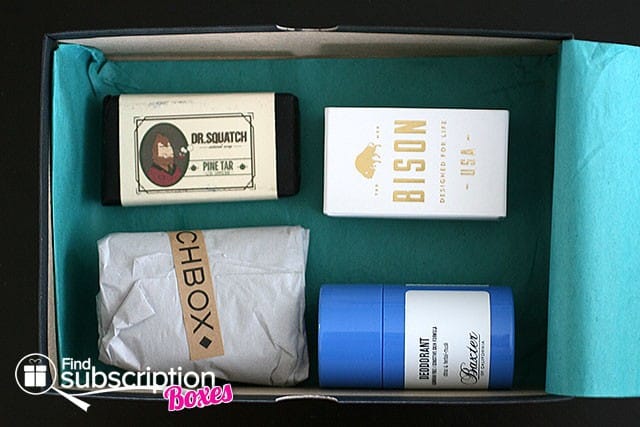 Inside the August 2014 Birchbox Man Box
There were 5 products in our August 2014 Birchbox Man box.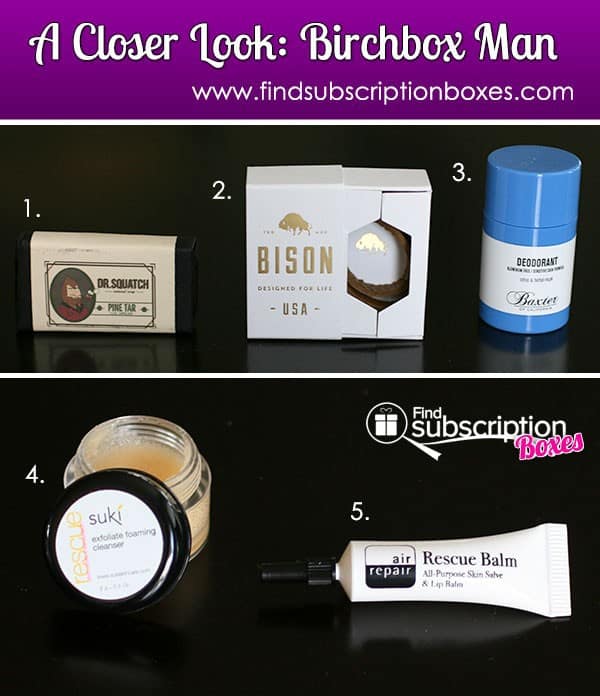 1. Dr. Squatch Soap Bar – Pine Tar, Full-size Retail Value: $6
Scrub away mountain dirt with this pine-scented soap made with natural oils.
2. Bison Made Double Wrap Bracelet, Retail Value: $40
Made with Hermann Oak leather, wrap this handcrafted bracelet around your wrist for added style.
3. Baxter of California Deodorant, Full-size Retail Value: $18
This aluminum-free deodorant has a light musky scent and is made with tea tree oil and chamomile for all-day comfort.
4. suki Exfoliate Foaming Cleanser, Full-size Retail Value: $32.95
Exfoliate and revitalize with this rich, all-natural, lemon-fresh cleanser.
5. Air Repair Rescue Balm All Purpose Skin Salve, Full-size Retail Value: $12
A must-have for any adventure, this salves acts quickly to soothe dry skin on contact.
August 2014 Birchbox Man Box Wrap-Up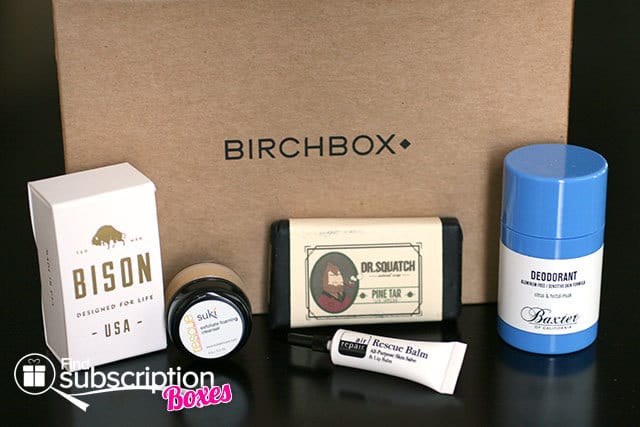 The August 2014 Birchbox Man box featured a variety of products to help a mountain man look (and smell) his best. The Bison Made bracelet is a great addition with it's retail value twice the price of a single Birchbox Man box and is stylish to boot. We loved that the other products were easy to use and smelled amazing.