Arcade Block is a video game subscription box from Nerd Block. Every Arcade Block has 4-6 video game collectibles, including an exclusive gamer t-shirt, with a total $60+ value. In addition, Nerd Block announced that every Block has a free $10 credit to ShirtPunch.com! With today's Arcade Block review, we're unboxing the August 2016 Arcade Block.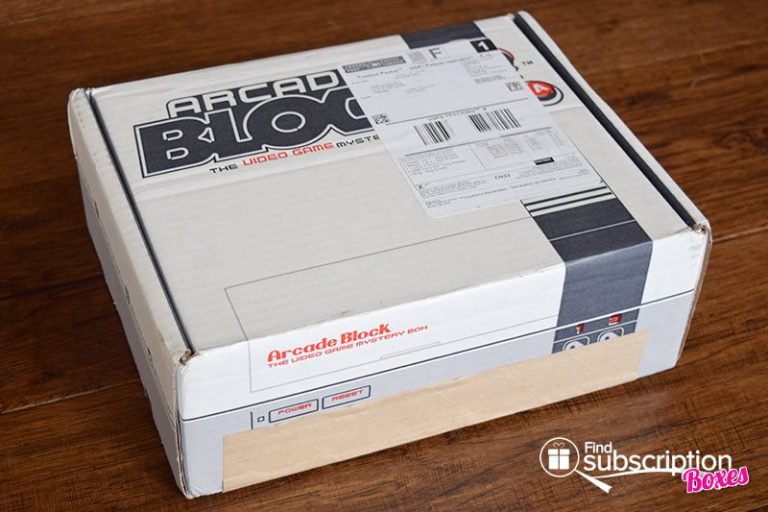 Arcade Block includes a product card that shares information about the gamer collectibles in that month's box. There was also a spoiler for the September Arcade Block.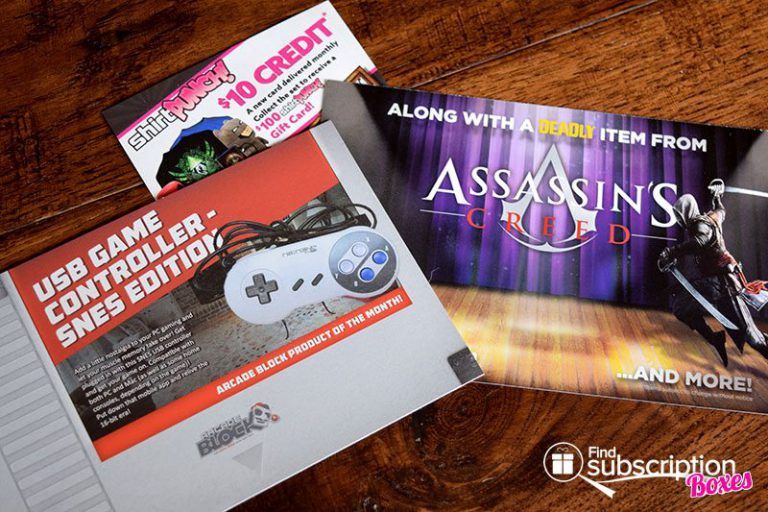 Here's a first look inside our Arcade Block August video game subscription box.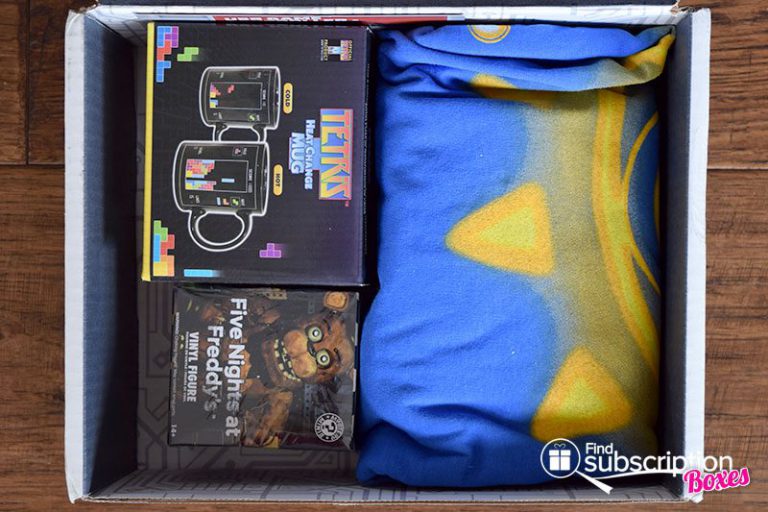 Inside the August 2016 Arcade Block
There were 5 collectibles in our August Arcade Block monthly gamer box.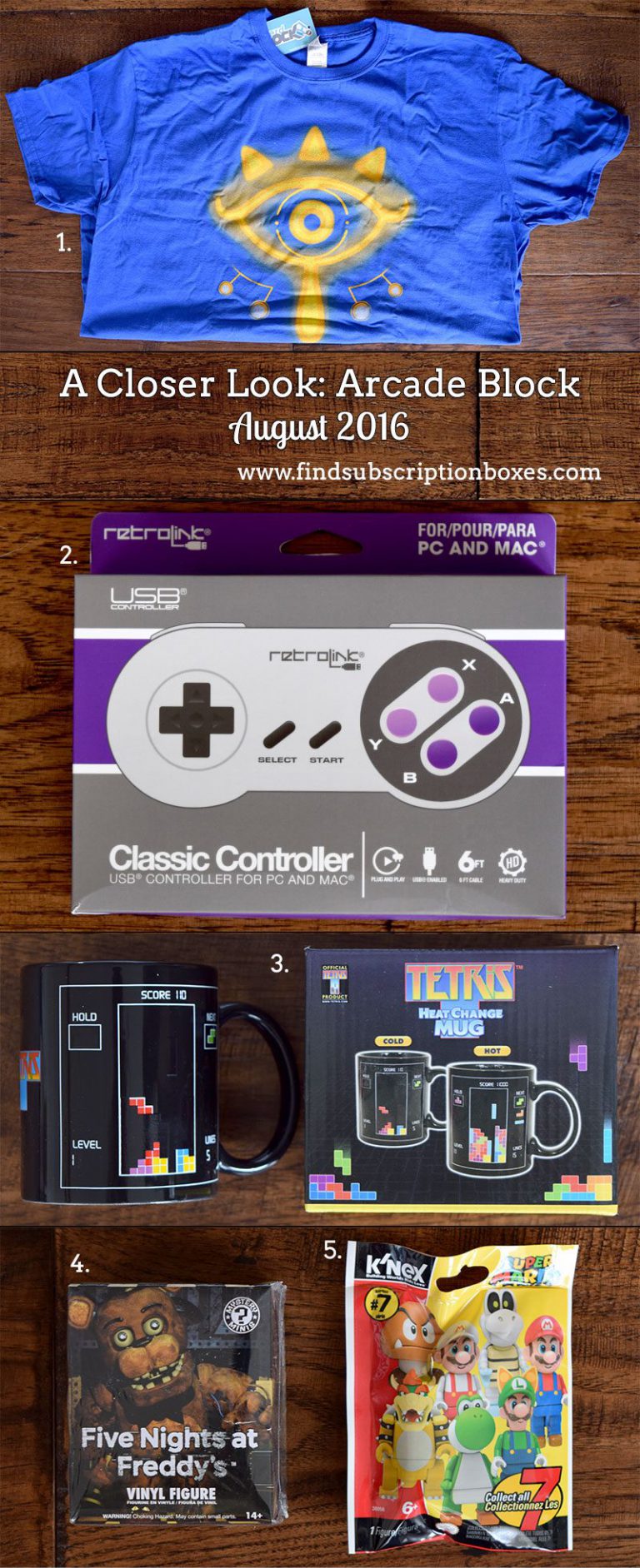 EXCLUSIVE The Eye of Truth T-Shirt
Die-hard fans of The Legend of Zelda can conquer any dungeon in style with this exclusive Zelda shirt.
USB Game Controller – SNES Edition
Plug this SNES USB controller into your PC or Mac and add some nostalgia to your PC gaming.
Tetris Heat Change Mug
Add a hot beverage to this Tetris mug and watch the design change with the temperature.
Five Nights at Freddy's Mystery Minis
Introduce a little horror to your desk space with one of your favorite characters from Five Nights at Freddy's. Which mini will you get?.
K'Nex Super Mario Blind Bag
Collect all 7 of these buildable Super Mario Bros. figures and make your nerd space a little more super.
Bonus Item: $10 ShirtPunch Credit. Collect all 9 pieces and get a $100 credit to ShirtPunch.
August 2016 Arcade Block Review Wrap-Up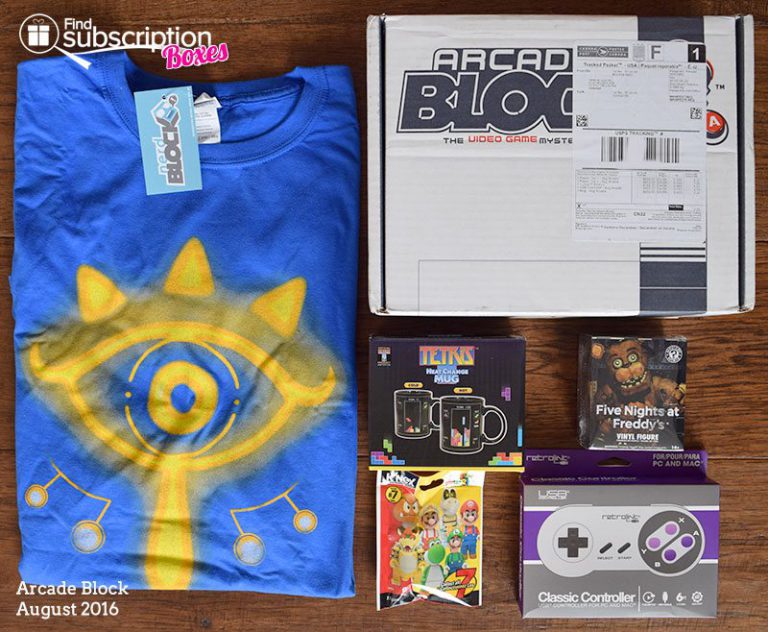 We loved the retro video games featured in the August Arcade Block. Our favorite item is the Tetris heat change mug. When it's cool, the mug just shows a few lines that need to be completed. As the mug is filled with hot coffee or water, more lines appear and more of the classic game screen is revealed.
The USB Game Controller from Retro Link is a fun way to play some of our favorite Super NES games on the PC. It's a plug-and-play controller so you just need to plug the controller into a USB port and load up your favorite SNES game. The controller has the familiar D-pad, A, B, X, Y buttons and the Start and Select buttons.
The collectible Super Mario figure from K'Nex and the Zelda Eye of Truth t-shirt are perfect companions for retro game play. We got the Yoshi figure in our Super Mario blind bag.
The last item in August's Arcade Block video game box is the Funko Five Nights at Freddy's vinyl figure. This collection features 14 different characters, including Freddy, Foxy, Bonnie, Chica, and more.
What was your favorite August Arcade Block video game item?
Arcade Block Coupon
Join Arcade Block now and save on your first video game monthly box! Use Arcade Block coupon code FindSubBox16 to save 15% off the first month of new monthly Arcade Block subscriptions. Save more with multi-block and multi-month subscriptions!