Comic Block is a subscription box from Nerd Block that sends exclusive merchandise, comic books, and other comic collectibles, every month. Each box has $60 worth of comic collectibles, including an exclusive comic t-shirt. With today's Comic Block review, we're unboxing the August 2016 Comic Block.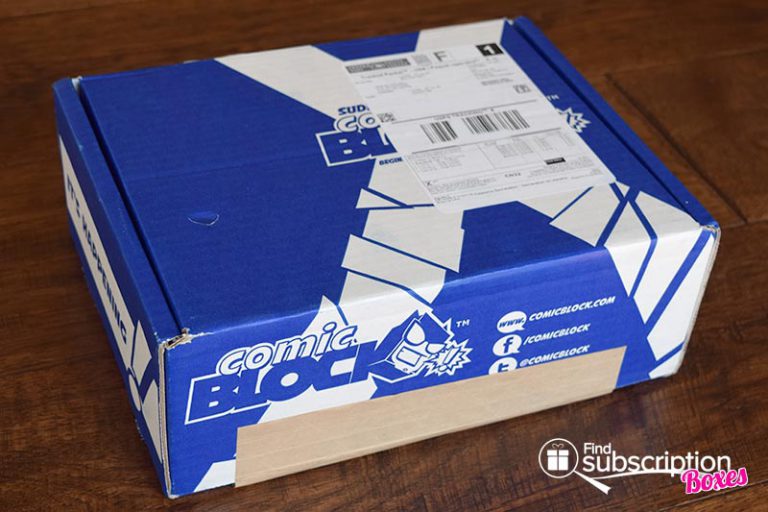 Comic Block includes a product card describing each of the comic book collectibles in the monthly comic box. Every Comic Block also has a $10 Shirtpunch.com credit. There was also box spoilers for September's Comic Block – FOUR Issue #1 comic books, including Wolverine!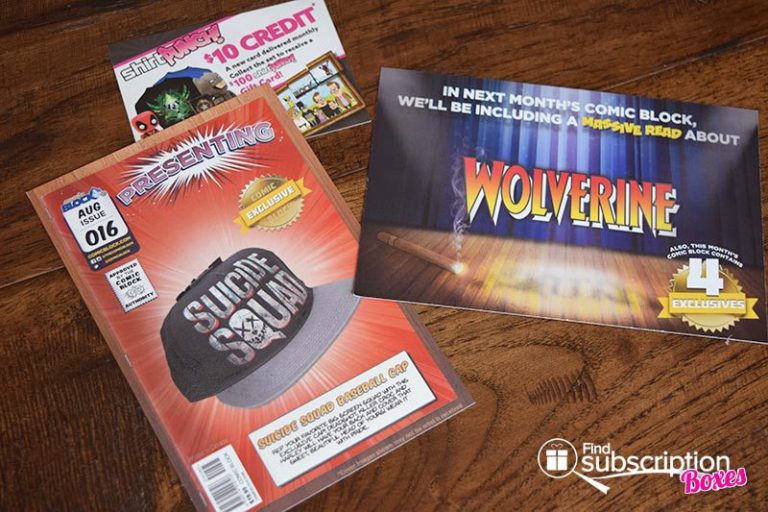 Here's a first look inside our August Comic Block.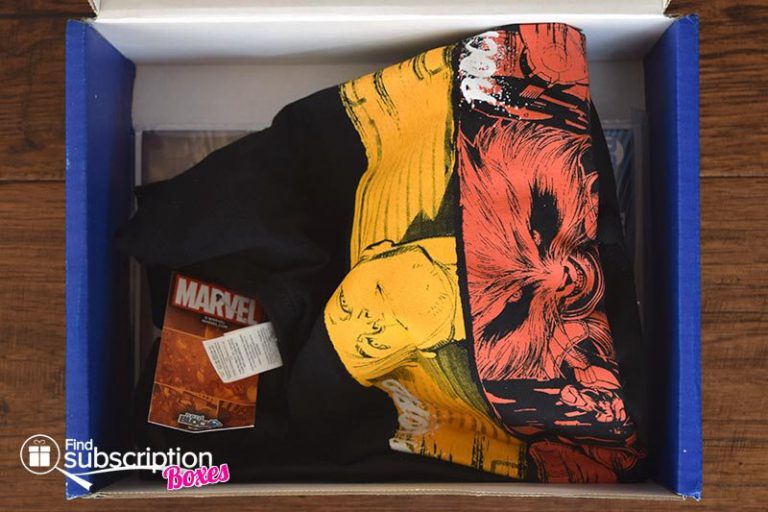 Inside the August 2016 Comic Block
There were 5 comic goodies in Comic Block's August box.

EXCLUSIVE Marvel Guardians of the Galaxy T-Shirt
This exclusive Guardians of the Galaxy Tee features your favorite Marvle guardians – Star Lord, Rocket, Groot, Gamora, and Drax!
EXCLUSIVE Suicide Squad Basball Cap
Wear this exclusive Suicide Squad hat with pride and know that Deadshot, Killer Croc and Harley will have your back and cover your head.
EXCLUSIVE DC Comics Rebirth Suicide Squad Issue #1 Variant Cover
Afte catching the squad on the silver screen, this DC Rebirth comic book gives a new look at how the madness began.
DC Comics Rebirth Harley Quinn Issues #1 & #2
Follow Harley Quinn in her Rebirth story line as she tries to start her new life without Mr. J.
August 2016 Comic Block Review Wrap-Up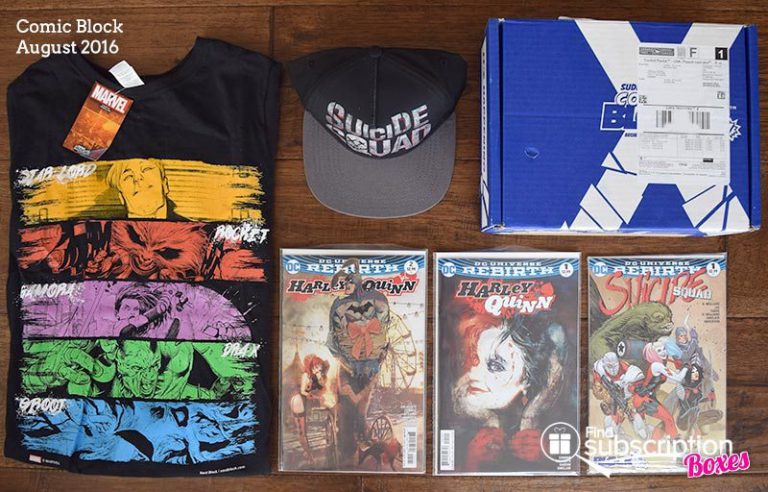 DC Comics and Marvel comic book collectibles were in the August Comic Block subscription box for comic fans. Last month's box had two wearables. The first collectible is a Suicide Squad Baseball cap. It has the team name on the front with a picture of the squad printed on the bottom of the brim. The other wearable in the August Comic Block is the exclusive Guardians of the Galaxy shirt. It features each member of the team in different colors.
The August Comic Block had three DC Comic Rebirth comic books. With an exclusive variant cover, Suicide Squad Issue #1 tells the story of Captain Rick Flag, one of America's greatest military war heroes, who was banished to a secret military prison until he's called upon to keep the Suicide Squad alive.
In Harley Quinn's DC Comic Rebirth Issues #1 and #2, Harley fills us in on her adventures while she's enjoying a day at the spa with Poison Ivy. Things take a turn for the worse when a crashed space shuttle leads to a fight for survival in a zombie apocalypse. In Issue #2, we first catch up with Harley as the zombie battle continues on Coney Island. She and her friends find themselves in some trouble as they work to find out what caused the zombie outbreak.
What was your favorite August Comic Block comic collectible?
Comic Block Coupon
Join Comic Block now and save on your first comic box! Use Comic Block promo code FindSubBox16 to save 15% off the first month of new monthly Comic Block subscriptions. Save up to 25% with multi-block and multi-month subscriptions!