Freshly is a meal subscription box that makes healthy eating more convenient. Once or twice a week, depending on your subscription, Freshly delivers fresh, never frozen, chef-prepared health meals to your doorstep. With today's Freshly review, we're unboxing our August 2016 Freshly.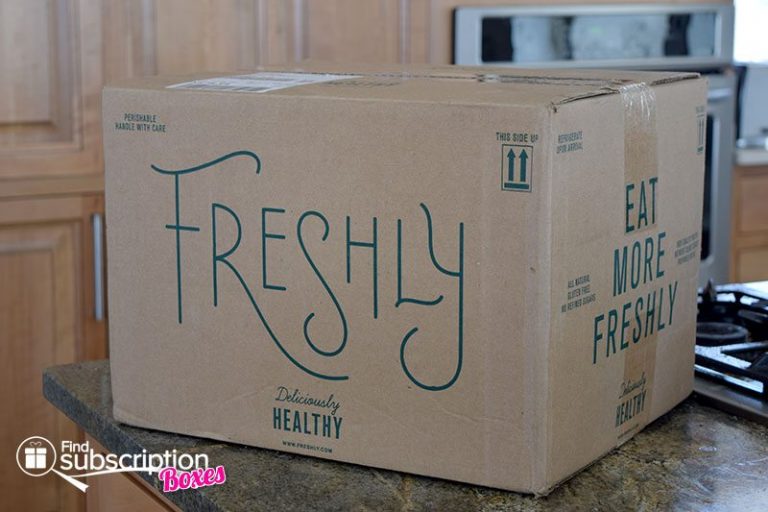 Freshly meals are delivered in a cardboard box with gel packs, keeping your food cool and fresh. Freshly meals are meant to be eaten the week you get them. You can freeze your meals if needed but Freshly warns this may impact the flavor and quality of your meal. Freshly also provides a list of the meals included in your weekly Freshly meal delivery.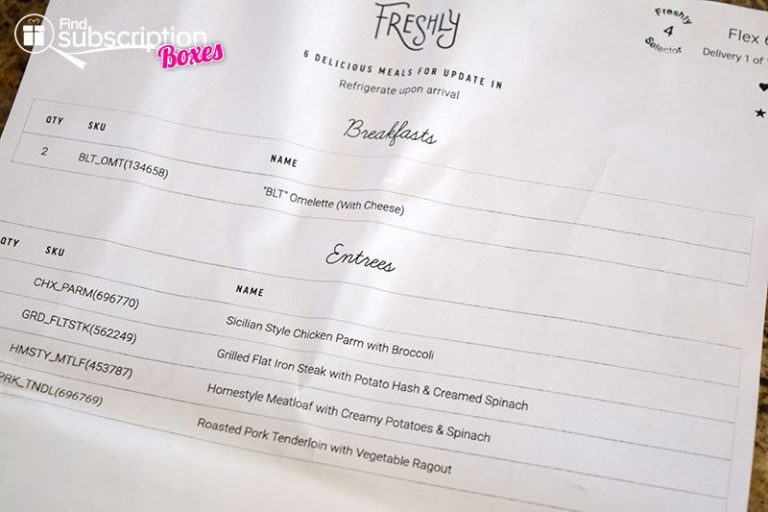 Here's a first look inside our August Freshly Box.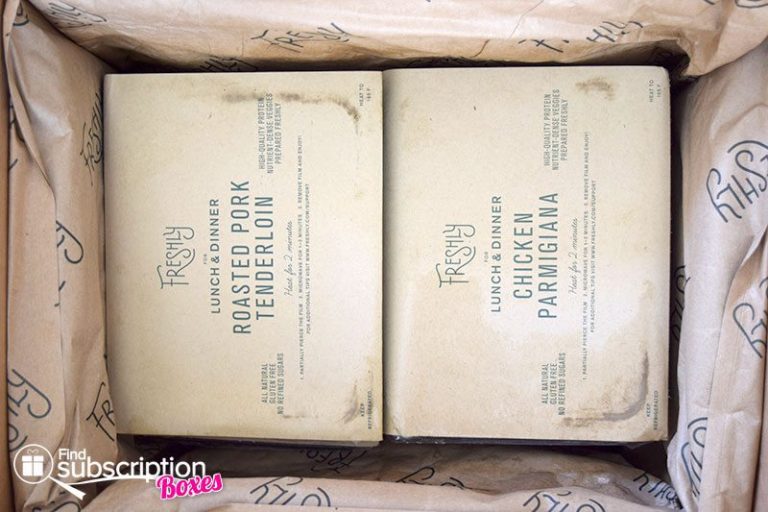 Inside our August 2016 Freshly Box
Freshly subscribers can choose to receive 6 9, 12 or 21 meals per week. You can choose the from their changing menu of breakfasts and entrée items. We chose 1 breakfast and 4 entrée entries for our August Freshly box.
"BLT" Omelette with Cheese
Sicilian Style Chicken Parm with Broccoli
Grilled Flat Iron Steak with Potato Hash & Creamed Spinach
Homestyle Meatloaf with Creamy Potatoes & Spinach
Roast Pork Tenderloin with Vegetable Ragout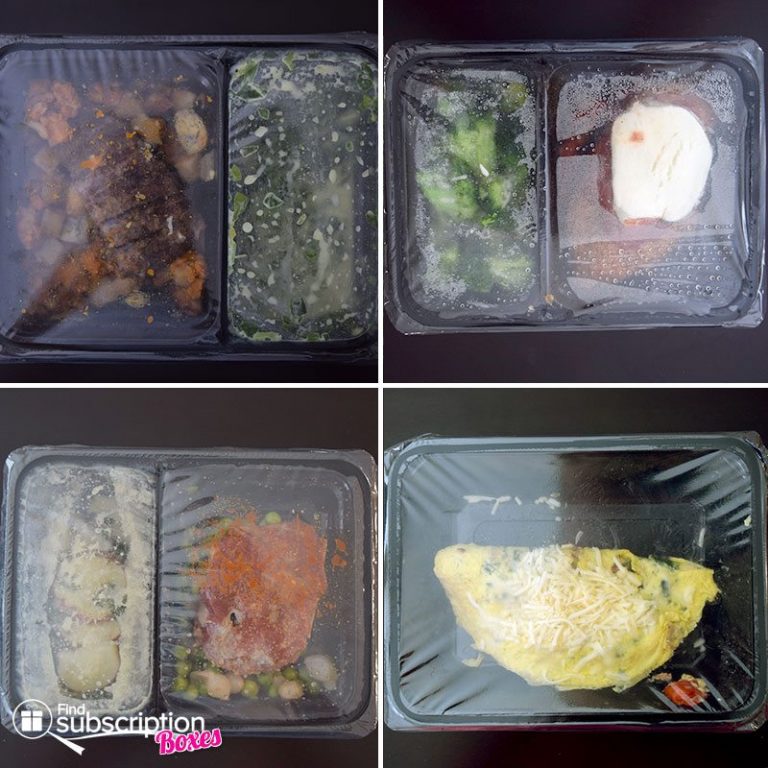 Freshly meals are pre-cooked and packaged in sealed black trays. To cook your Freshly meals, you just heat it up for 2 minutes in the microwave.
Freshly also provides the nutritional information of each of the meals on the back of the outer packaging.
August 2016 Freshly Meals
Breakfast is one of the most important meals of the day, but sometimes we don't have time to cook in the mornings. The "BLT" Omelette with Cheese was a great solution. The eggs were well seasoned and the omelette was stuffed with spinach, bacon, and tomatoes. Cheese melted on top as it cooked in the microwave. The Freshly omelette was a delicious way to start the day.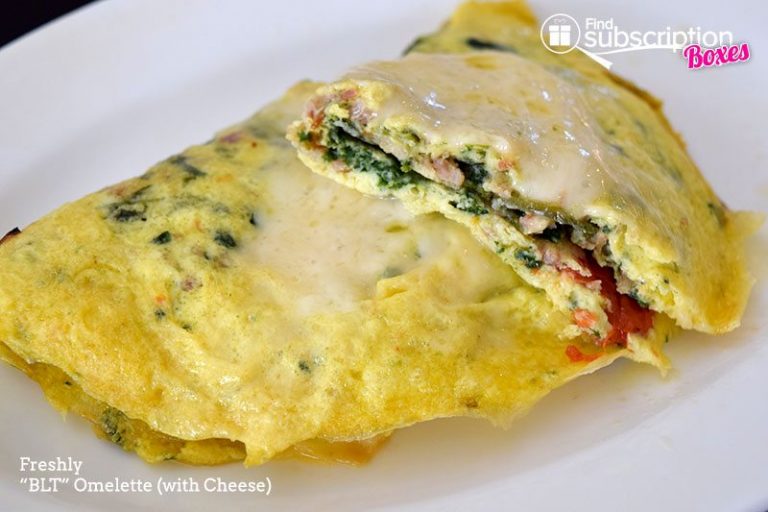 The first dinners we tried were the Sicilian Style Chicken Parm and Grilled Flat Iron Steak. The Chicken Parm came with a big slice of fresh mozzarella cheese on top. It melted and oozed down the chicken as it cooked in the microwave. The chicken was also topped with a marinara sauce and was paired with a side of Parmesan topped broccoli and garlic. Freshly used ground almonds as part of the breading to help keep the chicken crisp after heating.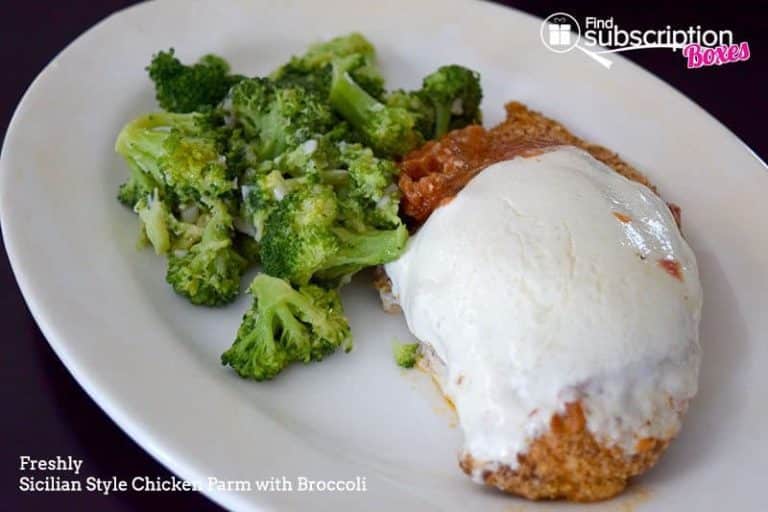 Even out of the microwave, the Grilled Flat Iron Steak was tender and juicy. The potato hash had a hint of garlic and a great sweetness from the sweet potatoes. You've gotta have your greens with any  meat and potatoes meal and the creamed spinach was a great nutrient-rich side dish.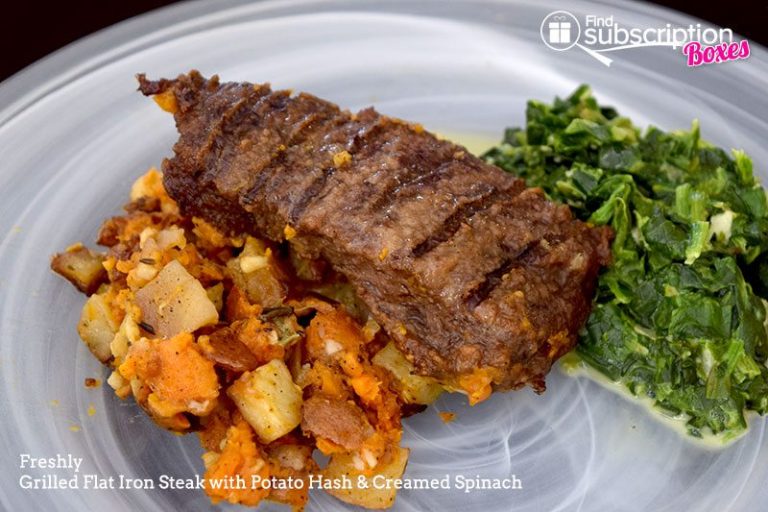 Next, we tried the Homestyle Meatloaf and Roast Pork Tenderloin. A tangy tomato sauce topped the meatloaf, which had vegetables, herbs and spices mixed in. The sides were creamy potatoes and spinach and baby peas with pearl onions. This was another "meat and potatoes" meal that fills you up without making you feel heavy, or unhealthy.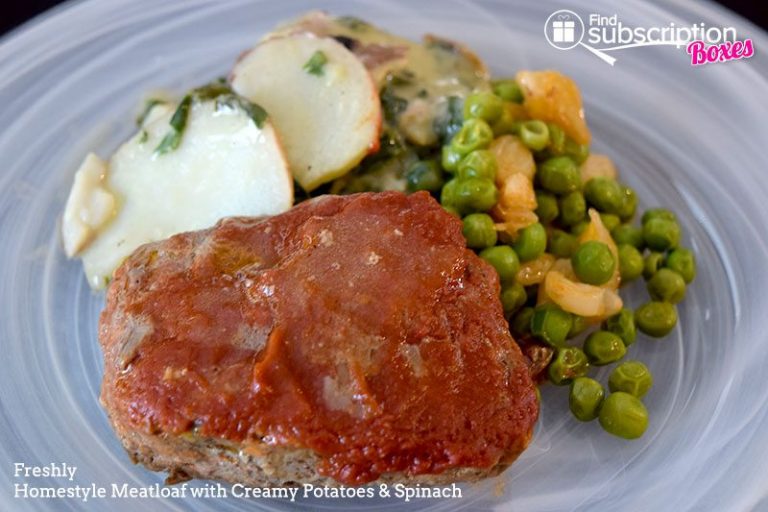 The last item on the menu is the hearty Pork Tenderloin. A flavorful mushroom sauce made with onions and wine topped the roasted pork tenderloin. The vegetable ragout consisted of carrots and mini summer squash, seasoned with herbs, and tasted very fresh. Both the tenderloin and meatloaf are filling and even satisfied our reviewers with larger appetites.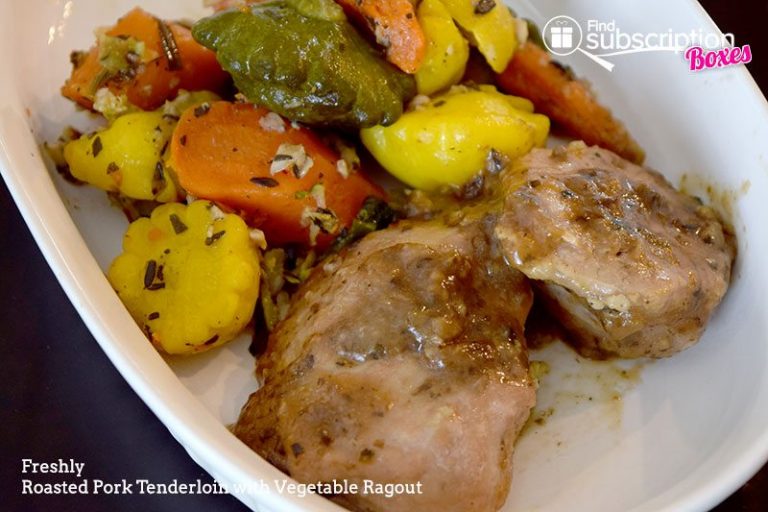 August 2016 Freshly Review Wrap-Up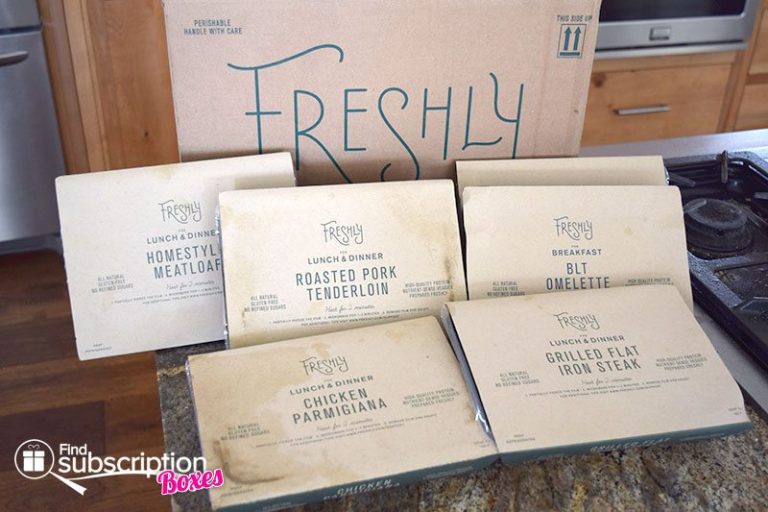 Freshly meal subscription boxes make healthy eating easy and delicious. They want you to spend more time doing what you love and less time shopping, cooking, and cleaning. With all of these meals ready in just 2 minutes, it is a very convenient way to feed yourself or your family nourishing meals. Just heat, serve, and enjoy.
The Freshly menu offers a lot of variety and we especially like that they offer breakfast. Their menu offers familiar flavors and traditional dishes with a little twist. There are a lot of meals to choose from for both breakfasts and entrées, including seafood and vegetarian options. Freshly meals deliveries are $10.90 per meal with 21 meal per week subscriptions.
Have you tried Freshly meals yet?
Freshly 50% Off Coupon
For a limited time, save 50% off your 1st box of healthy, chef-prepared meals from Freshly! Join Freshly today and us code RAD50 at checkout. Your first Freshly box is as low as $34.50 + free shipping after savings.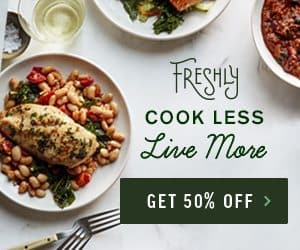 Freshly is currently available in Arizona, California, Oregon, Washington, Idaho, Utah, Nevada, Colorado, New Mexico, Texas, Missouri, Oklahoma, Arkansas, Kansas, Louisiana, Virginia, Georgia, South Carolina, North Carolina, Tennessee, Illinois, and Missouri.