Loot Anime is a monthly anime and manga subscription box by Loot Crate and crunchyroll. Each Loot Anime mystery box delivers $60+ worth of figures, collectibles, apparel, accessories and more from popular manga and anime series. With today's Loot Anime review we're unboxing the August 2016 Loot Anime crate. The August Loot Anime theme was Back to School.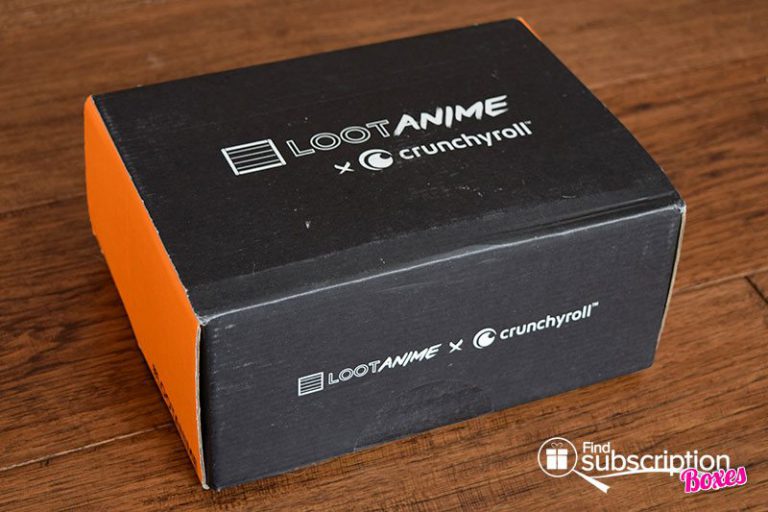 Loot Anime crates have a full-sized poster with a themed anime drawing on one side. The Back to School Loot Anime poster was illustrated by Christina K. Yang. The back of the poster has pictures and descriptions of the mystery anime and manga gear in that month's box.
Here's a first look inside our August 2016 Loot Anime Back to School crate.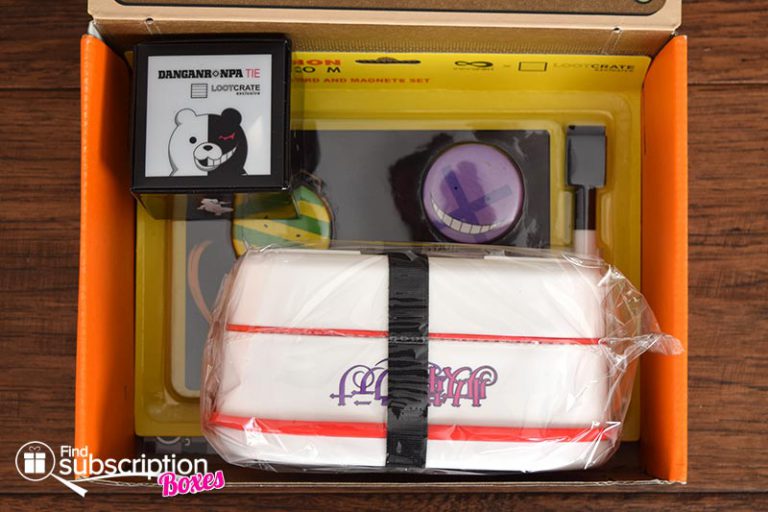 Inside the August 2016 Loot Anime Back to School Crate
There were 7 anime collectibles in the August Back to School Loot Anime subscription box.

EXCLUSIVE Digimon Adventure tri Print Set
These beautiful and EXCLUSIVE Digimon Adventure tri prints are the perfect way to celebrate a return to your childhood.
EXCLUSIVE Persona 3 Manga Vol. 1
This Loot Anime crate is the first to bring this EXCLUSIVE soft cover Persona 3  manga to the U.S. Market.
EXCLUSIVE Assassination Classroom Whiteboard
Stay organized during the school year with this Assassination Classroom whiteboard and the included magnets.
EXCLUSIVE Fruit Basket Figure Keychain Set
This four-figure Keychain set features Tohru, Kyo, Yuki and Hatsuharu with each figure wearing the hat of the animal they are possessed with.
EXCLUSIVE Danganronpa Cosplay Tie
This versatile tie can be incorporated into your own wardrobe or used as part of a Junko cosplay.
EXCLUSIVE Revolutionary Girl Utena Bento Box
This two-tier bento box represents a traditional Japanese school meal.
EXCLUSIVE Back to School Phone Charm
Prepare for BACK TO SCHOOL with Yume's spiral notebook phone charm.
August 2016 Loot Anime Review Wrap-Up
The Back to School Loot Anime crate was our first mystery box of anime and manga loot from Loot Crate and crunchyroll. It had a variety of collectibles from academic themed anime and manga.
The Revolutionary Girl Utena Bento Box is perfect for your bento lunches. There is a two-section tray inside to keep your meats and veggies separate and comes with a pair of chopsticks. Utena and other characters from the show decorate the lid.
You can head back to school in style with the black and white Danganronpa tie. The tie has the signature red X where the black and white colors meet. Junko usually wears it with a black cardigan and white dress, although you might need a more conservative look to meet your school's dress code. You can use the notebook phone charm to decorate your cell or bags.
Released in 2007, the Persona 3 manga adaption is based off the PlayStation 2 video game released in 2006. It's now making it's first appearance in the U.S. Loot Anime delivered an EXCLUSIVE soft cover version so you can follow a group of students that fights off monsters called Shadows.
In Japan, the Fruits Basket figures are normally dispensed from capsule toy machines. Now we have all 4 figures from one box. The Tohru figure is wearing an onigiri, because she's not possessed. The other character figures have hats representing the animals of the Chinese Zodiac they are possessed with.
The Digimon Adventure tri print set includes 3 prints by Akiyoshi Hongo of Toei Animation. The first print shows Taichi Yagami and his Digimon, Agumon. The other two art prints show the DigiDestined and the other Digimon.
Homeroom teacher Koro Sensei is ready to teach his students how to save Earth before the school year is out. The only problem is that he has super powers and appears unstoppable. The three magnets that come with the whiteboard represent Koro Sensei's moods. Yellow and green stripes = mockery; red with a circle = correct; purple with an X = incorrect.
What was your favorite collectible from the August Back to School Loot Anime crate?
Loot Anime Coupon Code
Use Loot Anime coupon code SAVE3 to save $3 off any new Loot Anime subscription. Join today!