Loot Crate sends monthly mystery subscription boxes for geeks and gamers. Monthly Loot Crate geek crates have different geek themes and have over $45 worth of geek t-shirts, vinyl figures and other geek and gamer collectibles. With today's Loot Crate review, we're unboxing the August 2016 Loot Crate. The August Loot Crate theme was ANTI-HERO. The Loot Crate September 2016 theme has been revealed!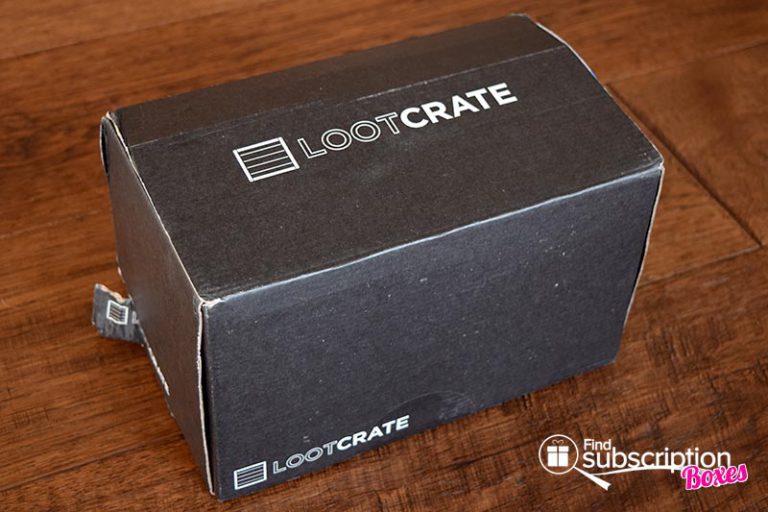 Loot Crate includes a new issue of Loot Crate magazine in each geek box. The LC Magazine provides the descriptions for each of that month's items and mini-articles for each geek product. This month there was also a preview comic of Suicide Squad: Rebirth #1.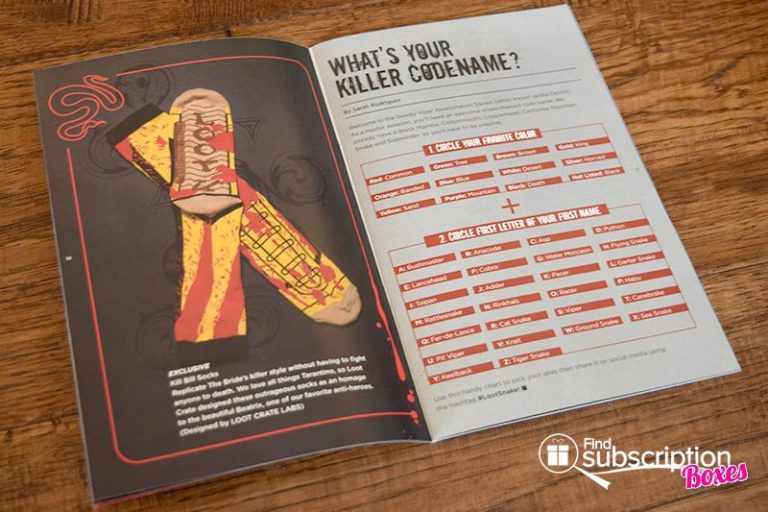 Here's a first look inside our Anti-Hero Loot Crate geek box.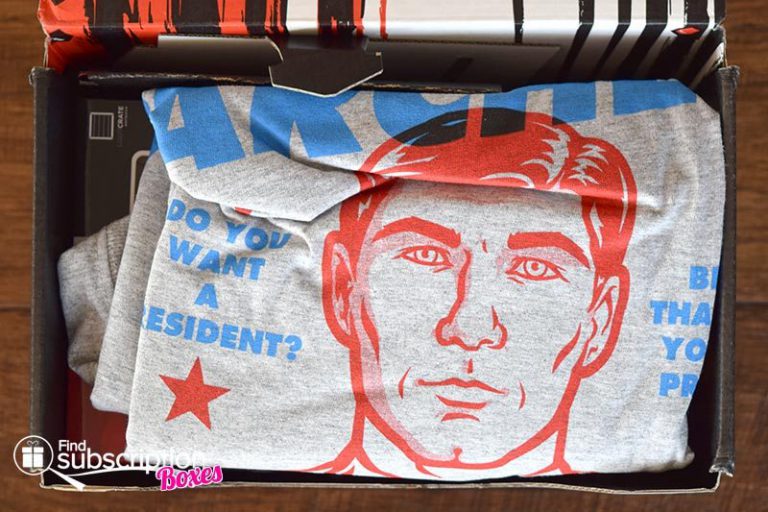 Inside the August 2016 Loot Crate Anti-Hero Crate
There were 5 geek and gamer collectibles in the August Anti-Hero Loot Crate.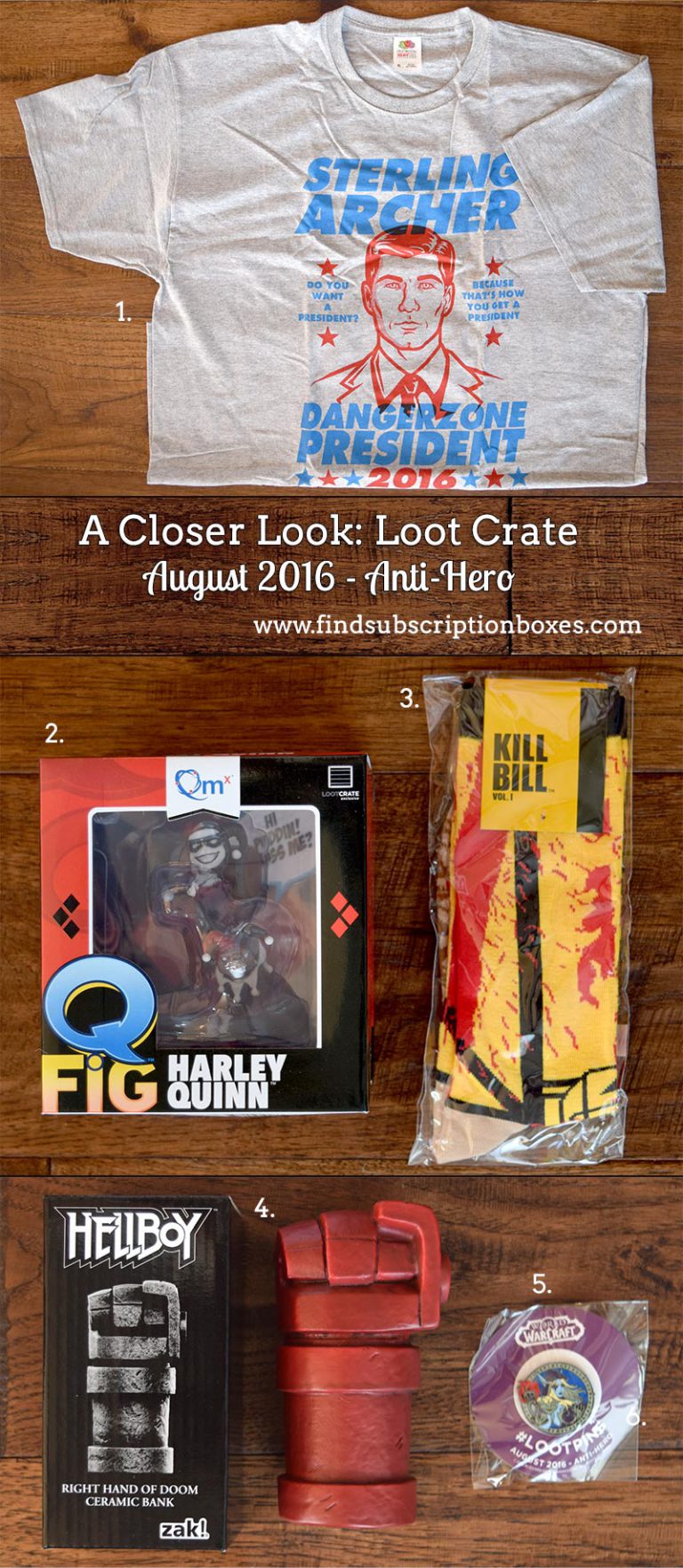 EXCLUSIVE Archer T-Shirt
Cast your vote for the next Danger Zone President with this exclusive Archer t-shirt.
EXCLUSIVE Harley Quinn Q-Fig
Designed exclusively for Loot Crate, this Harley Quinn figure by Quantum Mechanix features her original suit and one of her pet hyenas.
EXCLUSIVE Kill Bill Socks
These bright yellow socks are an homage to Beatrix and the assassins she's battled to death.
EXCLUSIVE Hellboy Coin Bank
Hellboy's Right Hand of Doom will keep your change safe with this exclusively designed coin bank.
EXCLUSIVE August 2016 World of Warcraft Loot Pin
Inspired by World of Warcraft, the August Loot Pin unlocks all six expansions plus 30 days of free game time.
August 2016 Loot Crate Review Wrap-Up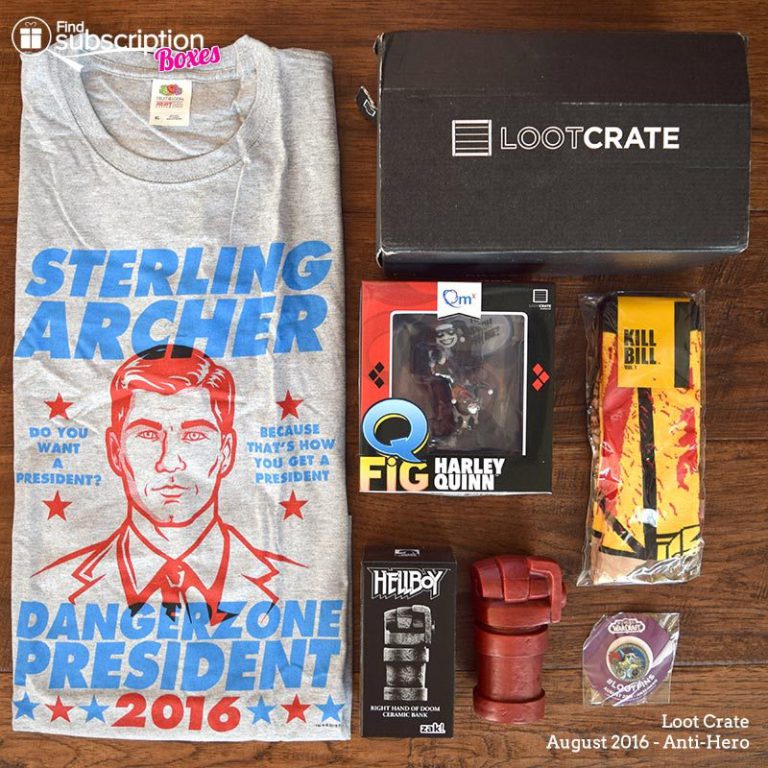 The August Anti-Hero Loot Crate feature exclusive collectibles from the bad guys fans have come to love. Whether you're a fan of Suicide Squad or not, you'll love this exclusive Quantum Mechanix Harley Quinn figure. Sporting her famous hammer instead of the bat we saw in the movie, this Harley is wearing her traditional red and black joker-style outfit. Another collectible to decorate the shelf is the Hellboy coin bank. Exclusively designed for Looters, it's a sturdy Right Hand of Doom (which of course, it should be) that well keep your coins safe. It has a removable cap on the bottom should you need to grab some spare change.
There were two wearables in the Anti-Hero Loot Crate. First is the exclusive Archer t-shirt. This shirt is well-timed considering the current Presidential race. If you aren't up for political niceties, the Kill Bill socks will scare off your opponents. Fashioned after The Bride's shoes in Kill Bill Vol 1., the socks are decorated with streaks of "blood" and have "Loot U" on the soles.
Loot Crate made it easy to travel to Azeroth this month. The colorful pin features Sylvanas Windrunner and unlocks all six of the World of Warcraft expansions. Level up your character before the upcoming World of Warcraft: Legion expansion release on August 30, 2016.
What was your favorite August Loot Crate Anti-Hero crate collectible?
Loot Crate Coupon Code
Don't miss another box! Join Loot Crate by August 28, 2016, 9PM PST and use code FIRST at checkout to save $4 off your Loot Crate subscription.
Coupon expired? Save $3 off new Loot Crate subscriptions when you use coupon code LOOTR3 or use code FINDBOXES to save 10% off any Loot Crate subscription.