Loot Gaming is a subscription box for video game fans from Loot Crate. Each Loot Gaming crate feature $60+ worth of epic collectibles, figures, apparel, accessories and more from the biggest and best video game franchises. With today's Loot Gaming review we're unboxing the August 2016 Loot Gaming crate. The August Loot Gaming theme was MECHA – Human vs Machine.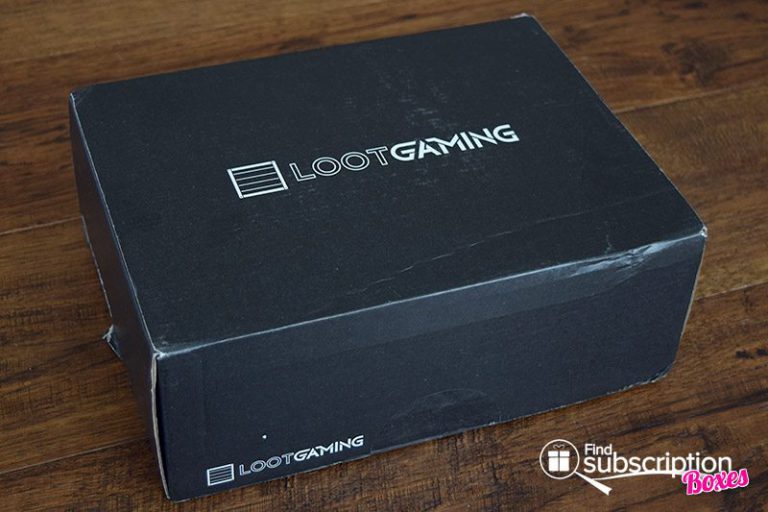 Loot Gaming includes a colorful "Game Manual" that has descriptions of each month's collectibles, as well as fun articles related to each item.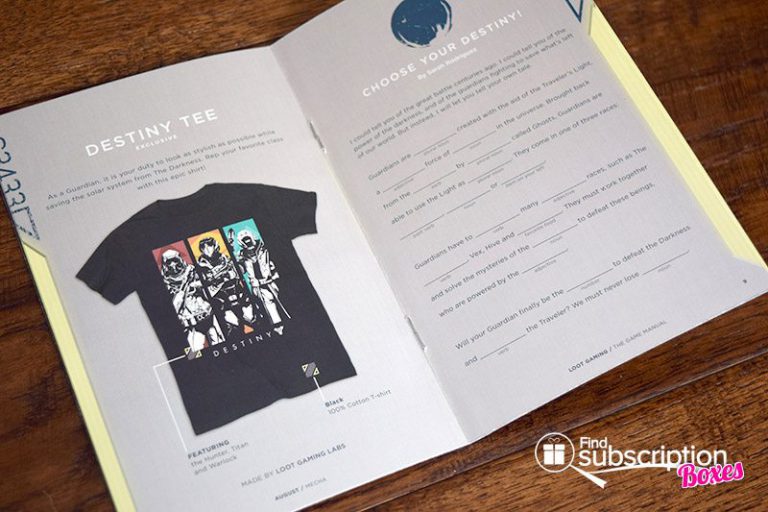 Here's a first look inside our August 2016 Loot Gaming MECHA crate.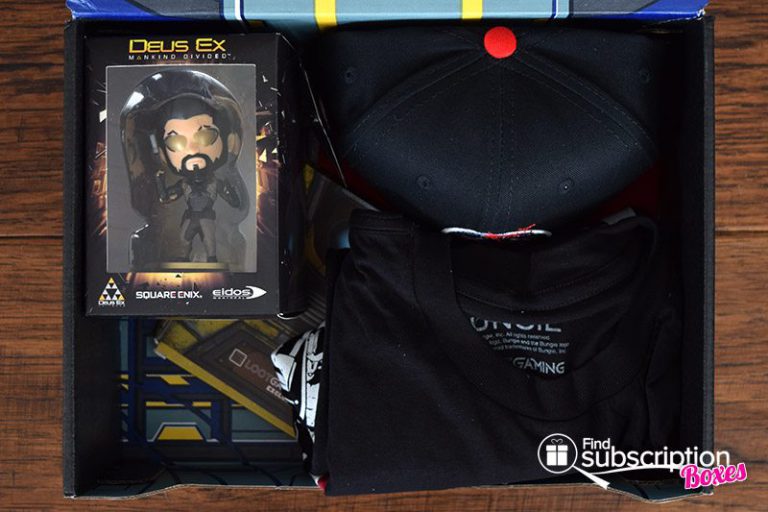 Inside the August 2016 Loot Gaming MECHA Crate
There were 6 video game items in the August MECHA Loot Gaming subscription box.

EXCLUSIVE Destiny Tee
Featuring the Hunter, Titan and Warlock, this epic shirt will keep you looking as stylish as possible while salving the solar system from The Darkness.
EXCLUSIVE Lawbreakers Snapback
Wear this two-tone black and red Lawbreakers cap while you defy gravity in style..
EXCLUSIVE Deus Ex: Mankind Divided Adam Jensen Figure
With an exclusive box art and QR code, this exclusive Adam Jensen figure might help keep the Illuminati away.
EXCLUSIVE Bioshock Big Daddy Patch
Iron-on this Bioshock oversized Big Daddy patch to show off your love for big mechs.
EXCLUSIVE Borderlands Claptrap Bottle Opener
This exclusive Claptrap bottle opener has a stylish and functional design in brushed chrome silver.
EXCLUSIVE MECHA Coin Pin
Made of hand-polished iron, this exclusive coin symbolizes the moment when humans become part machine.
August 2016 Loot Gaming Box Review Wrap-Up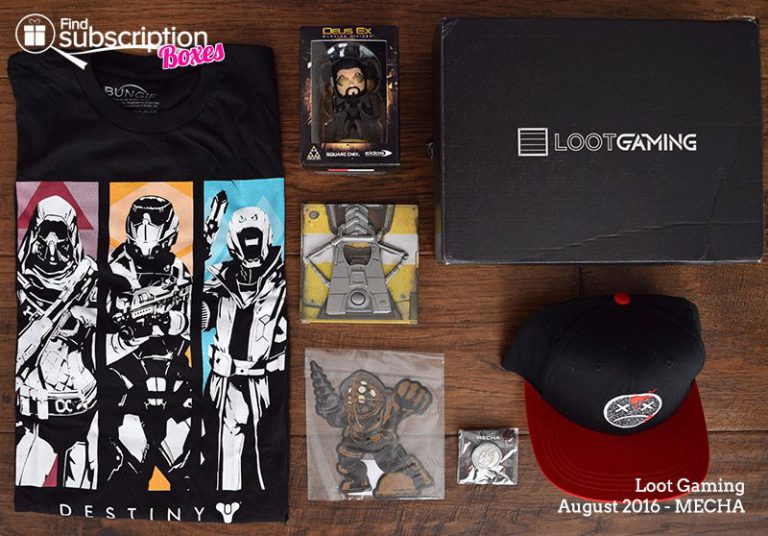 This was our first Loot Gaming crate and were excited to see the great variety of video games represented in their August MECHA crate. This month's box had two fashionable gamer items. The black cotton t-shirt has a colorful design for each of the 1st person shooter's character classes. The next wearable, the Lawbreakers hat, has a red snap closure and embroidered "Lawbreakers" logo on the back. The front has a dead sad face patch.
An augmented version of Adam Jensen returns to Deus Ex: Mankind Divided. Standing 3.5″ tall, this exclusive figure has a gold base and is detailed with his scar, sunglasses, gun and arm sword.
Quickly level up any bag, jacket or shirt with the Bioshock iron-on patch. This Big Daddy (or Protector) Patch has glow-in-the-dark thread that make Big Daddy's eyes glow.
The Borderlands Claptrap robot takes usefulness to another level with this heavy metal bottle opener. Two magnets on the back allow you to easily keep this robot bottle opener nearby so it won't get lonely.
What was your favorite geek collectible from the August MECHA Loot Gaming crate?
Loot Gaming Coupon Code
Use Loot Gaming coupon code SAVE3 for $3 off any new Loot Gaming subscription. Join today!