Meal Time Box is a dinner subscription box for busy people. Every 2 or 4 weeks, you'll receive chef-prepared, pre-packaged and ready to heat meals, delivered to your door. With today's Meal Time Box review, we're unboxing our August 2016 Meal Time Box.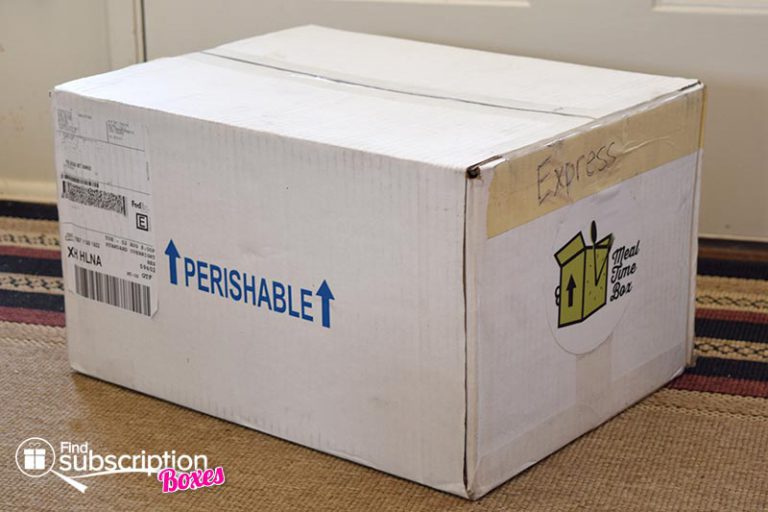 Meal Time Box delivers their meals in a Styrofoam container with gel packs to keep the meals cool. You can store them in the fridge if you plan on eating them that week, or throw them in the freezer to save them for another time. They also include a helpful sheet that lists that week's meals and cooking instructions.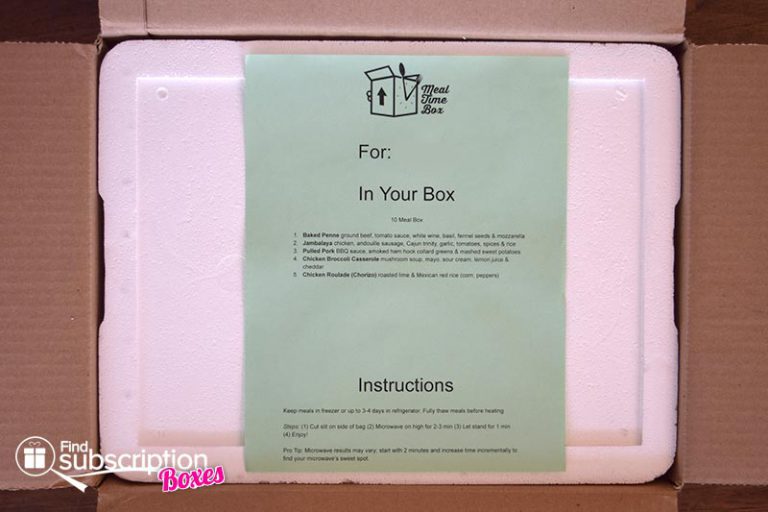 Here's a first look inside our August Meal Time Box.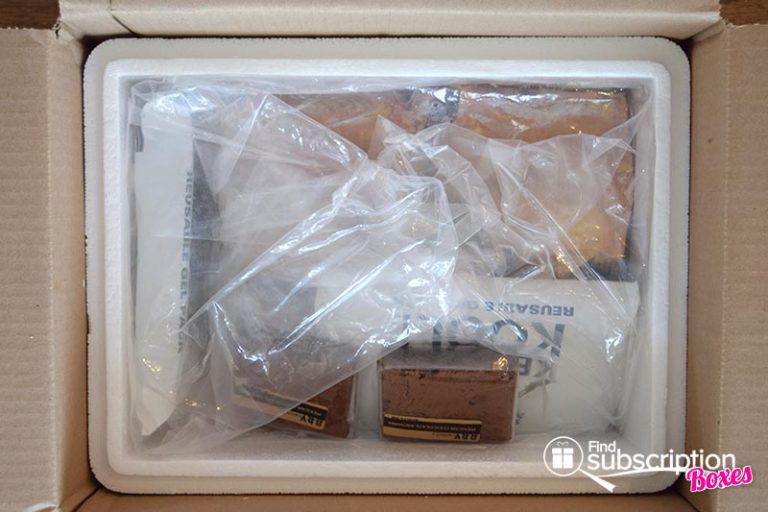 Inside our August 2016 Meal Time Box
Subscribers can choose the dinners they want to receive from the changing Meal Time Box menu. Meal Time Box can ship up to 20 meals per box. Each meal is pre-cooked, pre-packaged, and labelled. There were 5 dinners, 2 servings for each meal, in our July Meal Time Box.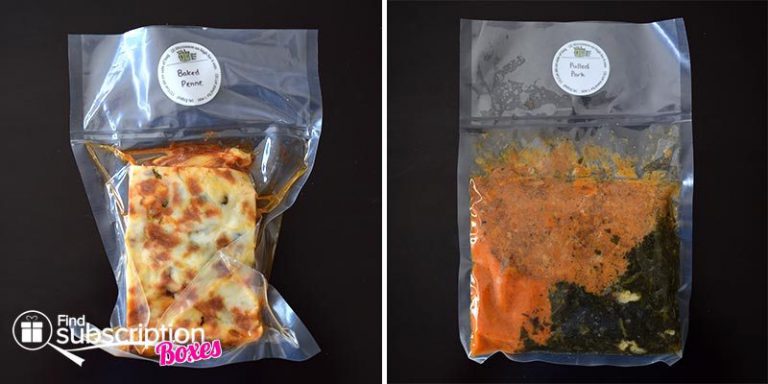 Jambalaya with Chicken & Andouille Sausage
Baked Penne with Beef & Mozzarella
Pulled Pork with Smoked Ham Hock Collard Greens & Mashed Sweet Potatoes
Chicken Roulade (Chorizo) with Mexican rice
Chicken Broccoli Casserole with Rice & Cheddar Cheese
Brownies
All the meals in the Meal Time Box are pre-cooked and are vacuum sealed. You just heat them up in the microwave for 2-4 minutes, depending on the meal and microwave.
August 2016 Meal Time Box Meals
Our first meal was the Jambalaya with Chicken & Andouille Sausage. As this meal was heating up, the entire kitchen started to fill with a wonderful aroma that smelled amazing. The Jambalaya has rice, peppers, chicken, sausage, and spice! It does pack a bit of heat that lingers but isn't too spicy. Meal Time Box doesn't skimp when it comes to the proteins. Each bite of our jambalaya had either sausage or chicken.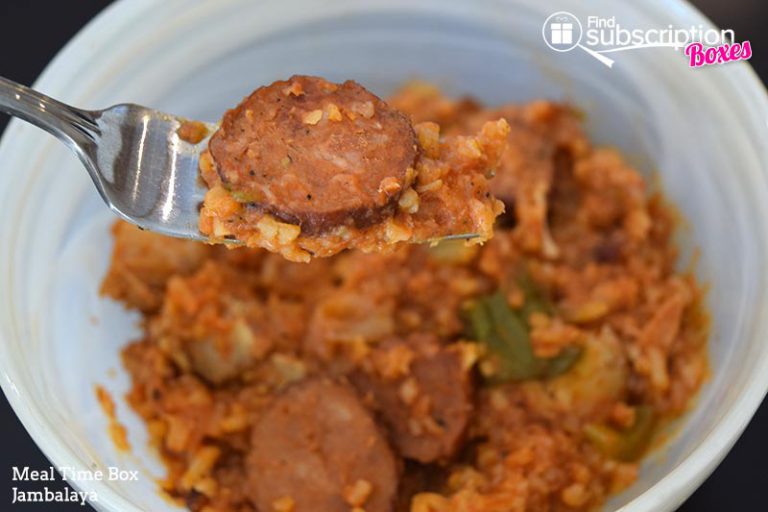 Next was the Chicken Broccoli Casserole. This is totally a comfort food meal with all the cheesy and saucy goodness you'd expect in a casserole. The rice was perfect for soaking up the sauce.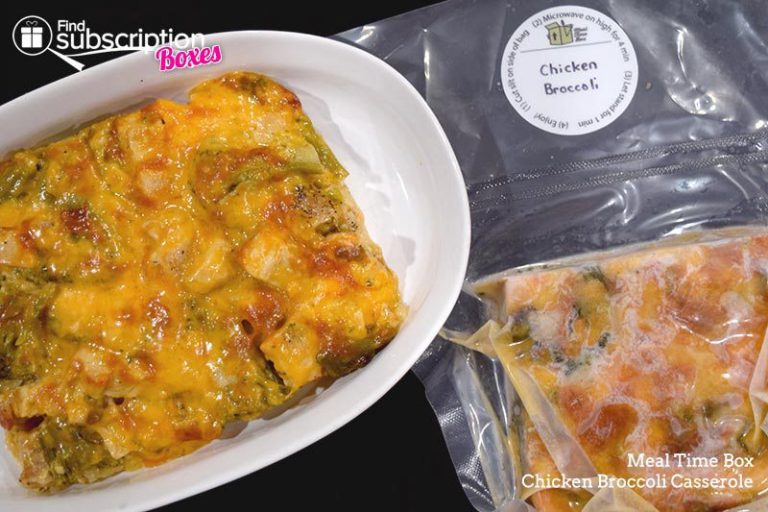 Meal Time Box's Pulled Pork was another winner. The chefs really know how to bring out amazing flavors. The pork was savory with a bit of a BBQ sauce flavor. The collard greens and mashed potatoes were delicious sides as well. They really delivered some of the best flavors of the South on this plate.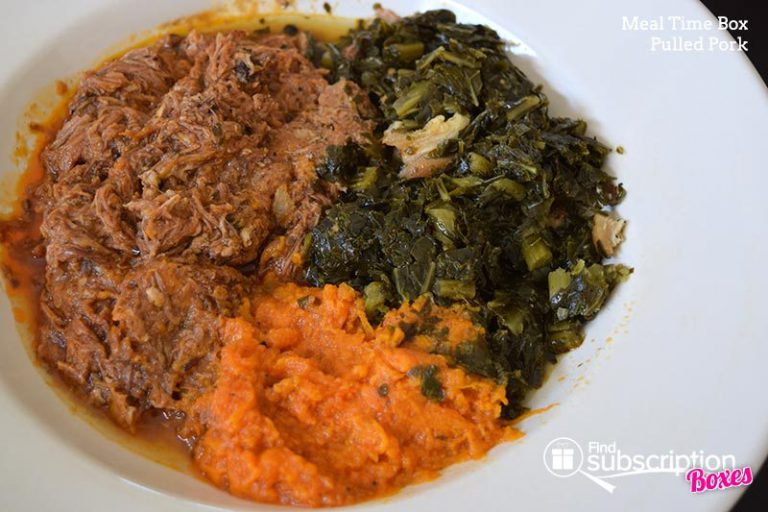 We've seen roulades prepared on cooking shows and couldn't wait to taste their Chicken Roulade. This chicken roulade came with Mexican rice flavored with grilled lime. It was stuffed with Chorizo sausage. The chicken was cooked perfectly – not an easy feat for a meal that came out of a microwave, but apparently Meal Time Box has the secret formula.
Finally, we had the Baked Penne. This is a simple, family-favorite dish that is perfect for everyone. With white wine, basil fennel seeds and melted Mozarella cheese on top, every bite packs in the flavor. Once again, Meal Time Box doesn't skimp on the beef, ensuring there was beef in every bite.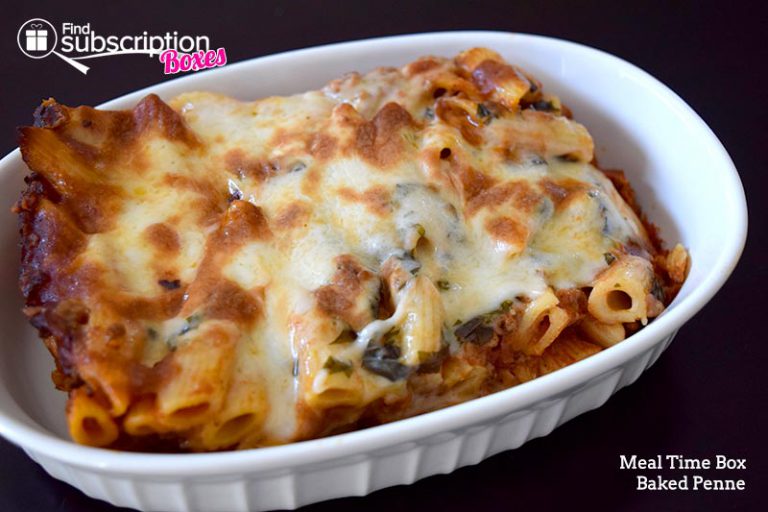 Meal Time Box includes FREE desserts in their weekly meal delivery boxes. Our meal box had brownies, which were a sweet way to end our meal.
August 2016 Meal Time Box Review Wrap-Up
Meal Time Box focuses on making home-style food with fresh and high quality ingredients and they really delivered with our August Meal Time Box. Every meal had home-cooked flavors that you could smell and taste. We love that Meal Time Box offers a variety of different cuisines so you can try different food flavors from around the world. Servings are generous which is great if you have a hearty eater in the house.
You can really taste that Meal Time Box uses fresh, quality ingredients and whichever chef prepared the meals REALLY knows their stuff. Meal Time Box successfully delivered gourmet meals that we could enjoy in a matter of minutes. It's a great dinner solution for people or families who spend a lot of money eating out. With 20 meal subscriptions, the price works out to just $7.75 per meal.
Have you tried Meal Time Box yet?
Meal Time Box Coupon
Enjoy chef-prepared meals delivered to your door! Get 15% off your first order with Meal Time Box coupon code FIRST15.
Meal Time Box is currently available in 21 East Coast states and Washington, DC: Connecticut, Delaware, Illinois, Indiana, Kentucky, Massachusetts, Maryland, Maine, Lower Peninsula Michigan, North Carolina, New Hampshire, New Jersey, New York, Ohio, Pennsylvania, Rhode Island, South Carolina, Tennessee, Virginia, Vermont, and West Virginia, as well as metro Atlanta and Savannah, GA.