If you love Japanese snacks, make sure you read our latest Bokksu review! Bokksu is a Japanese snack subscription box that delivers authentic Japanese snacks & teas delivered to your door every month.With today's Bokksu review, we're unboxing the August 2017 Bokksu Classic box. The August Bokksu theme was Cool For The Summer.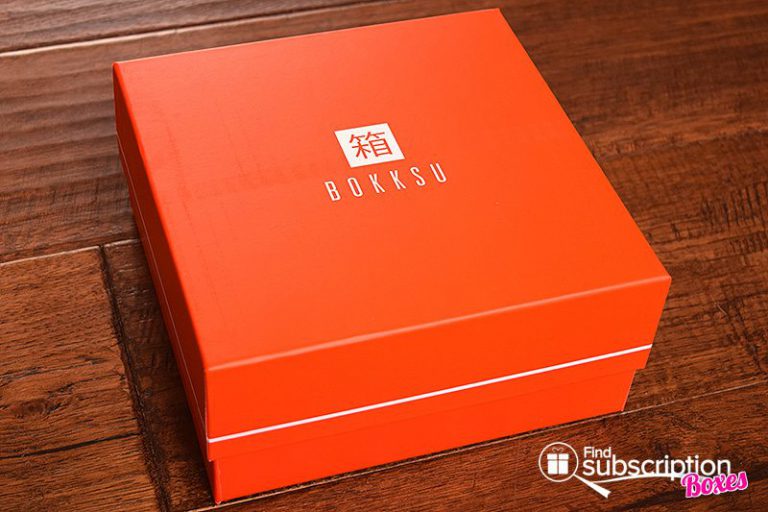 Bokksu includes a colorful brochure that describes the monthly theme and each of the Japanese snacks in the box.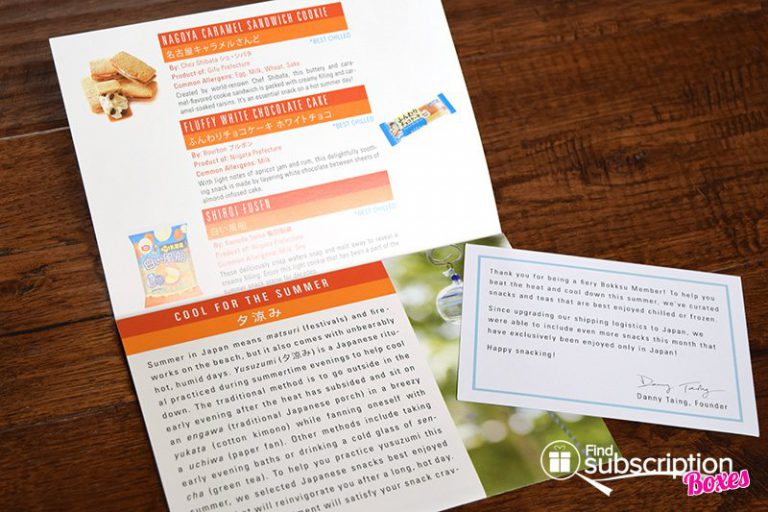 Here's the first look inside our August Cool for the Summer Bokksu box.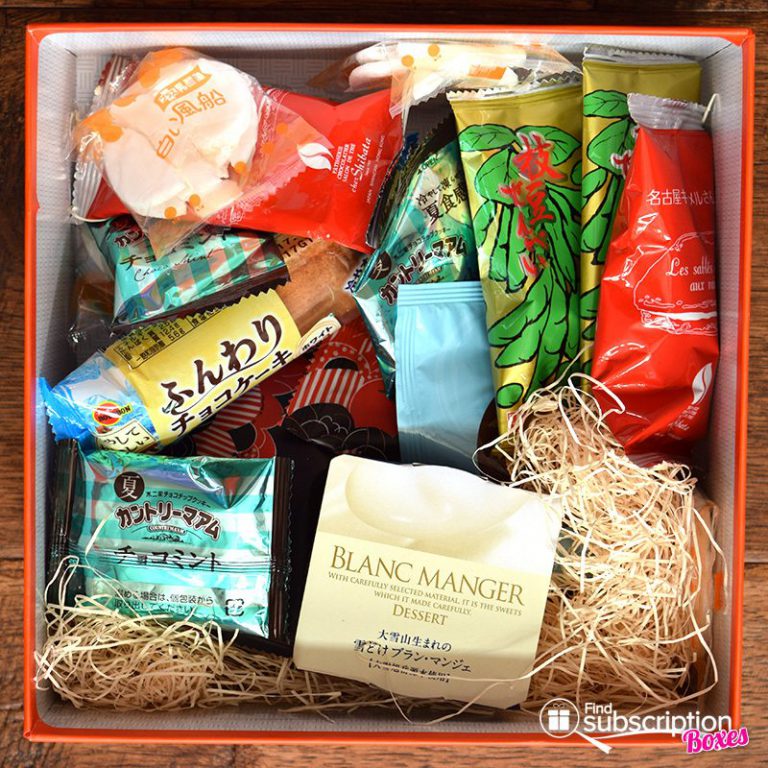 Inside the August 2017 Bokksu Classic Box
There were 8 different Japanese snacks in the August Bokksu box:
Nagoya Caramel Sandwich Cookie 名古屋キャラメルさんど
This buttery and caramel-flavored sandwich cookie is packed with creamy filling and caramel-soaked raisins.

Edamame Senbei 枝豆せんべい
This cracker packs a crunch with kinako and real edamame bits.

Fluffy White Chocolate Cake ふんわりチョコケーキ ホワイトチョコ
This soothing snack has layers of almond-infused cake and white chocolate with hints of apricot jam and rum.

Tomato Curry Rice Crackers ベジタブルライスクラッカー トマトカレー
Enjoy the rich tomato curry flavor of this perfectly balanced cracker.

Blanc Manger 雪解けブラン・マンジェ
Made with rice flour instead of gelatin, this creamy jelly-like treat has a sweet milk flavor and refreshing silky texture.

Satsumarché Mizudashi Cha サツマルシェ 水出し茶 
Quench your thirst with summer with a cold brew of refresh Sunch and Matcha green tea.

Shiroi Fusen 白い風船
These light cookies melt in your mouth to reveal and sweet creamy filling.

Summer Country Ma'am Chocolate Mint 夏カントリーマアム チョコミント
This fun cookie combines a soft buttery-soft chocolate cookie with refreshingly cool mint chocolate chips.
August 2017 Bokksu Classic Review Wrap-Up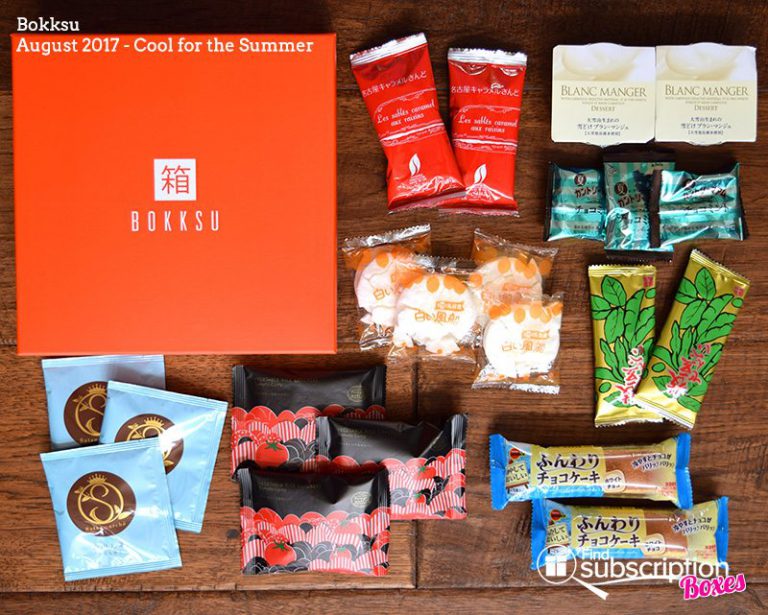 The August 2017 Bokksu Classic box was filled with sweet and savory treats that were perfect for summer! Several of this month's Japanese snacks were recommended to be enjoyed chilled or frozen. Let's start with the sweet Japanese cookies, cakes, and desserts in the Cool for Summer Bokksu Box.
Our favorite Japanese snack this month was the Summer Country Ma'am Chocolate Mint cookies. We chilled these cookies before eating, as suggested. These soft chocolate cookies really deliver on the chocolate flavor, without being too sweet, and the mint chips provide a burst of mint flavor as you enjoy the cookies.
Since we aren't the hugest raisin fans we were really surprised by how much we enjoyed the Nagoya Caramel Sandwich cookie. The cookie was soft and had a great caramel flavor. The cookies sandwich a thin layer of sweet cream and caramel raisins. Moving from soft cookies to crispy cookies, the Shiroi Fusen wafer cookies are super crisp and very light – kind of like a puffed rice cookie. The wafers have a thin layer of cream inside. Bokksu recommends you enjoy both these cookies chilled.
The last two sweet items in the box were a yummy layered cake and smooth, jelly-like dessert. The Fully White Chocolate Cake has layers of almond-infused white chocolate, apricot jam and rum. The cake itself is soft and not too sweet so the apricot and rum flavors can really pop. The Blanc Manger is an awesome dessert for people who like jelly-like desserts but don't want the gelatin. Made with rice flour, this silk, creamy dessert has a subtle sweet milk flavor. We froze this treat and it was a refreshing treat on a hot day.
On the savory side, we have two Japanese crackers. We enjoy edamame beans so getting to taste an Edamame cracker was a fun treat. Curry is a popular food to beat the heat of summer in Japan. The tomato curry crackers perfectly capture the bold and somewhat spicy flavors of tomato curry while balancing it with a nice crispy cracker. Both of these crackers are PACKED with flavor.
Finally, we have the Satsumarche green tea. You can cold brew a bag for a thirst-quenching cup of tea. For the cooler ays, hot brew the tea to bring out the Sencha's aroma.
Which was your favorite Japanese treat from the August Bokksu Classic box?
Make sure you check out our September Bokksu spoilers for a sneak peek at the Japanese treats in next month's box!
Bokksu Promo Code
For a limited time, use Bokksu promo code FSB10 to save $10 off the first month of any Classic Bokksu Subscription!