Gentleman's Box is a monthly subscription box for men. Each box is dedicated to the providing the essentials for the modern gentleman and is inspired by a notable gentleman from the past or present. Gentleman's Box subscription boxes contain 4-5 items which vary in each box, and each item is hand selected to reflect the current month's theme and complement a gentleman's lifestyle, plus a subscription to GQ. With today's Gentleman's Box review, I'm unboxing the August 2017 Gentleman's Box.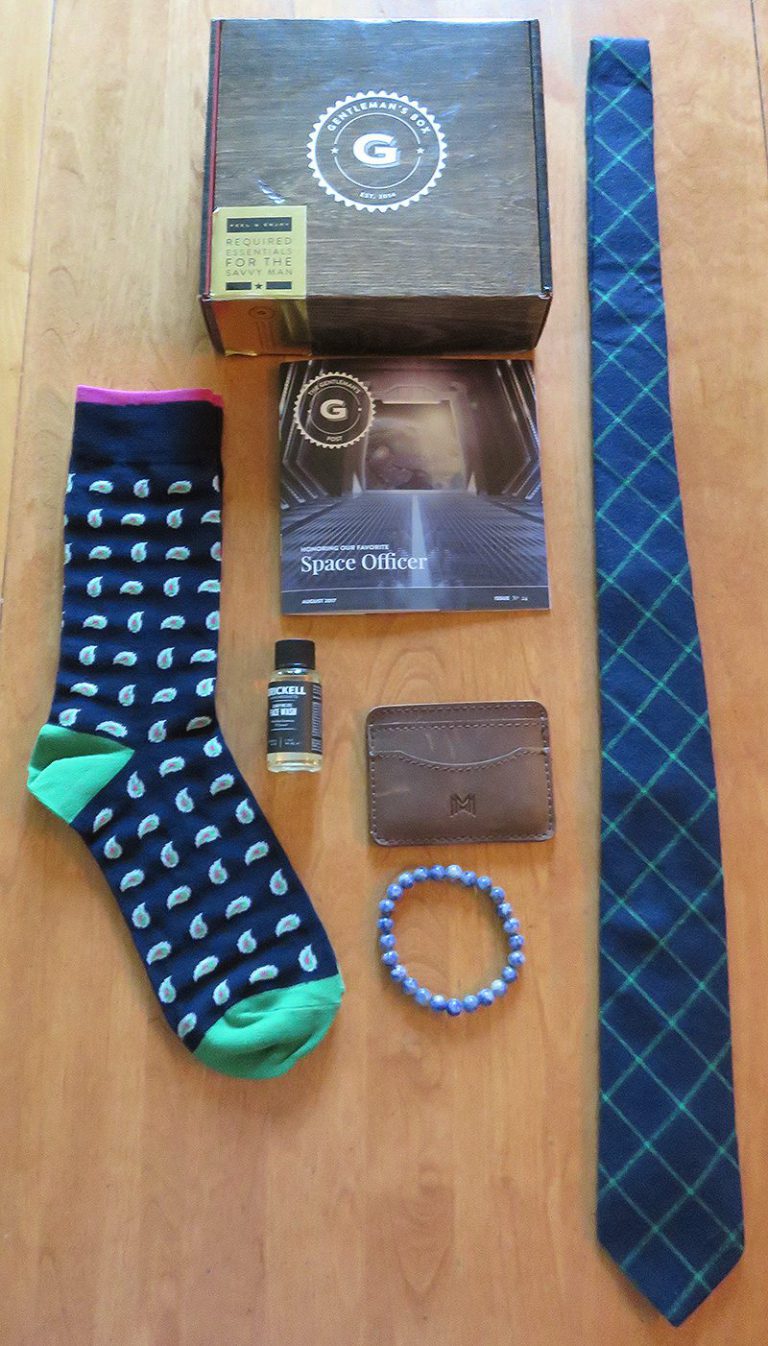 Inside the August 2017 Gentleman's Box
The August 2017 Gentleman's Box is Honoring Our Favorite Space Officer from an enduring space-themed TV and movie franchise. Best known for that role, he also had other interests: photography, seven books of poetry, five albums, and he directed seven films, among other accomplishments in his life. His works are in galleries and museums. Also philanthropic, he opened a career center with his wife in L.A. His famous last tweet: "A life is like a garden. Perfect moments can be had, but not preserved, except in memory. LLAP." I'm sure you know by now whom the inspiration was for this month's box.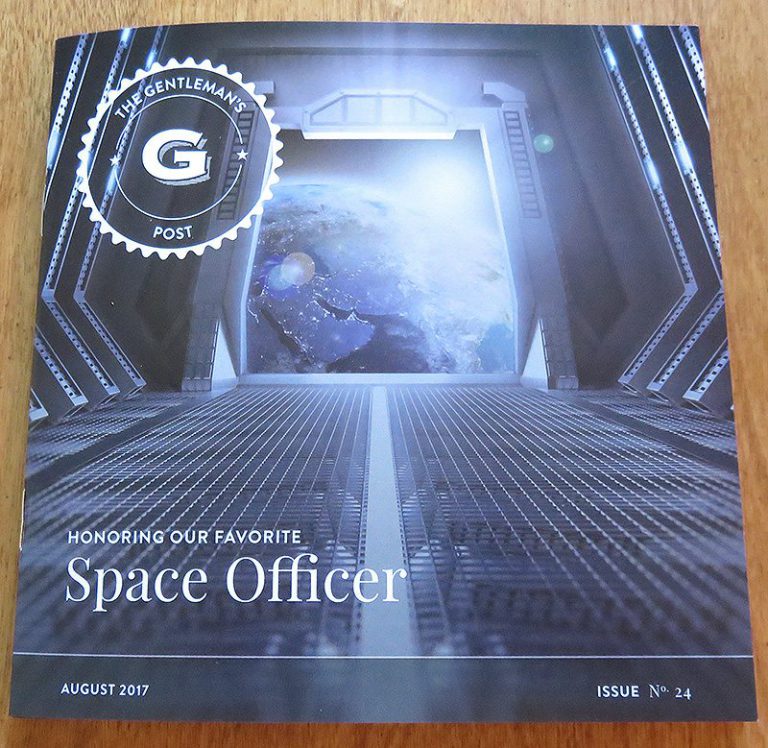 Look Good Inspiration:
Highbrow Socks by Wolf Clothing Co. have a simple paisley on navy with the boteh in a neat grid. Perfect for the office or on the golf course. Wolf Clothing Co.'s words to live by: "Know what you do, know why you do it, and kill it."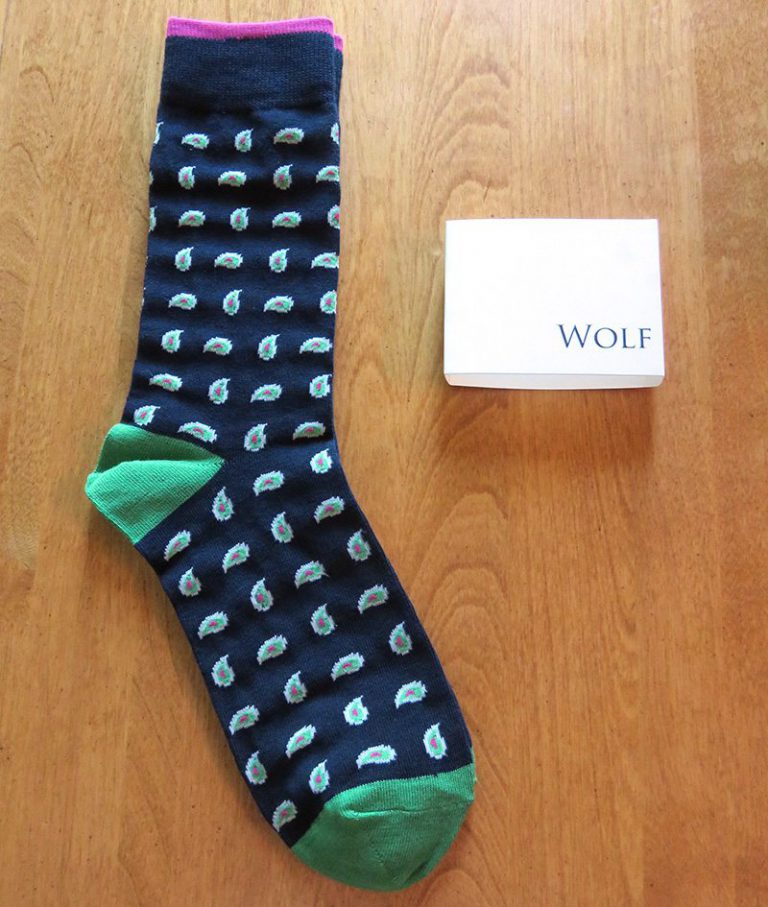 The navy with green argyle of the Gentleman Collective Tie will complement the socks nicely and will complement many colors in one's wardrobe. Gentleman Collective is known for donating 15% of each purchase to the Children's Aid Foundation benefiting abused and neglected children.

The Minimalist wallet from Modern Made Man is made in the USA from 100% leather. The wallet is just the thing for those carrying only the basics needed to navigate in our digital world. It will age beautifully with the saddle tan leather and sturdy construction.

The Gentlemen Essentials Earth Bracelet is the finishing touch in accessories to complete the outfit. All-natural blue stones go from casual to a night out. These items create an impeccable look for the end of summer going into autumn.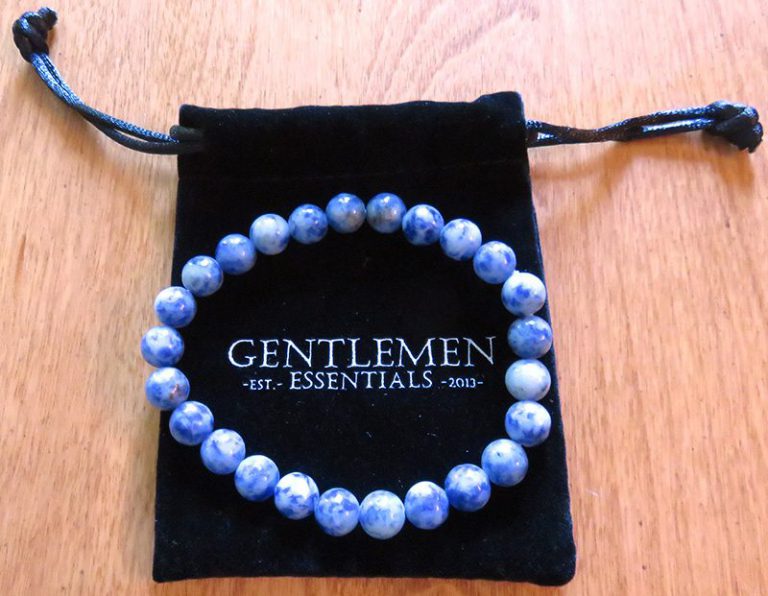 Feel Good:
Brickell Men's Products Face Wash in Clarifying Gel Face Wash with aloe, geranium, and coconut will gently cleanse while using the best natural ingredients. Great for any skin type. The tips include the best way to wash one's face and five ideas to enjoy the end of summer: finish a project, attend a comedy club, host a BBQ, one last trip to the beach, and make plans for fall.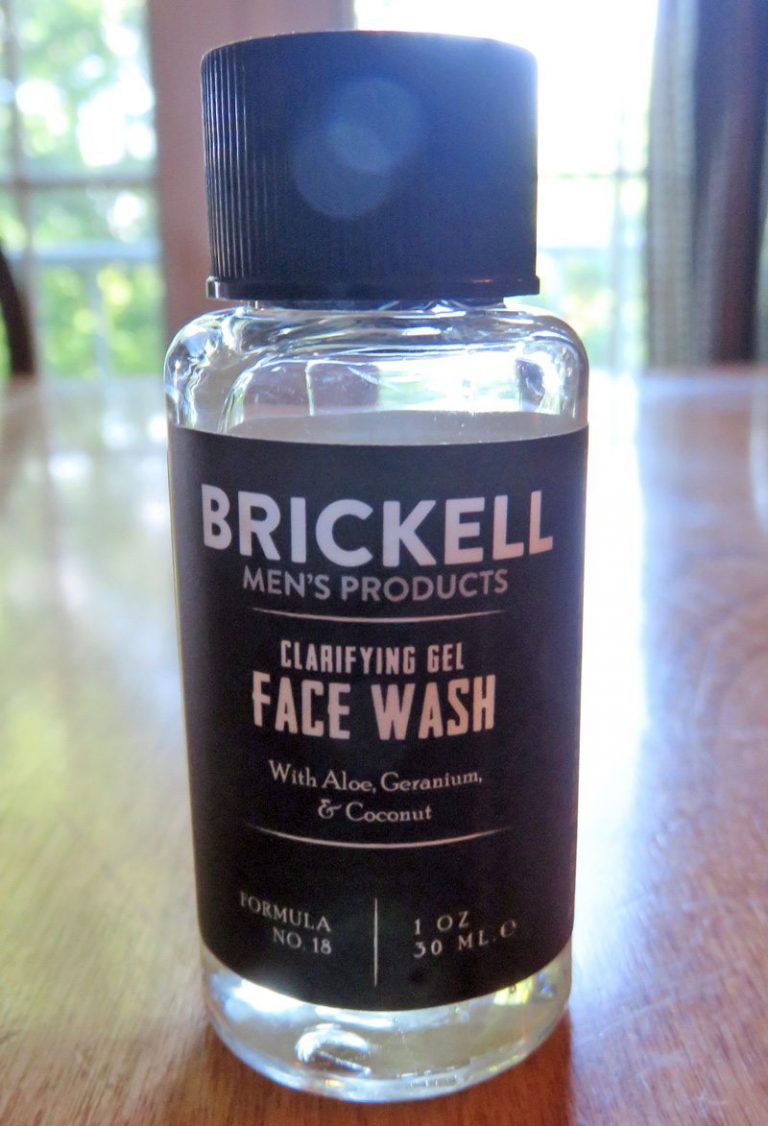 Be Good:
We learn about the career center founded by our Space Officer inspiration which helps those recovering from addiction and reintegration into society. Faith-based methods and creative arts facilitate the transition for the residents. Through professional career counseling, resume` building, interview training, and other programs, they're better prepared and able to find job placements in the L.A. area. This was a very important cause for this month's honoree.
There's a Social Giveaway featured in the Gentleman Post for this month, plus an exclusive discount offer at an e-retailer for Gentleman's Box subscribers. There's also an exclusive deal for an accessory which was part of a previous box. The featured member Q&A and fun fact is always a nice touch. The Gentleman's Tip for this month: "If you're offered a seat on a space rocket, don't ask what seat. Just get on."
August 2017 Gentleman's Box Review Wrap-Up
The Gentleman Collective Tie and Wolf Clothing Co socks will be perfect for this fall's events. All of the items are valued by the men in our household. The Space Officer theme was great timing with the solar eclipse this month and remembering space is the final frontier.  Some things never go out of fashion, and being a gentleman with style and responsibility is important for today's members. Accessories and lifestyle items enhance the experience one needs navigating daily life.
The Gentleman's Box promise is: To encourage men around the world to live the gentleman's lifestyle and to help them look good, feel good, and be good. There are monthly subscriptions, opportunities to buy previous boxes or mystery boxes, gifting opportunities, plus there are other items in the shop which can be purchased.
What was your favorite item from the August 2017 Gentleman's Box Space Officer box?
Gentleman's Box Coupon Code
For a limited time use promo code GB5OFF to get $5 off your first Gentleman's Box!