We're excited to share our August Loot Crate review! Every month, Loot Crate sends a mystery geek box filled with $45+ worth of epic geek, gamer and pop culture loot and exclusives like t-shirts and vinyl figures. Each Loot Crate subscription box has a new geek theme. With today's Loot Crate review, we're unboxing the August 2017 Loot Crate. The August Loot Crate theme was KINGDOM.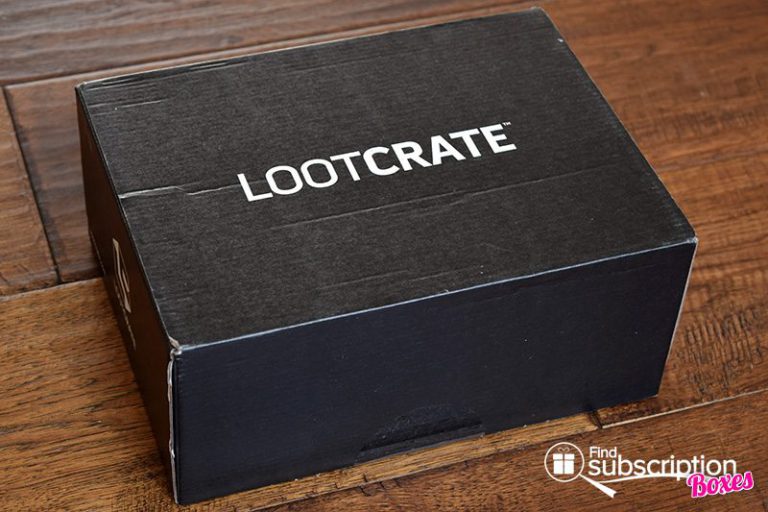 Each Loot Crate box includes a colorful brochure that details that month's themes and collectibles.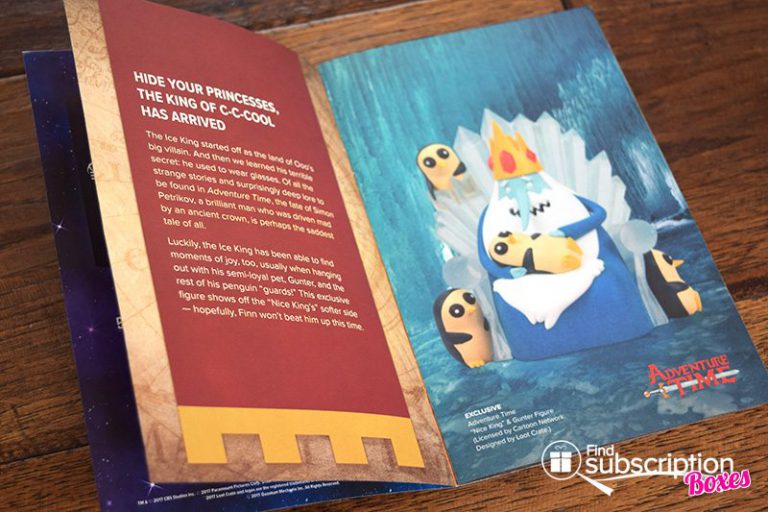 Here's the first look inside our Kingdom August Loot Crate.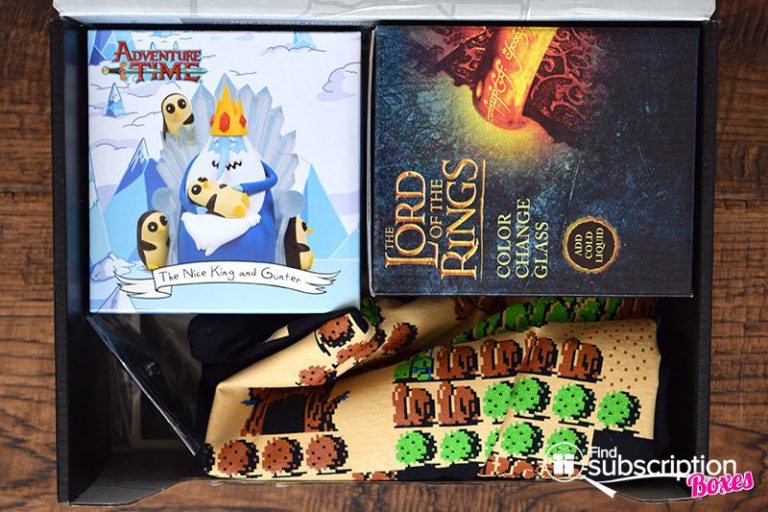 Inside the August 2017 Loot Crate Kingdom Crate
There were 5 geek and gamer collectibles in the August Kingdom Loot Crate.

EXCLUSIVE The Legend of Zelda Link 8-Bit Map Tee – Licensed by Nintendo. Designed by Loot Crate
Bring a little piece of retro Zelda to your style with this exclusive shirt featuring an 8-bit version of Link.
EXCLUSIVE The Lord of the Rings Color Changing Glass – Licensed by Warner Bros. Designed by Loot Crate
Raise a glass to one of the greatest fantasy series of all time with this exclusive color changing glass modeled after the One Ring.
EXCLUSIVE The Lord of the Rings Art Print – Licensed by Warner Bros. Designed by Bottleneck Gallery
Bright to you by Bottleneck Gallery and artist Matt Ferguson, this exclusive art print shows the hobbits Merry and Pippin riding atop Treebeard towards the dark tower of Isengard.
EXCLUSIVE Adventure Time "Nice King" & Gunter Figure – Licensed by Cartoon Network. Designed by Loot Crate
This exclusive figure shows off the "Nice King's" softer side while hanging out with his semi-loyal pet, Gunter.
EXCLUSIVE Loot Crate Kingdom Crest Pin
Designed by Loot Crate, this exclusive Kingdom Crest pin will let you show off your loyalty to Loot Crate wherever you go.
BONUS: August's Loot Pin unlocks an EXCLUSIVE Mozu Skin for Gigantic – a free-to-play strategic hero shooter.
August 2017 Loot Crate Review Wrap-Up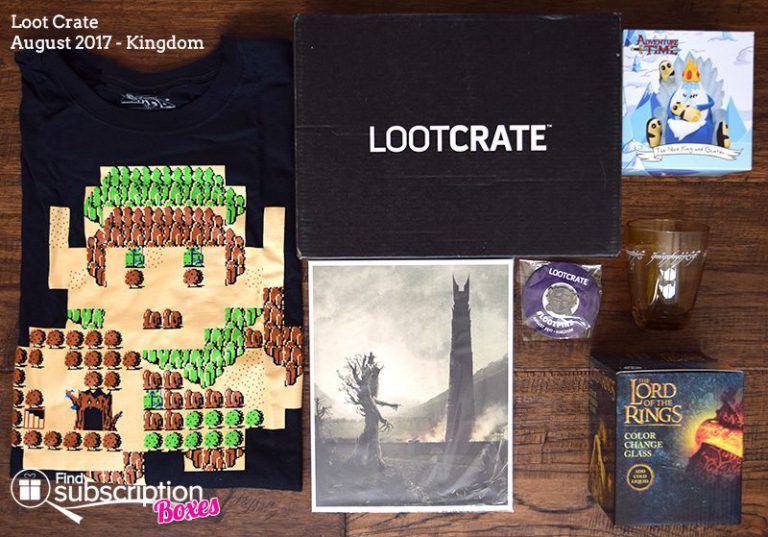 The August 2017 Loot Crate exclusive t-shirt features a fun Legend of Zelda design that retro video game fans will love. This pixelated version of Link is recreated with different parts of the original Legend of Zelda game map.
There were two LOTR collectibles in the August Kingdom Loot Crate. First is the exclusive Lord of the Rings art print. This frameable art work shows Merry, Pippin, and Treebeard after they've rallied the Ents to fight backing against Saruman. Next is our favorite collectible for the August Loot Crate – the color changing Lord of the Rings glass. This 9.5 oz glass has the Tengwar Elvish runes printed around the glass. The runes change colors as you pour a cold drink into the glass.
We haven't called a lot of geek vinyl figures "adorable" but the August Adventure Time "Nice King" & Gunter Figure is kind-of adorable! We can understand why the Ice King King's heart might melt a little as he's rubbing the belly of Gunter, his penguin personal servant. This colorful vinyl figure shows the Ice King sitting on a throne of ice, surrounded by his penguin "guards."
Which was your favorite August Loot Crate Kingdom crate collectible?
Make sure you check out the Loot Crate September 2017 box spoilers for a sneak peek into the next geek and gamer box!
August 2017 Loot Crate Coupon Code
Don't miss another box! Save $3 off new Loot Crate subscriptions when you use coupon code LOOTR3. Code SAVE10 will save 10% off any subscription. Sign-up for 12 months of Loot Crate geek boxes and you'll get a free Loot Crate t-shirt!