Orange Peel Box is a monthly aromatherapy subscription box that delivers 100% pure aromatherapy products to your door every month. Each Orange Peel Box aromatherapy box has a different theme and includes full-size aromatherapy products for room and body that match  that theme. With today's Orange Peel Box review, we're unboxing the August 2017 Orange Peel Box. The August Orange Peel Box theme was Rejuvenation.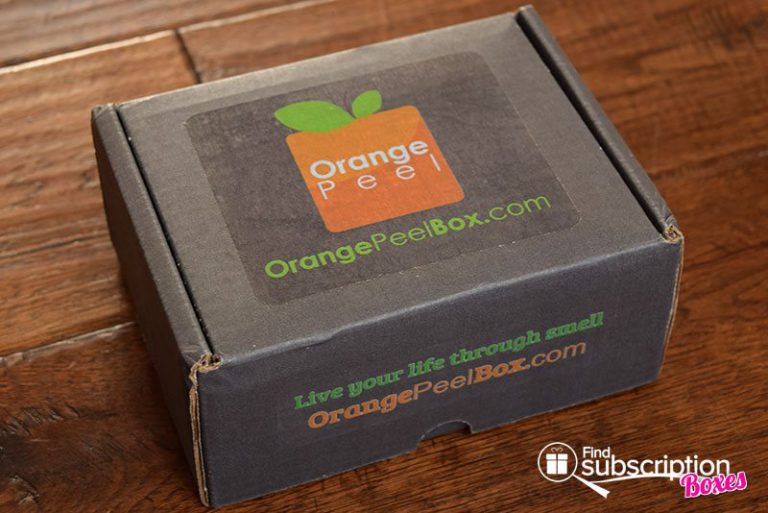 Orange Peel Box included a product card that described each of the aromatherapy items in the box.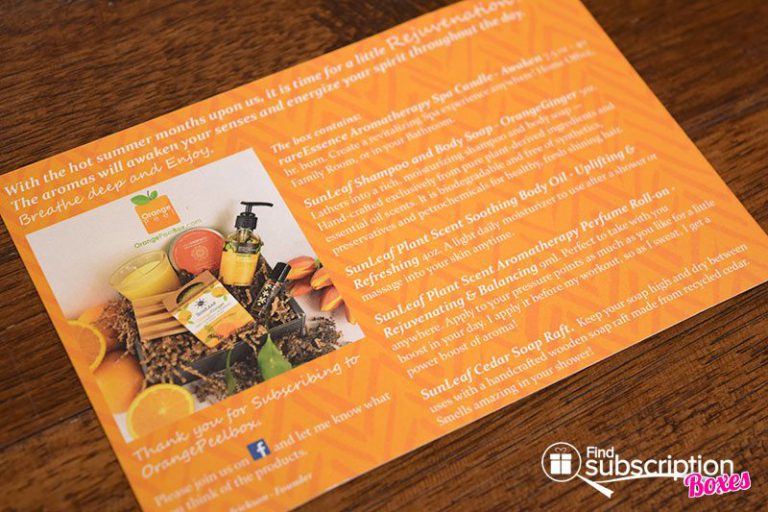 Here's a first look inside our August Orange Peel Box.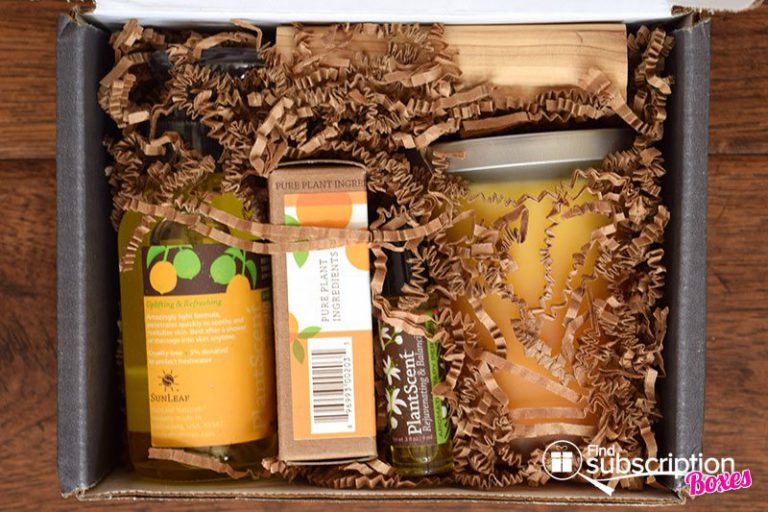 Inside the August 2017 Orange Peel Box Rejuvenation Box
There were 5 aromatherapy products in our August Rejuvenation Orange Peel Box.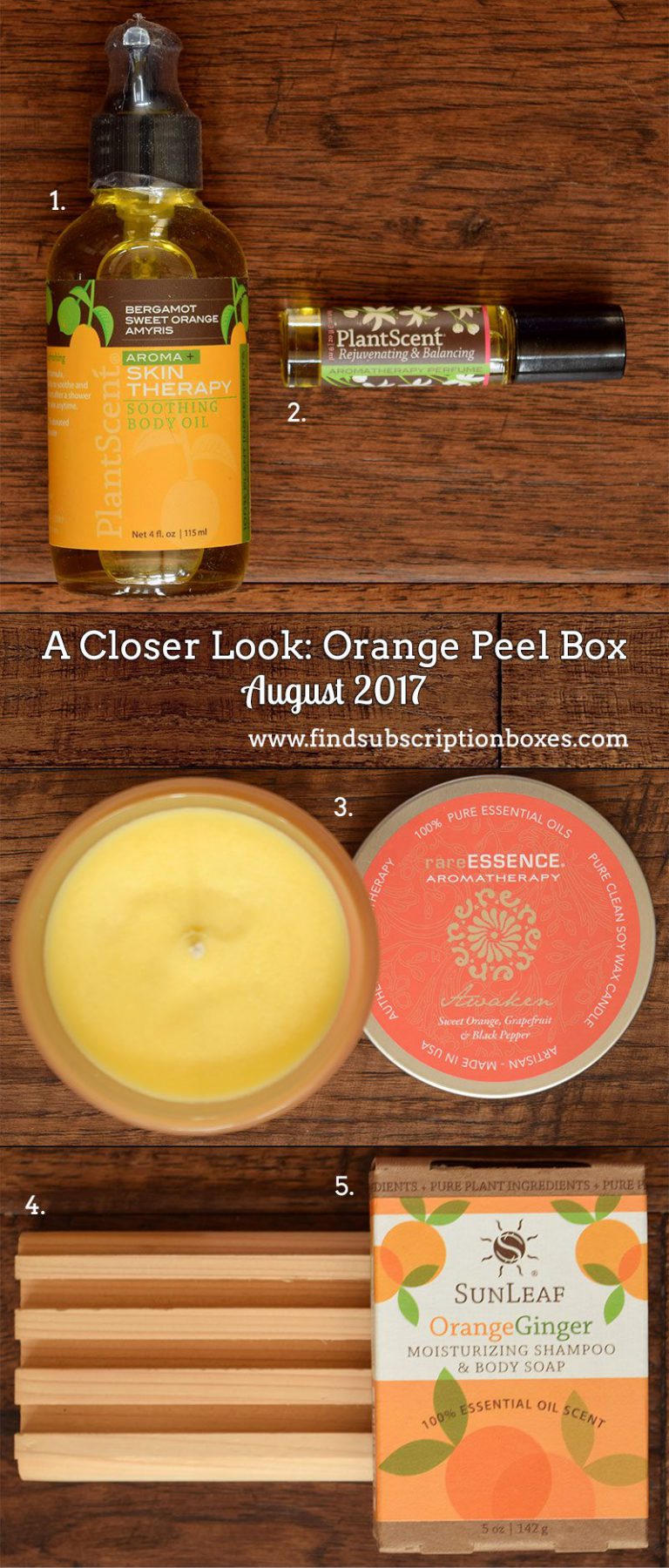 SunLeaf Plant Scent Soothing Body Oil – Uplifting & Refreshing, 4 oz
A light daily moisturizer to use post-shower or to massage into your skin anytime.
SunLeaf Plant Scent Aromatherapy Perfume Roll-on – Rejuvenating & Balancing 9 ml
Take this portable roll-on with you on-the-go and apply to your pressure points when you need a power boost of aroma
rareEssence Aromatherapy Spa Candle – Awaken, 7.5 oz – 40 hr. burn
Create a revitalizing Spa experience in any room of your home.
SunLeaf Cedar Soap Raft
Keep your soap dry and off the counter with this handcrafted wooden soap raft made from recycled cedar.
SunLeaf Shampoo and Body Soap – OrangeGinger, 5 oz
This hand-crafted soap is made with pure plant-derived ingredients and essential oil scents.
August 2017 Orange Peel Box Review Wrap-Up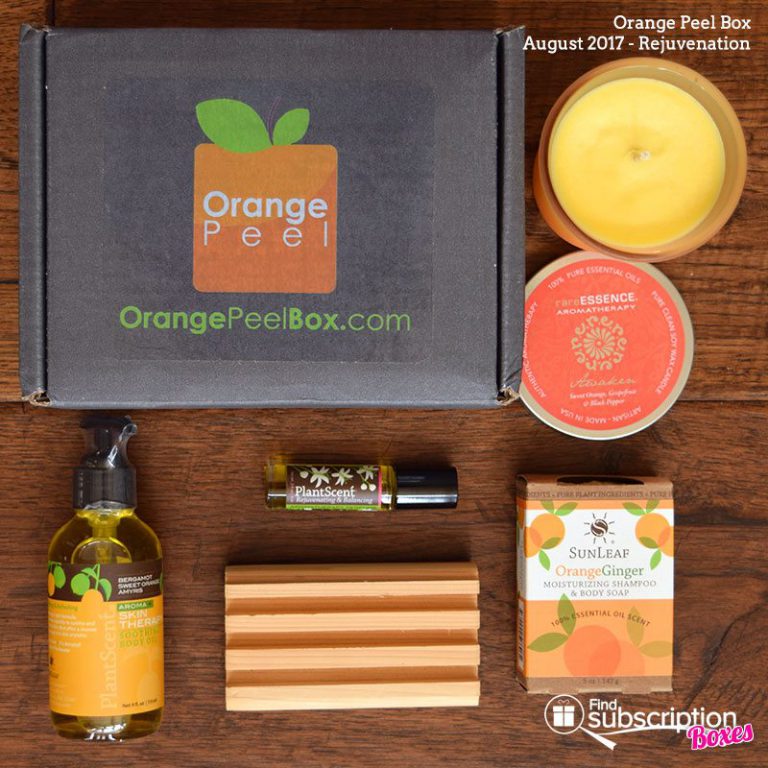 Orange Peel Box is the perfect subscription box for people who love aromatherapy and essential oils. Kicking off our August 2017 Rejuvenation Orange Peel Box was a large Aromatherapy Spa Candle made with Sweet Orange, Grapefruit and Black Pepper. When lit, the candle has a bright citrus scent with a subtle hint of spice. We use it for a nice afternoon boosting scent.
For an on-the-go energy boost, the Plant Scent Aromatherapy roll-on is a great solution. The Bergamot, Sweet Orange and Amyris essential oils applied to your pressure points helps balance and lift your spirit. The Uplifting & Refreshing Soothing Body Oil has the same essential oils – Bergamot, Sweet Orange and Amyris – in a lightweight moisturizer. It has a non-greasy formula that quickly absorbs into your skin, leaving it radiant and soft.
Finally, the OrangeGinger Shampoo and Body Soap is a great way to start the day. The essential oils awaken your senses as you use the soap. It also left our skin feeling clean, fresh and cool. We really appreciated that Orange Peel Box included a soap raft for the bar soap. It's perfect to help keep our soap dry and off the counter. Made of cedar, this soap raft also emits an earthy cedar scent when it gets wet.
We loved that there was such a great variety of aromatherapy products in our Orange Peel Box. What was your favorite August Orange Peel Box aromatherapy item?