Blue Apron is a meal subscription program which makes "mealtime unforgettable with premium ingredients, farm-fresh produce & unique seasonal recipes—all delivered right to your door." The Blue Apron Experience is in four steps, 1) original recipes, 2) you choose the menu, 3) a refrigerated box is delivered to you free, and 4) you prep and cook the meal in about 35 minutes. With today's Blue Apron review, we're unboxing and cooking our Blue Apron August 2016 Week 3 box.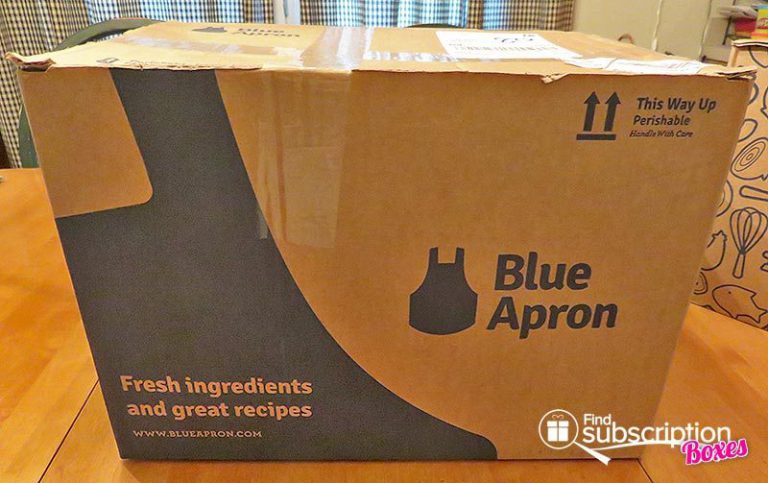 Our boxes arrived by an overnight shipper on ice in refrigerated packaging. This packaging can be recycled back to Blue Apron—instructions are on the website. This packaging ensures the fresh ingredients of protein, dairy, and produce maintain a proper cool temperature. The recipe cards are colorful, show the exact items needed from the shipment, and have easy to follow, step-by-step instructions for making each dish. And you can go to the Blue Apron website for cooking tips for each recipe. Each recipe includes a wine pairing suggestion.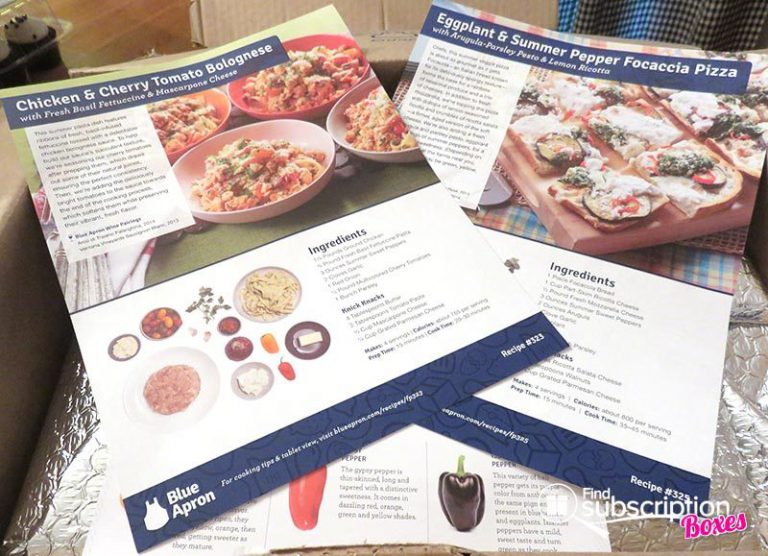 We unboxed four meals for our plan which had enough food for four people in each recipe. Our Blue Apron August 2016 week 3 meals included Roasted Pork & Summer Succotash, Chicken & Cherry Tomato Bolognese, Teriyaki-Glazed Salmon, and Eggplant & Summer Pepper Focaccia Pizza. The featured ingredient for the shipment was Sweet Peppers, and we learned about a farm cooperative called Sunny Harvest in Lancaster County, Pennsylvania, who is a Blue Apron supplier.
We made our meals in no particular order. Our first dinner was Chicken & Cherry Tomato Bolognese. Blue Apron provided everything needed but salt, pepper, and olive oil. We just needed to wash and prep the produce items then start cooking.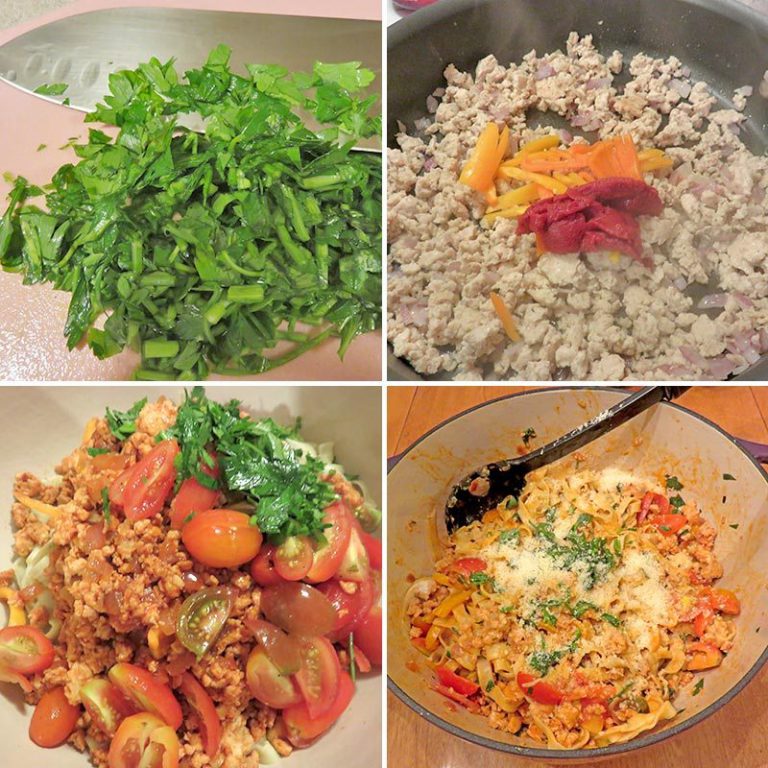 Our second meal was the Eggplant & Summer Pepper Focaccia Pizza. Once again, all I needed to supply was the salt, pepper, and olive oil. It was an easy-to-prep meal and we used it for a Saturday lunch.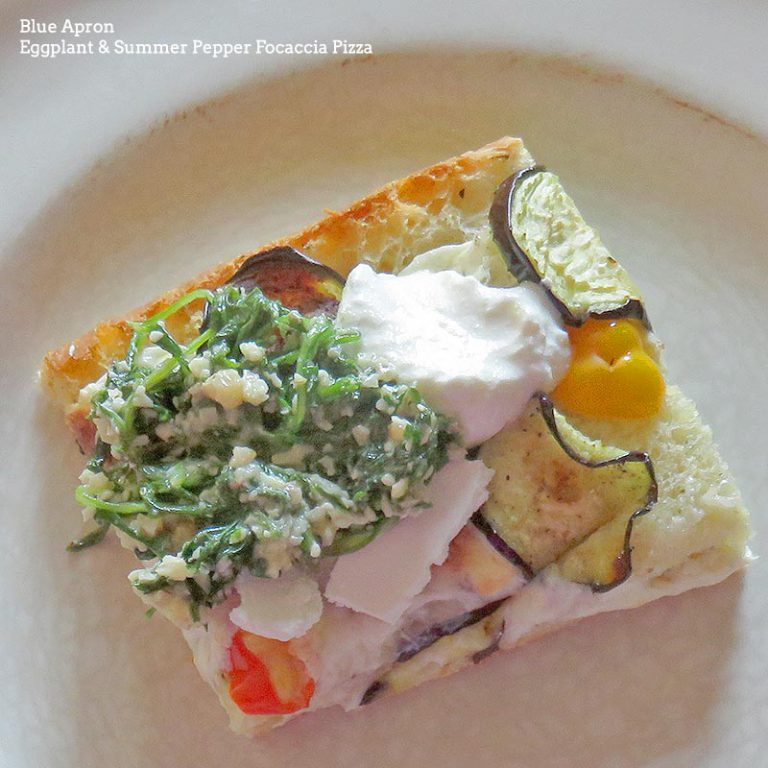 We chose the Teriyaki-Glazed Salmon meal next. It was a very quick prep and everything was made in one pan. This was an easy meal on a busy night.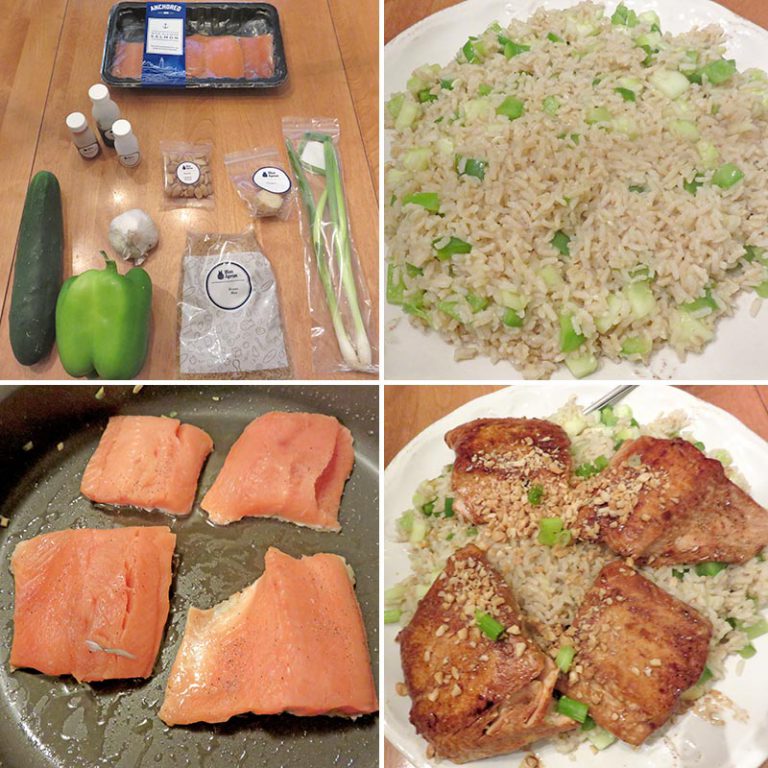 Our final meal in the shipment was the Roasted Pork & Summer Succotash. This required a little bit more cooking time and used the oven, but we used the same pan for searing the seasoned pork, which was transferred to a lined sheet pan. Then we made the succotash using the fond (roasted bits in the pan left over from the pork searing) and added a tiny bit of olive oil so the pan wasn't too dry. After finishing the succotash, we wiped the pan and made the tomato fondue for dressing the pork.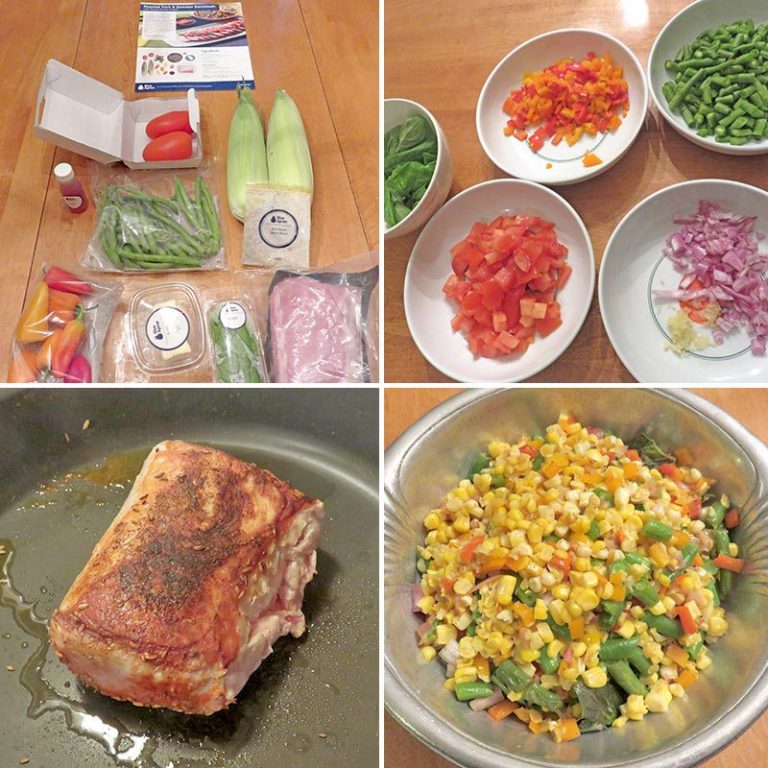 This fondue is not a cheese fondue: it's a slightly reduced tomato sauce from fresh tomatoes enriched with the butter. While we enjoyed all the meals, this was the overall favorite meal.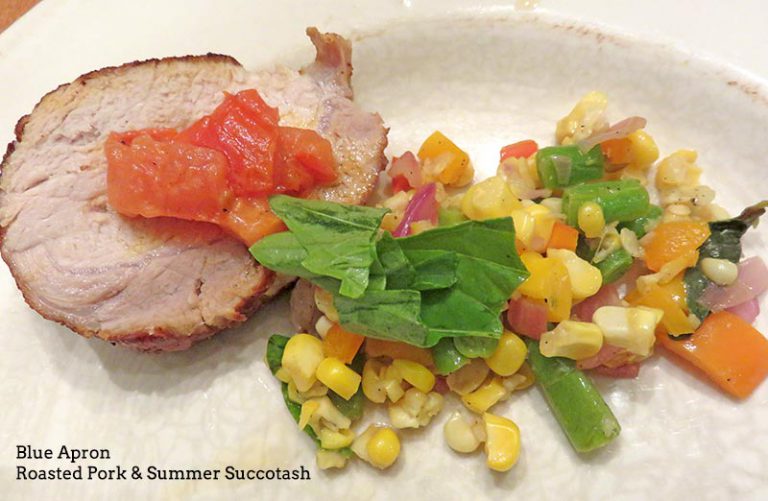 For a busy family, Blue Apron makes meals easier, plus it's healthier with fresh ingredients which are sustainably-sourced, and it was quick from start to finish. Every meal had wonderful flavor. Nothing is complicated to make, so anyone with basic kitchen skills will love the ease of making a gourmet meal at home.
Blue Apron 3 Free Meals Coupon
Use this limited time Blue Apron coupon to get free meals delivered! Join Blue Apron now and get THREE FREE meals!