Blue Apron is a weekly subscription box that provides you with all the fresh ingredients you need to create gourmet meals from the comfort of your kitchen. After signing up, you can choose what meals you would like to cook. You can also skip meals up to five weeks in advance, in case you are going out of town or need to save a little money one month. These are the options you can choose while signing up:
Two-Person Plan, 2 Recipes: ($47.95)
Two-Person Plan, 3 Recipes: ($59.94)
Four-Person Family Plan, 2 Recipes: ($69.99)
Four-Person Family Plan, 3 Recipes: ($104.88)
Four-Person Family Plan, 4 Recipes: ($139.84)
Two-Person Vegetarian Plan, 2 Recipes. ($47.95)
Two-Person Vegetarian Plan, 3 recipes: ($59.94)
The two person plans amount to $9.99 per serving, and the family plans amount to $8.74 per serving. This is definitely more expensive than purchasing your own groceries. However, if you eat out at least two times a week, this may end up helping your wallet. The average American eats out four to five times a week, and they typically spend around $12.75 per meal. (via The Simple Dollar). If you choose a 3 recipe box, you could potentially be saving yourself over $30 a month. Plus, the recipes they send out are tasty, chock full of veggies, and definitely much healthier than most restaurant food.
This week, I tested out the two-person, 2 recipe vegetarian plan. The recipes I chose were Spicy Black Bean & Kale Enchiladas, and Brown Butter Gnocchi with Mushrooms and Chard. The ingredients arrived on Thursday afternoon, in a big box. There was a big packet of ice in the box, to keep the ingredients fresh. The ice was separated from the ingredients by a cardboard partition; however, a bulb of garlic had fallen underneath and gotten completely waterlogged. Other than that, every ingredient was fresh and undamaged.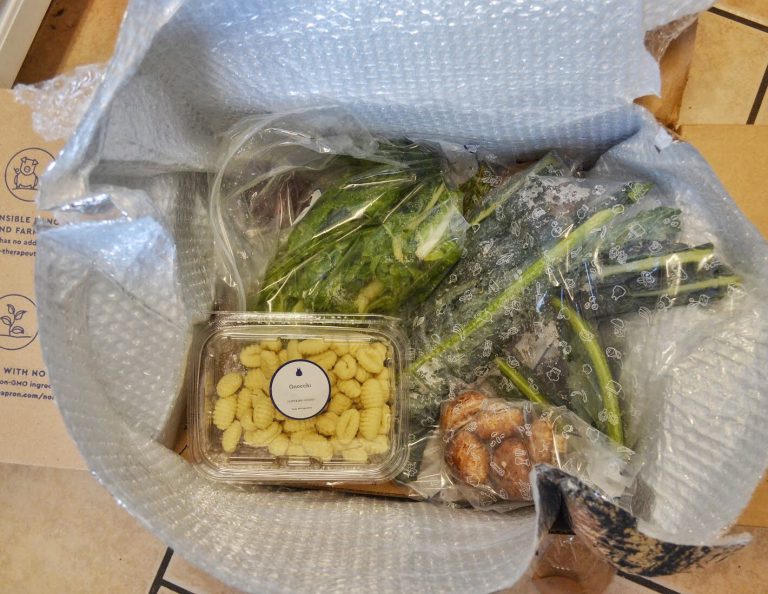 Here is everything that came in the box: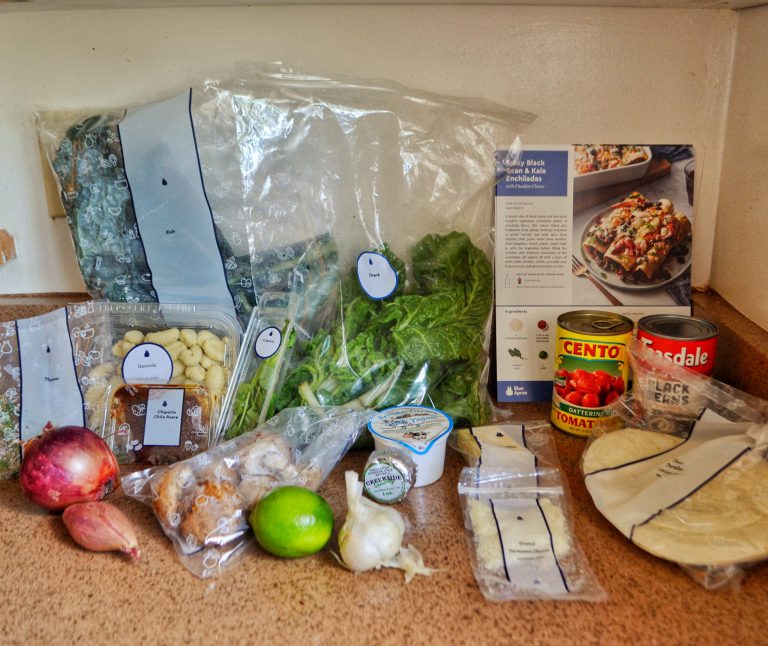 I decided to make the Spicy Black Bean and Kale Enchiladas first. It was easy to determine which ingredients went with which box. The box came with two recipe cards; the front sides show which ingredients you will need, and the backside has the instructions.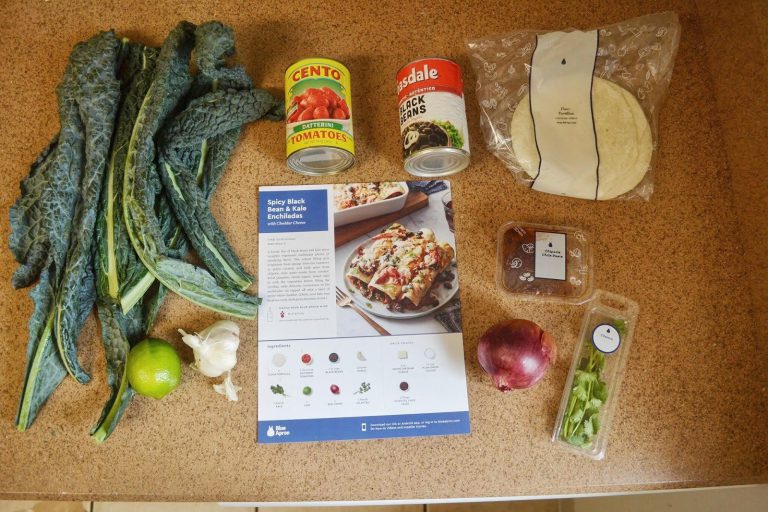 I found the instructions to be very straightforward and simple. First, I had to wash and prep my produce.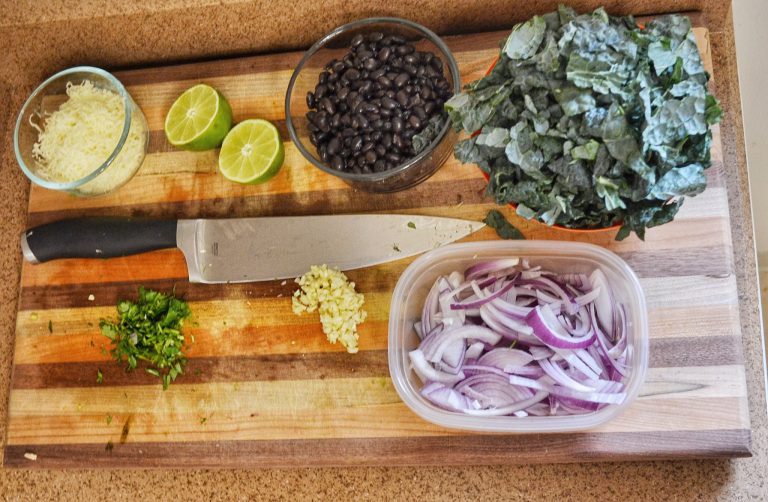 Next, I created a creamy sauce on the stovetop. This part smelled so good! The recipe said to put in less chili paste if you want your dish to be less spicy; I'm so glad they put that in there. I only used half a tablespoon of the paste in the dish, and it was plenty spicy for me.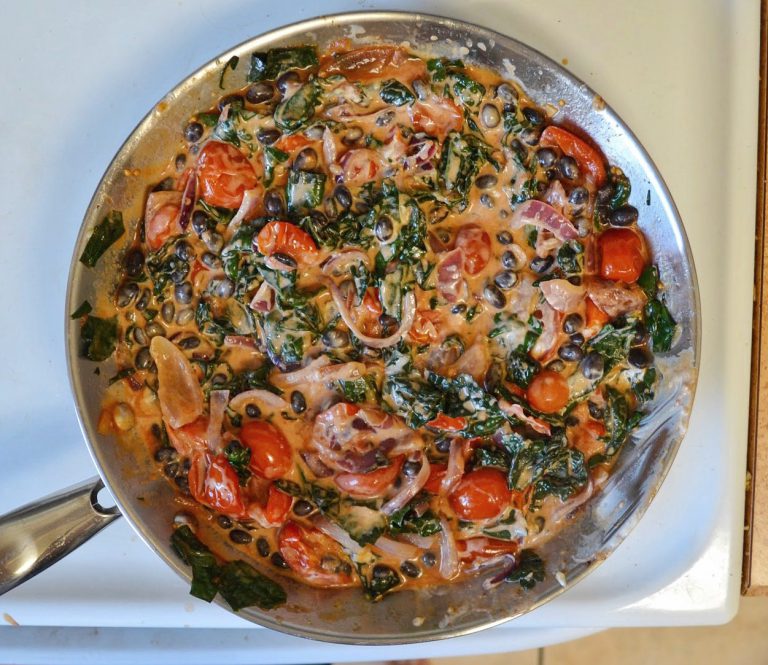 Next, I took the filling and stuffed it into tortillas. I put the tortillas in a casserole dish, and topped with shredded white cheddar cheese. In the oven it went!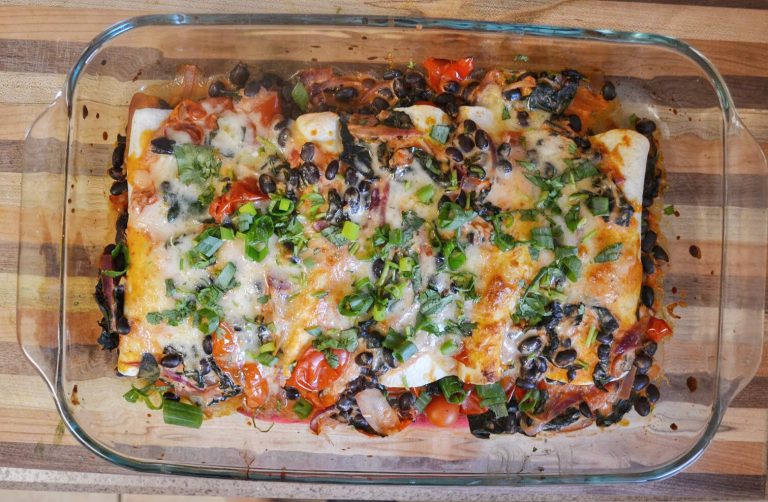 The results were absolutely delicious! I love that they had me make my own sauce, instead of giving me a can of pre-made enchilada sauce. I find the canned sauce to be too salty and overpowering. This was an awesome mix of flavors, and it was something I felt good about eating.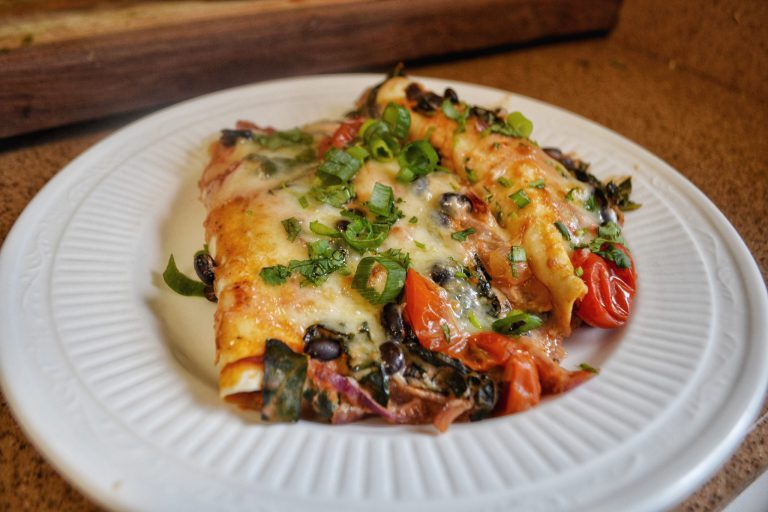 The next night, I made the brown butter gnocchi. I was pleasantly surprised to see that they sent me fresh gnocchi, instead of the dried packaged kind. This was a no-fuss dish that only requires six ingredients.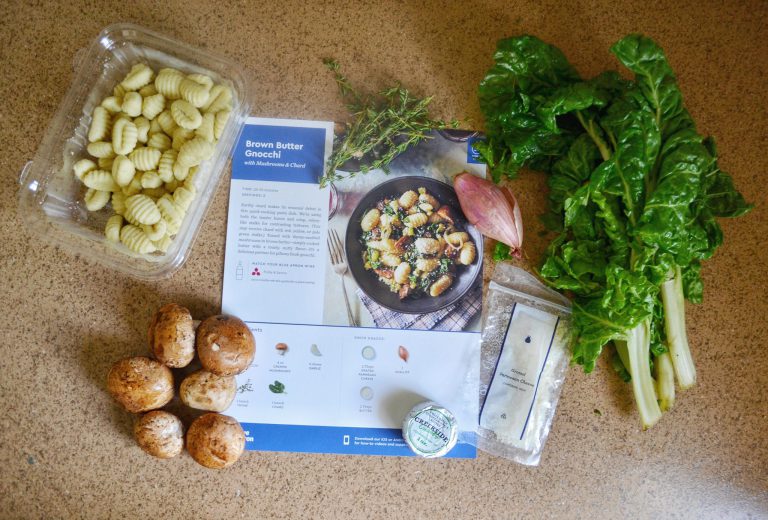 Again, the first step was to prep my ingredients. There were fewer ingredients to prep this time, and it only took about three minutes.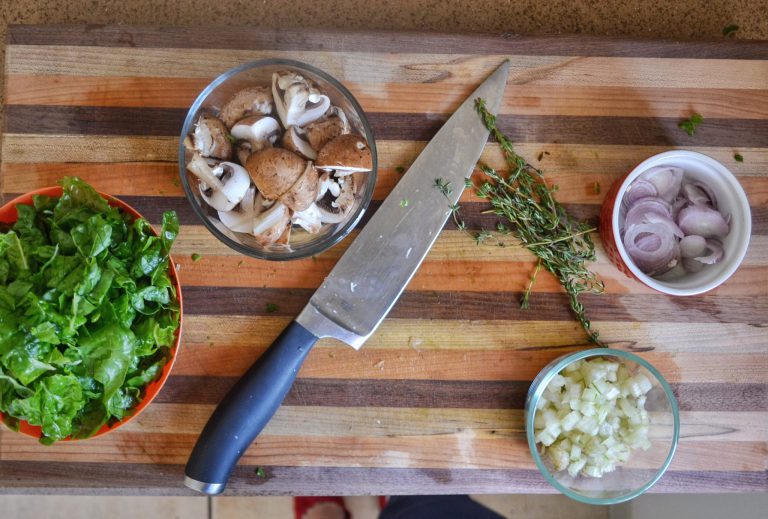 Next, I made a simple brown butter & thyme sauce on the stovetop, and tossed in some mushrooms.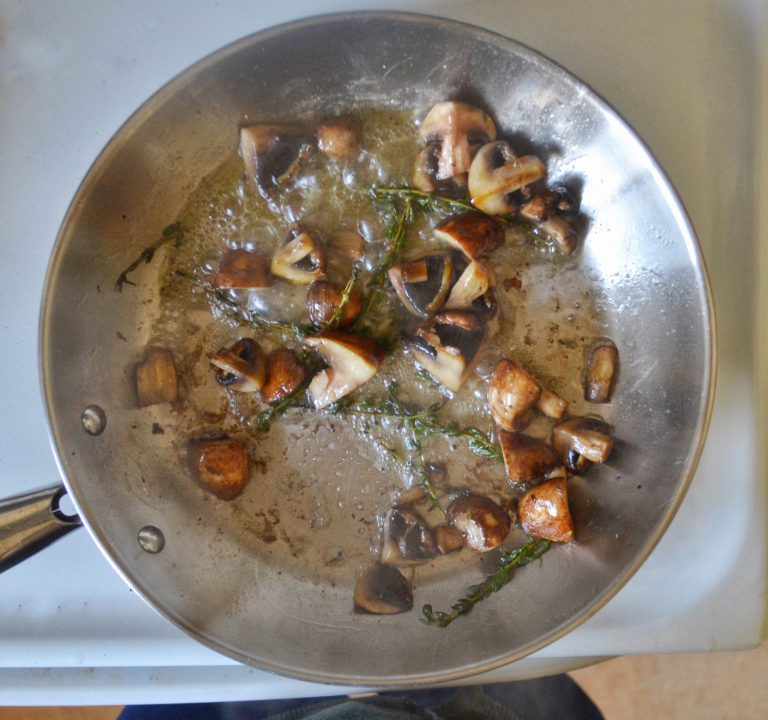 While my mushrooms were cooking, I added some chard and also prepared gnocchi on another burner. One awesome thing about gnocchi is that it only takes a couple minutes to cook. Once the gnocchi is floating at the top of the pan, you know it is done! I added the gnocchi to the pan, and mixed it all up. And then the meal was complete! It was really easy, and took less than 20 minutes.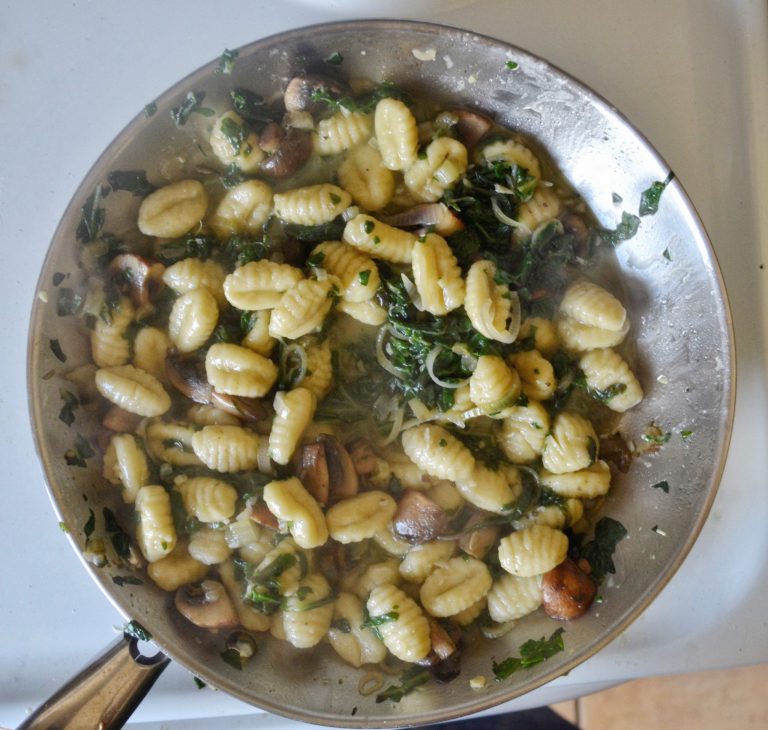 I topped the gnocchi with a little Parmesan cheese, and dug in! Out of the two recipes, I preferred the enchiladas. However, this was still really tasty. I really loved the taste of the cremini mushrooms; I typically don't cook with these because they are not available at my local grocery store. They added a deep, savory complexity to the dish.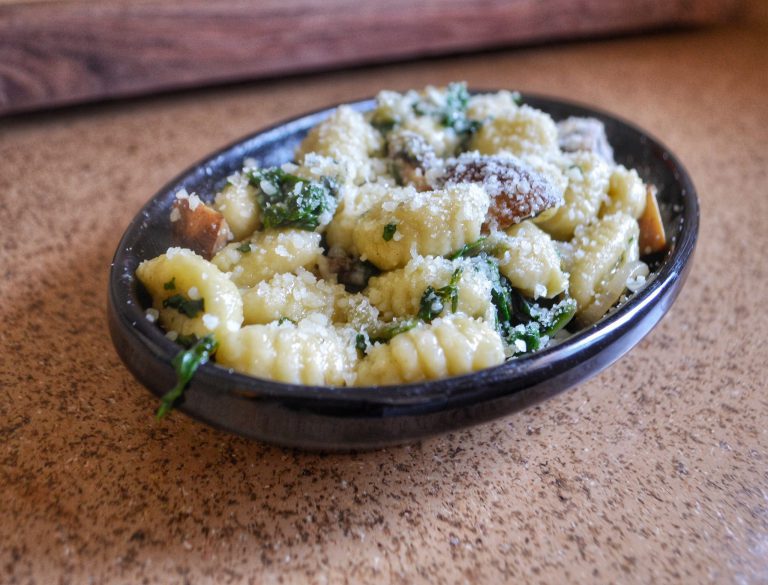 Because I live alone, the two-person meal plan provided me with four servings of food total. Now, I normally cook every single meal at home. I spend about $50 a week on 21 meals, plus snacks. So, spending $50 on four servings of food through Blue Apron is not worth it to me. However, I understand that my situation is definitely in the minority, and that Blue Apron will definitely be worth it if you frequently eat out. I really do love the service; the meals are so delicious, and the produce is fresh. If you are trying to decide whether to sign up for Blue Apron, I would encourage you to take a look at your monthly food spending. If it saves you money, why not go for it? Plus, you will get a chance to sharpen your skills in the kitchen.
Blue Apron is currently offering $20 off your first box. Click the subscribe button below to sign up!