Blue Apron is a weekly subscription box that provides you with all the fresh ingredients you need to create gourmet meals from the comfort of your kitchen. After signing up, you can choose what meals you would like to cook. You can also skip meals up to five weeks in advance, in case you are going out of town or need to save a little money one month. These are the options you can choose while signing up:
Two-Person Plan, 2 Recipes: ($47.95)
Two-Person Plan, 3 Recipes: ($59.94)
Four-Person Family Plan, 2 Recipes: ($69.99)
Four-Person Family Plan, 3 Recipes: ($104.88)
Four-Person Family Plan, 4 Recipes: ($139.84)
Two-Person Vegetarian Plan, 2 Recipes. ($47.95)
Two-Person Vegetarian Plan, 3 recipes: ($59.94)
The two person plans amount to $9.99 per serving, and the family plans amount to $8.74 per serving. In my last review of Blue Apron, I discussed how this service will save you money if you typically eat out two or three times a week.
Last week, I tested out Blue Apron's two-person, two-recipe vegetarian plan. I picked out the recipes Cauliflower Steaks & Purple Barley Salad, and Fresh Cavatelli & Kale with Fried Rosemary and Walnuts. Both of these recipes were unlike anything I had ever cooked before, and sounded delicious.
My box arrived at 9 in the morning last Thursday. Everything came packaged in a large box, with ice at the bottom. Mostly everything arrived in good condition; however, there was one waterlogged shallot that was unusable, and half of the arugula was slimy and rotten. I had an extra shallot on hand, but I was only able to use a small amount of arugula when making my Cauliflower Steaks recipe. Last box, one of my items arrived unusable as well, which I had hoped was a fluke. One additional thing that I didn't really like was that there was a large bug in the cauliflower package.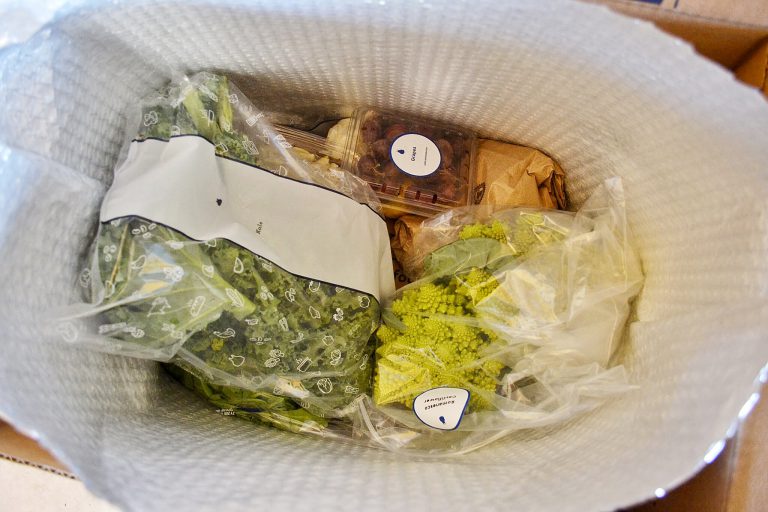 Here is everything that came in my box: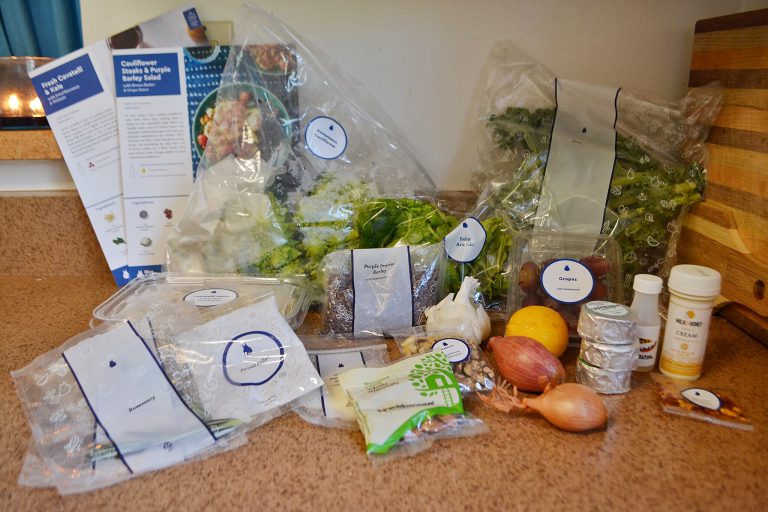 I made the Fresh Cavatelli & Kale with Fried Rosemary and Walnuts first. The picture on the recipe card looked decadent, and it was calling my name. These are all the ingredients needed for that recipe. I was excited to see that they sent me fresh pasta again!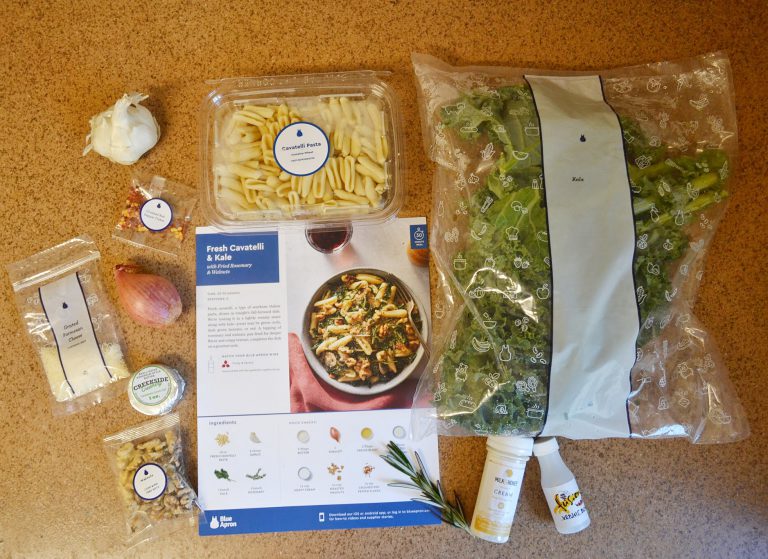 First, I had to prep my ingredients. This didn't take too long, because the recipe did not use a lot of produce.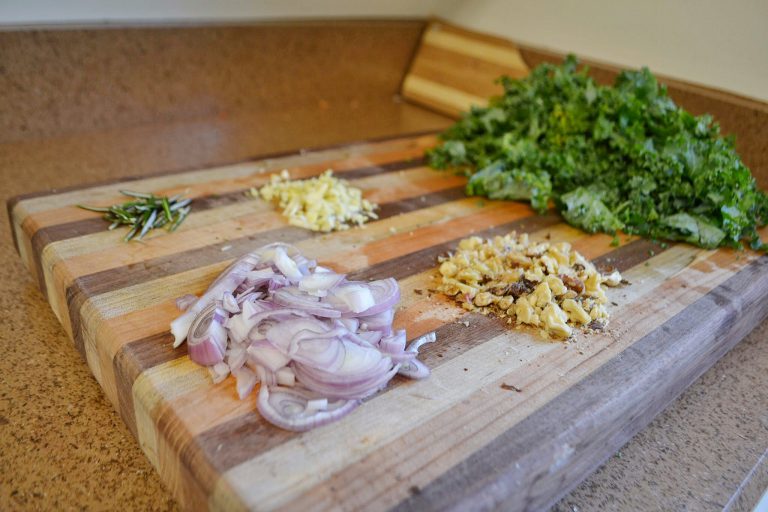 Next, I had to fry the rosemary and walnuts in some oil, and set aside.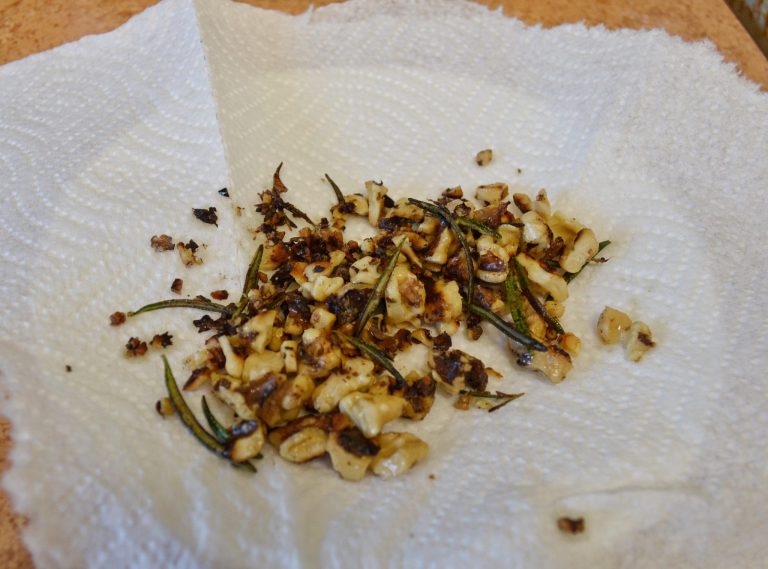 After that, I sauteed the shallot, kale, garlic, and red pepper flakes and added heavy cream and white wine. I had my pasta cooking in a separate pot. They both finished about the same time, and I combined them in my pan.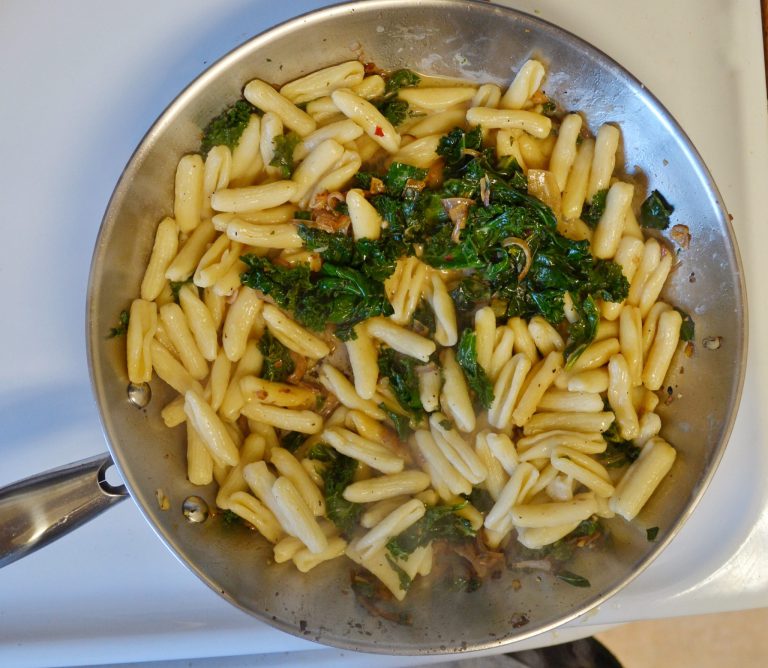 I then topped the pasta with the fried walnuts and rosemary, and garnished with parmesan. This was absolutely delicious. The fried walnuts was definitely my favorite part of the dish; they were so crunchy and buttery and good! I am saving this recipes to make again.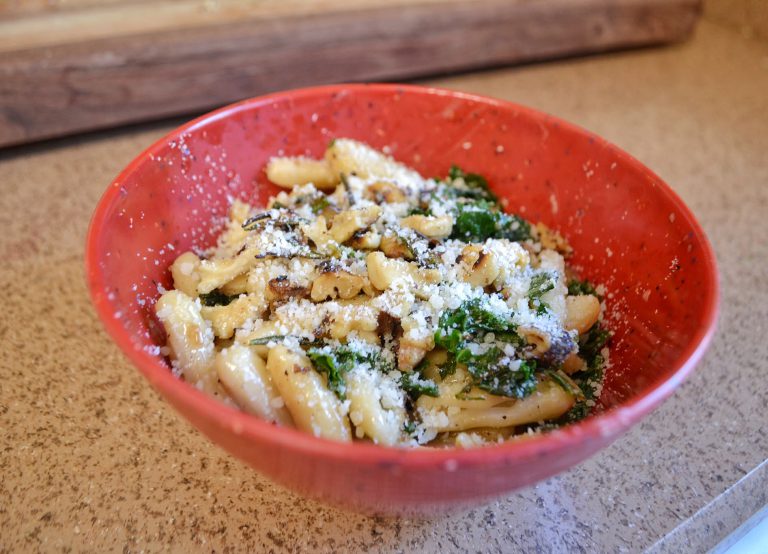 The next night, I made the Cauliflower Steaks with Purple Barley Salad. Here are the ingredients for that recipe.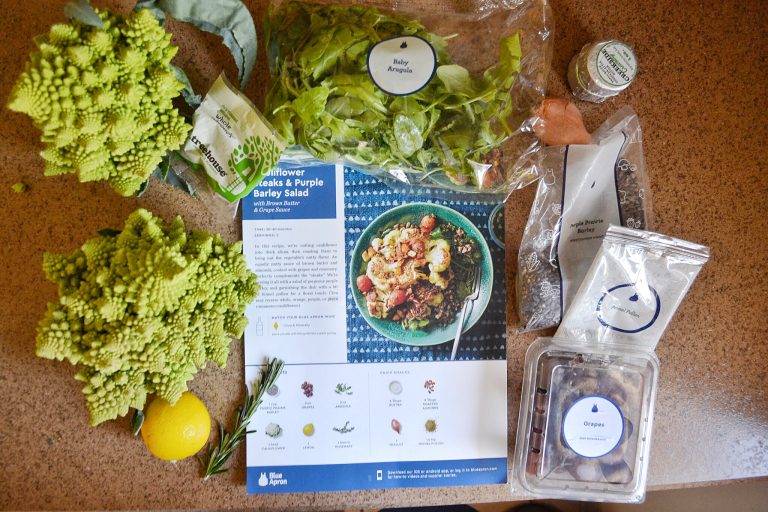 This was my first time cooking with this kind of cauliflower; I had never even seen something like this before. I noticed while cutting it that it is a lot firmer than white cauliflower.
First, I prepped my produce.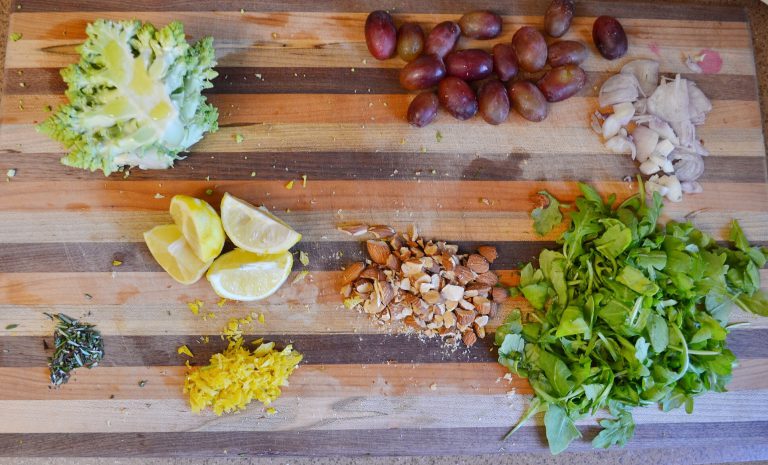 Next, I stuck the cauliflower steaks in the oven, and put the barley in some boiling water. While those both cooked, I made a sauce with the grapes, shallot, rosemary, and butter. This was another first for me; I have never used grapes in a butter sauce before. I was a little worried that it would taste odd, but the sauce actually ended up tasting delicious.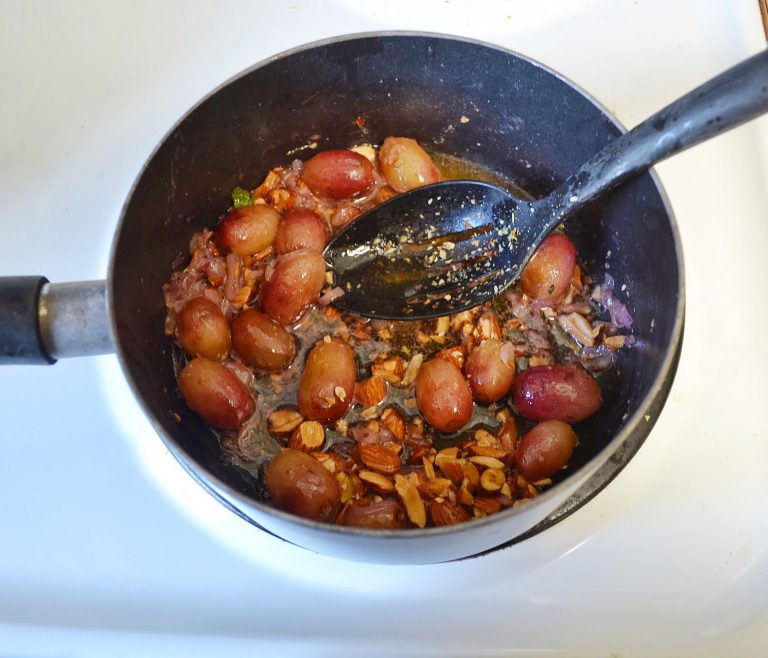 When the barley was finished, I stirred in arugula and lemon zest.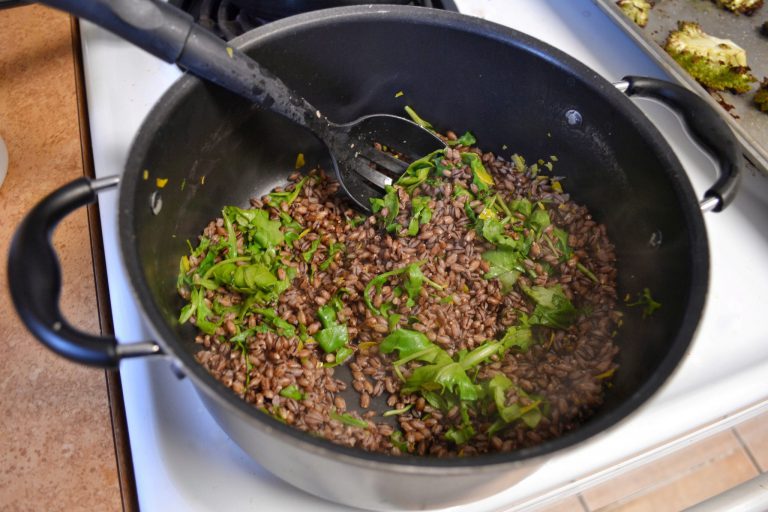 I then dished out the barley, topped it with the roasted cauliflower, and added the brown butter sauce. And last, I sprinkled fennel pollen over top.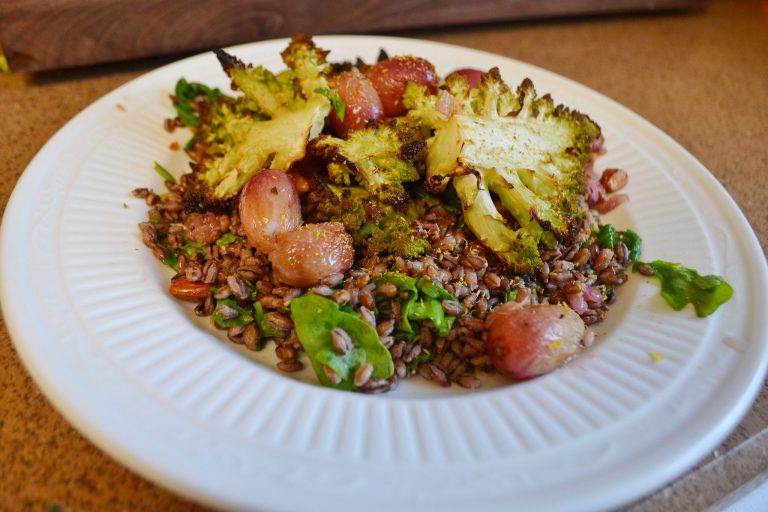 This was one of the most interesting dishes I have ever made. There were so many flavors going on, but they were all complimentary to each other. I especially love how the grapes turned out; they absorbed the butter sauce and were a sweet and savory explosion in my mouth.
I loved both of the dishes in last week's Blue Apron box. Both were fairly straightforward to make, and each had gourmet results. The only issue I had with it were the two unusable ingredients, and the bug I found in the box. I would give this a rating of ⅘. If you would like to subscribe to Blue Apron, click the "Subscribe" button below!