Blue Apron is a weekly subscription box that provides you with all the fresh ingredients you need to create gourmet meals from the comfort of your kitchen. After signing up, you can choose what meals you would like to cook. You can also skip meals up to five weeks in advance, in case you are going out of town or need to save a little money one month. These are the options you can choose while signing up:
Two-Person Plan, 2 Recipes: ($47.95)
Two-Person Plan, 3 Recipes: ($59.94)
Four-Person Family Plan, 2 Recipes: ($69.99)
Four-Person Family Plan, 3 Recipes: ($104.88)
Four-Person Family Plan, 4 Recipes: ($139.84)
Two-Person Vegetarian Plan, 2 Recipes. ($47.95)
Two-Person Vegetarian Plan, 3 recipes: ($59.94)
The two person plans amount to $9.99 per serving, and the family plans amount to $8.74 per serving – this is cheaper than the national average cost of going out to eat.
In this review, I am testing out the Two-Person, two recipe vegetarian plan. I picked out the recipes "Spicy Black Bean Quesadillas with Roasted Carrot & Avocado Salad" and "Mushroom and Red Rice Casserole with Baked Eggs & Kale".
My box arrived with the items in perfect condition. Last box, I had received some rotten ingredients, as well as a bug in my cauliflower. Thankfully, nothing like that happened this time!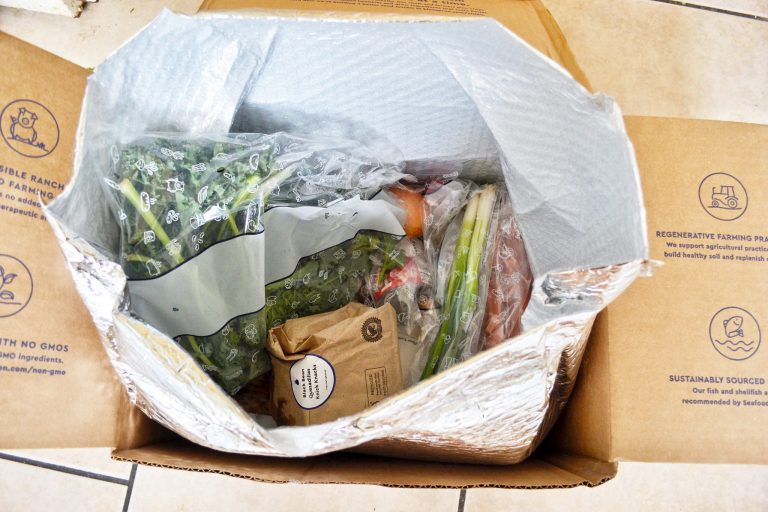 I decided to make the spicy black bean quesadillas first. Quesadillas have always been one of my favorite meals. Here are all of the ingredients they sent me to create the recipe: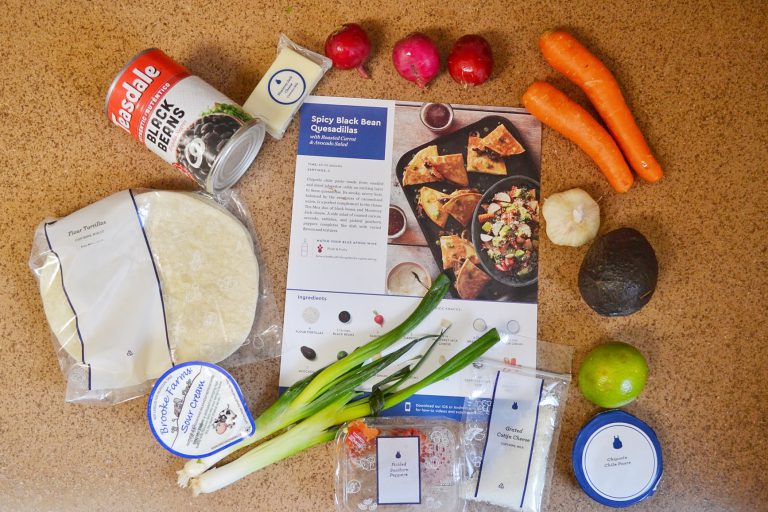 I got started by dicing the carrots and sticking them in the oven to roast.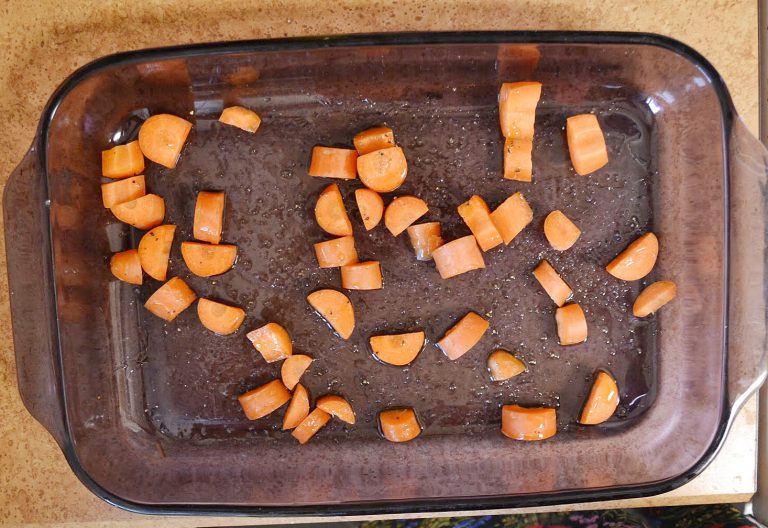 While the carrots were roasting, I prepped the rest of my ingredients.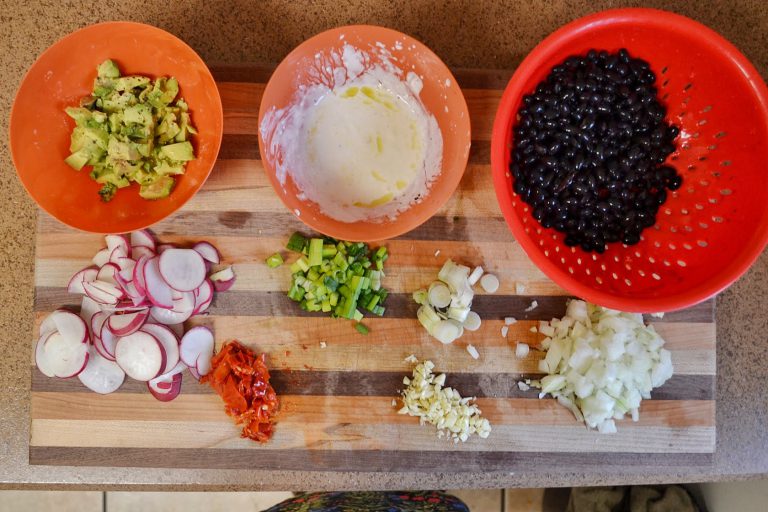 I made the quesadilla filling on the stove top. One of the ingredients was Chipotle chili paste, so it was a little smoky and spicy.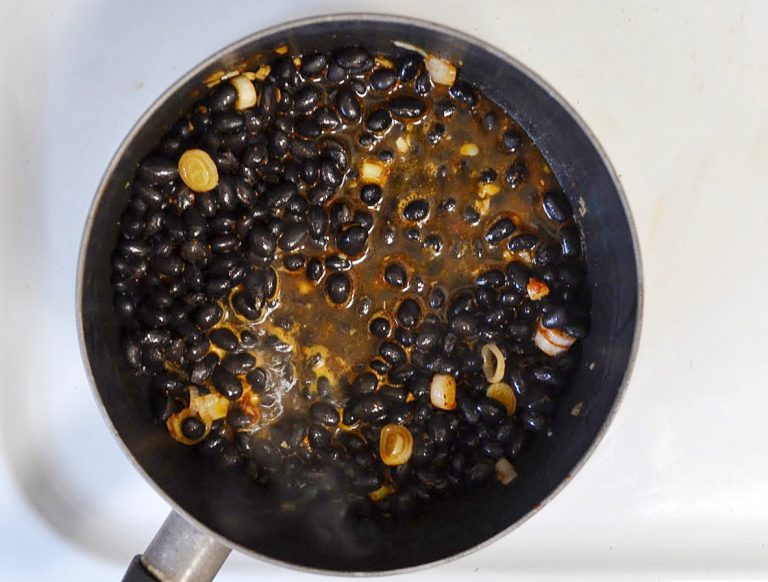 When the carrots were finished roasting, I put it in a salad, along with avocados, radishes, and peppers.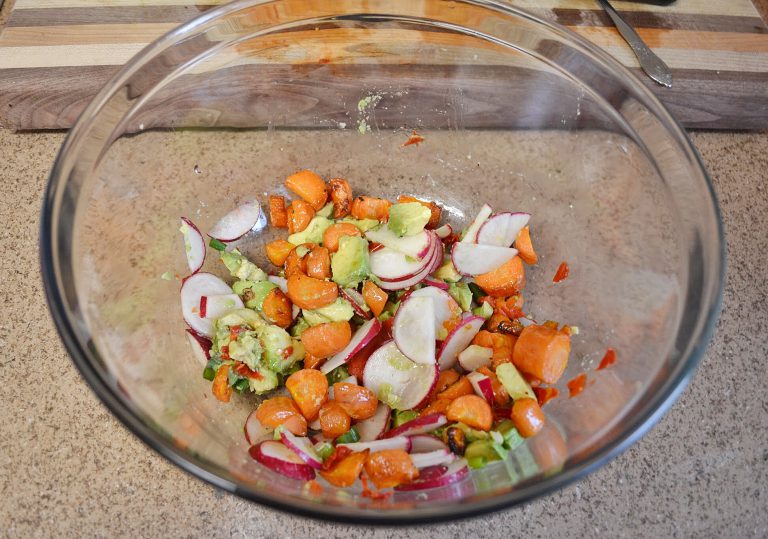 I then set up a quesadilla filling station. I spread grated Monterey Jack cheese onto each tortilla, and then added a large scoop of the bean mixture. There was too  much filling in the recipe; I stuffed the quesadillas to the point of overflowing, and there was still filling to spare. This would have been better if there were 6 tortillas.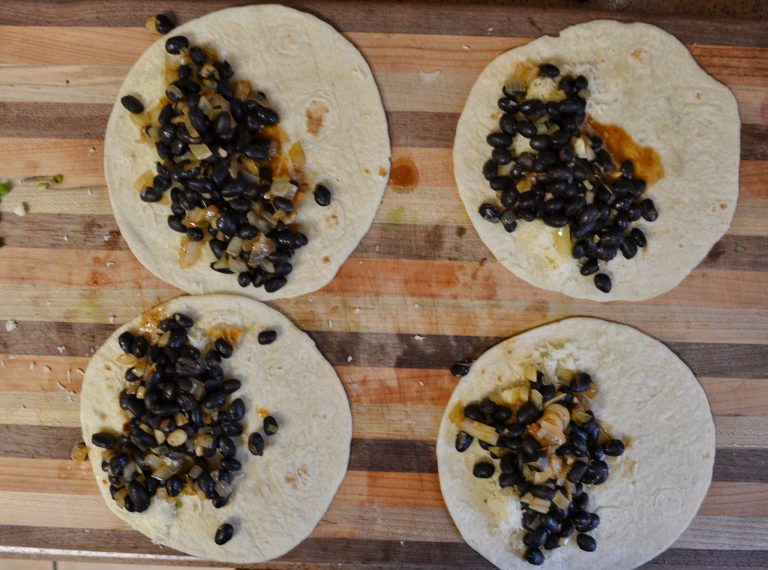 I then fried the quesadillas in some olive oil, and served alongside the carrot & avocado salad. I topped the quesadillas with sour cream, and I garnished the salad with Cotija cheese.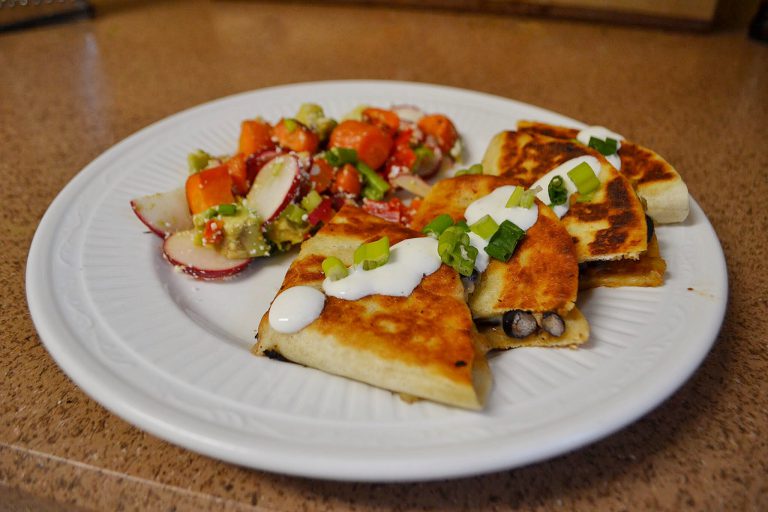 The quesadillas were absolutely delicious! And I enjoyed the carrot and avocado salad a lot more than I thought I would. I usually don't like chunks of avocado (it's a texture thing), but everything worked beautifully together. It took all my self control not to eat the second serving afterwards!
The next day, I made the Mushroom & Red Rice Casserole. Here are its ingredients: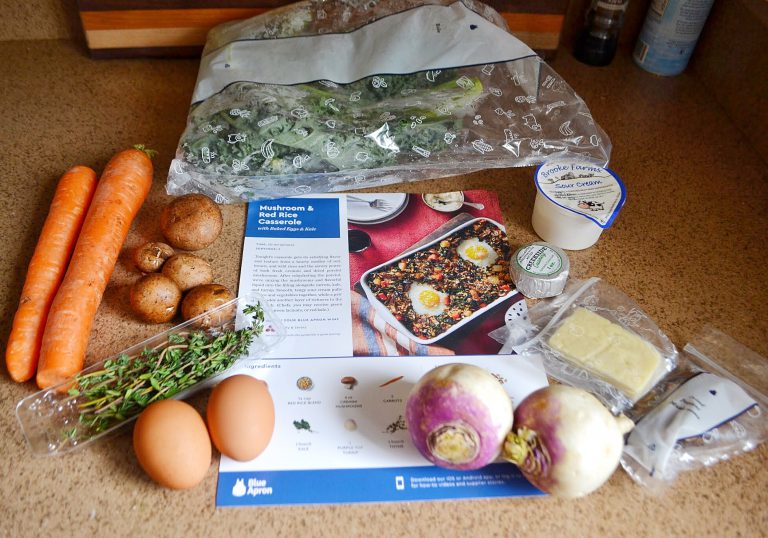 I was excited to see that I would be using turnips; I had never cooked with them before!
First, I prepped the produce: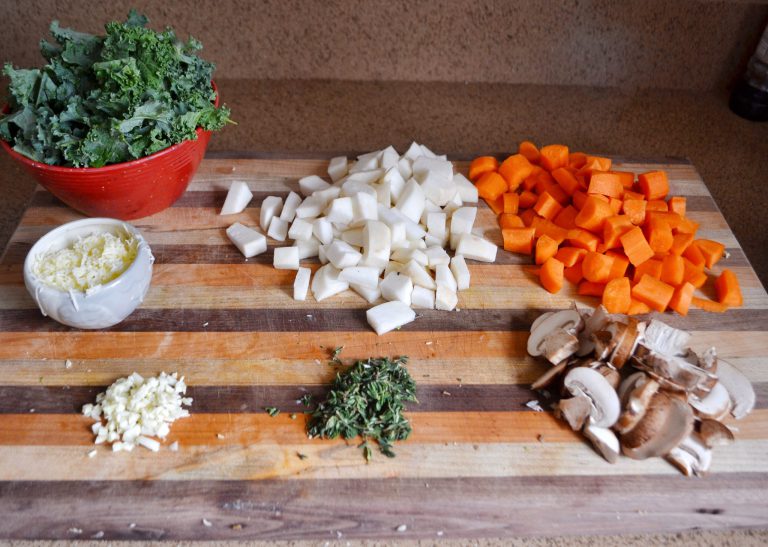 I love it when a recipe has so much fresh produce! Next, I cooked the packet of red rice on the stovetop.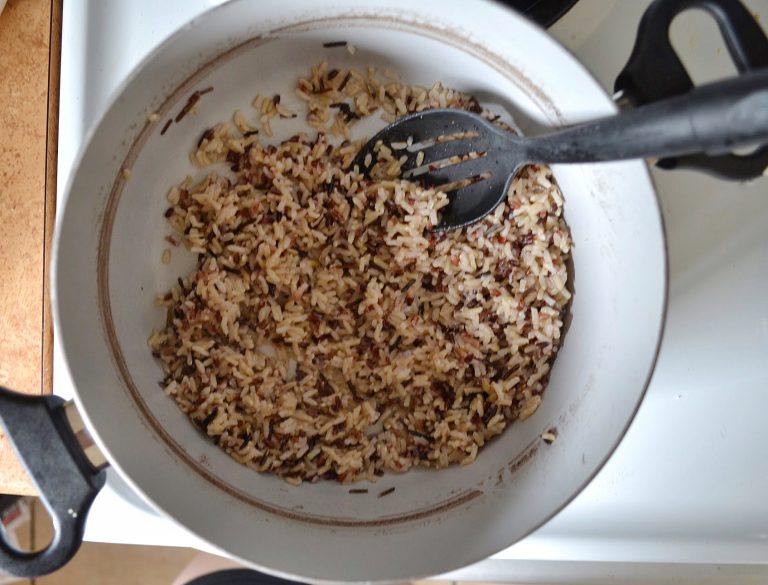 While the rice was cooking, I sauteed the kale, carrots, mushrooms, turnips, and garlic.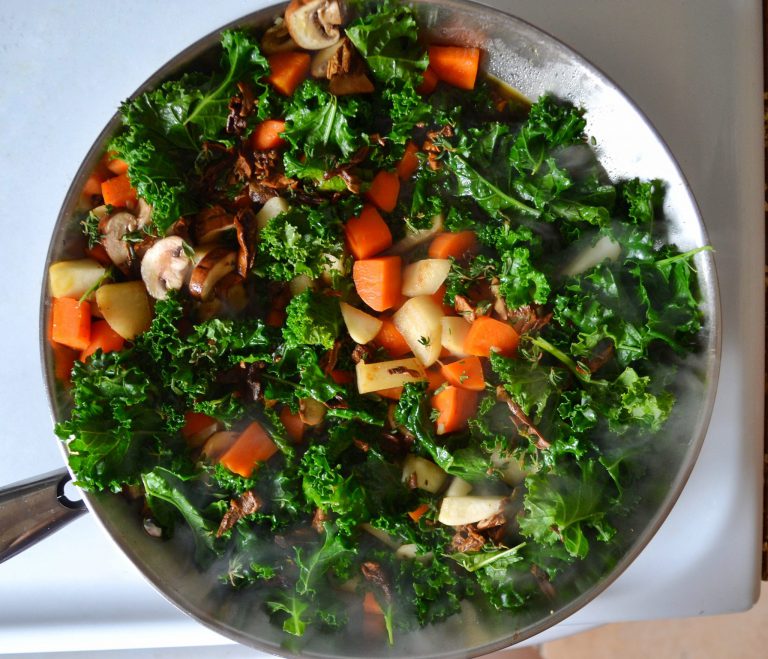 Both pans were finished at about the same time. I transferred the kale mixture into the rice. Then, I scooped it out into a casserole dish, and cracked two eggs over top. I also garnished with some cheese before sticking it in the oven.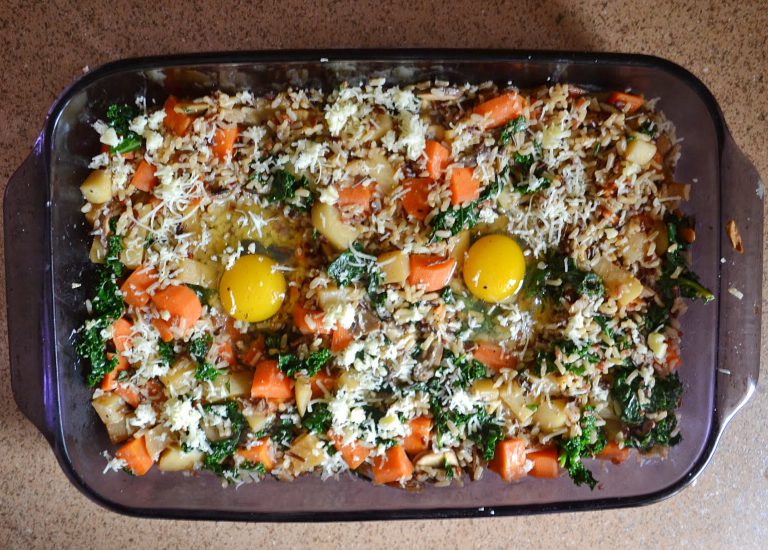 It only needed to be in the oven for a few minutes, until the egg whites set and the yolk was still soft. However, I hate runny yolk, so I left it in for a couple additional minutes.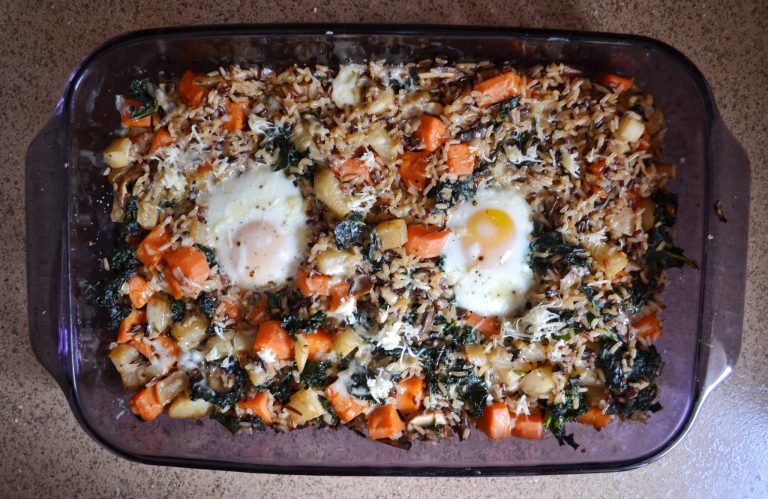 Before serving, I added a little more cheese to the top. I was really happy that Blue Apron sent Asiago cheese, which is one of my favorite kinds!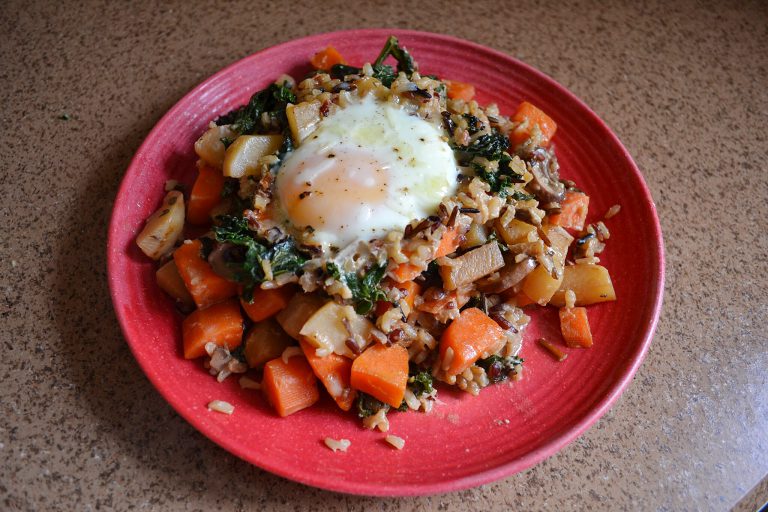 This meal was interesting. The turnips were quite bitter, but I liked the taste of everything else. I wouldn't say I loved it, but it was all right. I definitely preferred the first recipe though.
Overall, I did like this box. And those spicy black bean quesadillas were to die for! I have had so much fun cooking with Blue Apron over the last month. If you would like to give it a try, click the "Subscribe" button below.