Blue Spider Books & Wax offers book subscription packages and one-time gifts that deliver curated experiences featuring secondhand or new books paired with delicious coffee, tea, or cocoa samples. Today, I am reviewing their June 2019 box!
The inside of the box had a sticker with Blue Spider Book's social media handle and website on it. The items were packaged neatly inside the box, and protected with a thick layer of paper squiggles.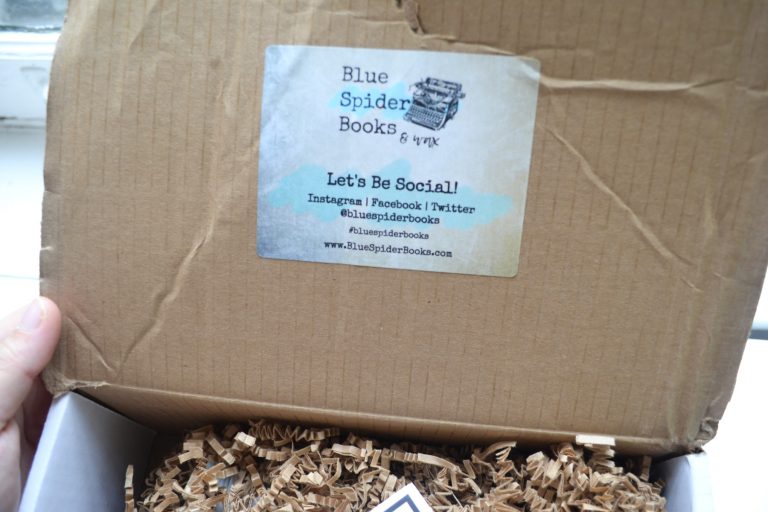 Blue Spider Books included a little card with information about the box's curated products. Every month, you will receive a book, a scented product, a snack, and a drink sample. I love this idea! The curation is structured enough that you know what you are paying for, but it will still manage to surprise you.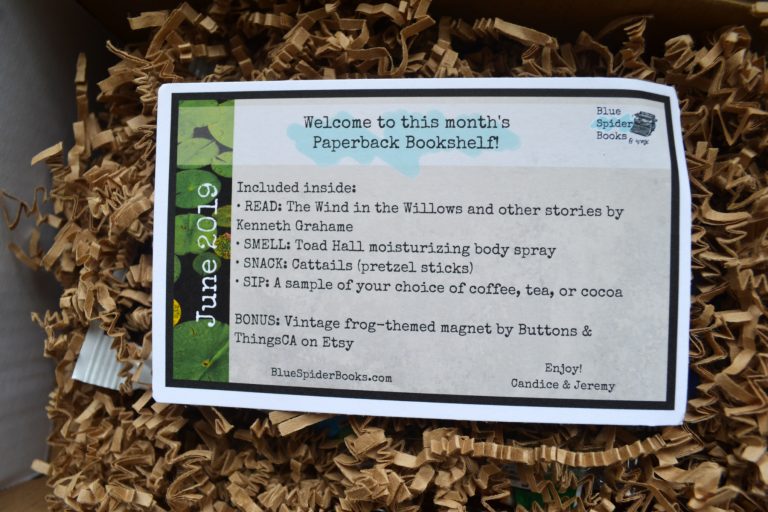 Here's a quick look at everything in June's box. They managed to pack quite a lot in a small-ish box!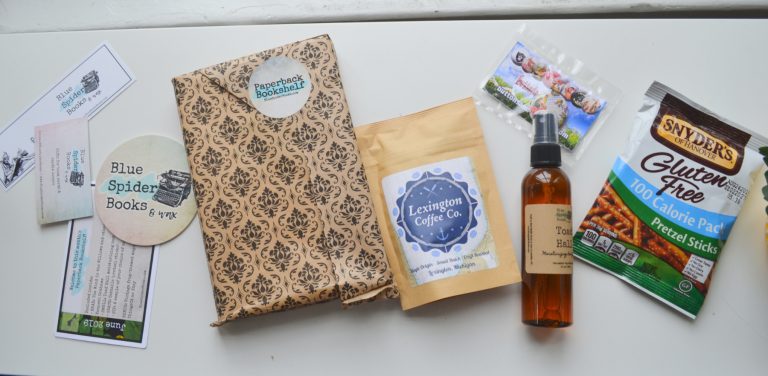 First, let's take a look at June's Featured Book. Blue Spider Books sent subscribers a gorgeous copy of The Winds in the Willows and Other Stories by Kenneth Grahame. The book itself was wrapped  in ornamental patterned paper, which lent a touch of elegance.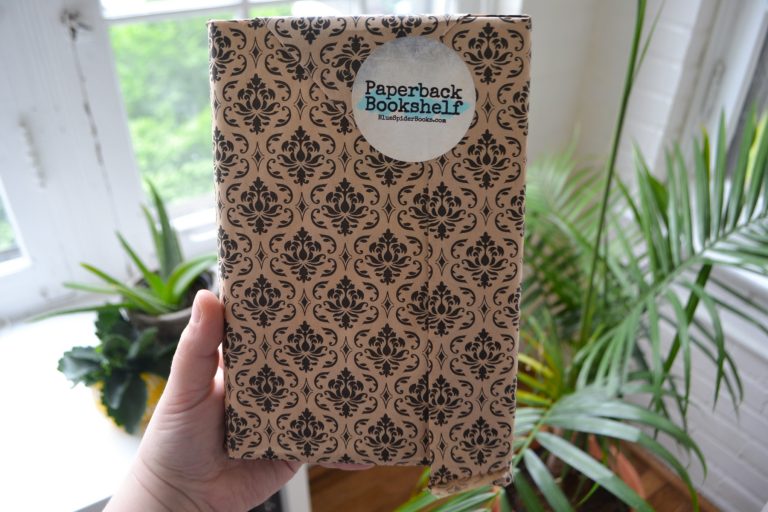 This edition of The Wind in The Willows has such a unique design! The cover is bright yellow, with a blue foil title. There are also quotes from the book embossed on the front and back covers. The book is soft to the touch, and just altogether beautiful.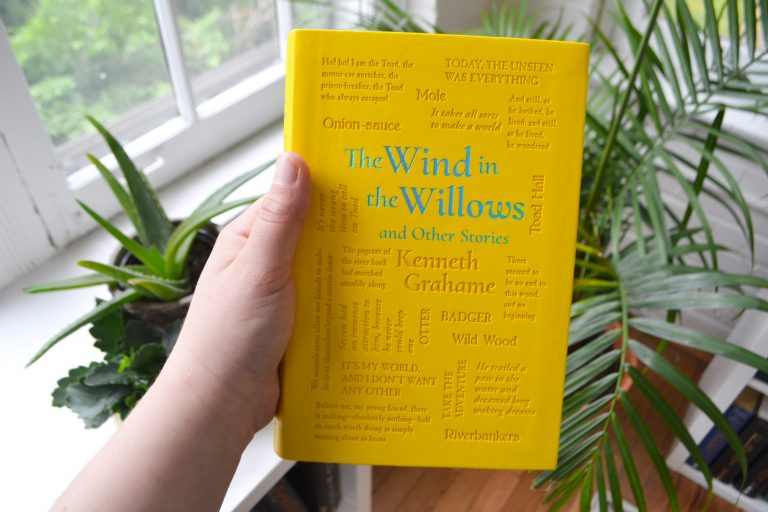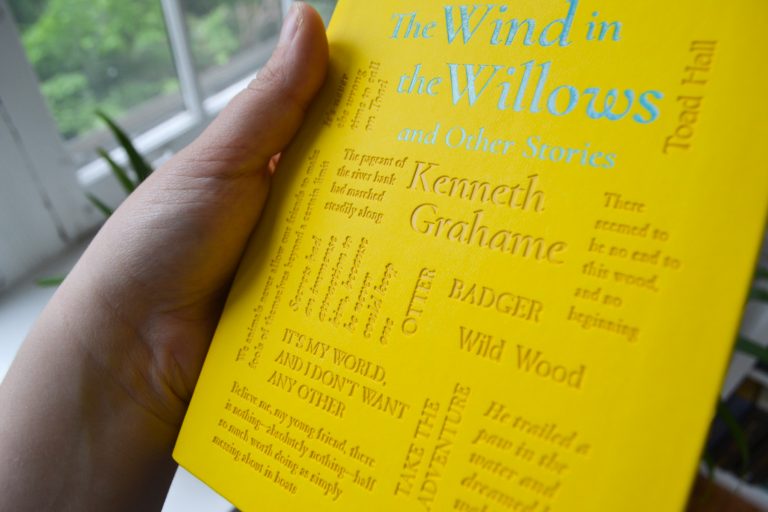 As shown by the back sticker, this edition of the book has a retail value of $14.99.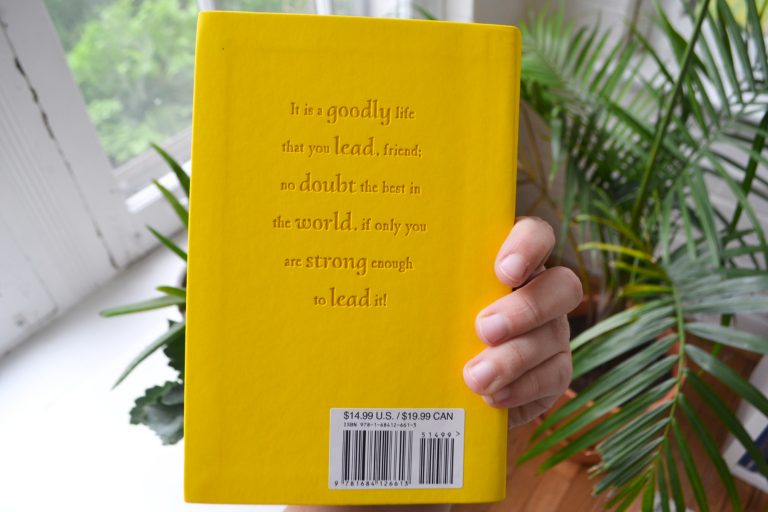 There are several black and white illustrations throughout the book, but the inside of the covers feature full-color pictures!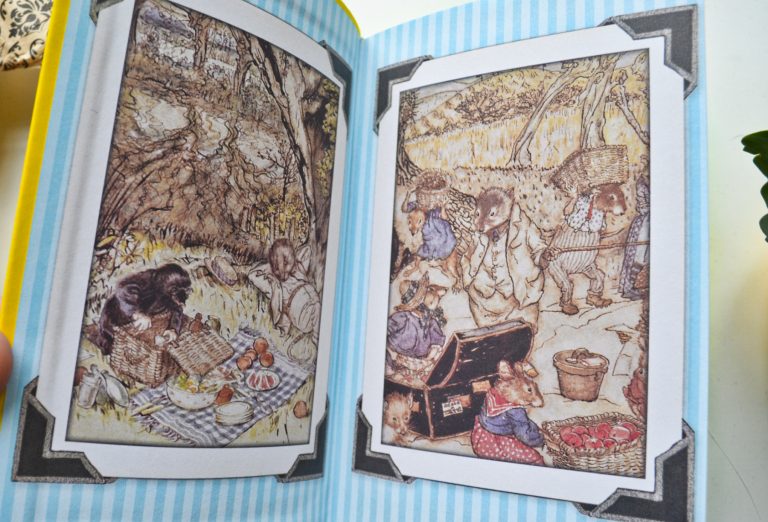 I read The Wind in the Willows countless time as a child, and I was delighted to be transported back into the whimsical word of Mole, Rat, Toad, and Badger.
Blue Spider Books also included several other goodies in June's Box, so let's take a look at each one. First, I received a Wind in the Willows bookmark. Once can never have to many bookmarks!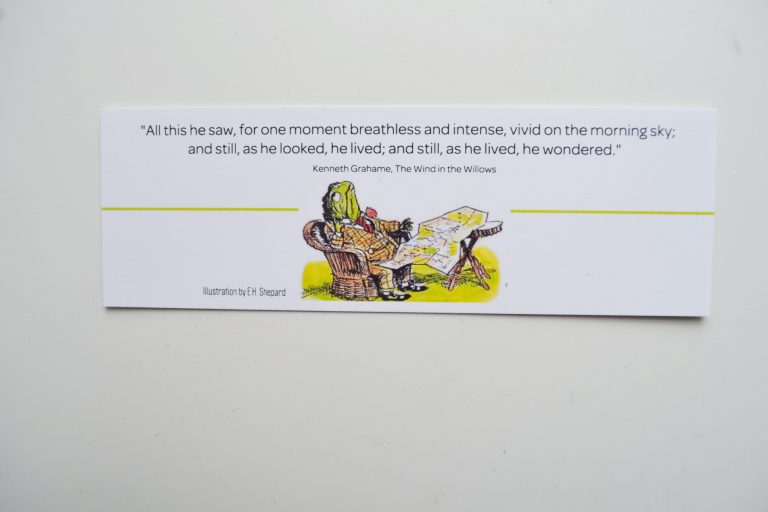 The next item in the box was a scented body spray called "Toad Hall." That doesn't sound like the most appealing name if you aren't familiar with The Wind in the Willows. However, Toad is very rich and has a "handsome, dignified old house of mellowed red brick, with well-kept lawns reaching down to the water's edge." So, this moisturizing body spray smells very elegant and warm, with a touch of masculinity. It's hard for me to pinpoint the exact notes, but to me it smells a little like vetiver and musk, and it has a very faint fruitiness.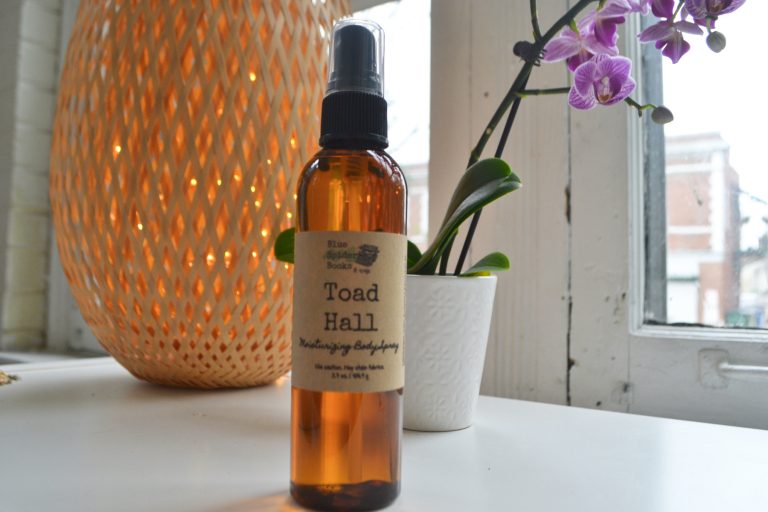 This month's snack was a 100 calories pack of Snyder's pretzel sticks. A simple but classic snack that will appeal to many subscribers. These pretzel sticks are gluten-free, so people with a gluten intolerance will still be able to enjoy them.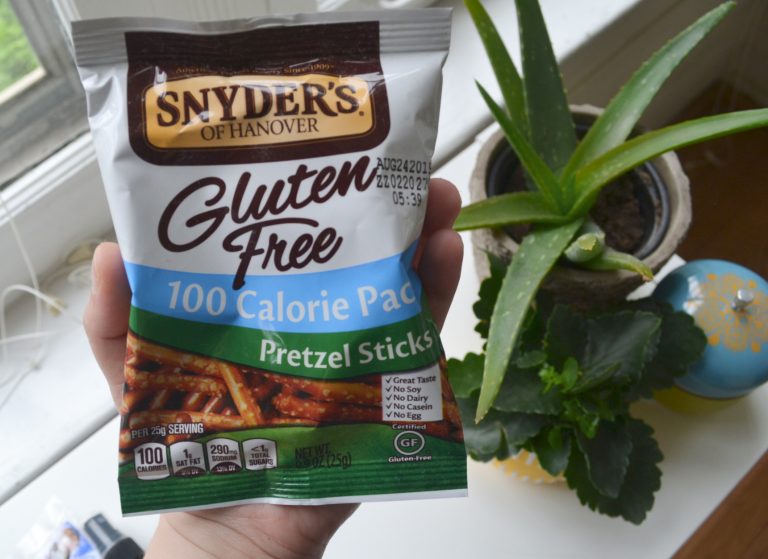 June's drink selection was a satchet of roasted coffee beans from Lexington Coffee Co. These beans are small batch and were roasted on May 4, 2019. Typically beans sold at the supermarket are already stale, from sitting on the shelves for so long. Brewing with small-batch beans from companies like this ensures a fresher, more flavorful cup!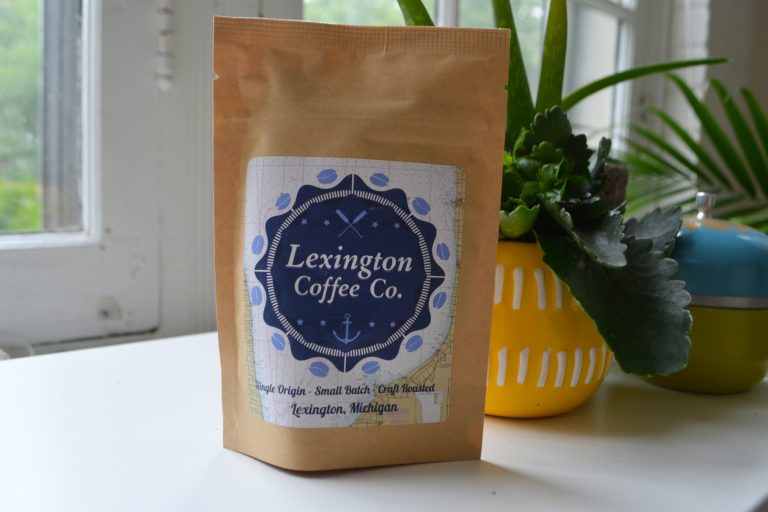 Blue Spider Books also included a little coaster to use while you enjoy your drink. Just like with the bookmarks, one can never have too many coasters!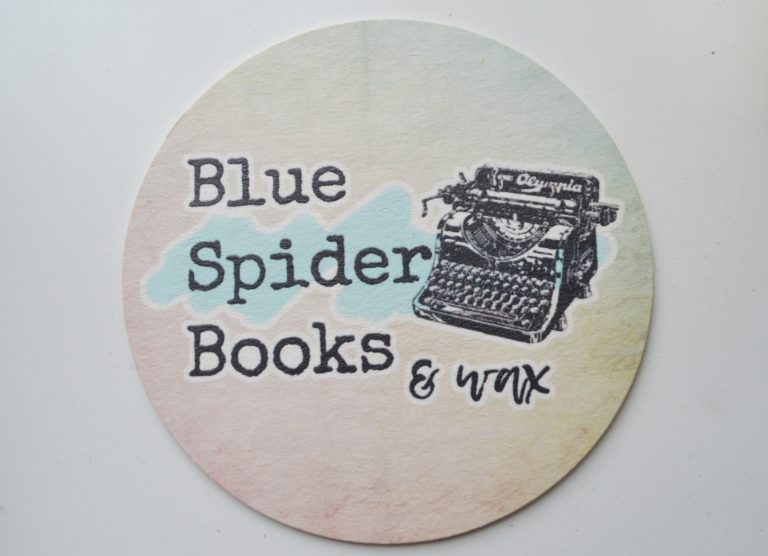 The final item in June's box was a bonus product: a frog magnet from Buttons and Thing. I LOVE magnets, and was so happy to receive this! The fat little frog wearing a bandanna is too cute, and I'm proudly displaying it on my fridge.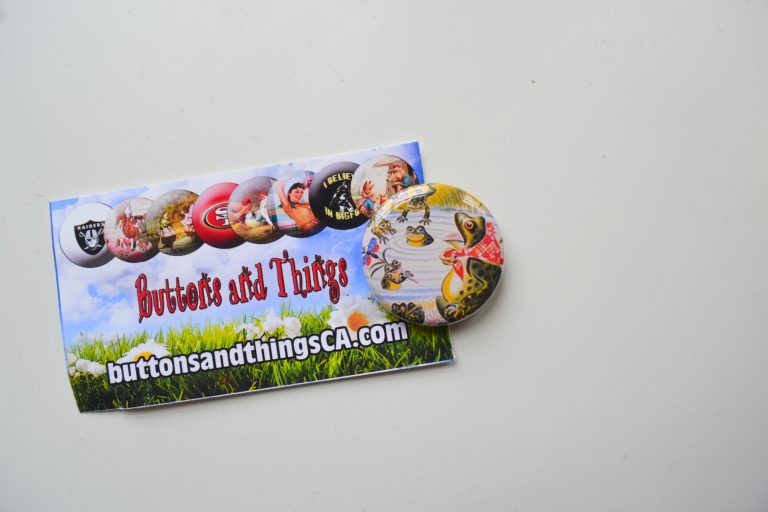 I had so much fun unboxing the Blue Spider Books June subscription box! I was delighted to receive a childhood classic, and I thought the bonus items fit the theme very well. This subscription is a fun way to treat yourself to a paperback and some surprise goodies.