Bokksu is a monthly subscription box that sends a curated assortment of premium Japanese snacks and tea pairings. A Tasting Bokksu subscription costs $19 each month, and will contain 8-10 snacks. A Classic Bokksu subscription costs $39, and has a whopping 20 -25 snacks!
Today I am reviewing Bokksu's April box, which had the theme "Blossoming Spring". Sakura matsuri, or cherry blossom festival, takes place in Japan every April. Here's is an excerpt from Bokksu's description of their theme:
"Since Japanese snacks are known for their seasonality, we've curated April's selection to highlight classic Spring flavors like strawberry and Japanese plum, which would be right at home at any hanami party. So grab a blaner and enjoy a Blossoming Spring with Bokksu!"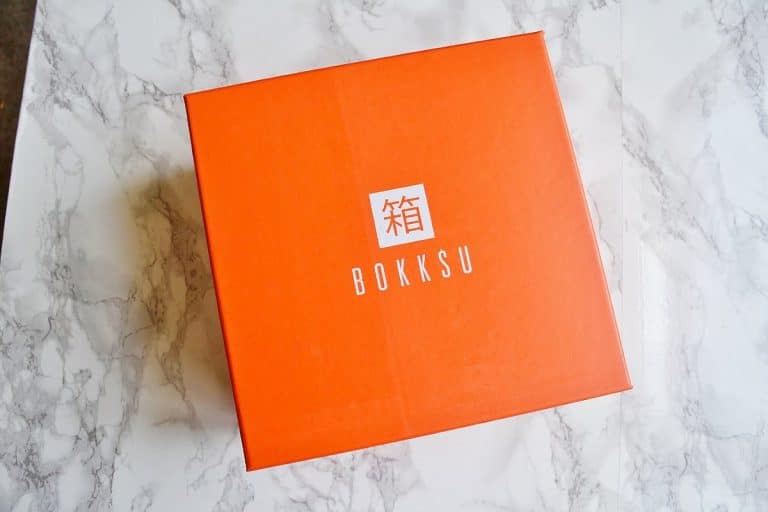 My snacks arrived in a sturdy red cardboard box. Normally the items arrive in perfect condition, but this month there were several broken snacks.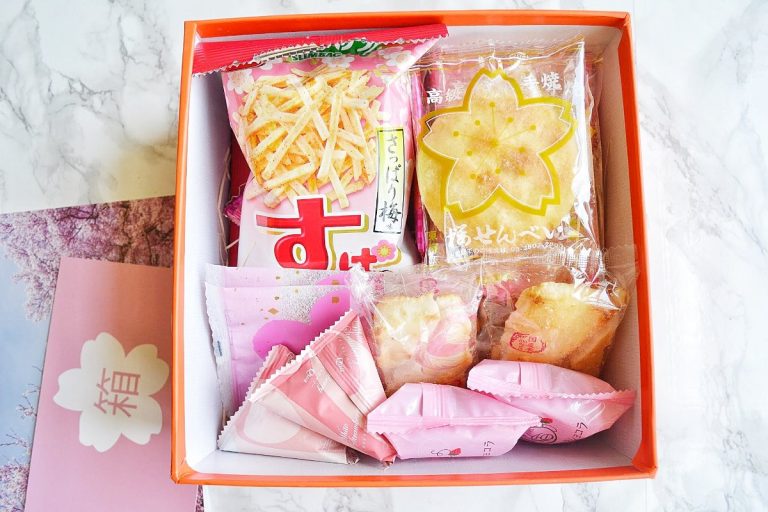 Here's a quick look at everything I received in my box: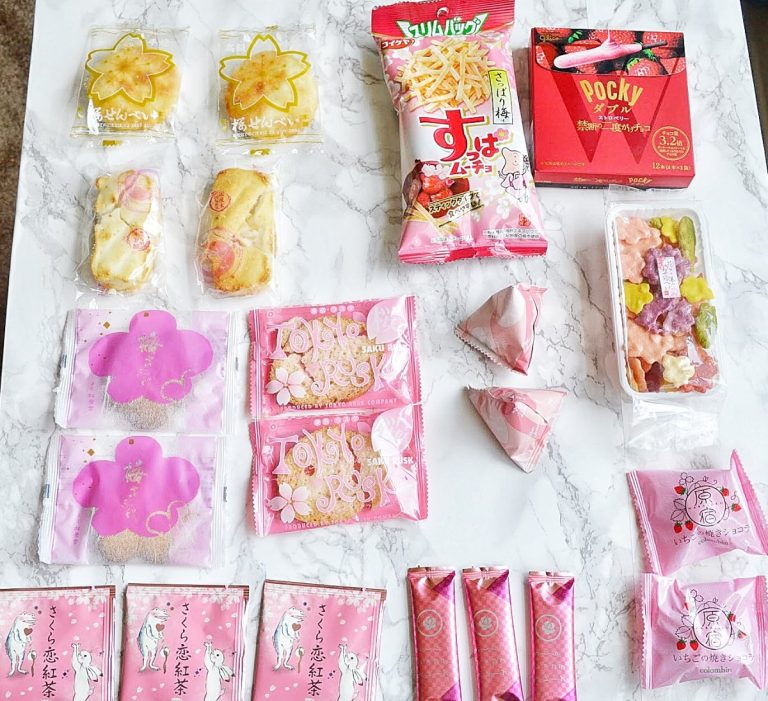 I also received a card with information about each product. This is very useful, because the snack packaging is entirely in Japanese and I like to know what to expect before biting in. I've learned that some snacks look like they will be sweet, but are instead very salty!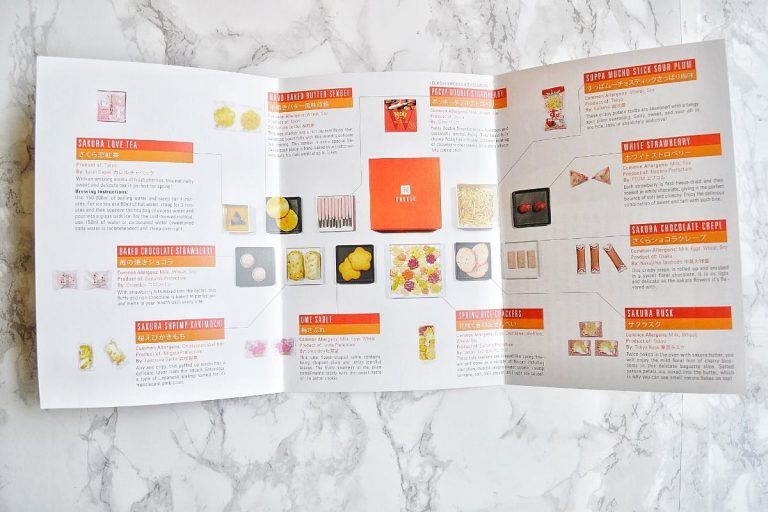 Sakura Rusk x2 ($2)
The first thing I tried was Sakura Rusk. These are little baguette slices that have been twice baked with sakura butter. You can see little salted sakura flakes on top! This was an incredible snack. It was light and buttery, and just a little sweet with a faint floral flavor. I wish I had thought to try it with the tea from this month's box, because that would have been a perfect pairing.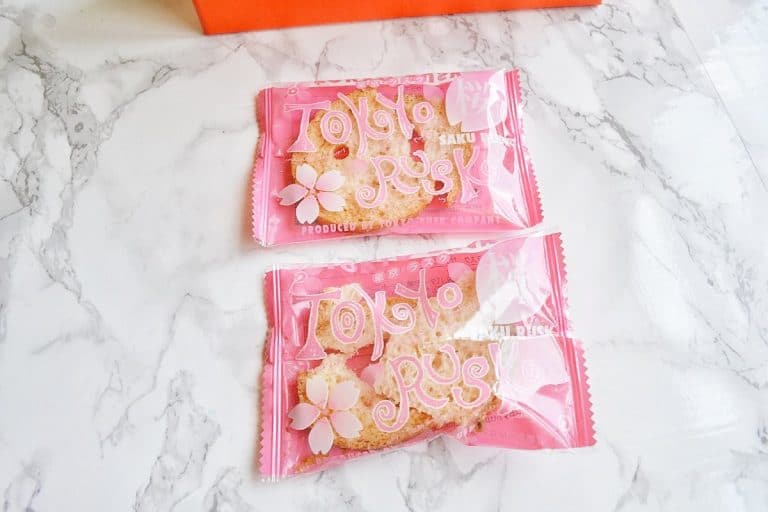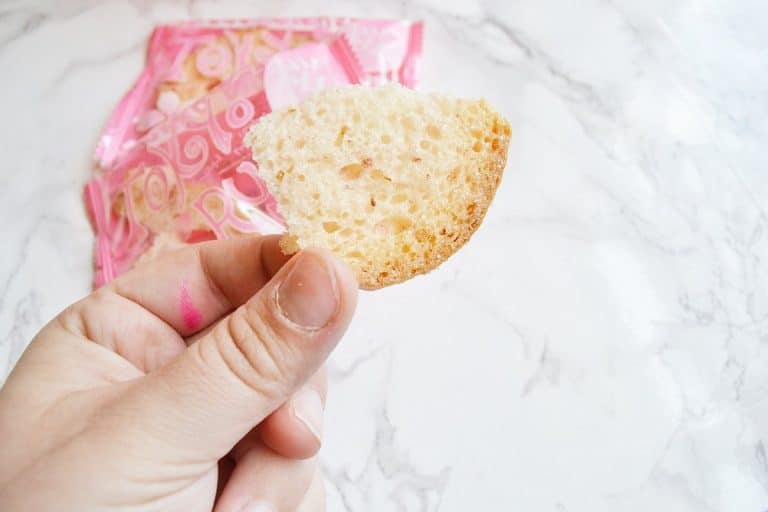 White Strawberry x2 ($8)
This White Strawberry is possibly the most innovative candy I have ever tried. Fresh organic strawberries are harvested from a Japanese farm, and are then freeze dried and infused with white chocolate. It is absolutely delicious – sweet and creamy from the chocolate, and tart from the strawberry. I only allowed myself a little nibble at a time, because I didn't want them to be gone.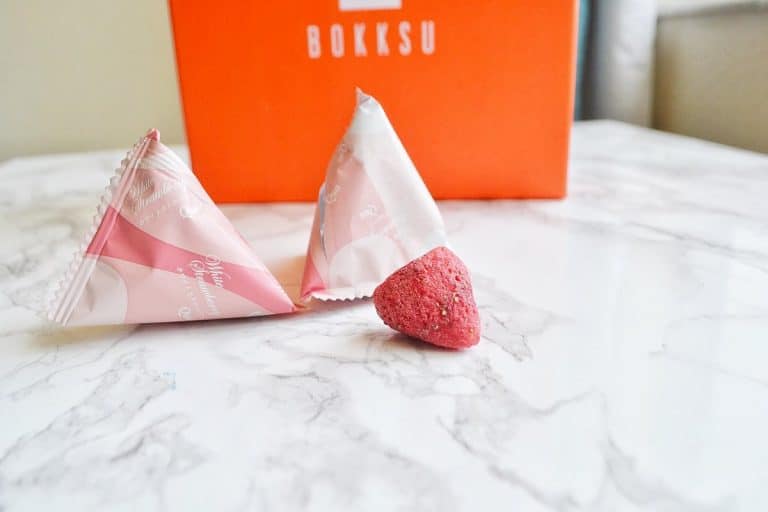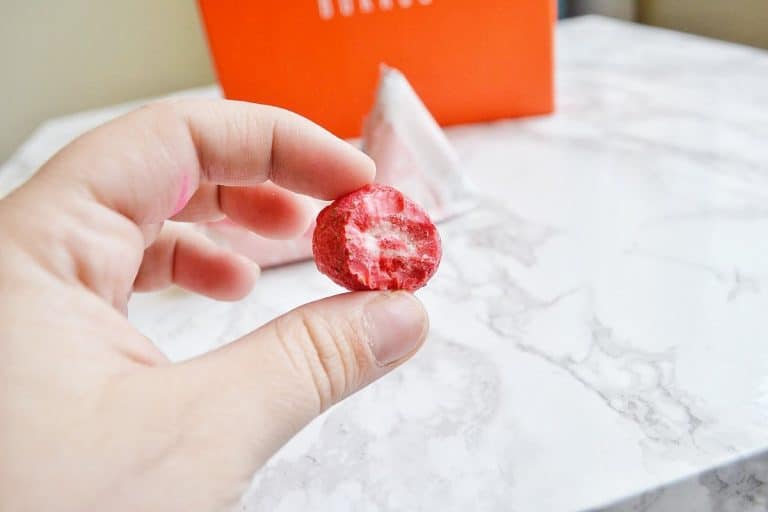 Pocky Double Strawberry ($6)
This is a seasonally exclusive flavor of pocky. I really enjoy pocky, but I have never seen one with so much cream! This actually has a double coating of cream, which is why it's called "Double Strawberry". I really enjoyed the pairing of strawberry cream with a chocolate stick.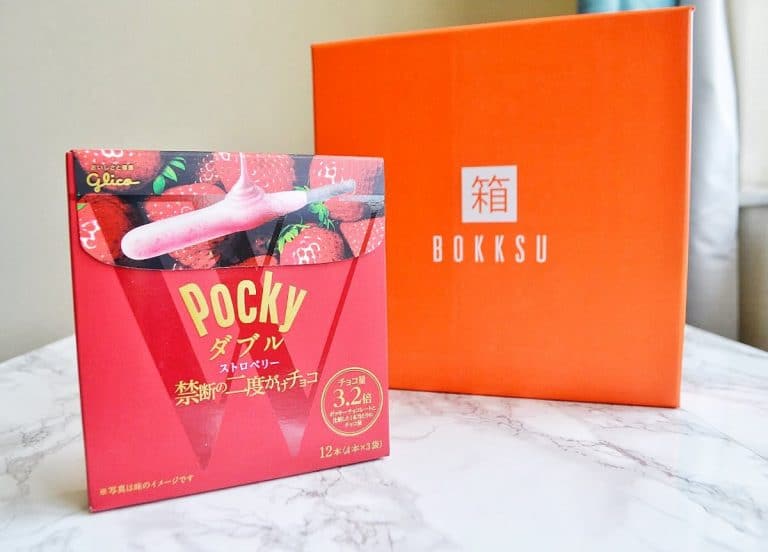 Ume Sablé x2 ($6)
Bokksu sent two of these rich, buttery cookies embedded with bits of sour plum. The plum was subtle, and these made for a delicious snack.

Spring Senbei Rice Crackers ($5)
These are adorable rice crackers that came in the flavors sour plum, matcha, purple sweet potato, shrimp, turmeric, salt, chili pepper, and soy sauce. I've learned over the last few months that I don't really enjoy senbei, and that it's too salty for my tastes. My fiance, however, loves these and scarfed them down.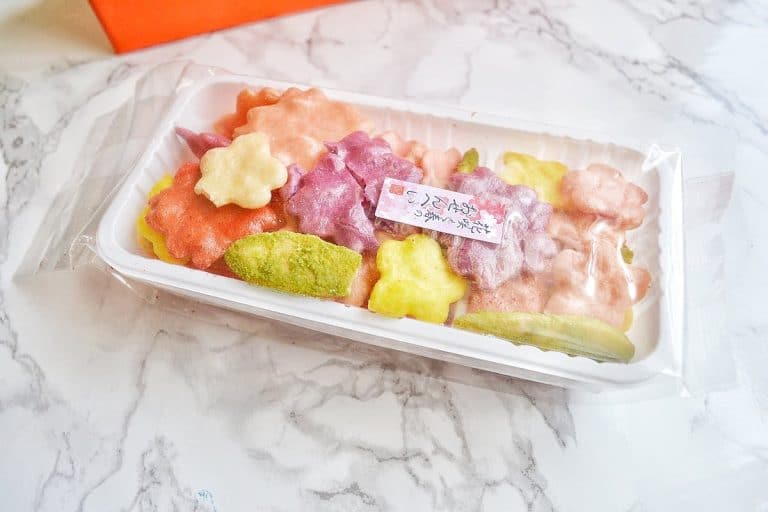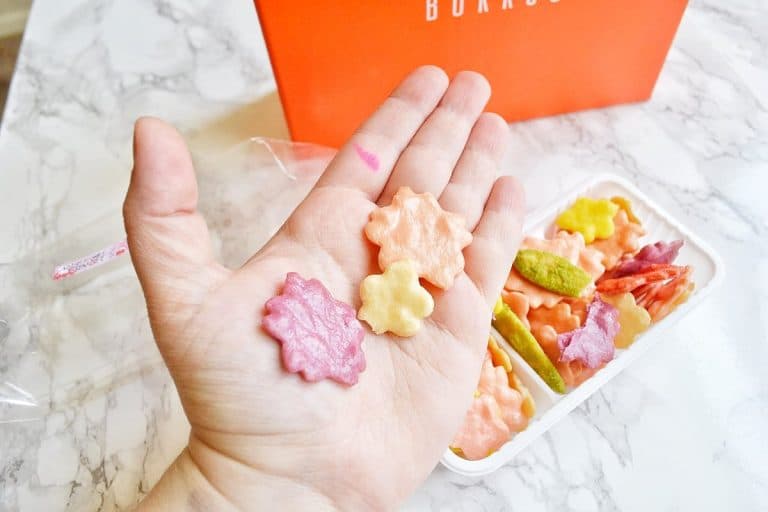 Hand Baked Butter Senbei x2 ($4)
This is a buttery rice cracker baked by a craftsman who runs a shop in Tokyo. These actually weren't too salty, and I enjoyed them. They did have a savory coating on top that seemed to be made with light soy sauce. I loved how buttery these were!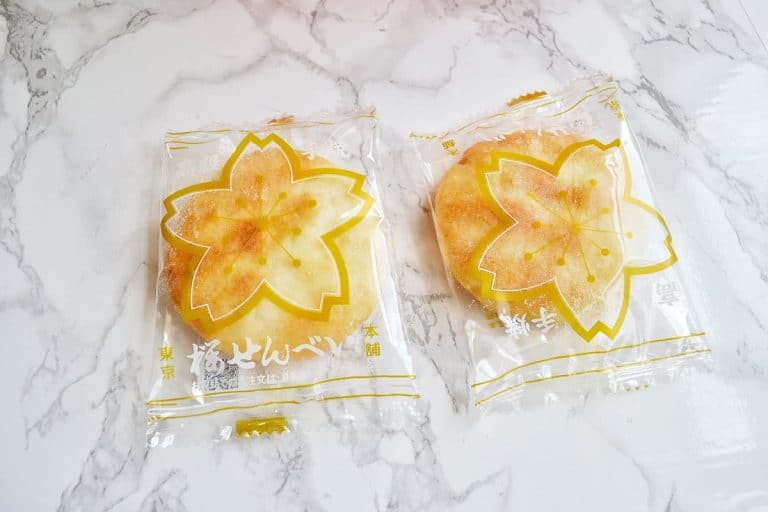 Suppa Mucho Sour Plum ($3.00)
Holy smokes, these were so good! They are little shoestring potato sticks with a tangy plum seasoning. At first I thought they were salt and vinegar flavored, but after I ate more I could definitely taste the plum. These are addictive, and I plan on ordering some more.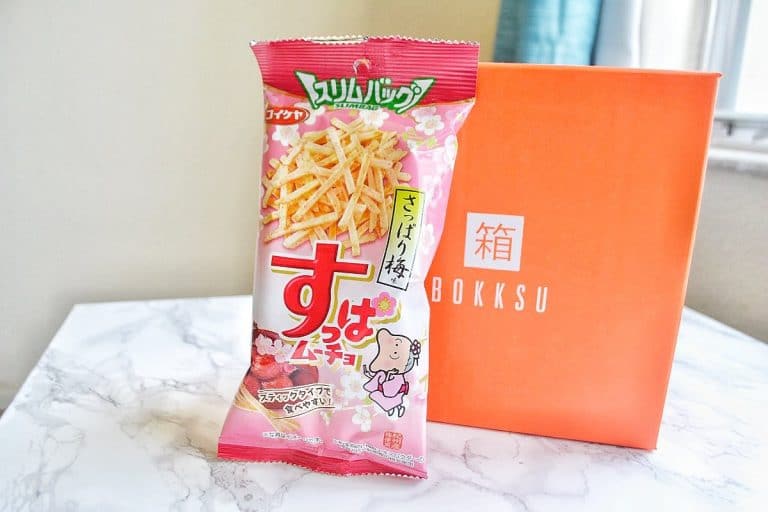 Baked Chocolate Strawberry x2 ($4)
This snack is every sweets lover's dream! Bokksu sent two fluffy white chocolate cakes, which had strawberry bits and rice puffs baked in. It was crumbly and sweet, and very luxurious.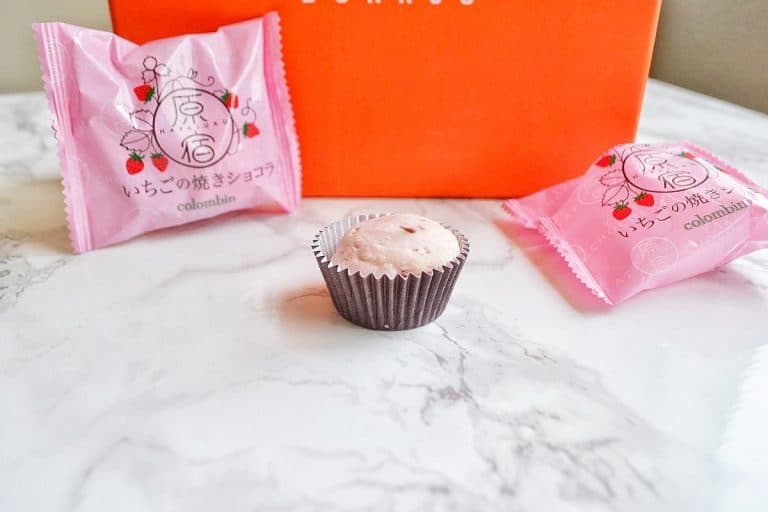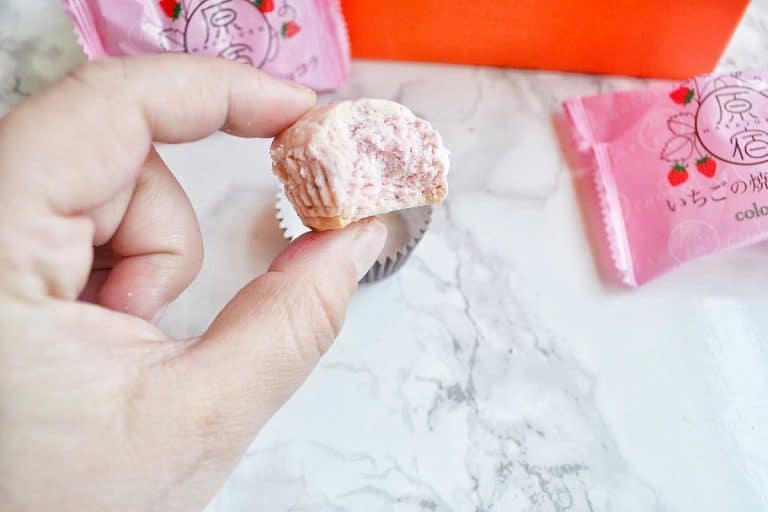 Sakura Chocolate Crepe x3 ($4.50)
These are little crepe wafers coated in a sakura flavored white chocolate. These tasted floral to me, and I enjoyed the light cherry blossom flavor. They are thin and crunchy, and would probably be amazing dunked in coffee.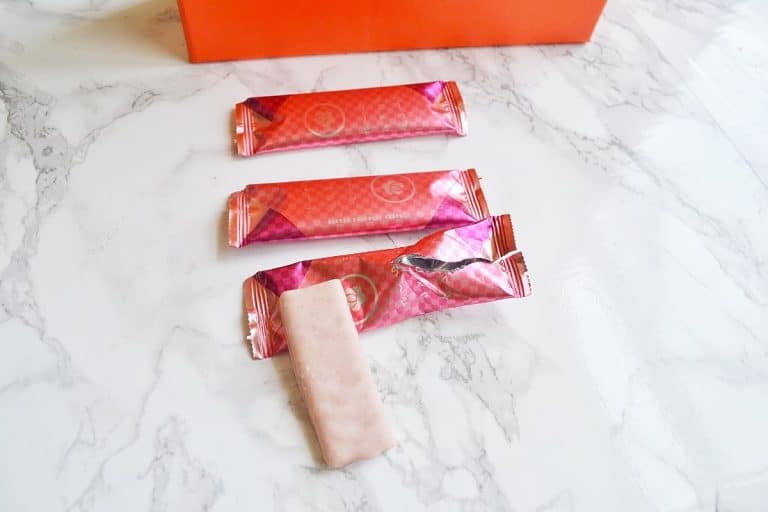 Sakura Shrimp Kakimochi x2 ($1.81)
The final snack in the April box was a crisp and airy mochi flavored with Sakuraebi, which is a Japanese shrimp. These didn't taste bad, but it was hard for me to get past the overwhelming fishy smell.

Sakura Love Tea x3 ($6)
This is a beautiful, light floral tea with a subtle flavor of cherries. It is perfect for spring, and especially fitting for the cherry blossom festival.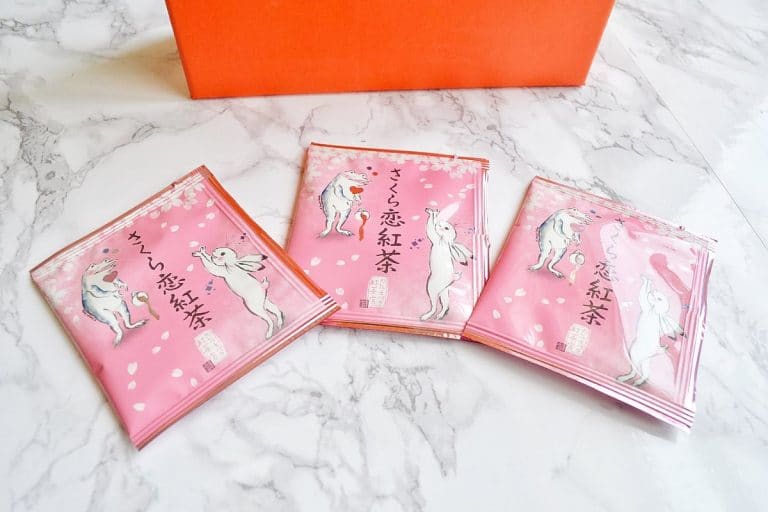 Bokksu's April box was incredible, and all the snacks fit the Sakura theme perfectly. There were a few snacks that I didn't like, but I loved the majority of what was in the box. I especially loved the white chocolate strawberry, and it is my favorite snack that I've ever received from Bokksu! April's box was worth $50.31, which is a great value. The Classic subscription costs $39, so you are definitely getting your money's worth. I can't wait to see what is in next month's box!