Bokksu is a food subscription box that sends out snacks sourced directly from Japan each month. Bokksu  offers two subscription options. The Classic Box contains 20-25 snacks and a tea pairing, as well as a tasting guide and free shipping. Prices for this box range from $33 – $39, depending on how many months you prepay.
The Tasting Box contains 8 – 10 snacks, and it also has the tea pairing, tasting guide, and free shipping. Prices for this box range from $16 to $19.
Today I will be reviewing January 2019's box, which was packaged in a limited edition, white and gold box.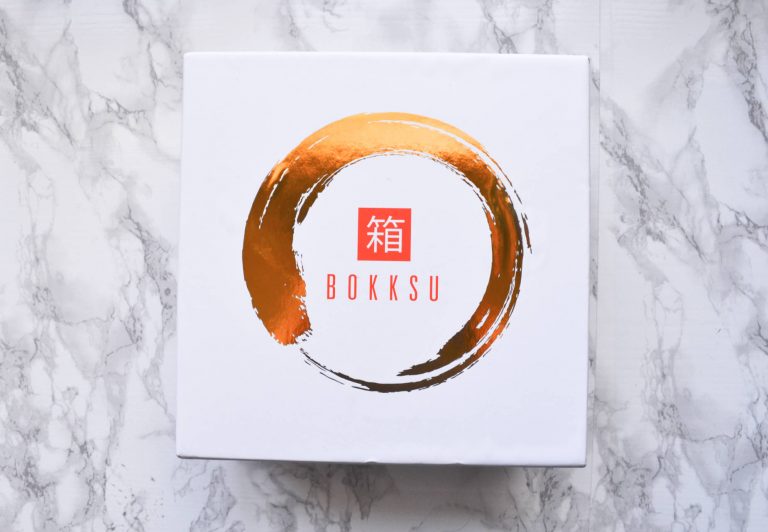 Each box's contents revolve around a theme, and January's theme was "Golden New Year". Japanese New Year (Oshougatsu) is a festival that celebrates rebirth, spiritual cleansing, and delicious food! Bokksu has curated this box to bring you some of the delicious flavors popular this time of year.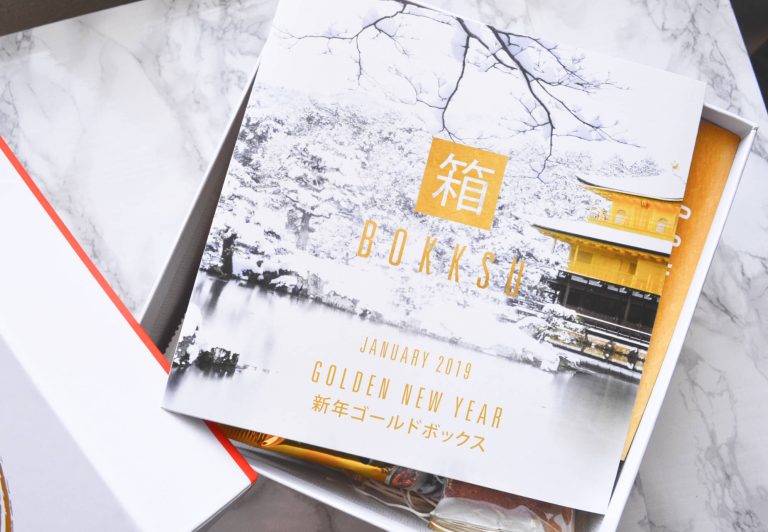 Bokksu included a pamphlet with information and photos of each product.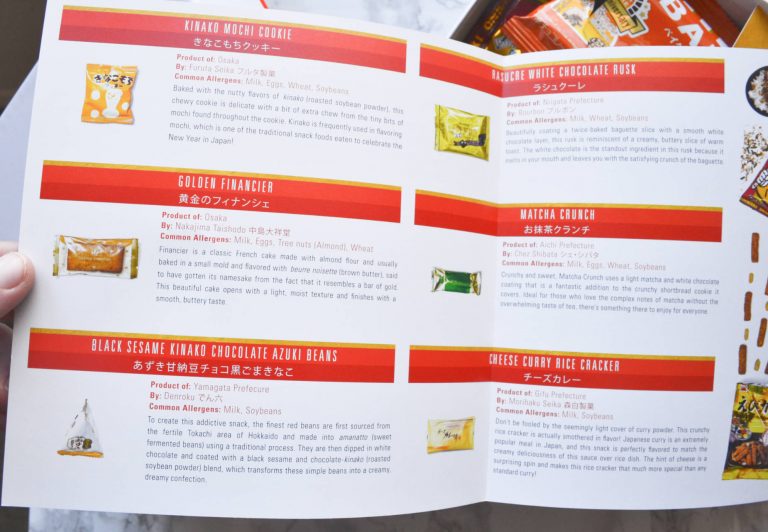 '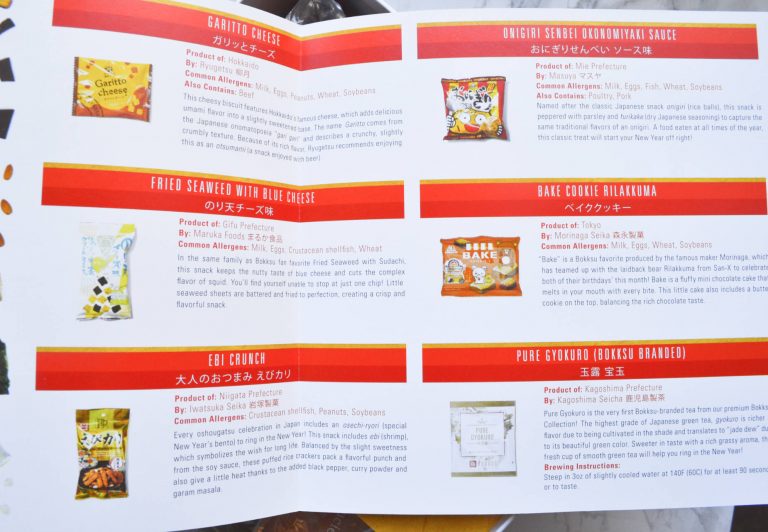 The box also included a note from Bokksu's founder, which revealed that they will be launching a new type of box soon! I am so excited to see what that will be!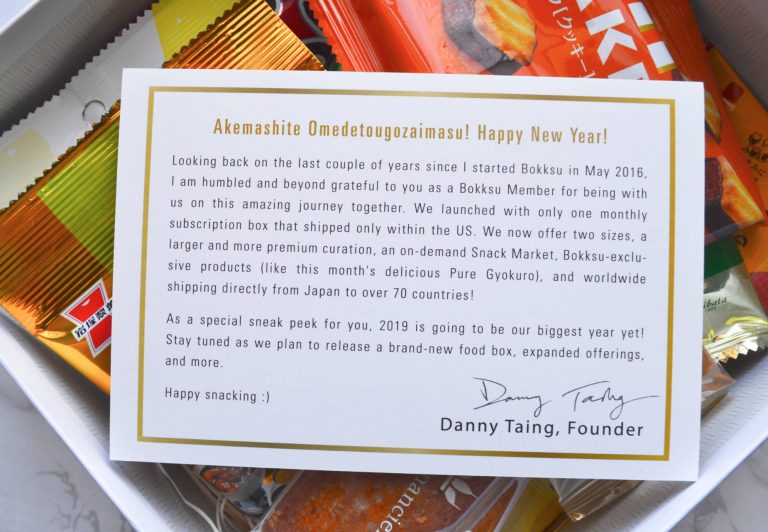 This month's box contained 22 snacks, as well as three satchets of tea. Here's a look at everything in the box: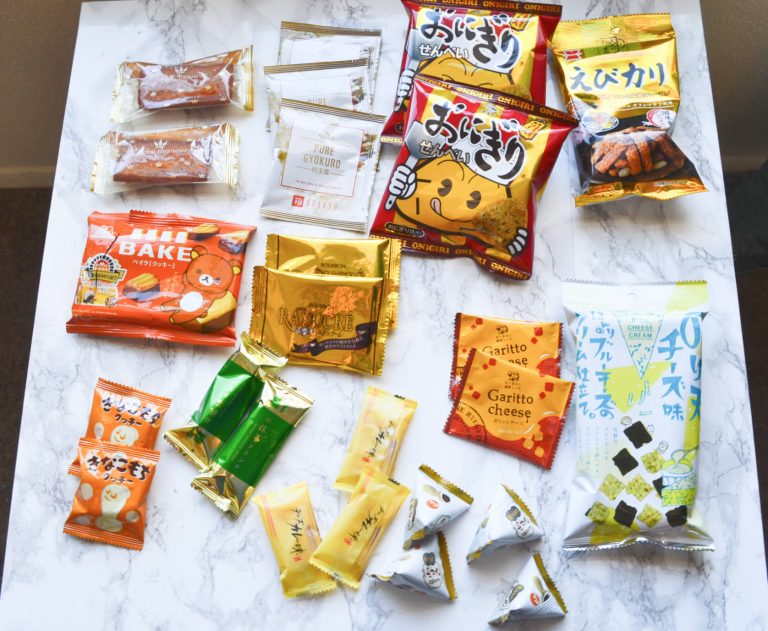 Seaweed Tempura with Blue Cheese ($3)
"In the same family as Bokksu fan favorite Seaweed Tempura with Sudachi, this snack keeps the nutty taste of blue cheese and cuts the complex flavor of squid. You'll find yourself unable to stop at just one chip! Little seaweed sheets are battered and fried to perfection, creating a crisp and flavorful snack."
I was a little wary when trying this – I'm not a huge fan of seaweed or blue cheese. But, it had a really complex, salty flavor that wasn't overly fishy. These little squares are crisp, nutty, and surprisingly addictive.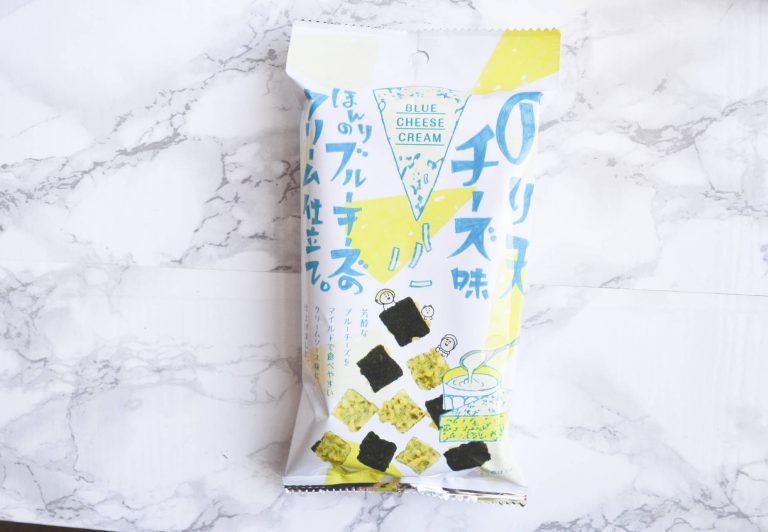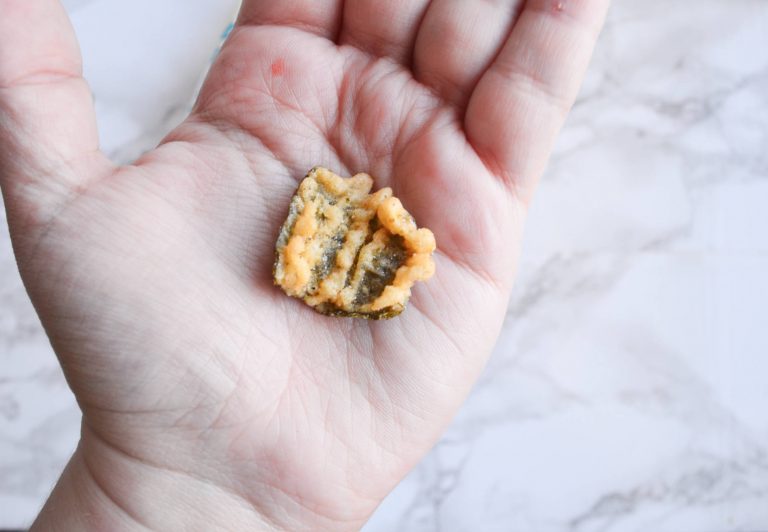 Ebi Crunch ($3)
"This mix of rice crackers and peanuts is made to be the perfect accompaniment to your next happy hour beverage. Balanced by the slight sweetness from the soy sauce, these puffed rice crackers pack a flavorful punch and also give a little heat thanks to the added black pepper, curry powder and garam masala"
I am a big sucker for curry – Garam Masala has been a staple in my pantry for years, and I tend to enjoy Bokksu's curry flavored snacks. These crunchy sticks are a little sweet and a little salty, and I'm loving the subtle spicy element. These would be delicious with (or without) a cold beer.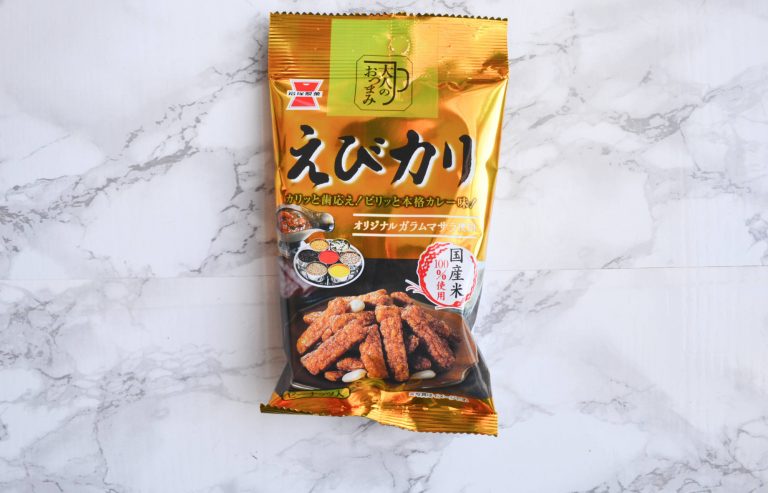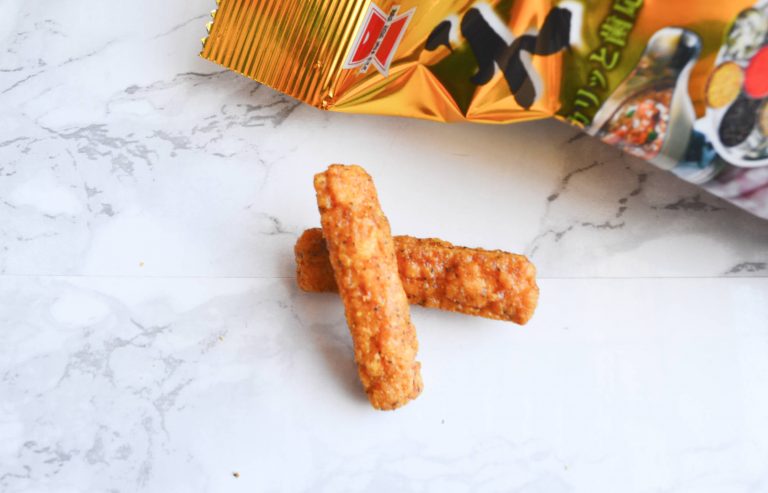 Onigiri Senbei Okonomiyaki Sauce x2 ($4)
"Named after the classic Japanese snack onigiri (rice balls), this snack is peppered with parsley and furikake(dry Japanese seasoning) to capture the same traditional flavors of an onigiri. A food eaten at all times of the year, this classic treat with start your New Year off right!"
I was so excited to receive this snack! I've made Okonomiyaki before, and I am obsessed with its sweet, tangy sauce. This Onigiri Senbei is crunchy and salty, and has a delightful oknomiyaki flavor coating.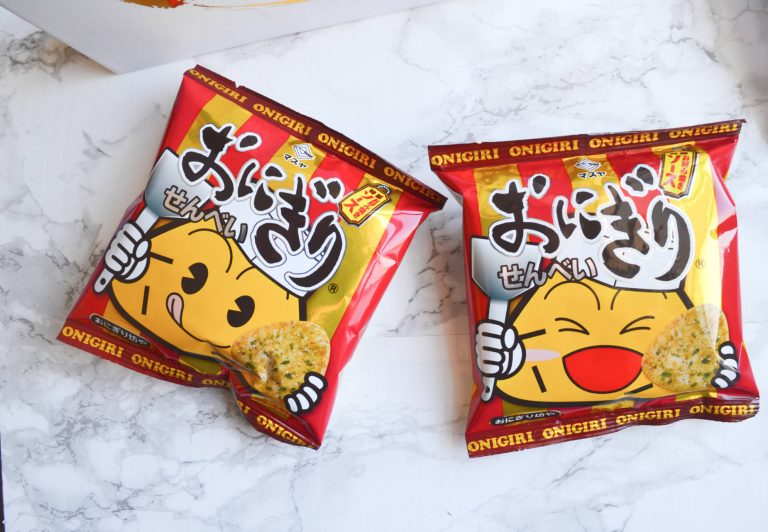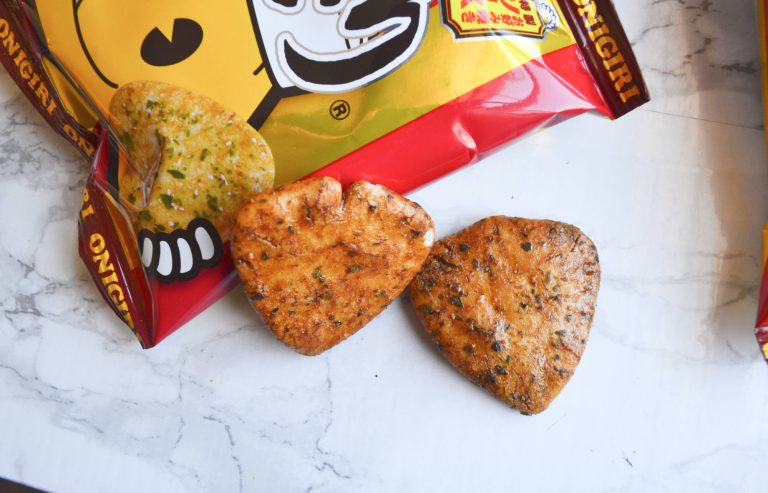 Bake Cookie Rilakkuma ($0.30)
"Bake is a Bokksu favorite and produced by the famous maker Morinaga, which has teamed up with the laidback bear Rilakkuma from San-X to celebrate both of their birthdays' this month! Bake is a fluffy mini chocolate cake that melts in your mouth with every bite. This little cake includes a little butter cookie on the top that perfectly balances the rich chocolate taste."
First of all, I am astounded that you can buy a 10 pack box of these cookies for only $3.00! Second of all, I am angry at myself for failing to take advantage of that deal before they went out of stock. These delicious butter cookies have a bottom layer of rich chocolate, and they melt in your mouth. They are SOOO good, and perfect for anyone with a sweet tooth! I really hope Bokksu brings these back for a future box.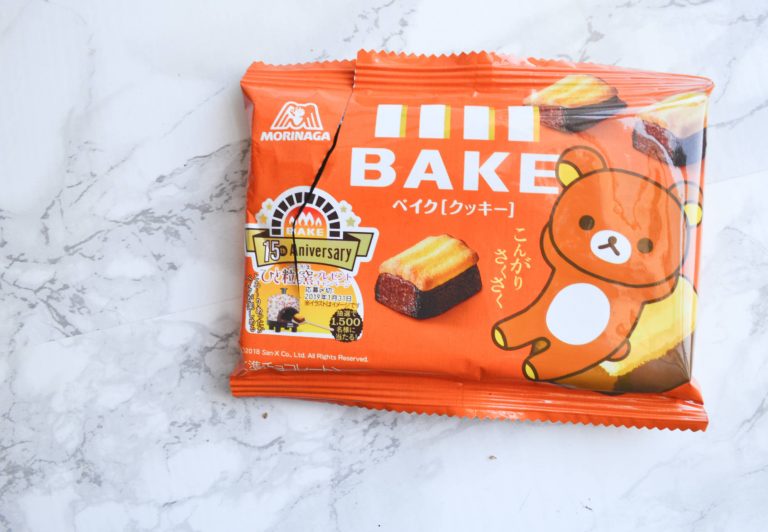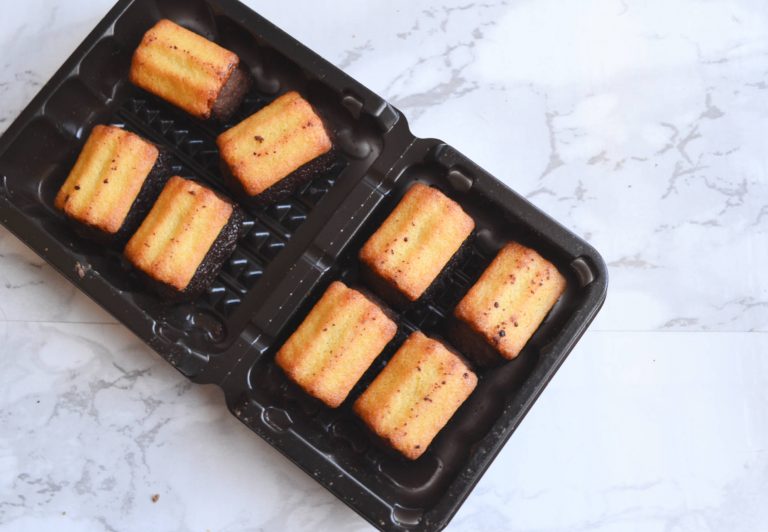 Black Sesame Kinako Chocolate Azuki Beans x4 ($2.20)
"To create this addictive snack, the finest red beans are first sourced from the fertile Tokachi area of Hokkaido and made into amanatto (sweet fermented beans) using a traditional process. They are then dipped in white chocolate and coated with a black sesame and chocolate-kinako (roasted soybean powder) blend, which transforms these simple beans into a creamy, dreamy confection."
I love it when Bokksu includes these little bean snack packs! I have received them in a few different flavors, and this one is my favorite so far. The middle is made from red bean paste, and the outside coating of white chocolate lends a sweet creaminess. The black sesame powder gives it a nice nutty element. All of the ingredients are harmonious, and I think it's amazing how such a tiny snack can taste so complex and delicious.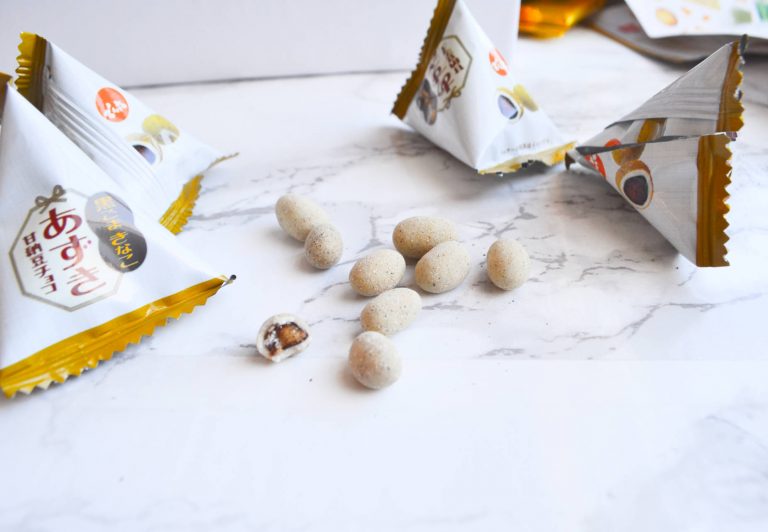 Cheese Curry Rice Cracker x3 ($1.70)
"Don't be fooled by the seemingly light cover of curry powder. This crunchy rice cracker is actually smothered in flavor! Japanese curry is an extremely popular meal in Japan, and this snack is perfectly flavored to match the creamy deliciousness of this sauce over rice dish. The hint of cheese is a surprising spin and makes this rice cracker that much more special than any standard curry!"
As I said earlier, I really enjoy curry powder – however, I didn't really like its combination with cheese. I enjoyed the crunchiness of the snack, but the flavor just wasn't my favorite.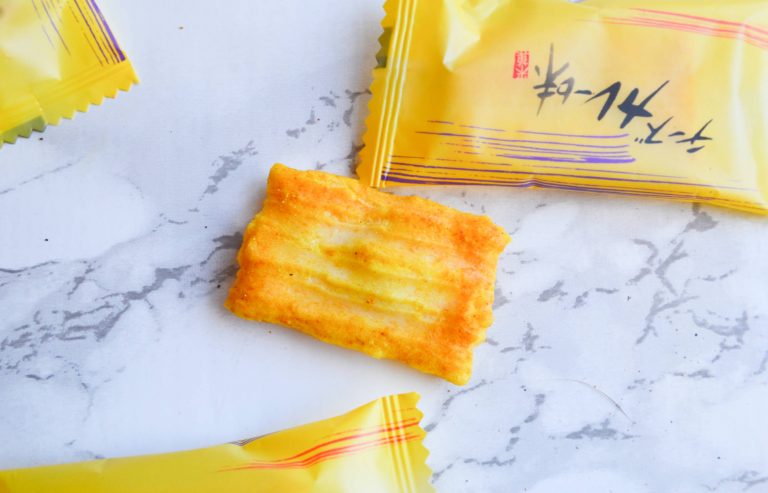 Kinako Mochi Cookie x2 ($1.00)
"Baked with the nutty flavors of kinako (roasted soybean powder), this chewy cookie is delicate with a bit of extra chew from the tiny bits of mochi found throughout the cookie. Kinako is frequently used in flavoring mochi, which is one of the traditional snack foods eaten to celebrate the New Year in Japan!"
This snack looks like a peanut butter cookie, but it has a very subtle Kinako (soybean) flavor. Because the cookie isn't overly sweet, it would be perfect to enjoy with a cup of tea. I found my cookies to be crumbly and a bit dry, rather than as chewy as the description said.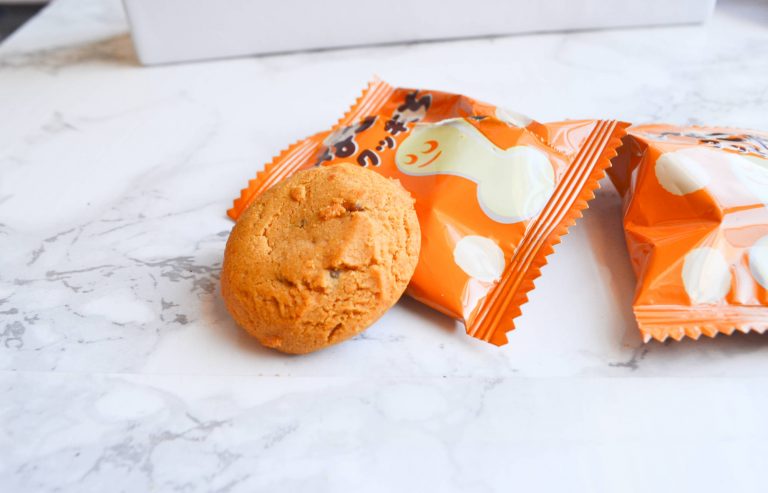 Matcha Crunch x2 ($2)
"Crunchy and sweet, Matcha Crunch uses a light matcha and white chocolate coating that is a fantastic addition to the crunchy shortbread cookie it covers. Ideal for those who love the complex notes of matcha without the overwhelming taste of tea, there's something there to enjoy for everyone."
A couple months ago, my Bokksu box included a Grape Crunch that was one of the best sweets I've ever tried! I was stoked to see that I've received another variation of that product. And, it was just as delicious! The white chocolate keeps the matcha from being too bitter, and it has a fragrant, herbal taste. I still prefer the grape version, but this was an excellent snack.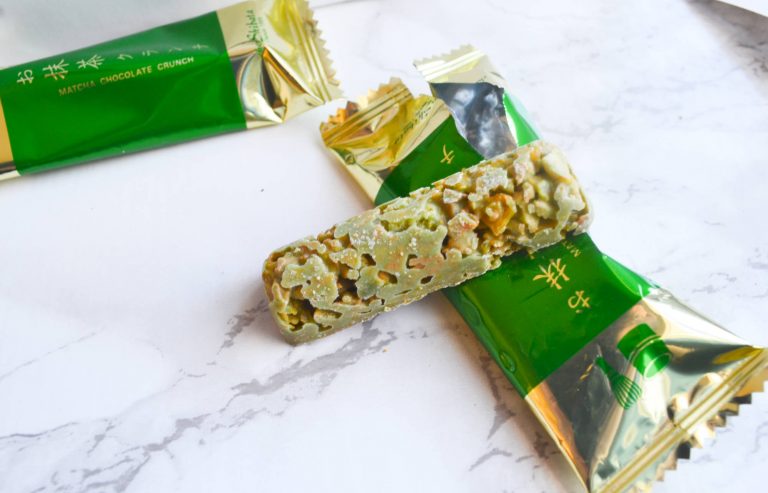 Garrito Cheese x2 ($3)
"This cheesy biscuit features Hokkaido's famous cheese, which adds delicious umami flavor into a slightly sweetened base. The name Garitto comes from the Japanese onomatopoeia "gari gari" and describes a crunchy, slightly crumbly texture. Because of its rich flavor, Ryugetsu recommends enjoying this as an otsumami (a snack enjoyed with beer)."
This was another cheese snack that I just couldn't get behind. I'm a cheese fiend, but I don't like it when mixed with sugar. I like salty cheese snacks instead!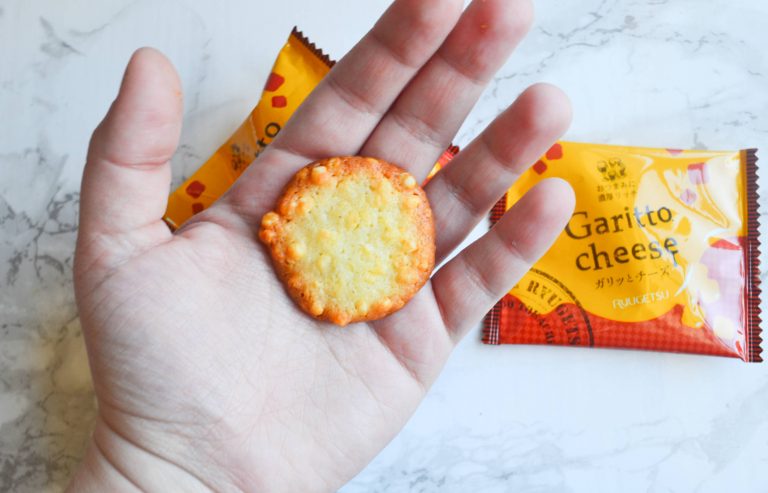 Rasucre White Chocolate Rusk x2 ($2)
"Beautifully coating a twice-baked baguette slice with a smooth white chocolate layer, this rusk is reminiscent of a creamy, buttery slice of warm toast. The white chocolate is the standout ingredient in this rusk because it melts in your mouth and leaves you with the satisfying crunch of the baguette."
It's been a while since I've received a rusk from Bokksu, and I forgot how delicious they are! The cookie itself is incredibly buttery and crispy, and the chocolate coating is subtly sweet and creamy.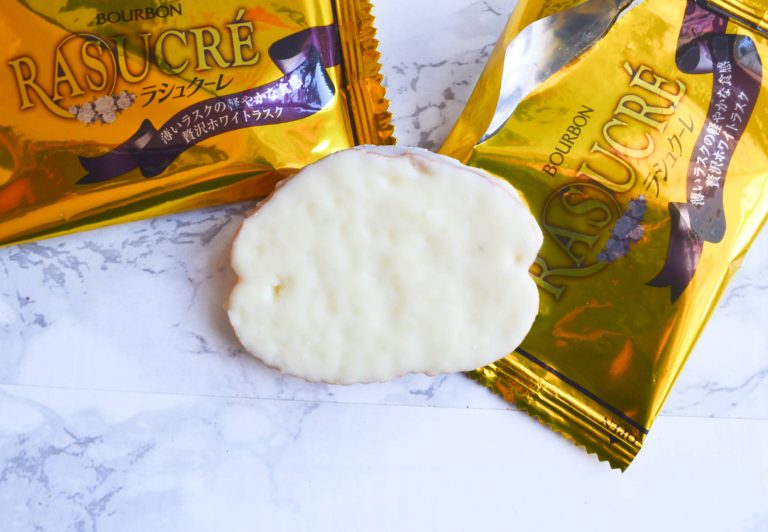 Golden Financier x2 ($4)
"Financier is a classic French cake made with almond flour and usually baked in a small mold and flavored with beurre noisette (brown butter), said to have gotten its namesake from the fact that it resembles a bar of gold. This beautiful cake opens with a light, moist texture and finishes with a smooth, buttery taste."
This cake is moist and dense, and is sweet without being too sugary. Just like the Kinako Mochi cookie, this is excellent with tea!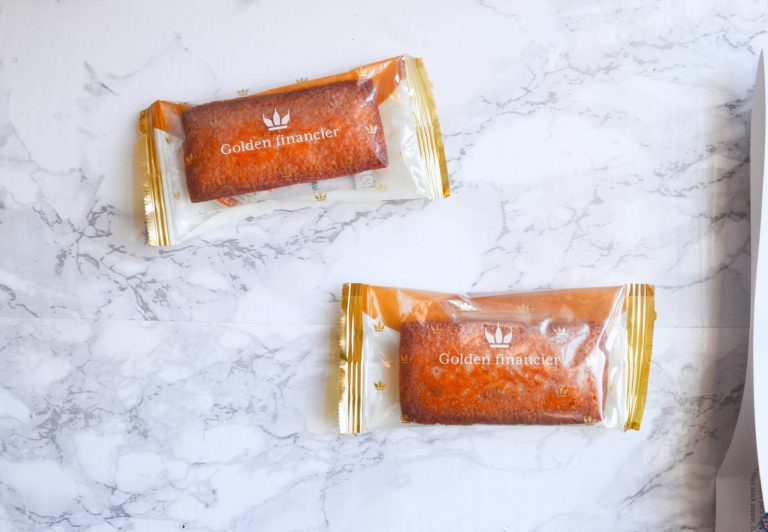 Pure Gyokuro x3 ($6)
"Pure Gyokuro is the very first Bokksu-branded tea from our premium Bokksu Collection! The highest grade of Japanese green tea from the lush gardens of Kagoshima, Gyokuro is richer in flavor due to being cultivated in the shade and translates to "jade dew" due to its beautiful green color. Sweeter in taste with a rich grassy aroma, this fresh cup of smooth green tea will help you ring in the New Year!"
Being subscribed to Bokksu has definitely helped me cultivate my taste in teas. A year ago, I would only drink sweet, fruity teas. I would never touch a tea with a grassy aroma. However, I now enjoy this type of tea – and even drink it without any added sweetener! This is herbal and fresh, and will help you feel great on a groggy morning.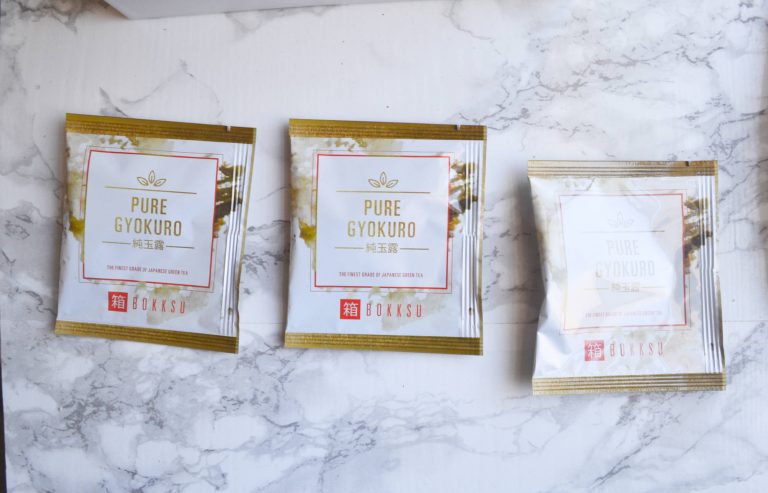 I really enjoyed trying the flavors from Japan's New Year Festival! I love that Bokksu doesn't just throw random snacks in, but instead thoughtfully curates each box so it is a culinary adventure. I am so excited to see what Bokksu's new box venture will be!