Bokksu is a food subscription box that sends out snacks sourced directly from Japan each month. Bokksu offers two subscription options. The Classic Box contains 20-25 snacks and a tea pairing, as well as a tasting guide and free shipping. Prices for this box range from $33 – $39, depending on how many months you prepay.
The Tasting Box contains 8 – 10 snacks, and it also has the tea pairing, tasting guide, and free shipping. Prices for this box range from $16 to $19.
Today, I will be reviewing the May 2019 Classic Box! May is Bokksu's anniversary month, which they celebrate by including their most popular snacks from past boxes. The snacks are from all over Japan, so the tasting guide gives an extensive look into each region.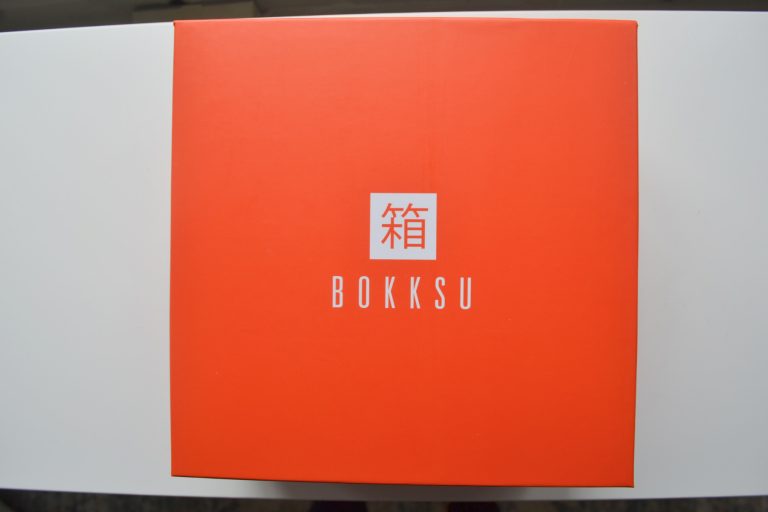 The tasting guide was brightly colored, attractively designed, and held a wealth of information about each snack and their origins.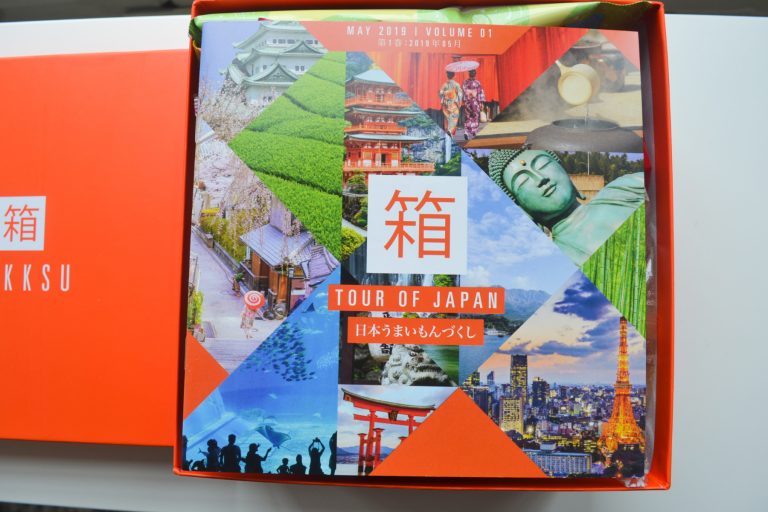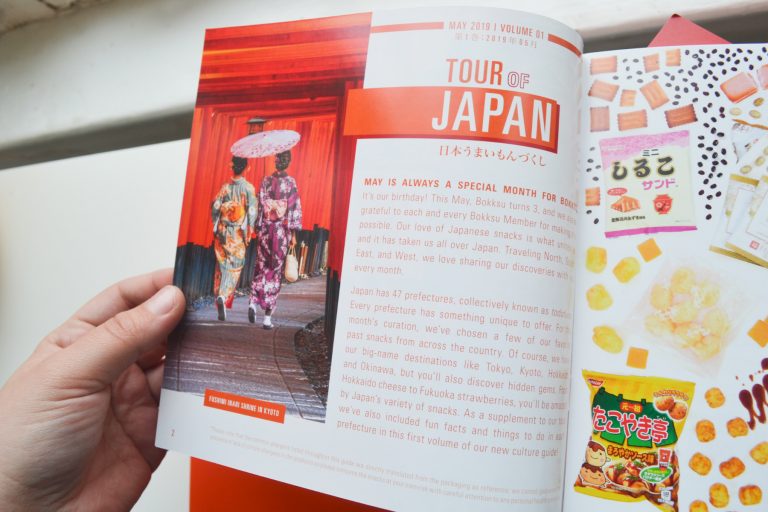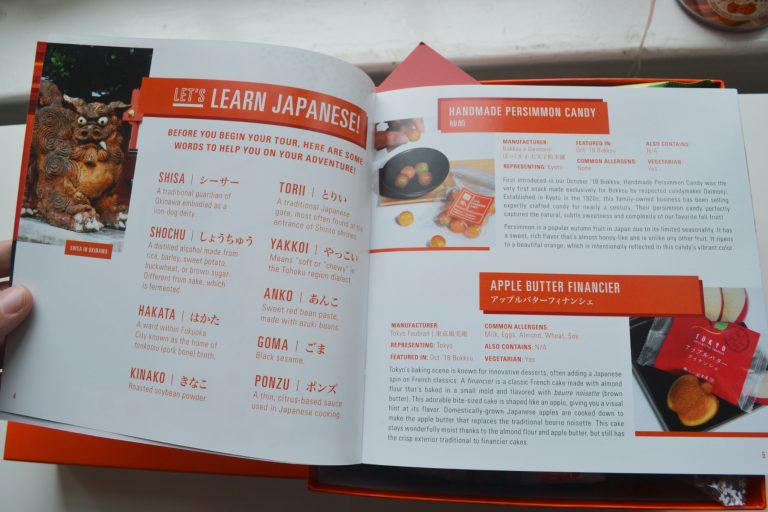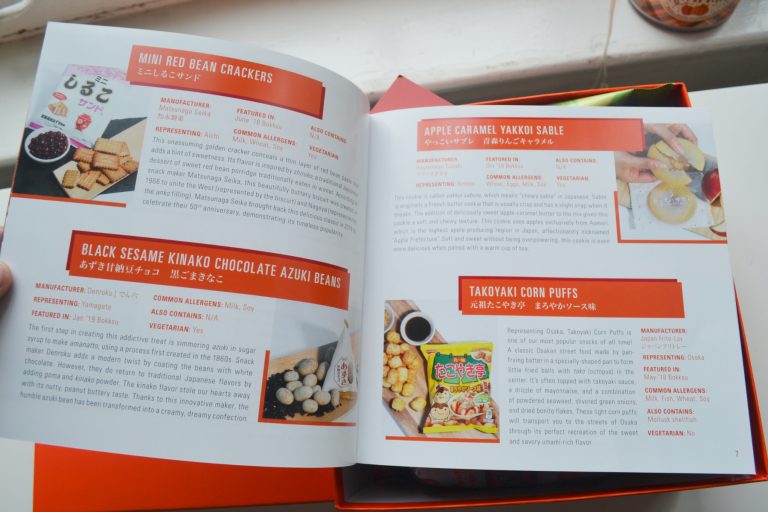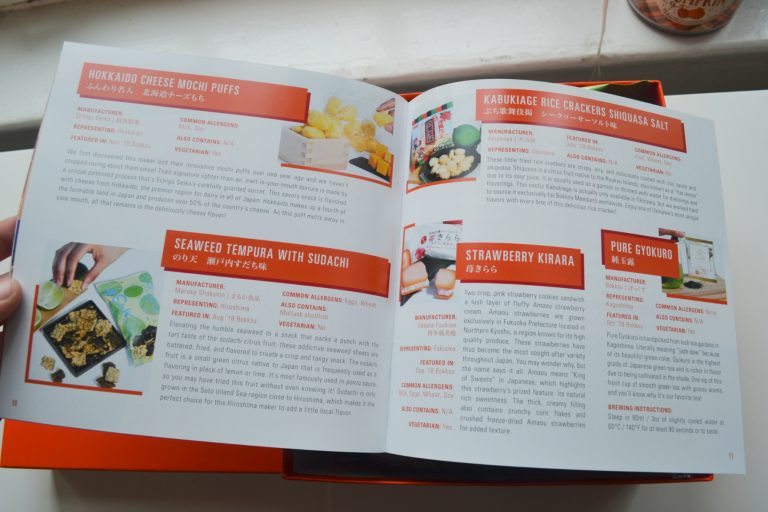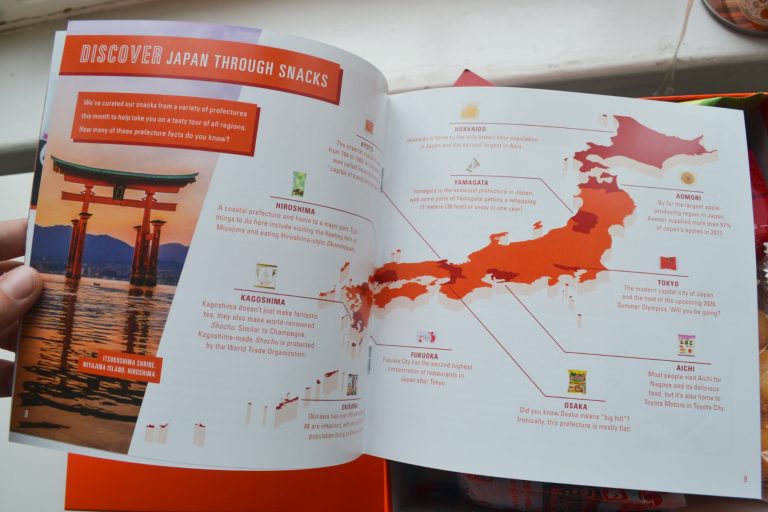 The box also included a note from the founder, Danny Taing, thanking subscribers for helping Bokksu reach its 3 year anniversary.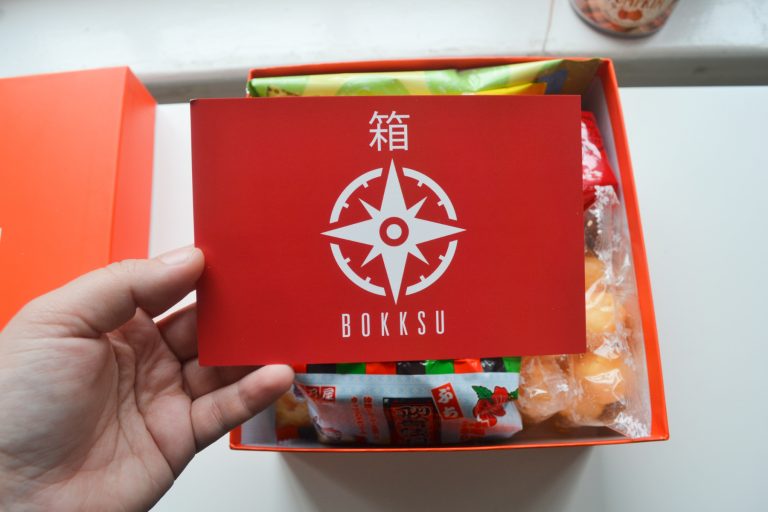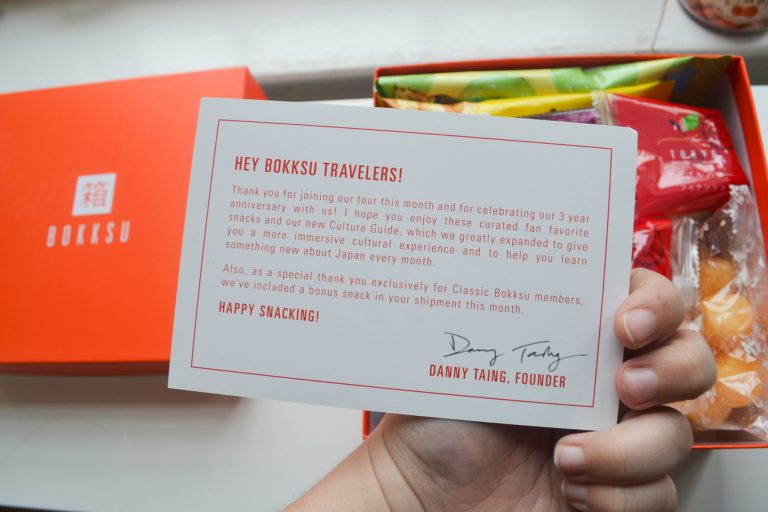 The snacks were neatly packaged inside the box; even though it was shipped all the way from Japan, everything was still in great condition.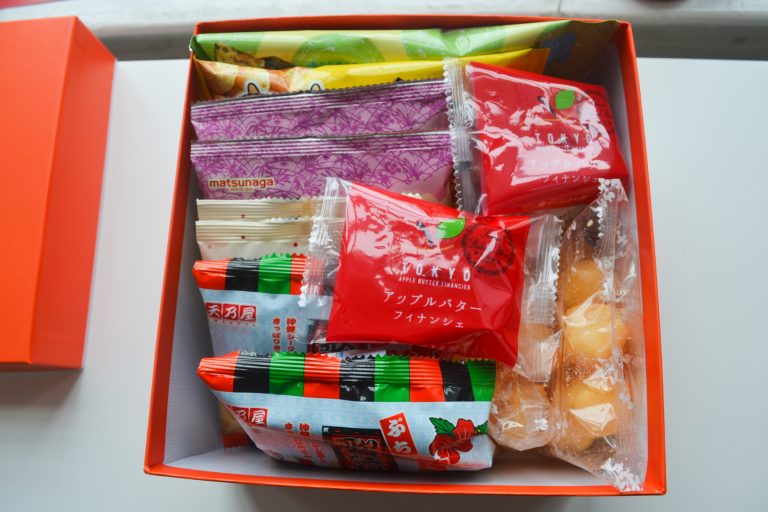 There was a total of 18 snacks and 3 tea pairings in this month's box; that's lower than usual, but there were a lot more full sized snacks included.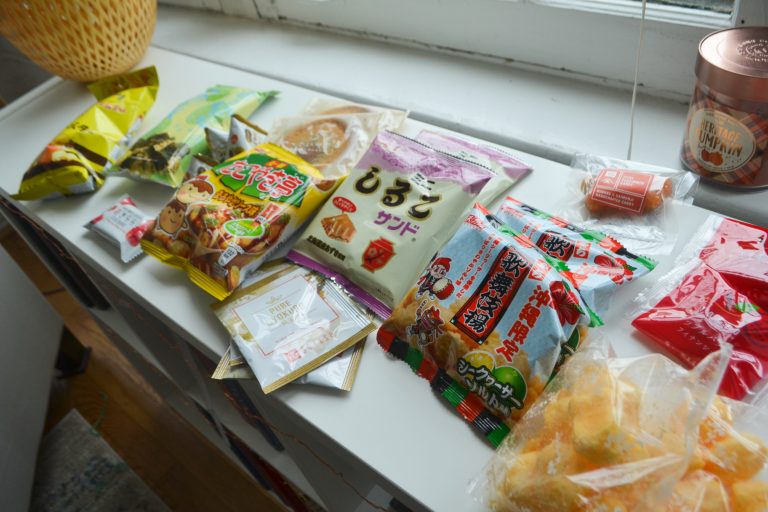 Handmade Persimmon Candy
We're starting off with a bang! These hard candies are one of my favorite products I've received from Bokksu in the last year. They are delightful morsels with a subtly sweet and buttery fruit taste. I've never had an actual persimmon, so I can't say for sure if they taste real. However, the handcrafted apple candies tasted just like a ripe apple, so I'd bet that these taste pretty authentic.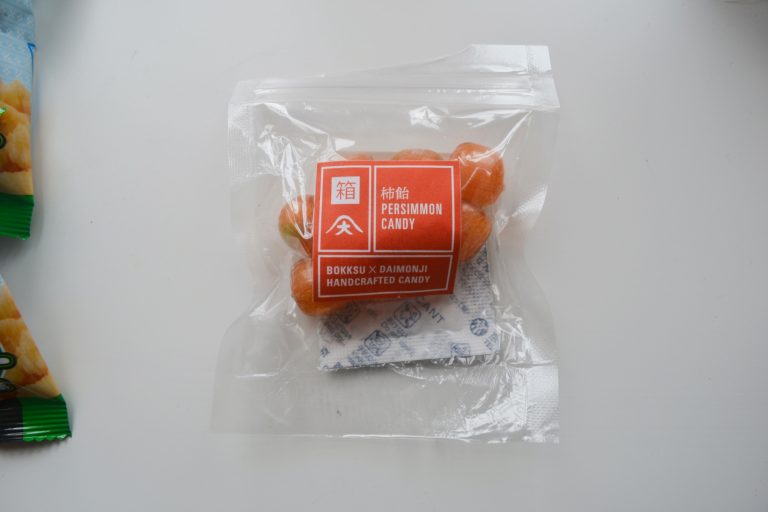 Kabukiage Rice Crackers: Shiquasha Salt x2
These are little fried rice crackers that are crunchy, salty from the soy sauce coating, and a little tart from a citrus fruit called Shiquasa. It tastes a little lemony, but it packs more of a vinegary punch in my opinion. I will say, these are addictive! I love their airy texture, and their unique sour-and-salty flavor combo.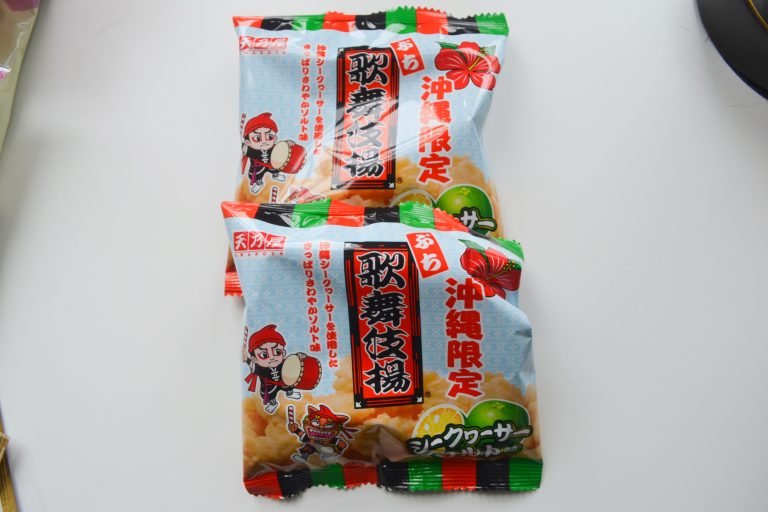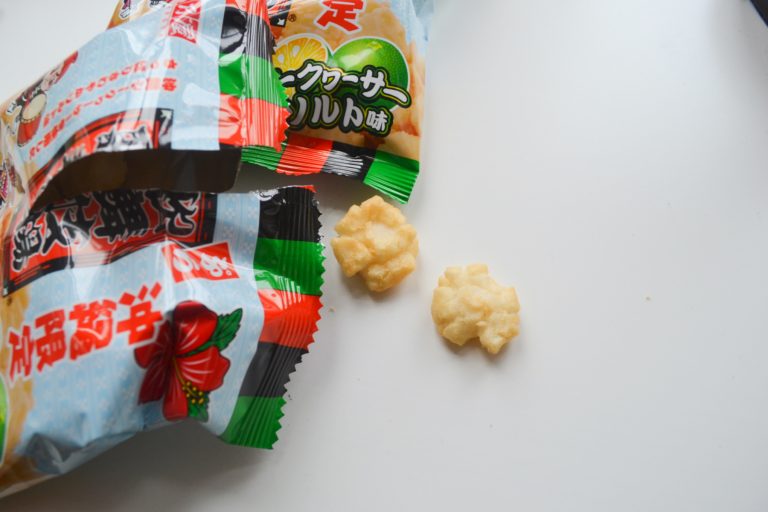 Funwari Meijin Mochi Puffs: Hokkaido Cheese x2
These fluffy puffs are flavored with cheese from Hokkaido, the premier region for dairy in all of Japan. They aren't very sharp in flavor like a lot of U.S. cheesy snacks, but instead have a milder, nutty flavor. The mochi are quite airy and melt in your mouth!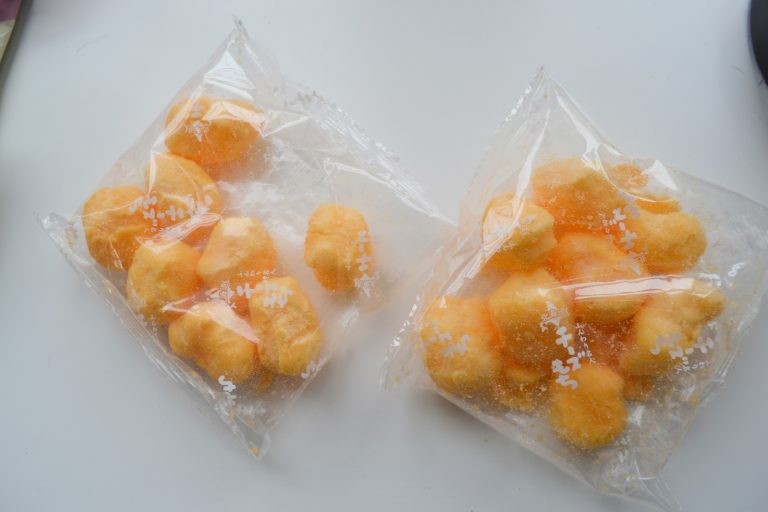 Apple Caramel Yakkoi Sable (x2)
Holy moly, these chewy cookies are gigantic! They are larger than the palm of my hand, and are filled with a tasty caramel apple butter center. I love their soft texture, but I wish the cookies had a little more tartness to counter the super-sweetness of the apple butter.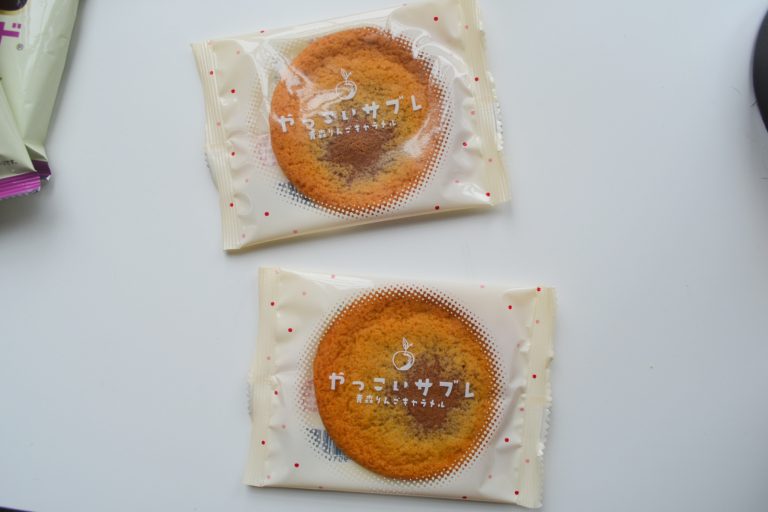 Black Sesame Kinako Chocolate Azuki Beans x3
I love it when Bokksu includes these little bean snack packs! I have received them in a few different flavors, and this one is my favorite so far. The middle is made from red bean paste, and the outside coating of white chocolate lends a sweet creaminess. The black sesame powder gives it a nice nutty element. All of the ingredients are harmonious, and I think it's amazing how such a tiny snack can taste so complex and delicious.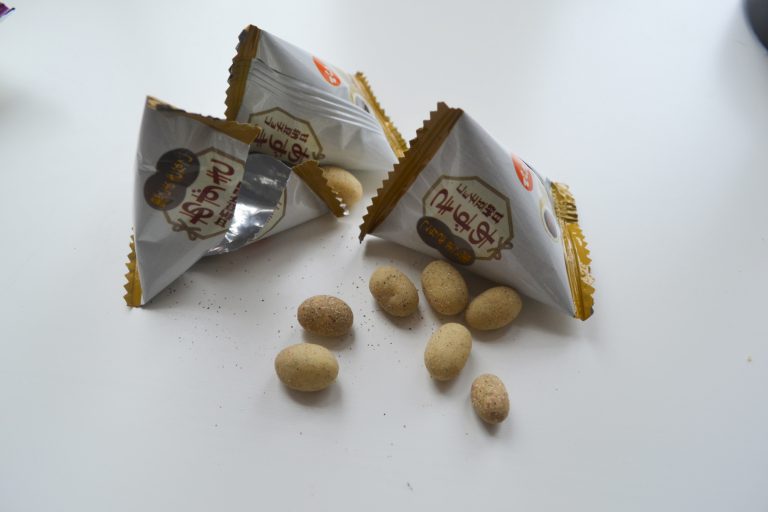 Seaweed Tempura with Sudachi
This is such an interesting snack! Little seaweed snacks are battered and fried, and flavored with the tart sudachi fruit. This is mouth puckering and slightly salty, and finished with that umami seaweed taste we all know and love.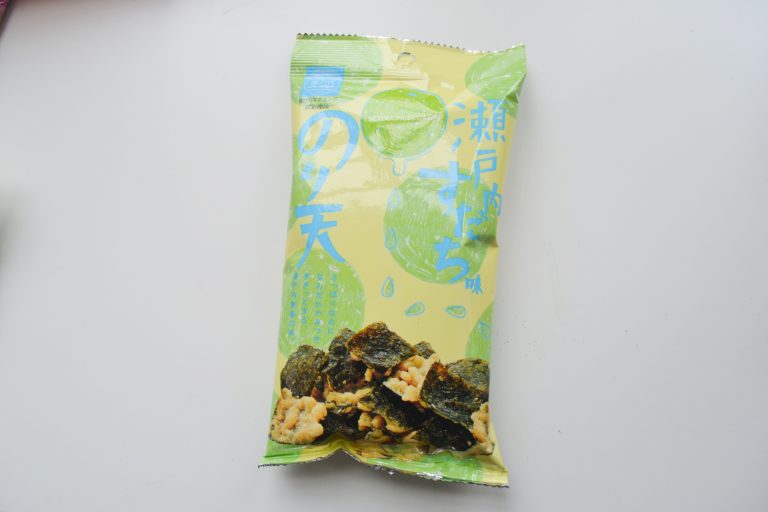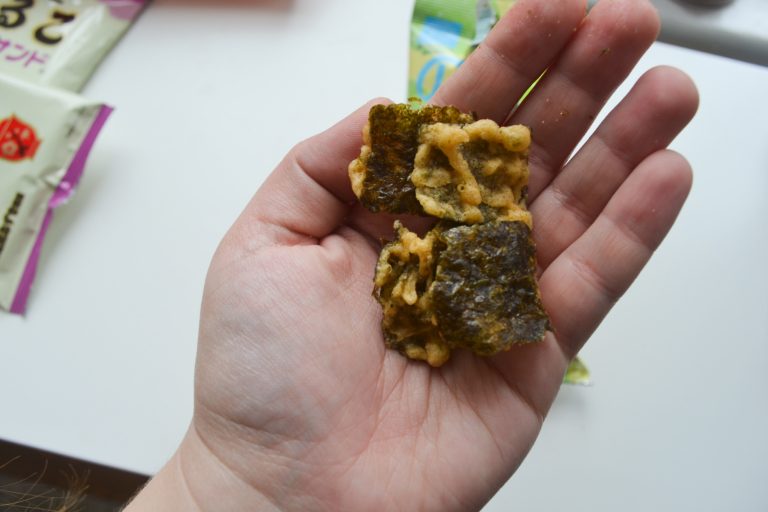 Mini Red Bean Crackers x2 ($2)
These little crackers are filled with a thin layer of red bean paste, which reminds me of sweet potatoes. These are subtly sweet, crunchy, and altogether addictive.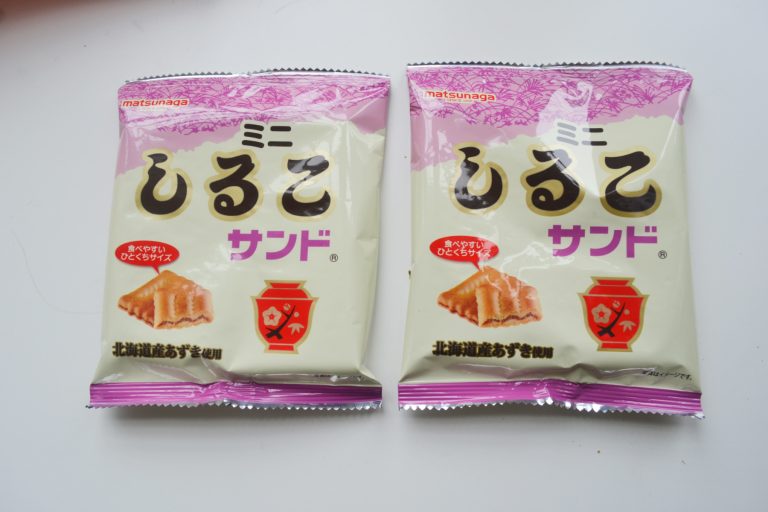 Apple Butter Financier x2
Classic financier is flavored with brown butter, but this version uses apple butter instead! These cakes are also made with almond flour, which gives it a chewy texture and slightly nutty flavor. My mom used to make almond flour cookies weekly, and this brought me right back. These might be even more delicious… Sorry, mom! ;)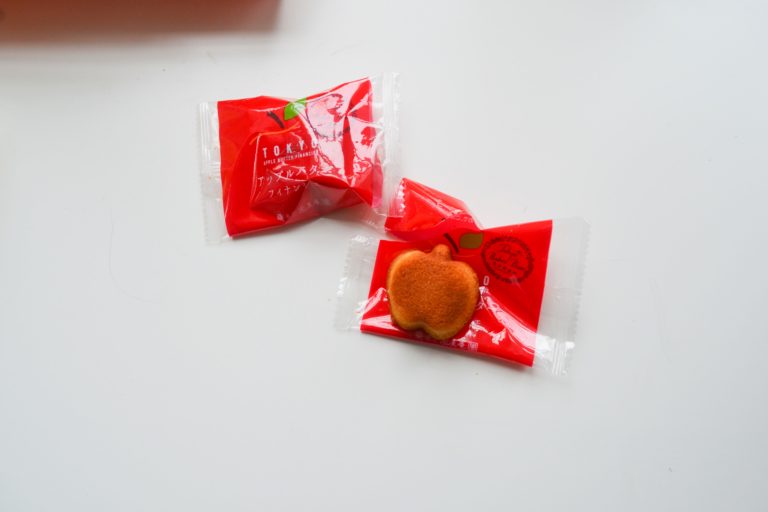 Takoyaki Corn Puffs – $3
These corn puffs are inspired by the classic Osakan street food of Takoyaki, which are pan fried octopus balls topped with sauce, drizzled with mayonnaise,and sprinkled with powdered seaweed, green onions, and bonito flakes. That is a lot of flavors going on! I have never had real Takoyaki, but I like to imagine it tastes quite similar to these corn puffs. To me, they taste a little meaty, a little fishy, and a bit like gravy.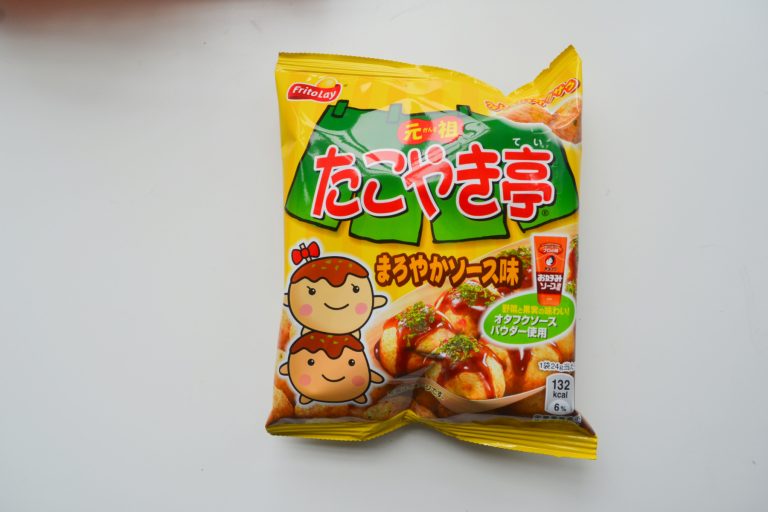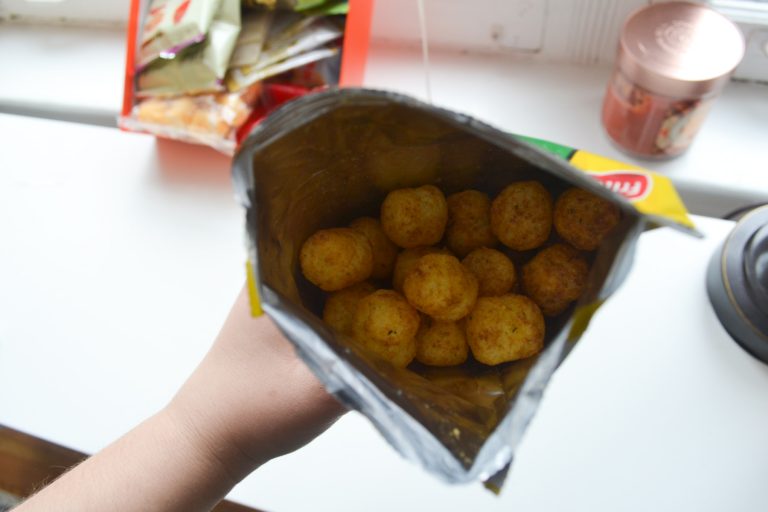 Strawberry Kirara x2
This snack is made of crisp strawberry cookies, stuffed with a layer of fluffy strawberry cream. The cream layer has crunchy corn flakes and bits of freeze dried strawberries, which gives it a really unique texture. This is one of my favorite snacks in the box, and I wish I had dozens more.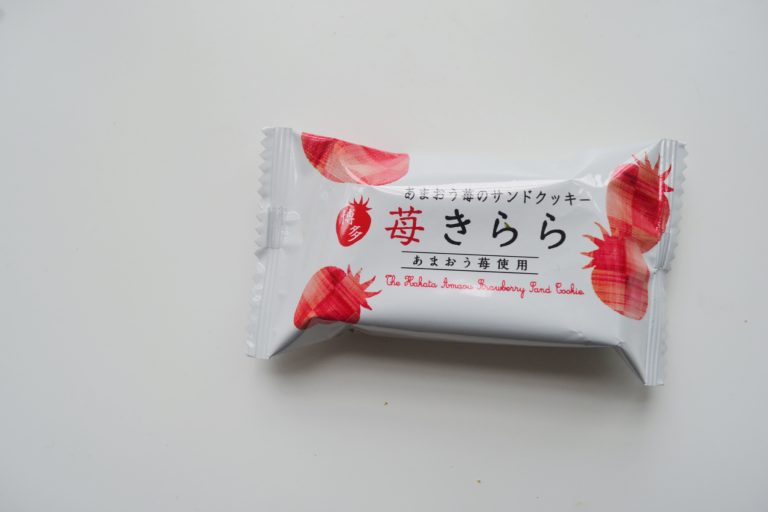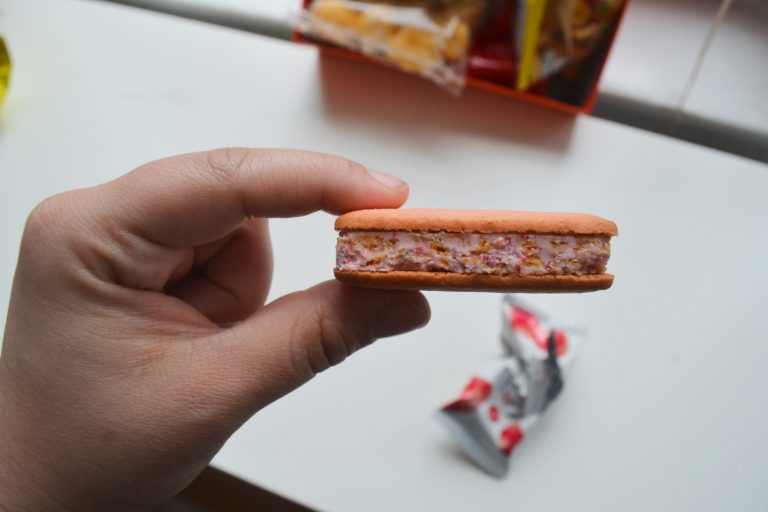 Koikeya Minit's Stick Potato: Honey Butter
These potato sticks are made by the same company that produces my all-time favorite plum potato sticks, so I was excited to try this flavor. However, I was really missing a tart element. It's a little sweet from the honey and creamy from the butter… but I defiitely think it would be better with a citrus note.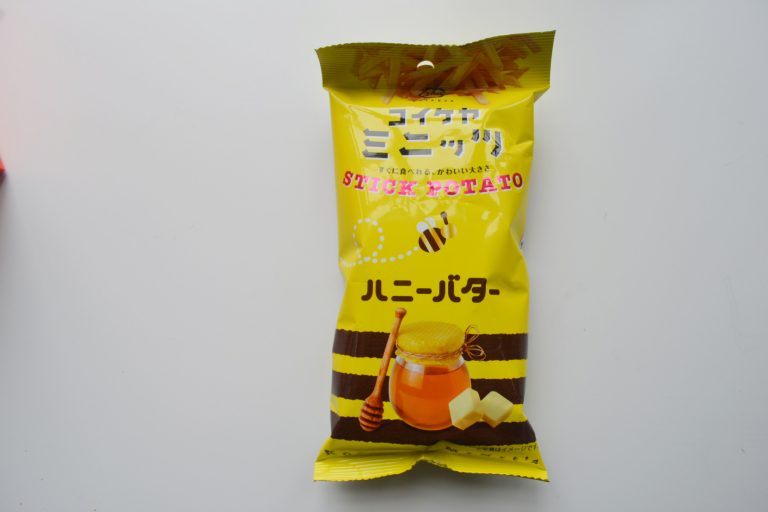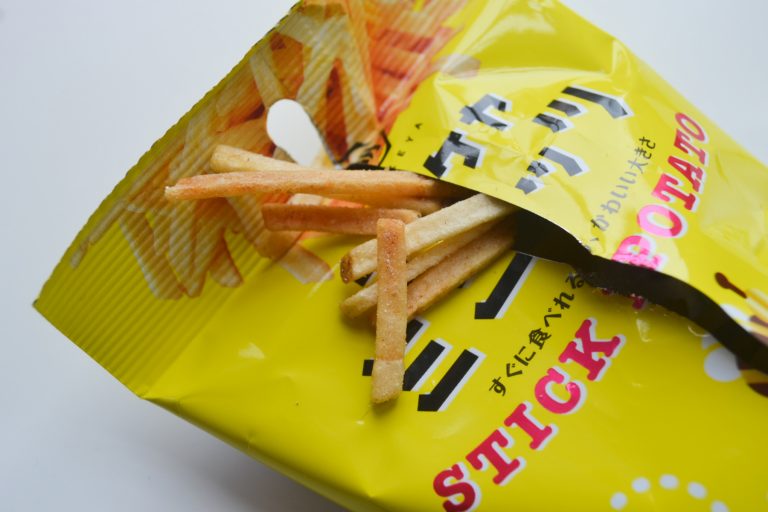 The tea pairing for this month was Pure Gyokuro. Being subscribed to Bokksu has definitely helped me cultivate my taste in teas. A year ago, I would only drink sweet, fruity teas. I would never touch a tea with a grassy aroma. However, I now enjoy this type of tea – and even drink it without any added sweetener! This is herbal and fresh, and will help you feel great on a groggy morning.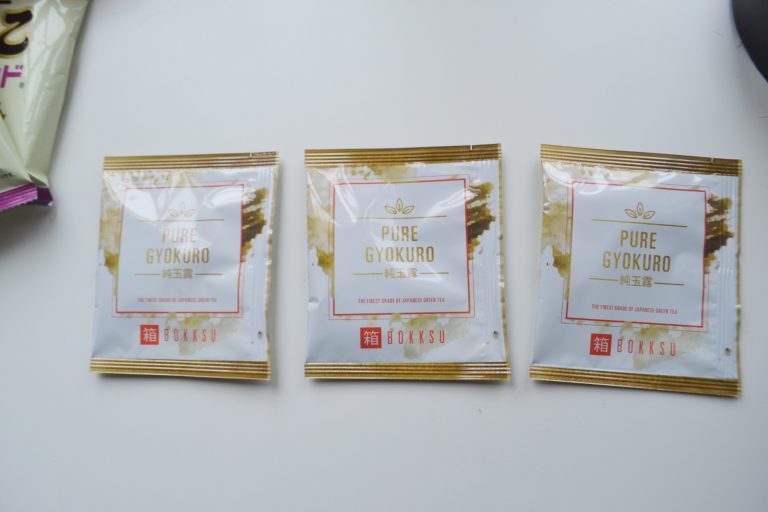 I really enjoyed revisiting flavors and snacks from previous boxes. However, I am really looking forward to trying new Japanese snacks next month!