Bokksu is a food subscription box that sends out snacks sourced directly from Japan each month. Bokksu  offers two subscription options. The Classic Box contains 20-25 snacks and a tea pairing, as well as a tasting guide and free shipping. Prices for this box range from $33 – $39, depending on how many months you prepay. The Tasting Box contains 8 – 10 snacks, and it also has the tea pairing, tasting guide, and free shipping. Prices for this box range from $16 to $19.
Bokksu is currently running a promotion where you can use code HOLIDAYAIR for FREE Express shipping on your subscription.
Today I will be reviewing November's Bokksu!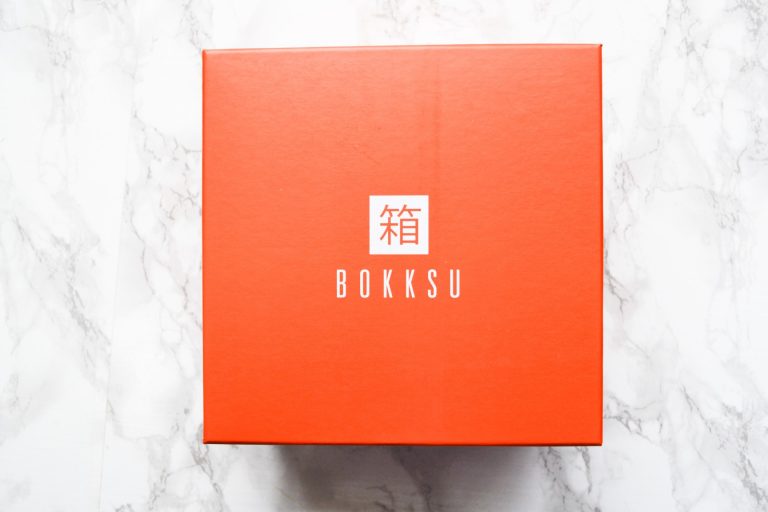 November's theme is "Tea Story" and includes snacks intended to complement Japan's delicious teas.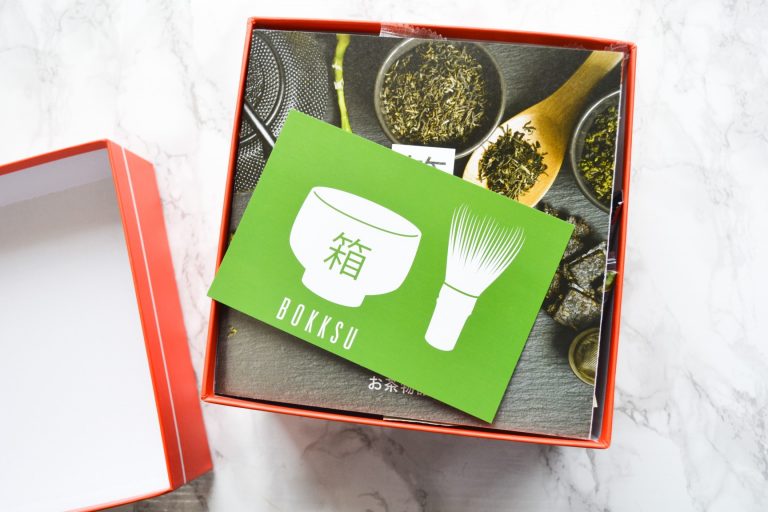 Bokksu included a pamphlet with pictures and information about each product in this month's box. I like that they include these, because most of the time the product information on the packaging is in Japanese.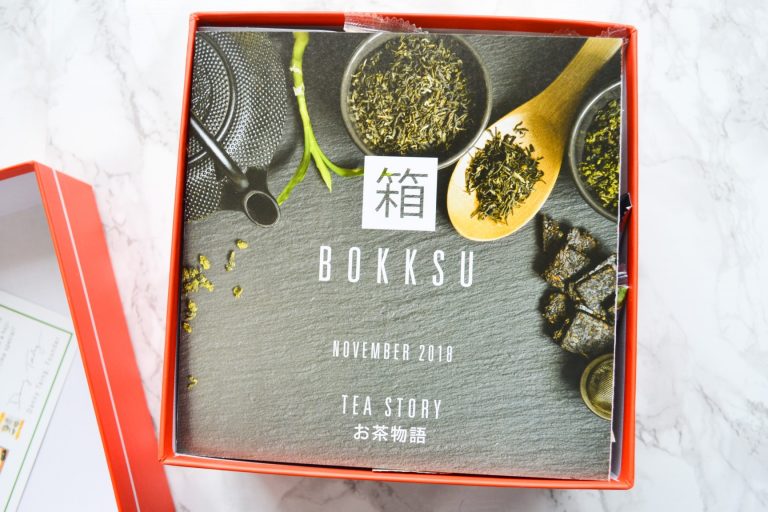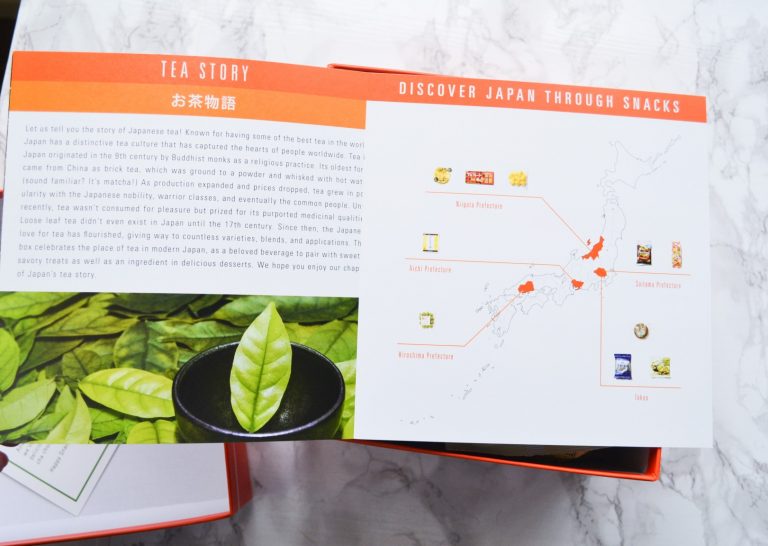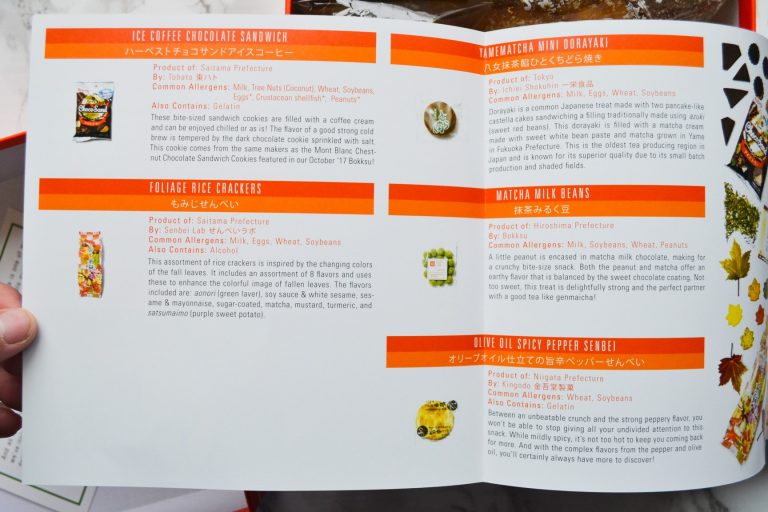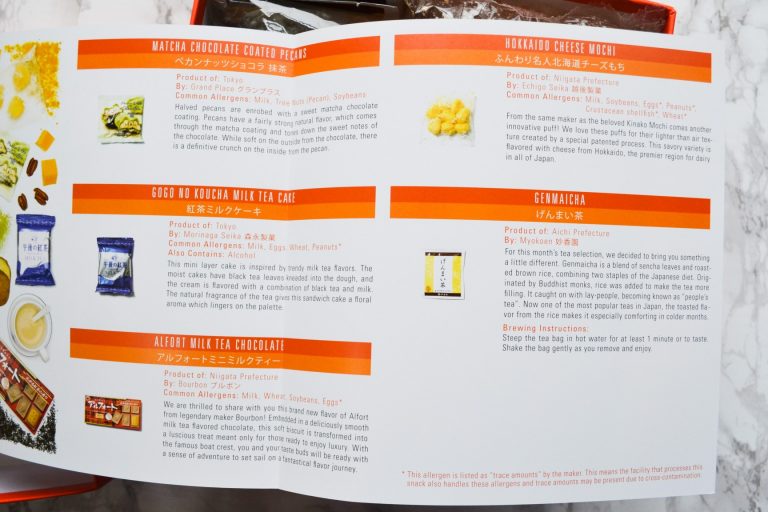 Here's a quick look at everything that's inside Bokksu's November curation. There was a total of 17 snacks and three tea packets. There are fewer snacks than usual, but the actual sizes of the snacks are large this month.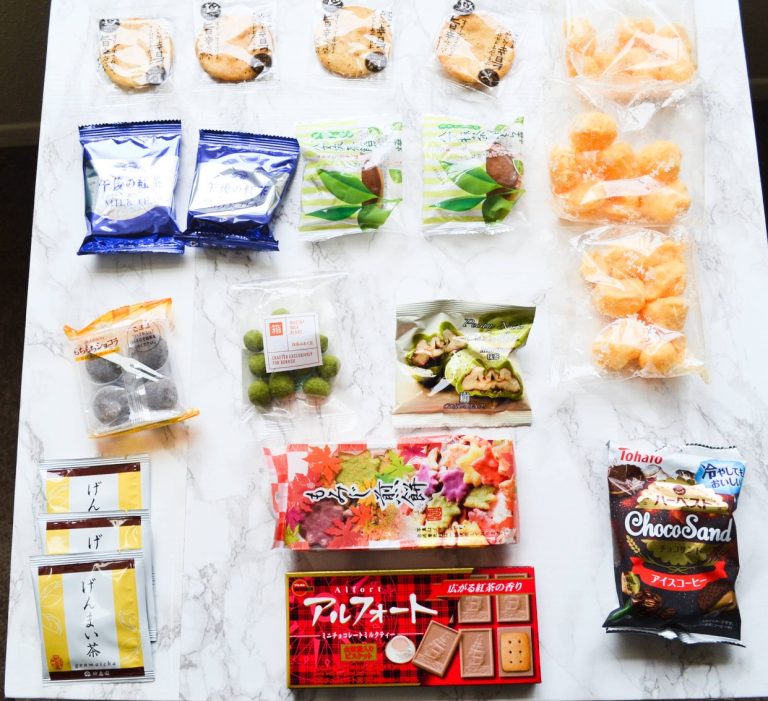 Genmaicha Tea x3 ($3)
This tea is made from a blend of sencha leaves and roasted brown rice, and is one of Japan's most popular teas. The rice gives it a toasted, nutty flavor that is soul-warming on a chilly day.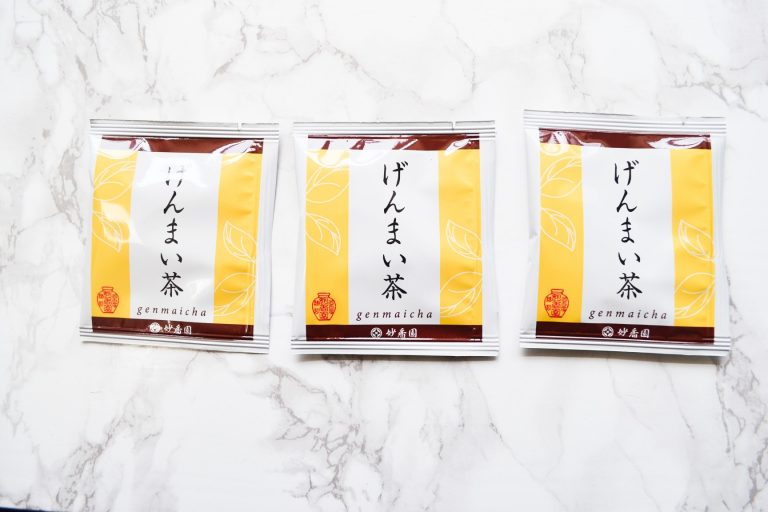 Olive Oil Spicy Pepper Senbei x3 ($1)
These crackers are coated in olive oil and pepper, very crunchy, and mildly spicy. Bokksu usually includes at least one senbei product in each box, and the olive oil varieties are always my favorite! They aren't overly salty, and go well with a nutty tea.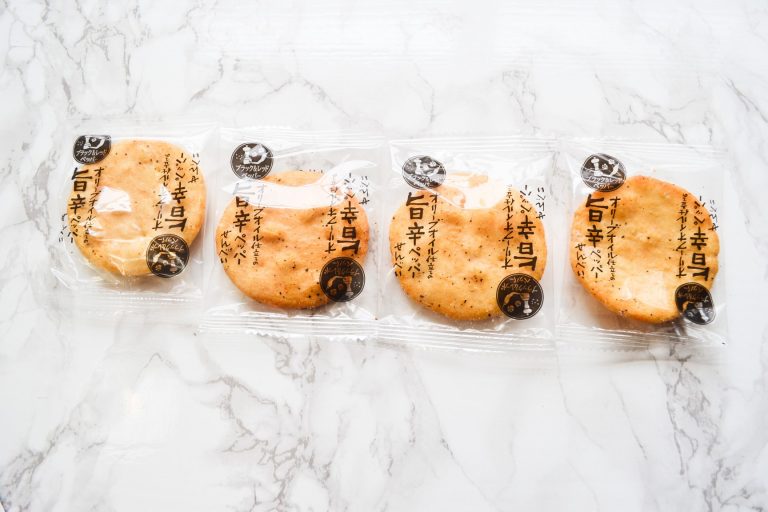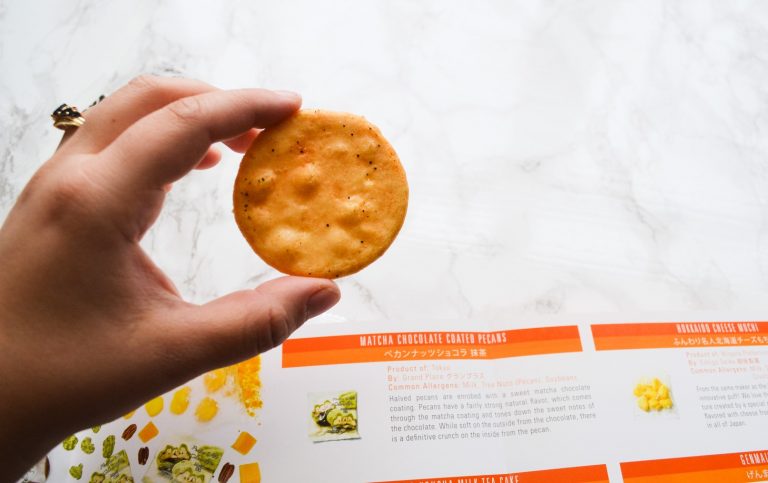 Yamematcha Mini Dorayaki x 2 ($2)
Dorayaki is a pastry made from two pancake-like cakes sandwiching a sweet filling. This version of dorayaki is filled with a matcha cream made with sweet white bean paste and matcha grown in Yame. I was expecting the matcha filling to be bitter, but it is actually quite sweet! This is my first time trying dorayaki, and I really enjoyed the spongy, pancake-like texture.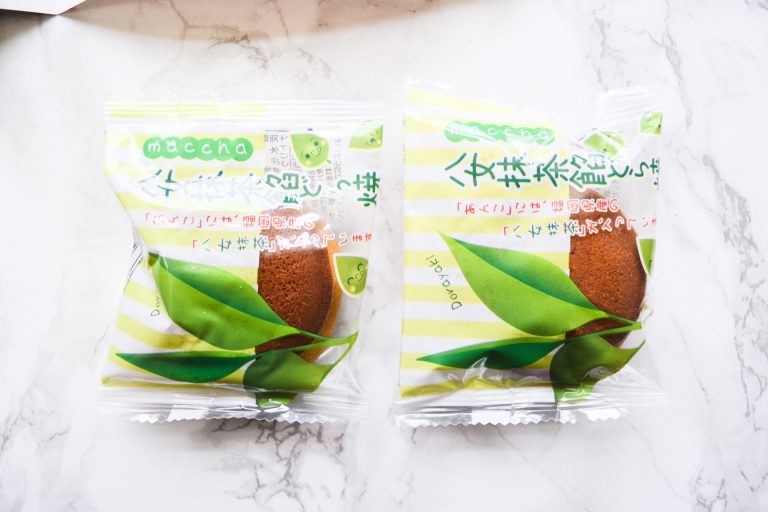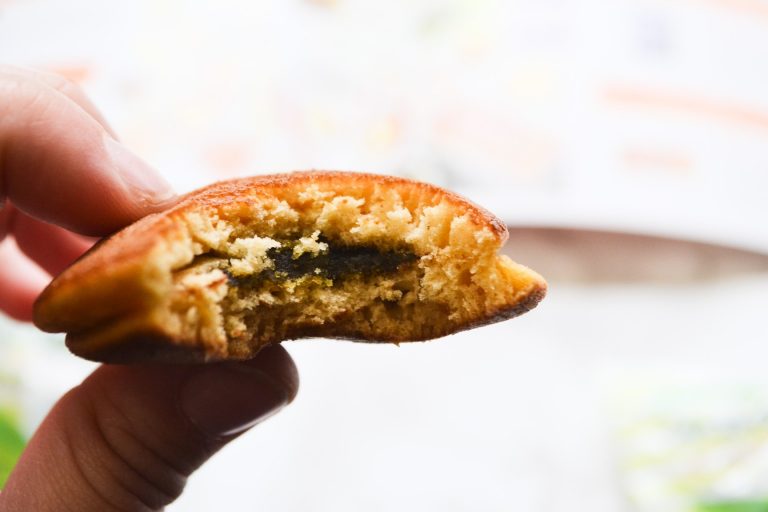 Milk Tea Cake x2 ($2.50)
This Milk Tea Cake is similar in structure to dorayaki – two flat spongy cakes sandwiching a cream filling. The cakes in this treat are flavored with black tea leaves, and the cream is flavored with both black tea and milk. This cake has a definite floral palette, which I'm not a huge fan of. This is a personal preference though, and I can recognize the craftmanship that went into creating this treat.


Hokkaido Cheese Mochi x3 ($6)
These fluffy puffs are flavored with cheese from Hokkaido, the premier region for dairy in all of Japan. They aren't very sharp in flavor like a lot of U.S. cheesy snacks, but instead have a milder, nutty flavor. The mochi are quite airy and melt in your mouth!


Foliage Rice Crackers ($3)
There are 8 flavors of rice crackers in this package, all shaped and colored like various fall leaves. The flavors included are seaweed, soy sauce & white sesame, sesame & mayonnaise, sugar-coated, matcha, mustard, turmeric, and purple sweet potato. I love that there is such a unique assortment of flavors! I don't particularly care for the seaweed or mayonnaise flavored crackers, but I love the mustard and sweet potato ones.


Matcha Milk Beans ($3)
This snack was crafted exclusively for Bokksu! These are peanuts coated with a layer of matcha milk chocolate. The matcha coating is a little bitter, but the sweetness of the milk chocolate balances it perfectly. I have a mild peanut allergy, so I only tried one. I was impressed by the depth of flavor, and I like that they aren't overly sweet. These would go perfectly with November's tea pick!



Matcha Coated Chocolate Pecans ($3)
This is pretty much identical to the previous snack, except filled with pecans instead of peanuts. These are softer, and I think the pecan goes better with matcha.
 

Hojicha Latte Mochi Chocolate ($6)
Hojicha is a traditional Japanese roasted green tea with nutty and earth notes. These little snacks are made by infusing Hojicha Latte into chocolate-filled mochi balls. The outside is soft and chewy, and the chocolate ganache in the middle is smooth and rich.
 
Iced Coffee Chocolate Sandwich ($2)
This is my all time favorite Bokksu snack! And, it appears to be pretty popular; I went online to buy some more and it was sold out. These little chocolate sandwiches are filled with coffee cream, and the cookies are made with dark chocolate and are sprinkled with sea salt. They are absolutely delicious, and perfect for any chocolate lover. So much flavor for a tiny cookie!


Alfort Milk Tea Chocolate ($2)
This chocolate is flavored with milk tea, and tastes similar to the milk tea cake in this box. It has the same floral palette, so I didn't really enjoy it. If you don't mind floral food, I think you'd like this; the chocolate is smooth and the biscuits underneath are buttery and crisp.



I loved November's theme, and I think this box was expertly curated. All of these snacks go wonderfully with tea, and the assortment felt unique and creative. The stand-out item for me was definitely the Iced Coffee Chocolate Sandwiches. Bokksu is a great way to try out both classic and artisan Japanese snacks! The box had a value of $34.50, which is a little less than the price of a monthly subscription. However, Bokksu offers free shipping – and since international shipping is normally quite expensive, you are actually saving a good chunk of money.