Bokksu is a monthly subscription box that sends out tasty snacks sourced directly from Japan. Bokksu currently offers two subscription options. The Classic Box contains 20-25 snacks and a tea pairing, as well as a tasting guide and free shipping. Prices for this box range from $33 – $39, depending on how many months you prepay. The Tasting Box contains 8 – 10 snacks, and it also has the tea pairing, tasting guide, and free shipping. Prices for this box range from $16 to $19.
September's Classic Bokksu arrived in a sturdy red cardboard box.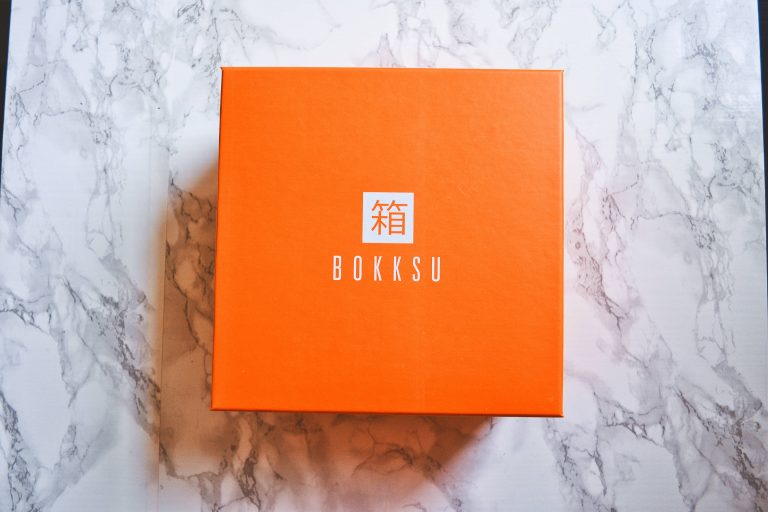 September's theme is Kyushu Kitchen. Kyushu is the third largest island of Kapan, and is home to delicious produce, seafood, and tea. All of September's snacks feature high quality, local ingredients from Kyushu such as Kabosu citrus, Amou strawberries, and Melon.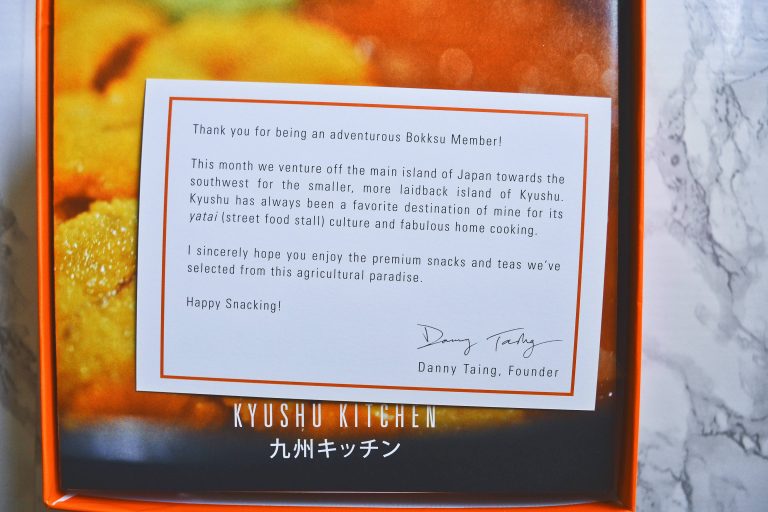 The box contained a tasting guide with information about each product: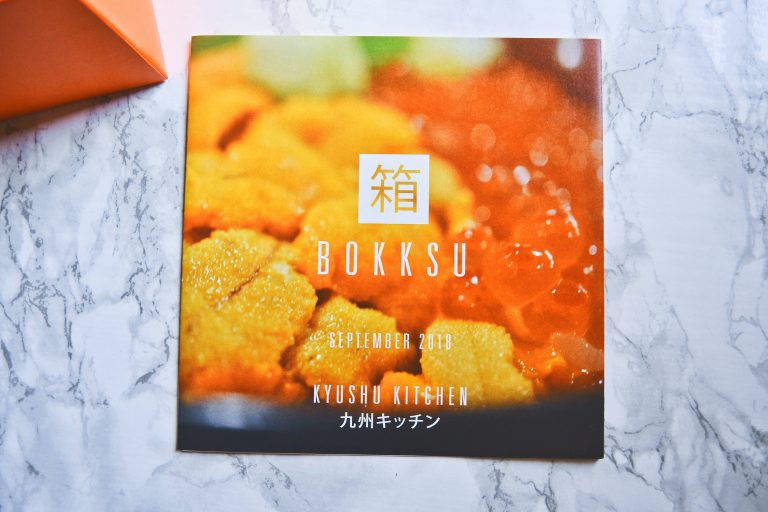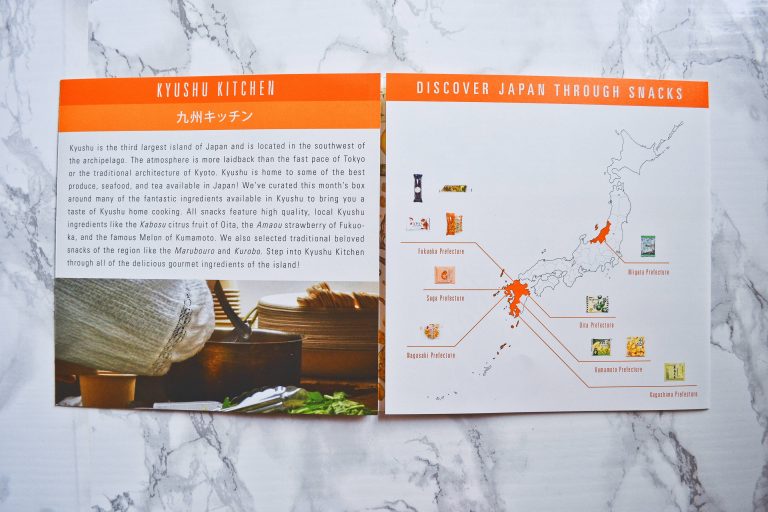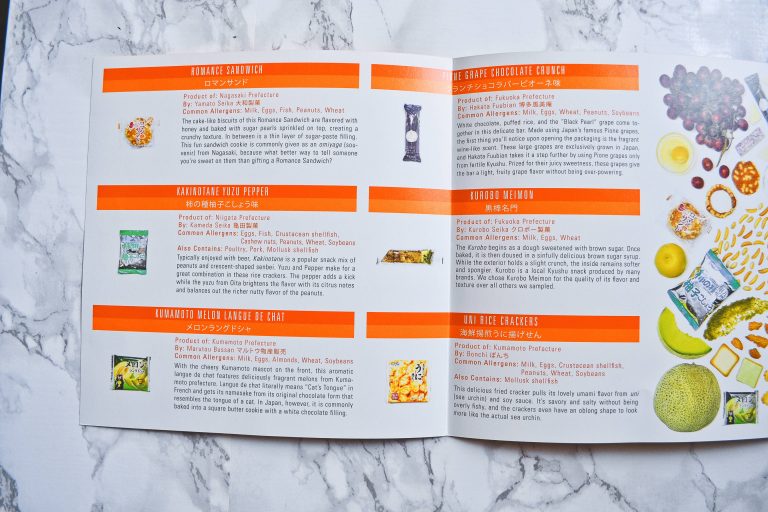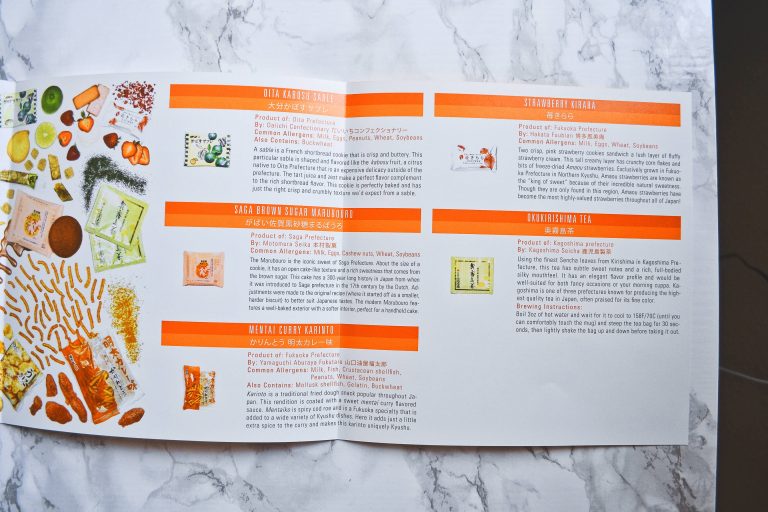 There was a total of 18 snacks and 3 teas in September's box! The snacks this month seemed to be a little larger than in previous months.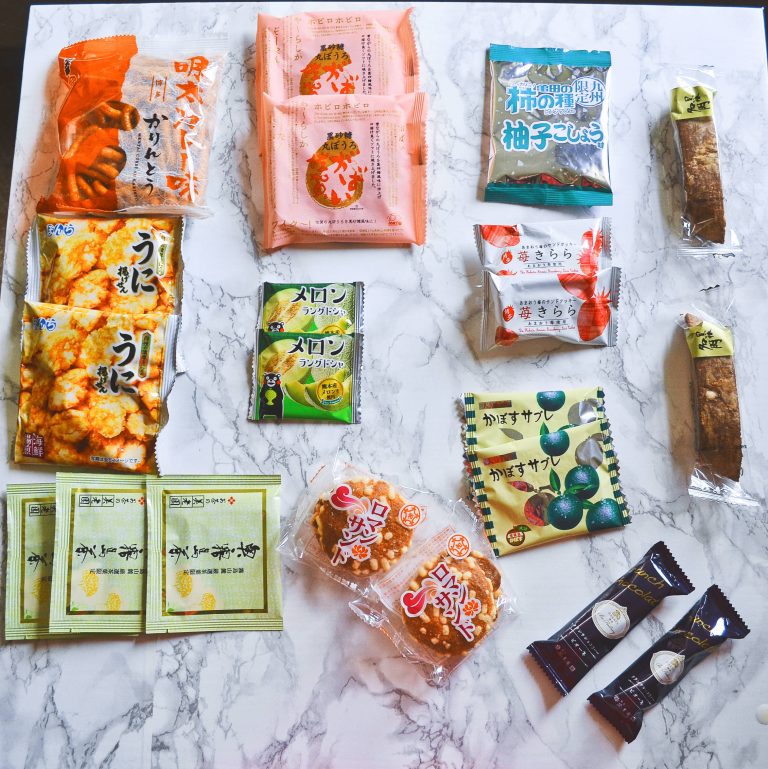 Mentai Curry Karinto
Karinto is a traditional Japanese fried dough snack, and this version is coated in a mentai curry sauce. Mentaiko is a spicy cod roe, and adds a little bit of spice to the curry sauce. These little sticks are crispy and sticky, and the perfect mix of sweet and spicy.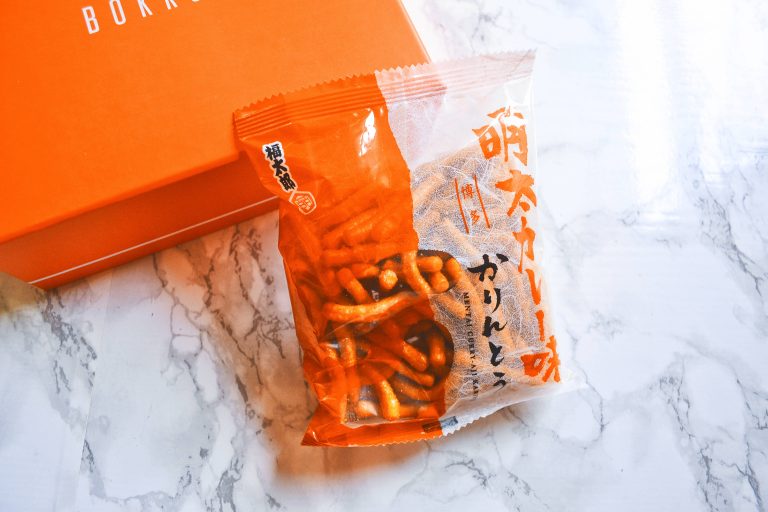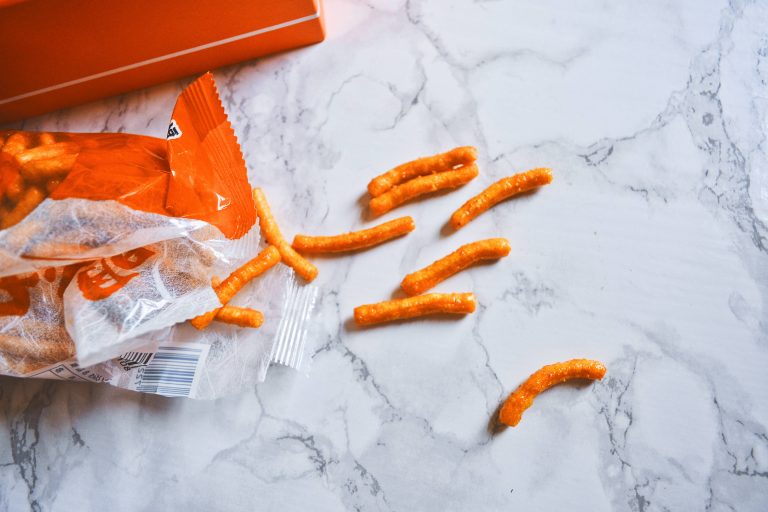 Oita Kabosu Sable x2
These are delicious buttery shortbread cookies that are shaped and flavored like the kabosu fruit, which is a citrus native to Japan. I love citrus flavored snacks, so I was obsessed with these! They are tart yet sweet, and taste similar to lime.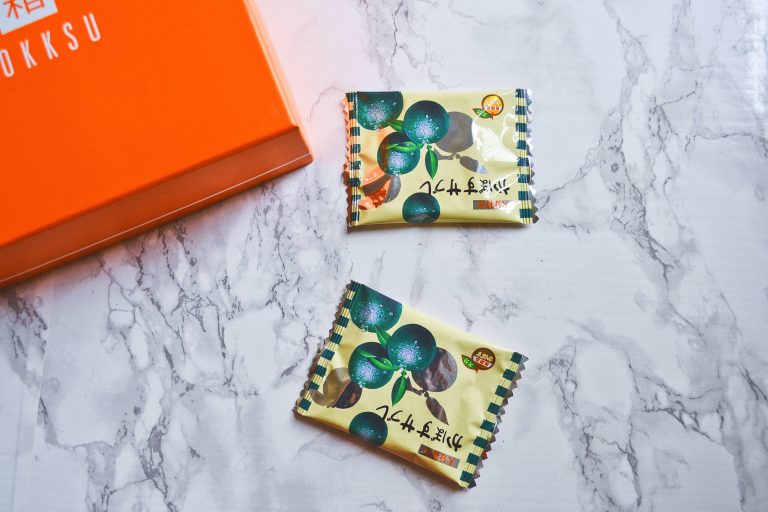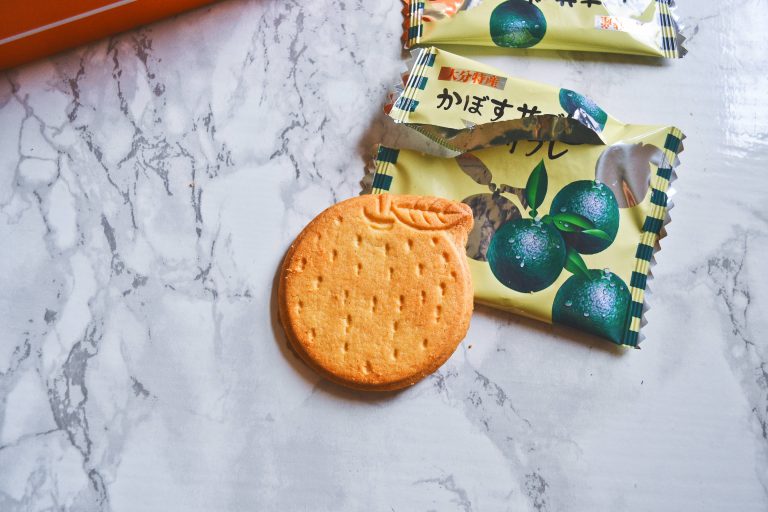 Uni Rice Crackers
This fried rice cracker gets it's flavor from sea urchin and soy sauce. It is pretty salty and a little fishy, so not really my favorite snack. However, I really enjoyed their crisp, airy texture.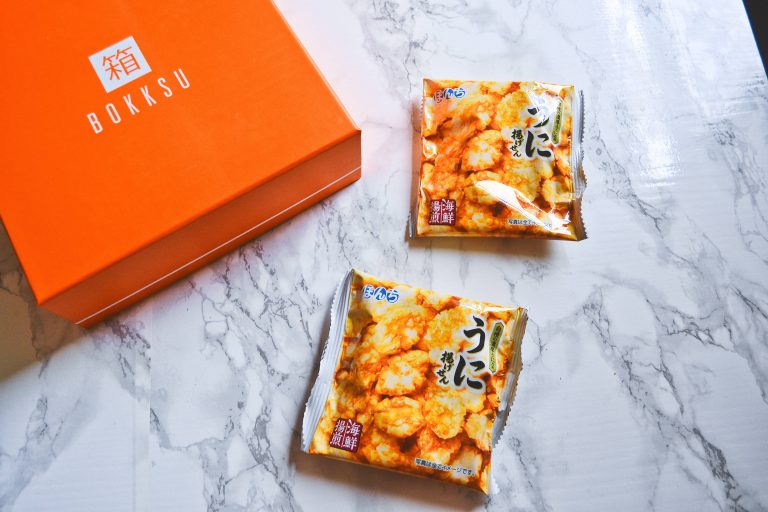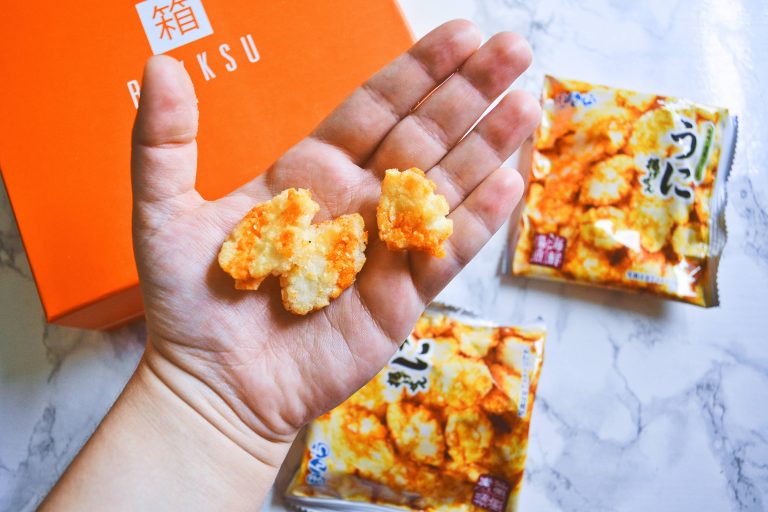 Kakinotane Yuzu Pepper
This is a bar snack made of peanutes and crescent shaped senbei. The senbei are flavored with Yuzu (a Japanese citrus fruit) and pepper. If I eat too many peanuts my throat swells up, so I only tried the crackers. I really loved them, probably because of their subtle citrus flavoring. I found out in an earlier Bokksu box that I really enjoy Yuzu!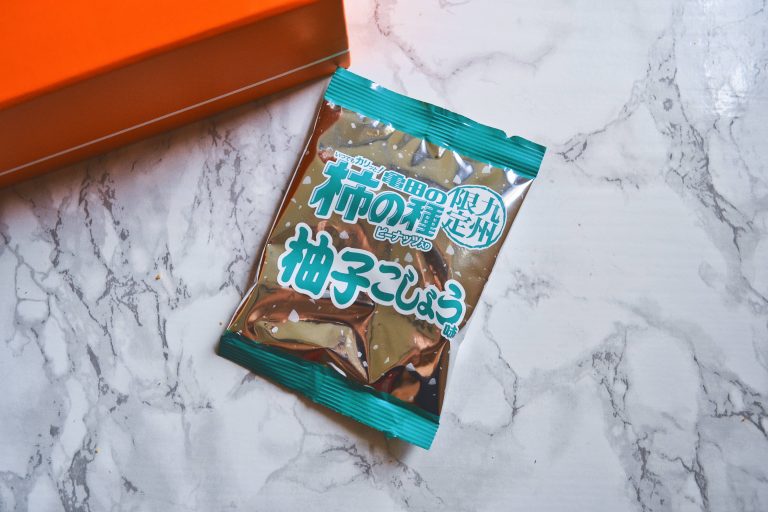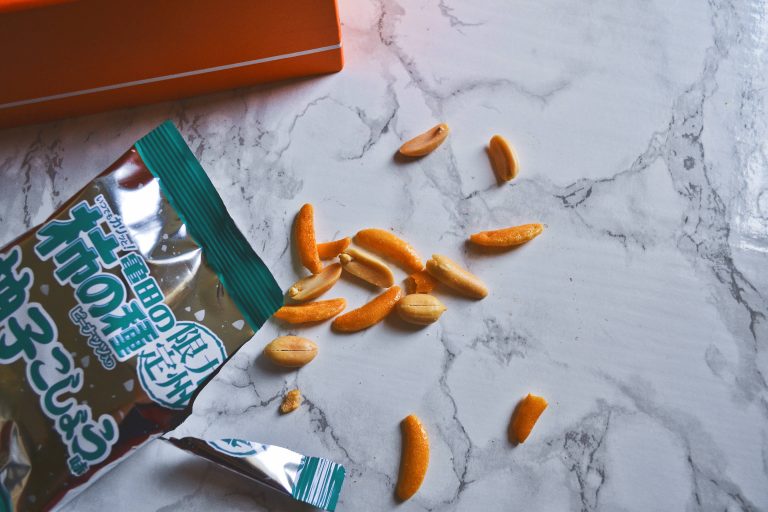 Strawberry Kirara x2
This snack is made of crisp strawberry cookies, stuffed with a layer of fluffy strawberry cream. The cream layer has crunchy corn flakes and bits of freeze dried strawberries, which gives it a really unique texture. This is hands-down my favorite snack in the box, and I wish I had dozens more.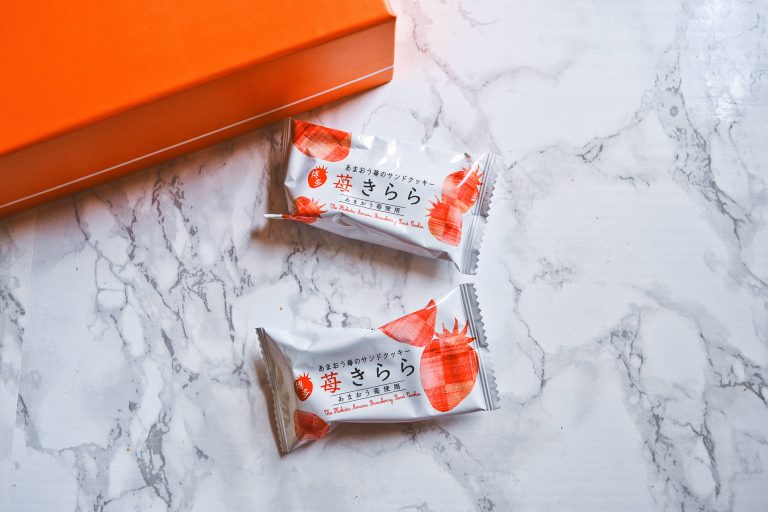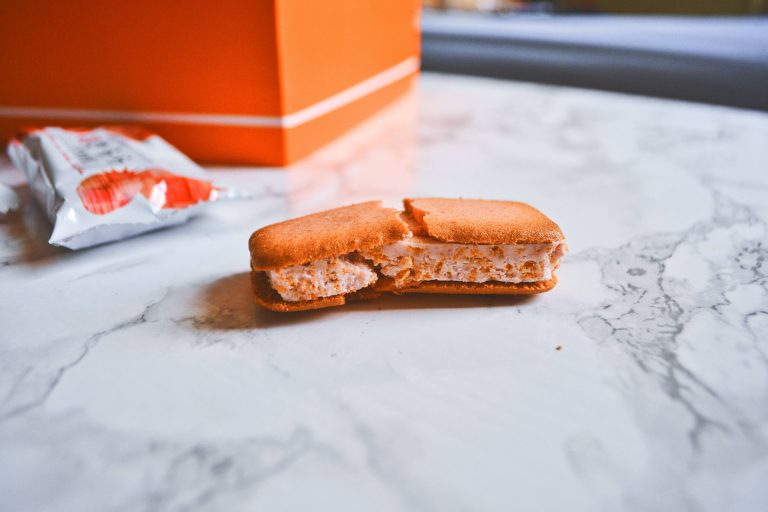 Kumamoto Melon Langue De Chat x2
Bokksu has been including a lot of Langues de Chat in boxes lately, and I'm loving it! A Japanese Langue de Chat is a square butter cookie filled with white chocolate. This one's filling is melon flavored – and oh my goodness, it really tastes just like a bite of fresh lemon. The flavor is strong and fragrant, and it doesn't taste artificial at all.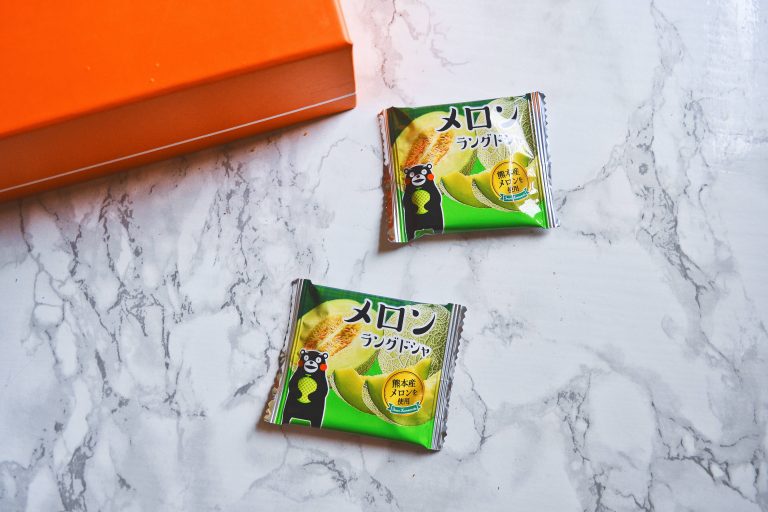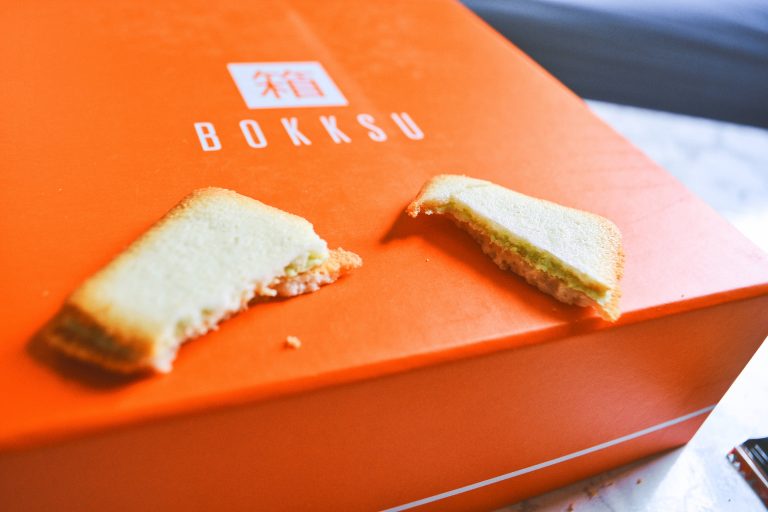 Saga Brown Sugar Marubouro x2
This marubouri is a large brown-sugar flavored cookie with a cake-like texture. This is quite large, and fills the whole palm of my hand! I usually enjoy sweet snacks, but I'm not a fan of this one. I don't like snacks that just taste like pure sugar – I prefer citrus, fruity, and chocolate snacks. However, if you enjoy brown sugar I think you would like this!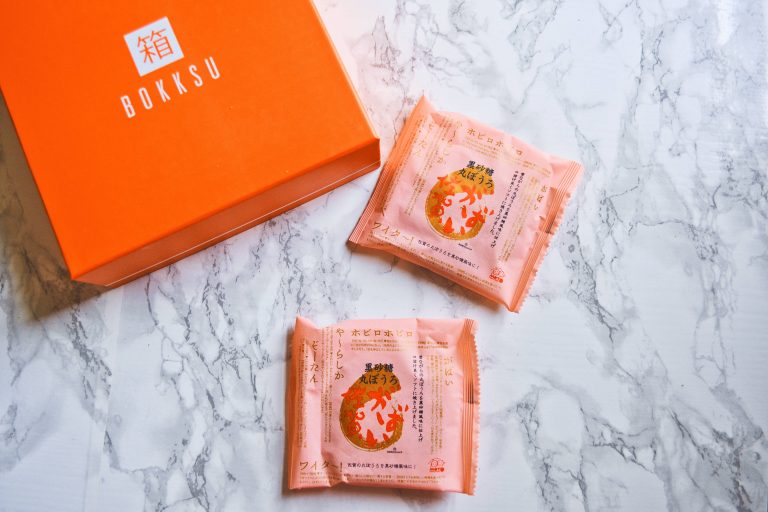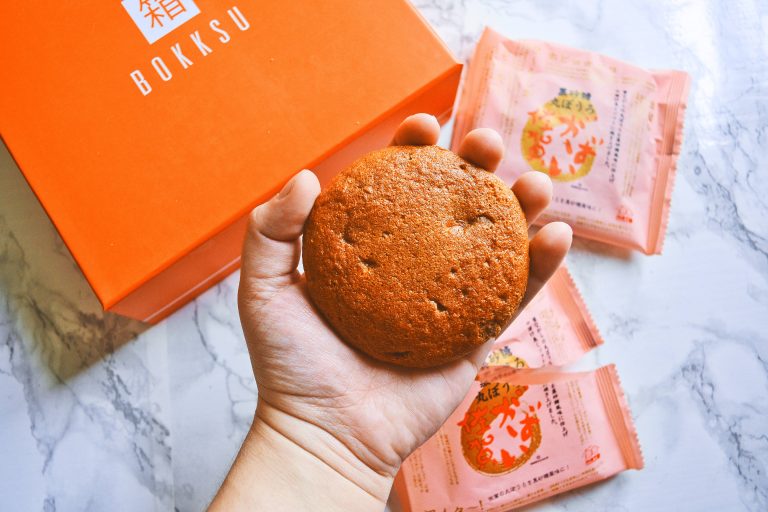 Romance Sandwich x2
These Romance Sandwiches are commonly given as an souvenir from Nagasaki, and arecake-like biscuits flavored with honey and baked with sugar pearls on top. The inside is filled with a thin layer of sugar paste filling. Again, this snack just tastes like pure sugar – although I do like the crunchy texture of the sugar pearls.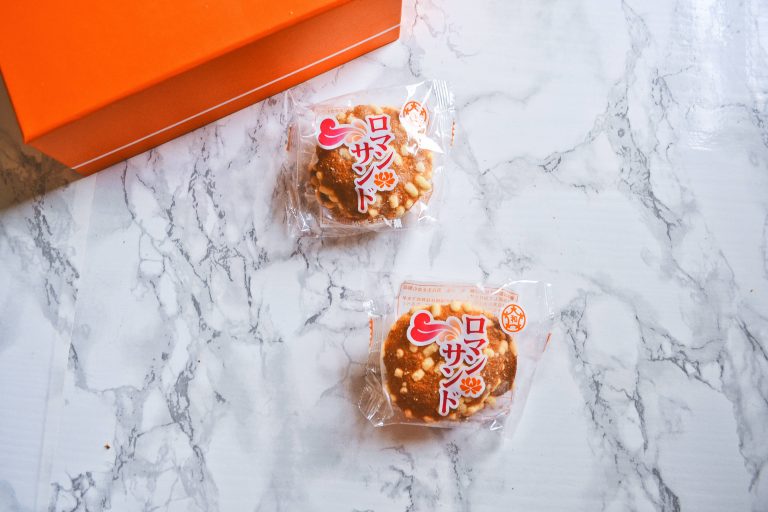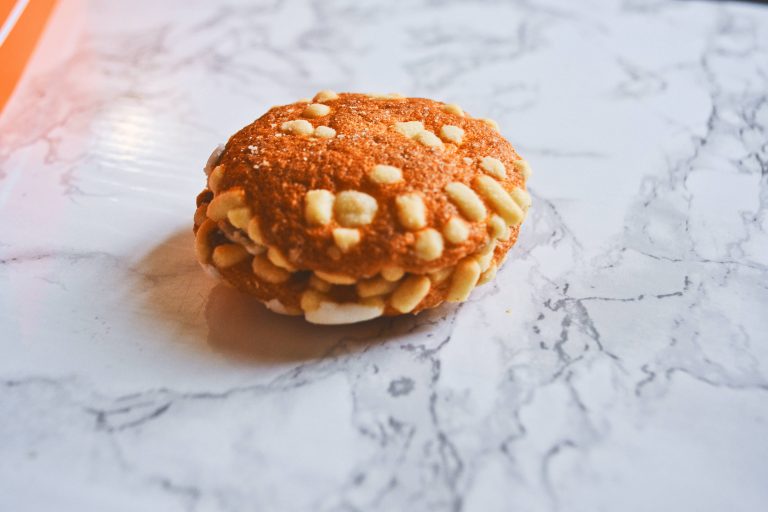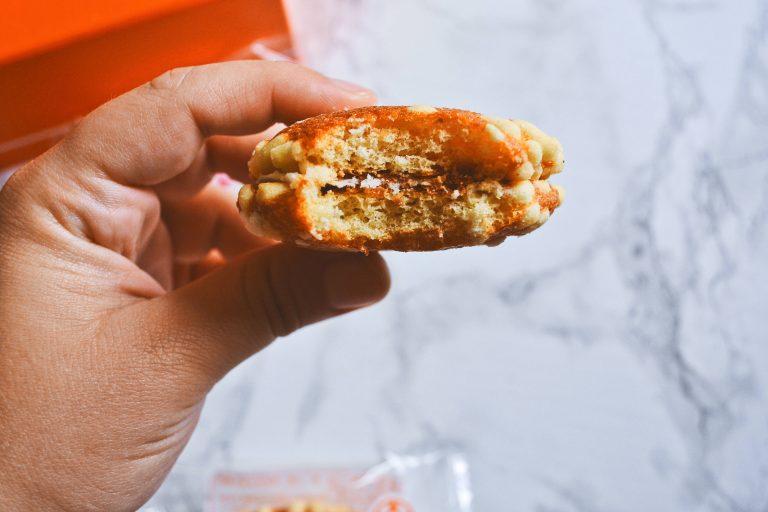 Kurobo Meimon x2
Ahh! Another snack that just tastes like sugar! I like to try all my snacks while taking photos, and at this point I was feeling a little sick. Kurobo Meimon is a crispy cookie/biscuit made from wheat, black sugar, and eggs. It really tasted just like the brown sugar cookie, except with a less chewy texture.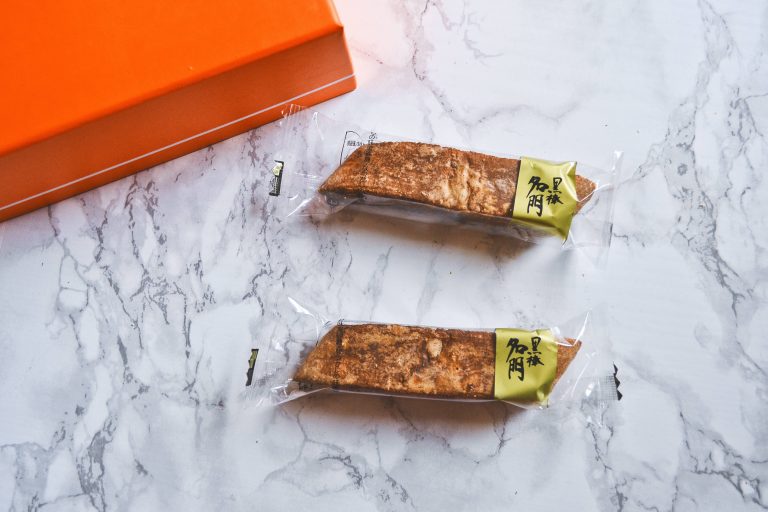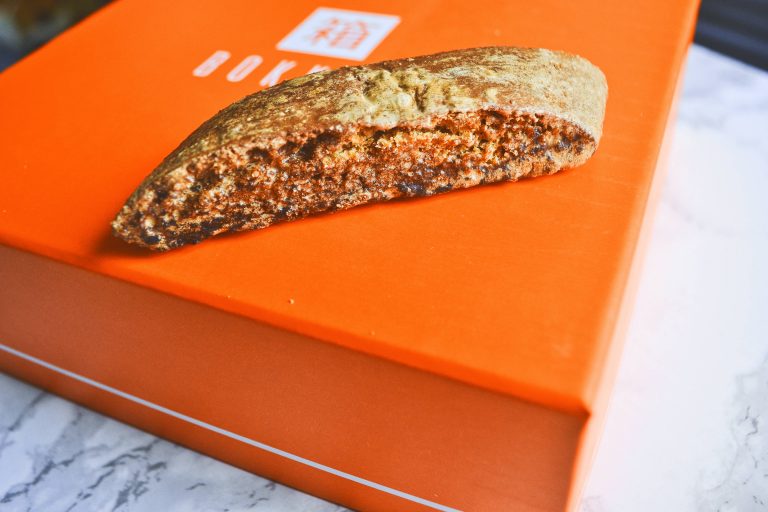 Pione Grape Chocolate Crunch x2
Okay, we've finally made it through the brown sugar snacks and are on to something I enjoyed much more. This snack is made of white chocolate, puffed rice, and the Black Pearl grape. This has such a beautiful grape scent, and a delicate flavor. It is made with real grapes, so it doesn't have that gross medicinal flavor. This was such a unique snack, and it reminded me of drinking a glass of sweet red.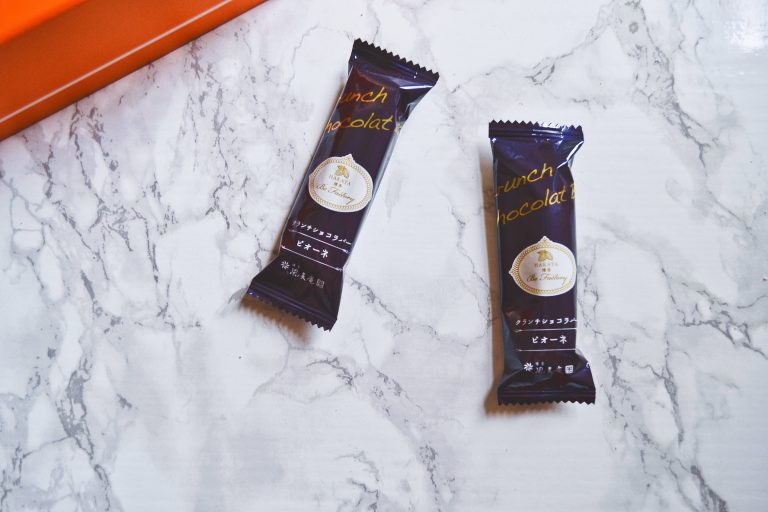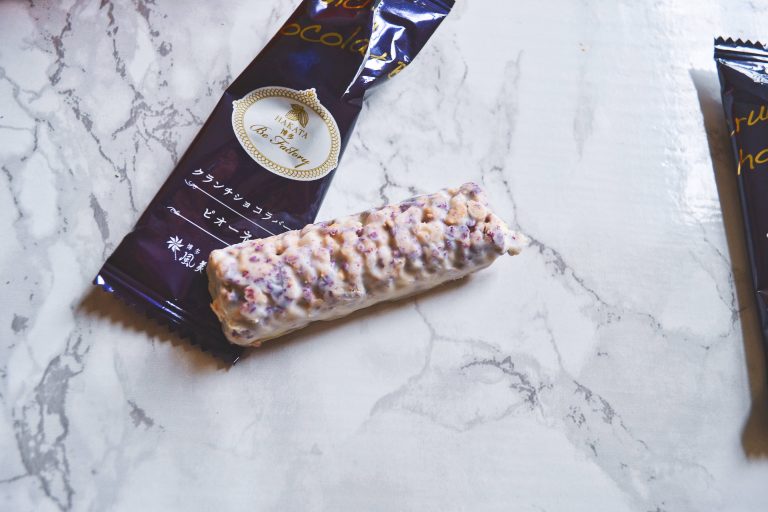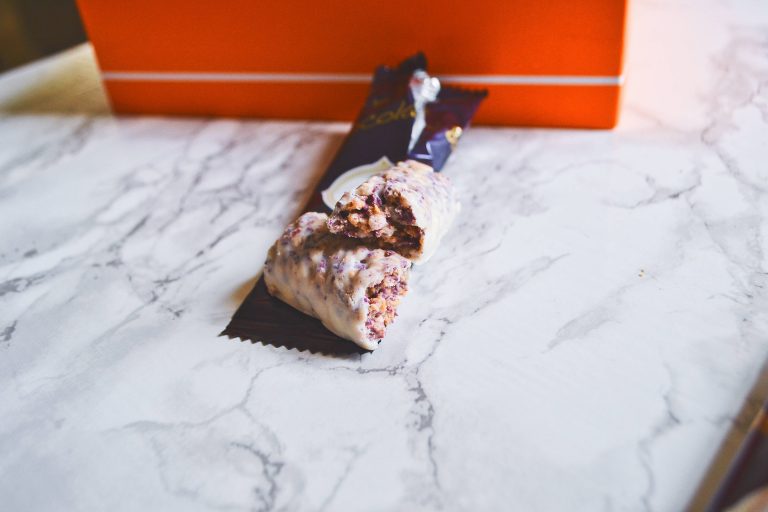 Okukirishima Tea x3
This tea is made from the finest Sencha leaves from Kirishima, and has subtle sweet notes with a rich, full-bodied silky mouthfeel.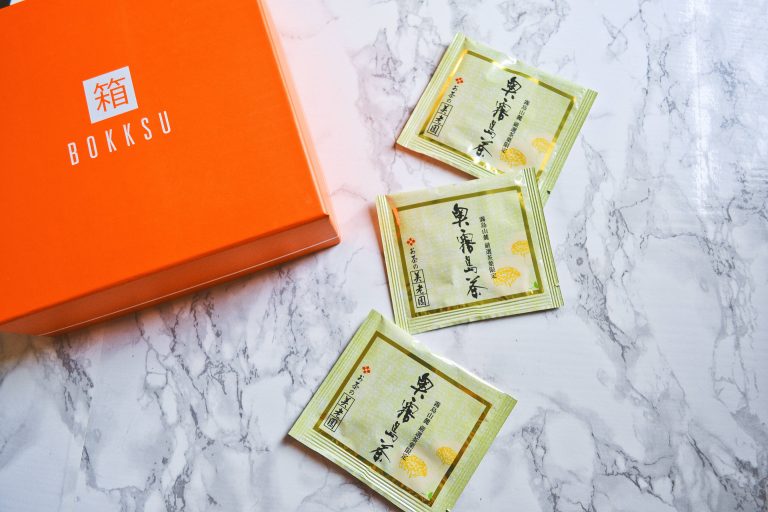 Overall, this was not my favorite month from Bokksu. Three of the snacks tastes like pure sugar, which isn't really something that I enjoy. However, this is a matter of personal preference. I think this month's snack picks were unique, and definitely gave me a great introduction to popular Kyushu snacks.