Bombfell is a menswear personal styling service that sends you several items of clothing at your chosen frequency. You fill out a style quiz, which asks questions about your height and weight, your skin tone, and color/fit preferences. After you sign up, Bombfell matches you with a stylist who picks out your clothes. Bombfell currently sends out casualwear, which are clothes you would want to wear to dinner, to work, or out on a date. In other words, a little more formal than what you wear at home, and a little more casual than a suit.
You will have to pay a $20 styling fee for each shipment, but this is credited towards any of the clothes you keep. If you don't like some of the clothing, you can ship it back for free. You have 7 days to try the clothes and decide if you want to keep them. If you keep 2 items, you get 10% off your purchase. 3 items gets you 15% off, and 4+ items gets you 20% off. Bombfell's average price point is $89 for each article of clothing.
Bombfell also notifies you of your stylist's picks 48 hours before they ship your order. You can use this window to remove individual items, ask for replacements, or even restyle the entire order!
I do not wear men's casualwear, but I ordered Bombfell for my fiance. His dress code is casualwear, so I thought this would be perfect for him! He refused to model the clothing, but I will still run you through the items.
The shipment arrived in a blue plastic mailer, with the Bombfell logo on the front. The packaging wasn't anything fancy, but I don't think it needs to be for this sort of subscription.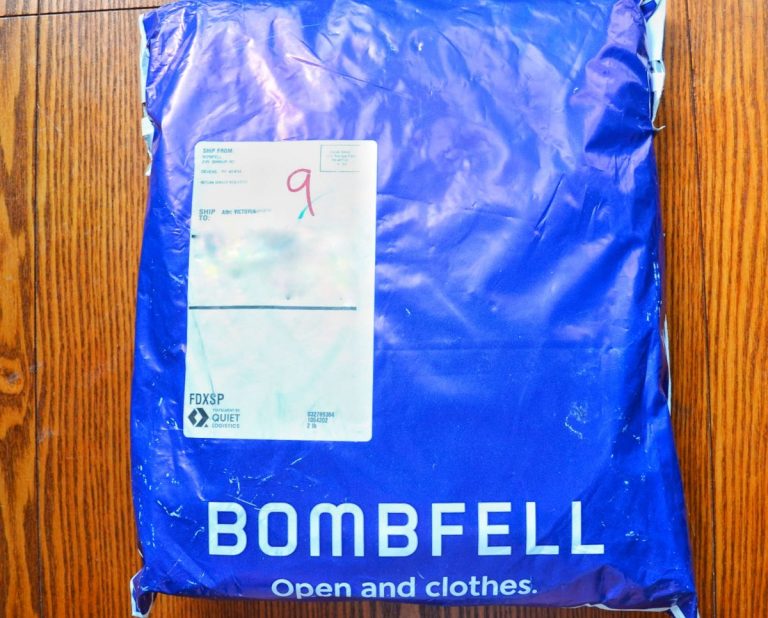 The first thing we opened was this little envelope. There were a few goodies inside, such as a tape measure, a mini notebook, and a pen. I'm actually really excited that they sent tape measure, because I haven't been able to find mine!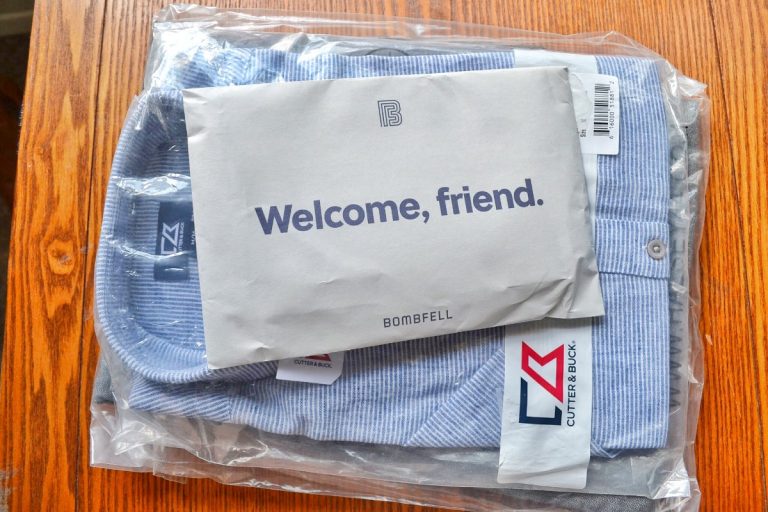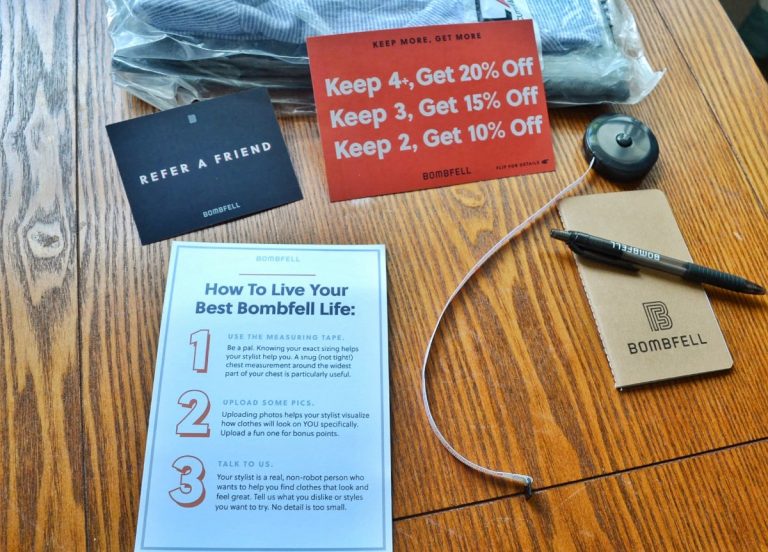 We opted to receive only two items in our box, but I believe you can receive up to 5. They came packaged in the original manufacturer's plastic, which I appreciated. I have tried other styling boxes, where the clothing is loose in the box. It always makes me wonder how many other people have tried on the clothing. On the flip side, it does mean there is more plastic waste.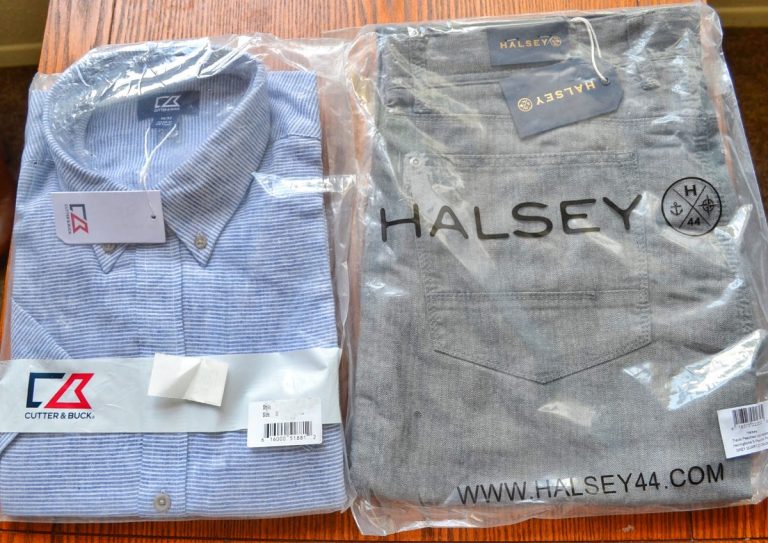 Bombfell sent us a Cutter & Buck Striped Cotton Blend Button Down Shirt, and a pair of Halsey Travis Peached Variegated Herringbone 5 Pocket Pants. I am not very familiar with menswear, but Hunter says they are both great quality pieces.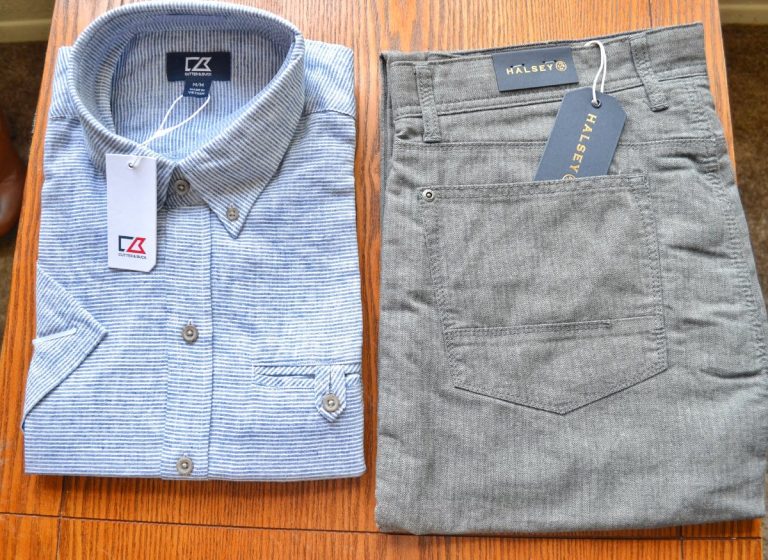 Cutter & Buck Striped Cotton Blend Button Down Shirt
Bombfell Cost: $95
This short sleeved button down shirt is light blue with white stripes, and is made of a linen/cotton blend. Hunter says that the material is sturdy but also breathable. He didn't feel overheated wearing it, even though it's summer. The cut is somewhat baggy, which is what he chose as a preference in the style quiz. I think the Bombfell stylist did a good job of picking an item that fits Hunter's style.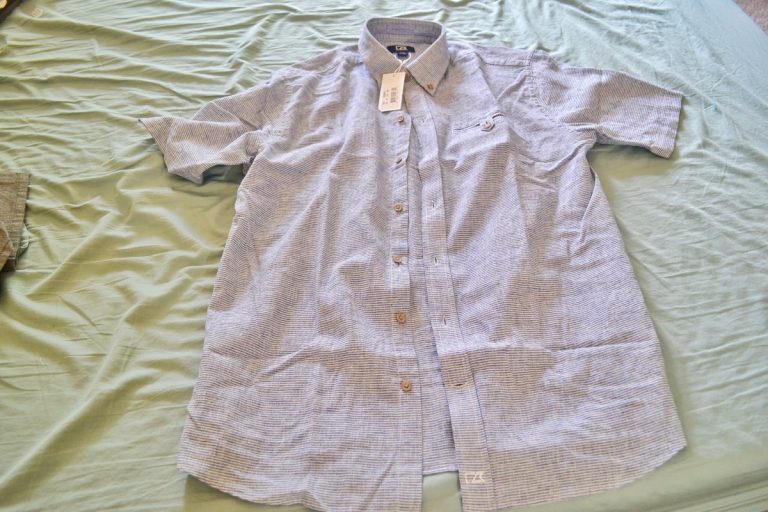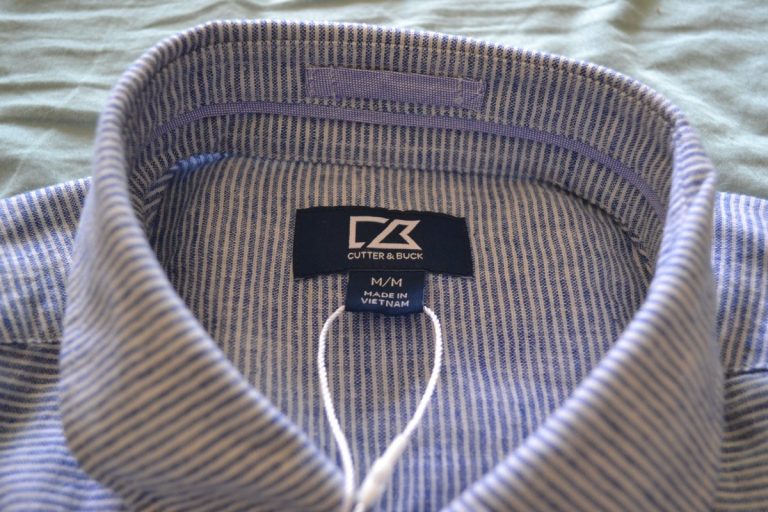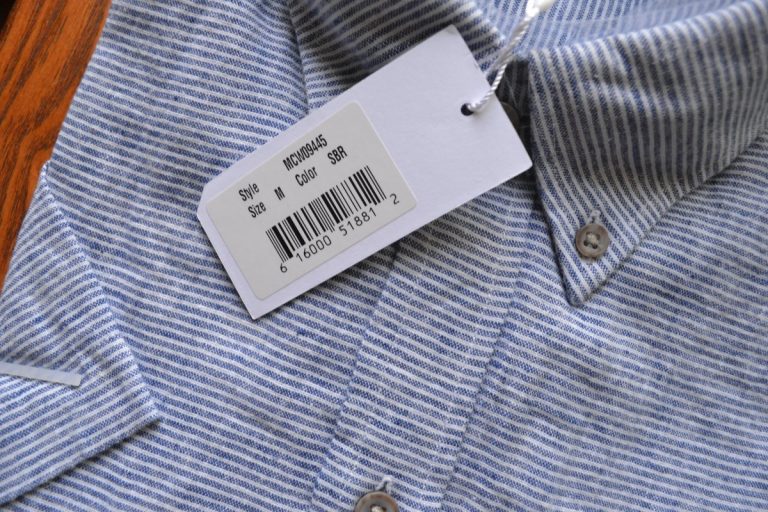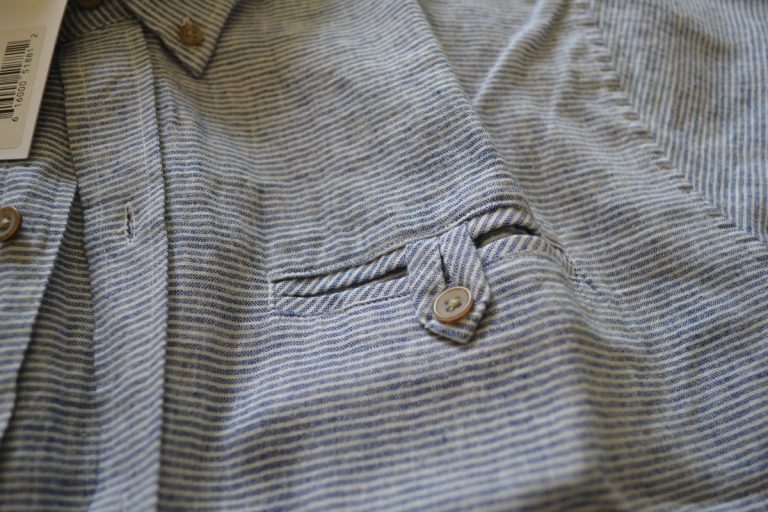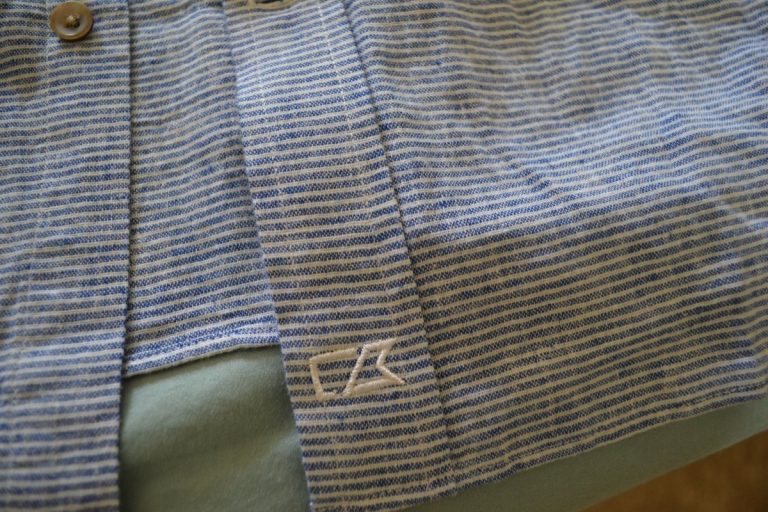 Halsey Travis Peached Variegated Herringbone 5 Pocket Pants
Bombfell Cost: $100 (Retail price is $185!)
These pants are very soft and a little stretchy, and they feature a subtle Herringbone weave. Hunter says the pants fit well, and  are really comfy. They match almost all of his workshirts, so he anticipates wearing them about once a week. The Herringbone weave is subtle enough that it doesn't clash with patterned shirts. Hunter loved that it came with so many pockets, and he says they are quite roomy.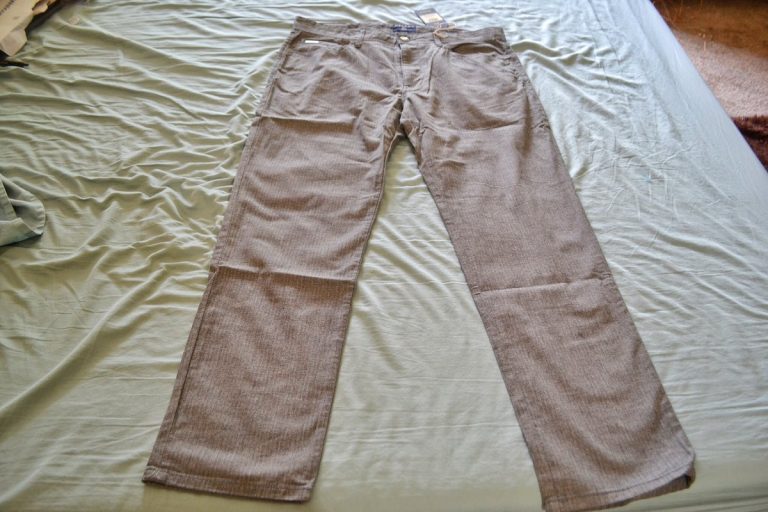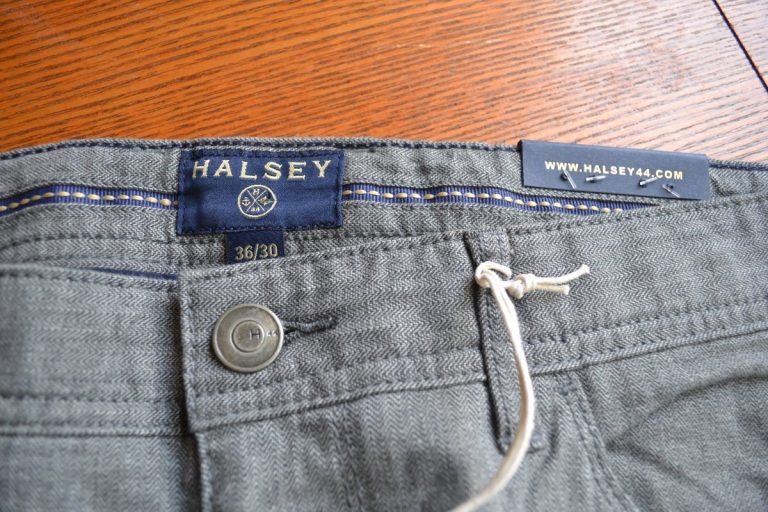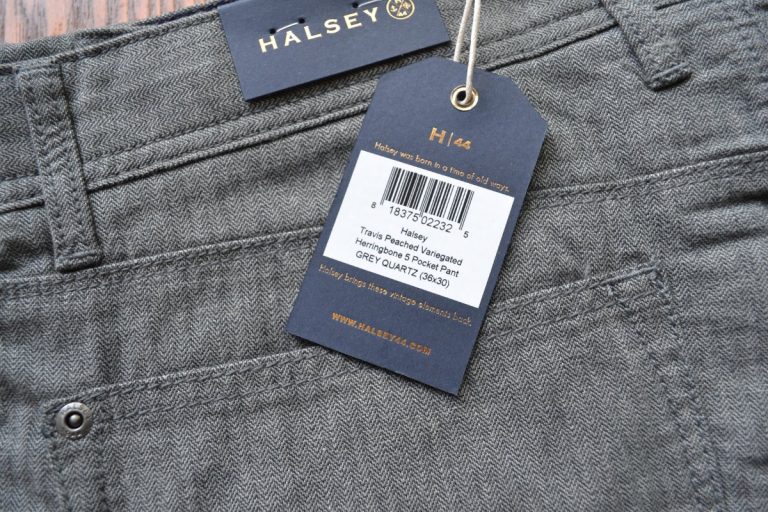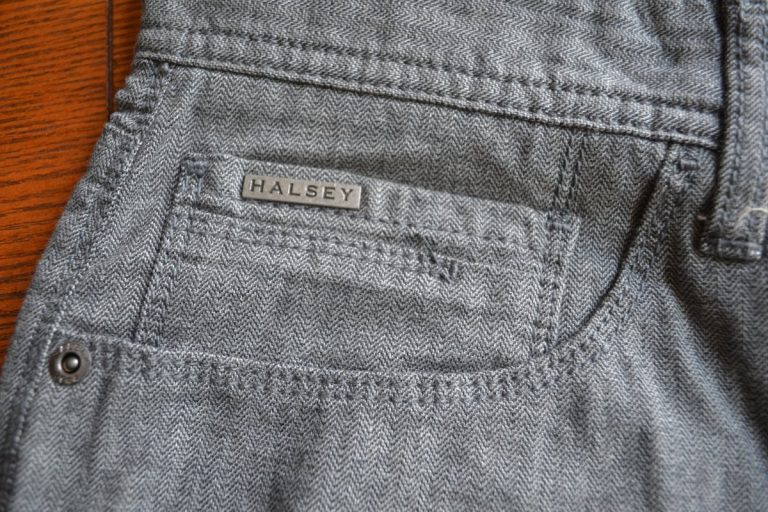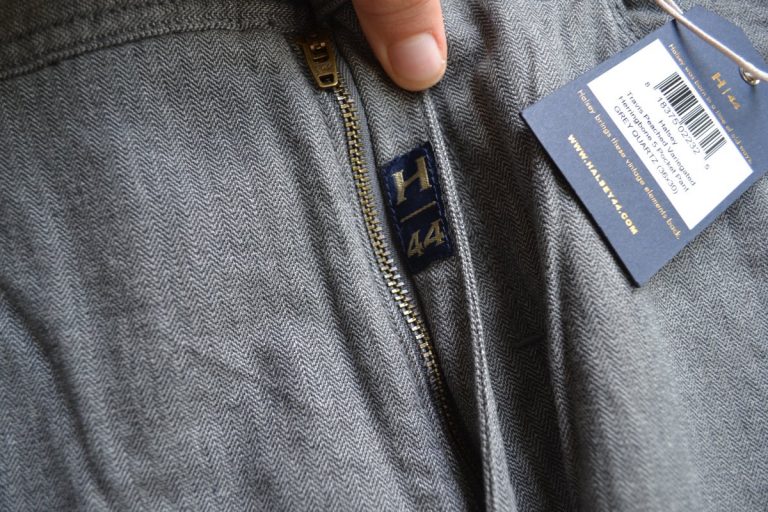 Hunter loved both of the items in his shipment, and we are impressed by the stylist's skills. She picked out clothes that perfectly match Hunter's color, cut, and fit preferences! We kept both items, and Hunter plans on getting a lot of use out of them!
The pants and the shirt cost $195 – but there was also the $20 styling fee credit applied to the cost, as well as the discount for keeping both items. The adjusted total was $155, which is pretty great for two high quality work-appropriate clothing pieces.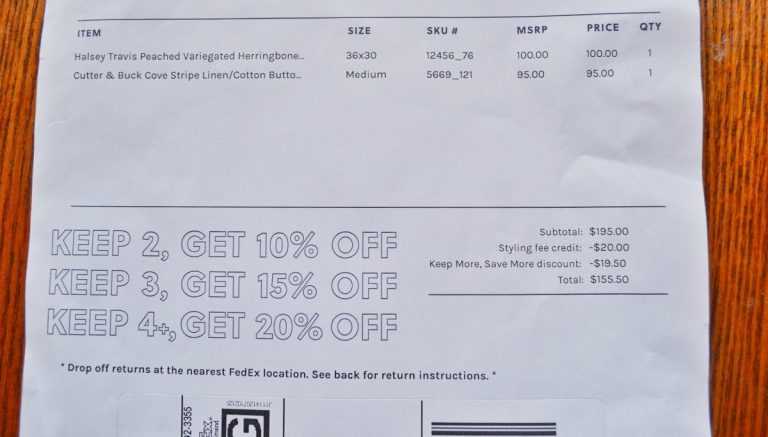 Bombfell definitely isn't the cheapest way to buy clothes. However, if you regularly spend $100+ on work clothing, I would recommend their service. You receive personally stylized clothes from the comfort of your home, and you have a seven day trial to decide if you really want to keep them. Who knows, maybe you will find something great too!