One of the great things about travelling is the opportunity to experience different cultures and foods. One of the not-as-great things about travelling is that it can be pricey – especially if you start considering travelling overseas. The Escape Monthly box is a monthly subscription box that is perfect for those who want a "taste" of travelling without the cost.
Escape Monthly is a destination-themed box, delivering an assortment of foods and other products from various places around the world to your door every month. From delicious chocolates to travel guides, each month bring as a sampling of visits to Hawaii, Italy, and other countries for just $49.95/month. As an extra bonus for subscribers, every month, one of the Escape Monthly boxes has the winning ticket for a trip for two to that month's destination inspiration!
The Escape Monthly December 2013 monthly subscription box had the destination theme of Italy. This was our first Escape Monthly box and were excited to see what was inside the bright blue cardboard box.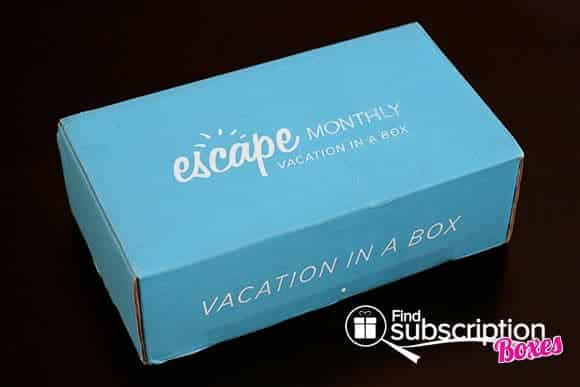 After opening the Escape Monthly box, we were greeted with a box guide, that had information about this month's destination theme – Italy! It also had a list and description of the products inside the Italy-themed Escape Monthly subscription box.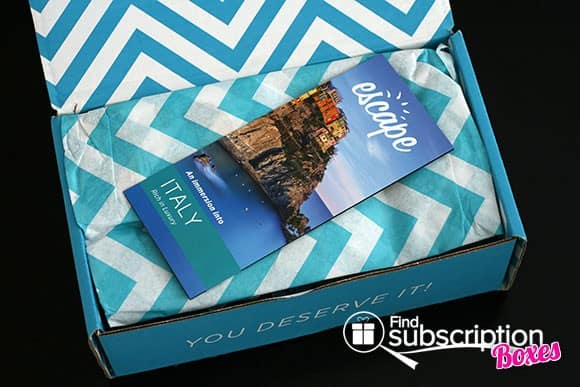 Removing the pamphlet and the chevron-decorated tissue paper, we got a first look at the Italy-themed Escape Monthly box.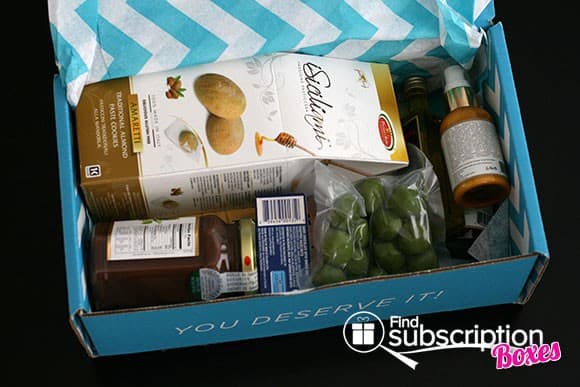 Inside the December 2013 Escape Monthly Box
Our Italy-inspired Escape Monthly Box had 9 items inside.

1. La Civetta Extra Virgin Olive Oil – 60ml, Retail Value: $2.50
Among other things, Italy is famous for their olive oil. Enjoy the taste of handpicked olives from Italy with La Civetta EVOO.
2. Rigoni di Asiago Nocciolata Organic Hazelnut Spread – 270g,  Retail Value: $8.35
One of Italy's sweet treats, this hazelnut spread combines the sweetness of cocoa with the earthy flavors of hazelnut.
3. Isiciliami Passione Pasticcera – Amaretti, Retail Value: $9.00
Capturing the essence and flavors of a Sicilian ppatisserie, these Isiciliami Passioni Pasticcera Amaretti almond biscuits,  offers delicious almond flavor with every bite.
4. Perugina Baci – 2 chocolates, Retail Value: $2.00
The delicious rich chocolate coating a chopped hazelnut left us wanting more of this delicious Italian truffle.
5. Olio and Olive Castelvetrano Olives, Retail Value: $9.00
Enjoy a taste of Sicily with every bite of these Castelvetrano olives. Great for cheese and wine platters!
6. Skin & Co and Roma Truffle Body Gel – 2oz, Retail Value: $9.00
Fight aging and reinvigorate your skin with this luxurious body gel made with black truffle extract and amino acids.
7. Skin & Co and Roma Truffle Body Milk – 2oz, Retail Value: $11.00
Shea Butter, olive oil, and black truffles combine to make a perfect, soothing lotion that softens your skin and combats dry, aging, skin.
8. Living Abroad in Italy – Paperback, Retail Value: $19.95
Want to know what living in Italy would be like? Browse this handy book to get the 411 about living abroad in Italy.
9. Province of Terni Guidebook, Retail Value: FREE
This guidebook gives you a great list of things to do, places to see, and foods to eat in the Province of Terni, Italy.
December 2013 Escape Monthly Box Wrap Up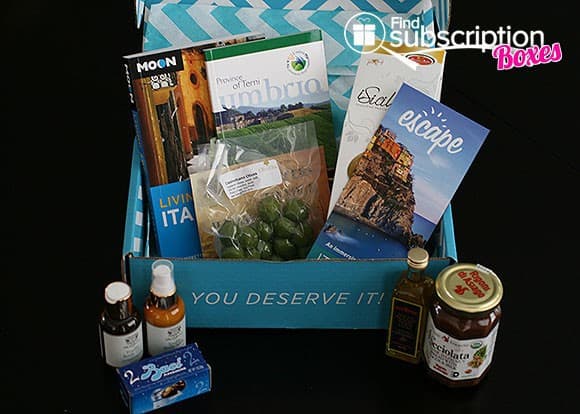 We loved the variety of flavors and products from Italy in the Italy-inspired Escape Monthly subscription box. It was a great way to get a "taste" of Italy (literally) as well as to learn more about the country. The total retail value of the December 2013 Escape Monthly subscription box was $70.80. We look forward to next month's destination-themed Escape Monthly box, which will take us on a journey to Colorado!