Degustabox is a monthly subscription box that sends 9-14 full sized food products to your doorstep. The boxes include a mix of items from popular brands, as well as some new food that hasn't yet hit the shelves. And, not only do you get to try new food products, but you also save money! The cost of the box is lower than the total value of the food inside. Each Degustabox costs $19.99, but you can use code FINDSUBSCRIPTIONBOXES7 for 35% off your first Degustabox, as well as FREE Shipping and one free bonus item!
Today, I will be reviewing September's Degustabox.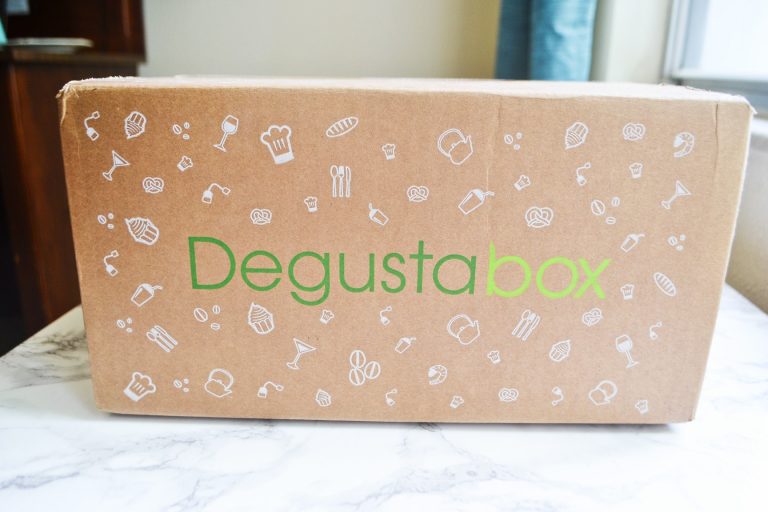 There were several promo cards in this box; I'll give you a look at each one.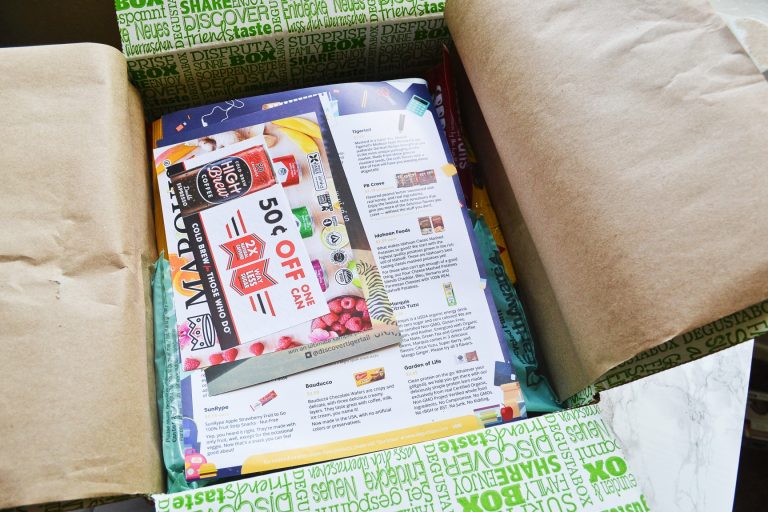 First was this coupon for 50 cents off a can of Cold Brew High Brew Coffee. This is a product that was included in last month's box.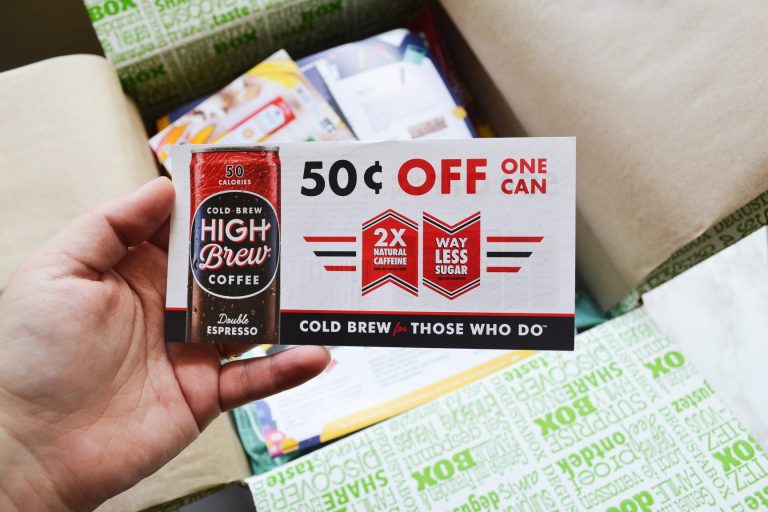 Next is a coupon for a Marquis energy drink, which is a product included in this month's box.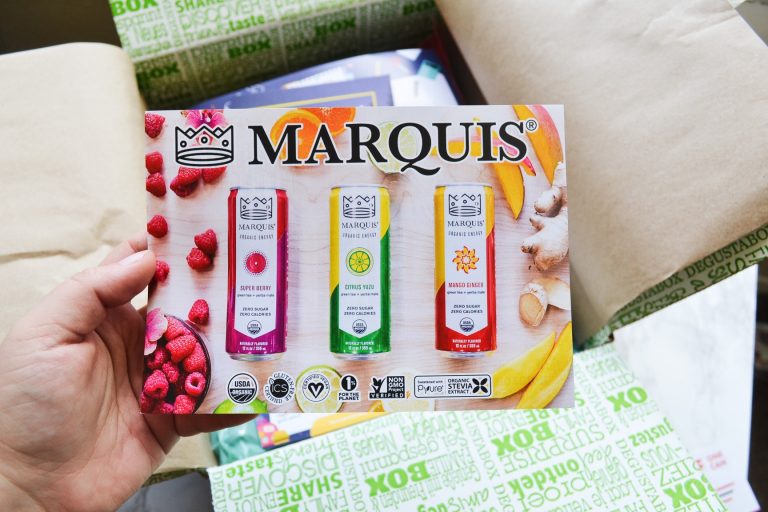 There was also an information card about Yellowtail Mustard, which is included in September's box.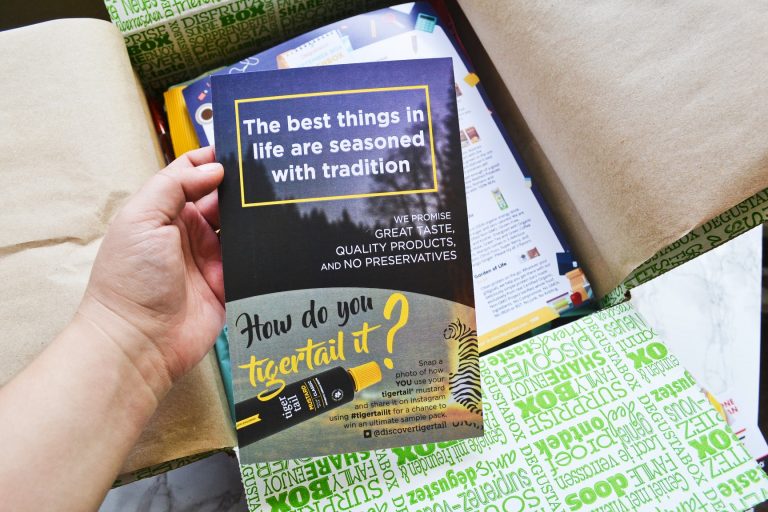 The final piece of literature in September's box is the monthly info card, which lists each product. This month's theme is Lunchbox, for the back-to-school season!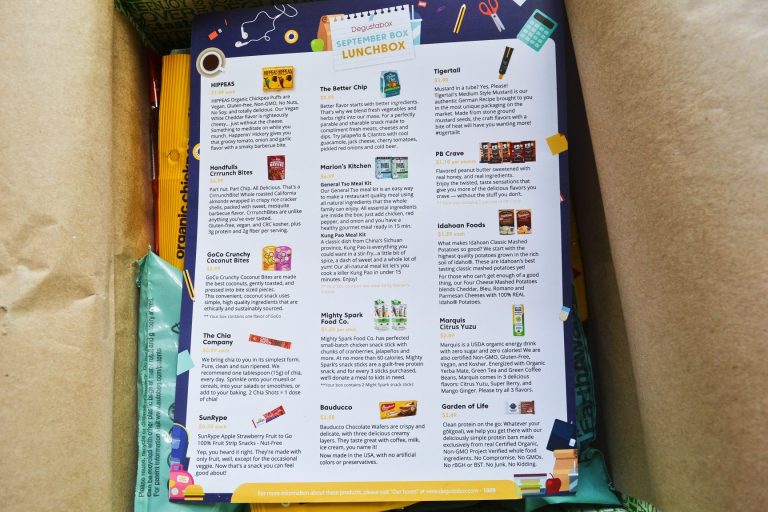 There were several pieces of recyclable packing material in my box, and each snack arrived in perfect condition.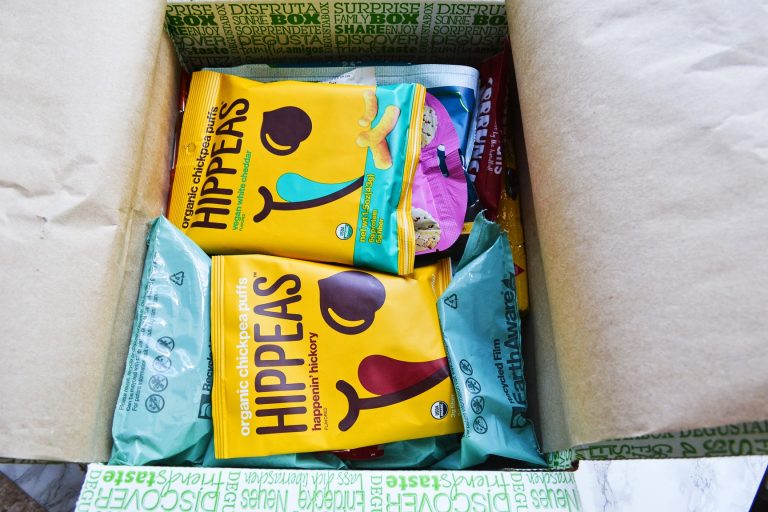 Here's a look at everything inside September's box. There was a total of 19 food products, which I think is the most I've ever gotten in a Degustabox.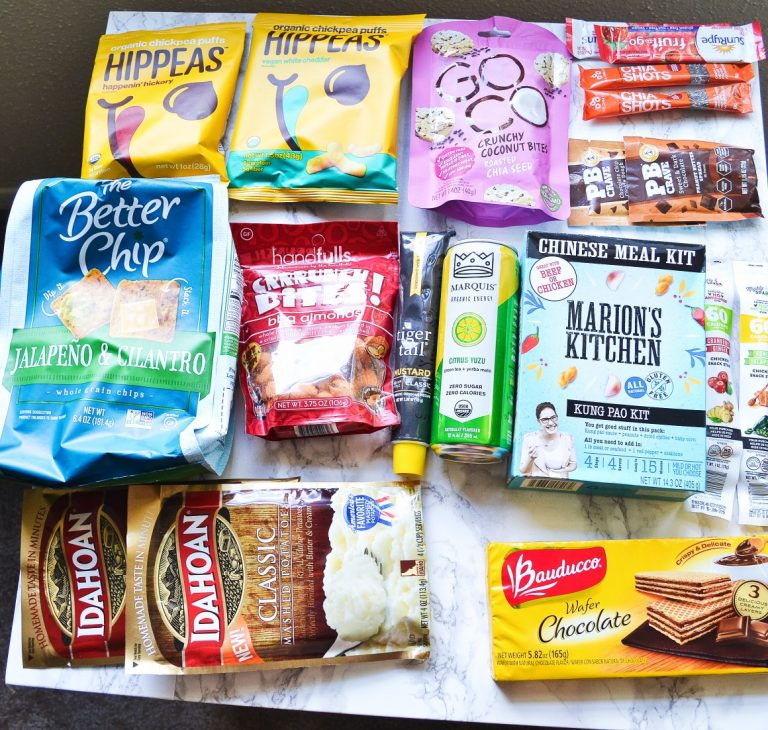 Handfulls Crrrunch Bites BBQ Almonds ($4.99)
These are whole roasted almonds, coated in a crunchy rice cracker shell. They come in several flavors, such as nacho, chili lime, and more. Degustabox included this BBQ flavor. I'm not a big fan of bbq flavors, but I actually liked these! The texture is crispy and amazing, and the flavor packs a punch. I like to keep these on my desk to snack on during work.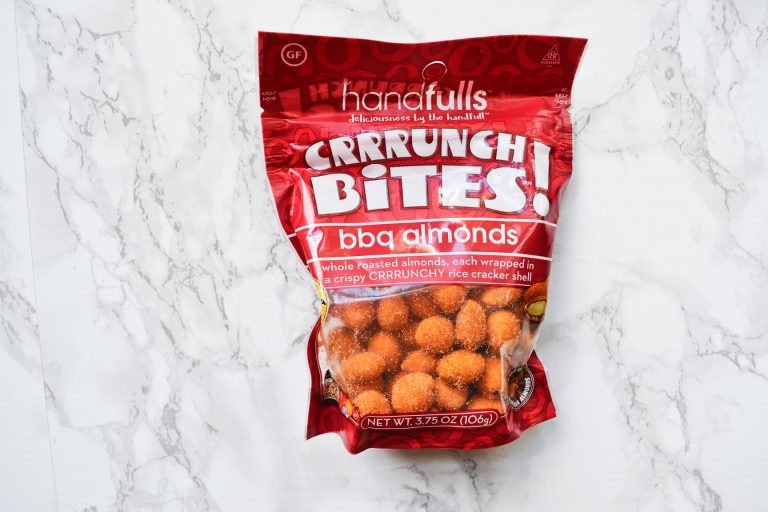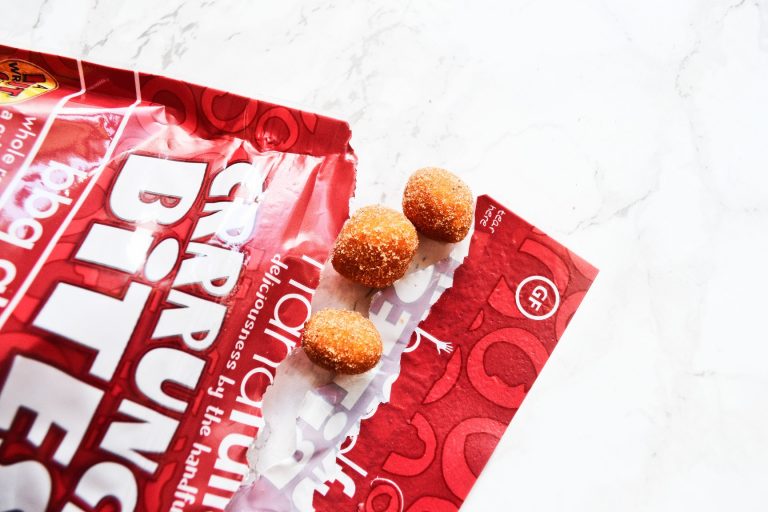 The Chia Co Chia Shots x2 ($1.98)
These chia shots are made from sustainably grown, non-GMO Australian Chia. 2 shots contain 6 grams of fiber, 3 grams of omega 3, and 3 grams of protein. I don't love chia, but I appreciate it's health benefits and try to incorporate it into my diet when possible. These shots make it easy to do so! I used the shots in a couple of smoothie batches last week, and now I want to always have some on hand.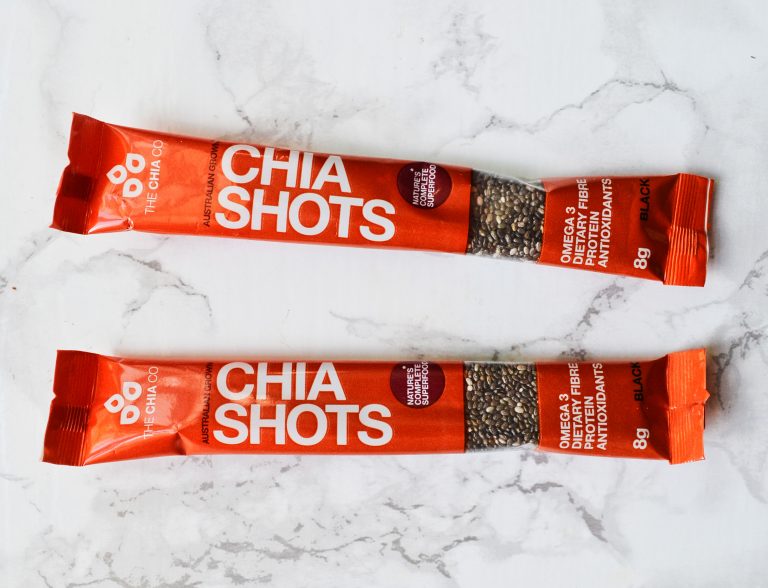 Go Co Crunchy Coconut Bites with Roasted Chia Seed  ($2.99)
These coconut bites are antioxidant rich, high in fiber, 100% natural, and contain no added sugar. They are just little rounds of crisped coconut, with roasted chia seeds. The coconut lends a subtle natural sweetness, and these are a tasty guilt-free snack.


Bauducco Wafer Chocolate Wafers ($2.50)
These wafers are much more of an indulgent snack. This is a pretty basic wafer cookie, with a chocolate filing. They are pretty dry and not as sweet as American wafers (these are made in Brazil), and they are great dunked in coffee.


Mighty Spark Chicken Snack Stick in Honey Jalapeno and Cranberry Ginger ($3)
These chicken snack sticks are only 60 calories each, These are small batch snacks, made with whole food ingredients. No nitrites or nitrates are added. So far I have tried the cranberry stick, and it was really tasty! It was moist, and actually had little chunks of cranberry in it instead of being cranberry flavored.


Hippeas Organic Chickpea Puffs in Vegan White Cheddar and Happenin Hickory ($3)
These are light and crunchy puffs that are vegan, gluten free, and have 3 grams of fiber and 4 grams of protein per serving. I thought these would have the texture of Cheetos puffs, but they are actually pretty hard. These are a snack I can feel great about, and I really loved the vegan white cheddar flavor. I wasn't too keen on the hickory flavored pack, but that's because of my aversion to most bbq flavors.


PB Crave Peanut Butter Spread in Sweet & Dark Chocolate and Chocolate Chip Cookie Dough ($2.20)
I used to have a major peanut butter addiction – it reached the point where I once got a jar of peanut butter for Christmas because it was my favorite snack. However, a lot of peanut butter is full of unhealthy fats and harmful ingredients. This PB Crave is natural, gluten free, and made with USA grown peanuts. I especially loved the cookie dough flavor, and mixed it in a coffee smoothie. You can buy larger jars of this.   and 2% of the profits from every jar of PB Crave goes directly to Project Peanut Butter, which treats severely malnourished kids around the world.

Marquis Organic Energy Drink in Citrus Yuzu ($2.89)
I have to get up for work at 4 in the morning, so I usually need a little boost of energy to get me going. This Citrus Yuzu flavored energy drink uses green tea and yerba mate to give you an energy boost! It doesn't wake me up quite as much as coffee, but it doesn't make me feel overheated or jittery.

Idahoan Instant Mashed Potatoes in Four Cheese and Classic ($1.68)
These instant packs of mashed potatoes are made with 100% real Idaho potatoes. They are an easy way to get mashed potatoes on the table, which is great for busy parents! I actually haven't been able to eat mashed potatoes without throwing up in over 20 years, so I will be donating these.

The Better Chips Jalapeno & Cilantro Whole Grain Chips ($3.99)
Holy smokes, these are spicy! Most jalapeno flavored snacks really aren't that spicy, but these are packed with heat. These will make your tongue burn, so make sure to eat them with some nice cooling dip. I'm a bit of a hummus fiend, so I tore through these!

SunRype Apple Strawberry Fruit to Go x2 ($1)
These 100% natural fruit strips have no added processed sugar, and are naturally gluten free and vegan. They are a little softer and stickier than fruit leather, and a whole lot tastier in my opinion. They are nice and tart and a great healthy snack.

Tiger Tail Classic Medium Mustard ($1)
I put mustard on just about everything, so I am really excited to add this to the several others already in my fridge. This is very smooth and a little vinegary – it would be perfect on a hot dog!

Marion's Kitchen Kung Pao Chinese Meal Kit ($7.99)
This meal kit gives you everything you need to cook Kung Pao, except for your choice of meat and a red pepper. I love meal kits like this, and I'm saving it for a rainy day. It looks like you can choose whether to make it mild or spicy, which is a big plus for meal kits. It also has only 4 steps, is ready in 15 minutes, and makes 4 servings!


This is definitely my favorite Degustabox! It contained more snacks than ever, and I am thrilled with the amount of healthy food options. The roasted almonds and coconut bites were big winners for me. This box is an amazing way to try out new snacks, while also saving money! The box's total value is $40, which double the cost of the subscription.