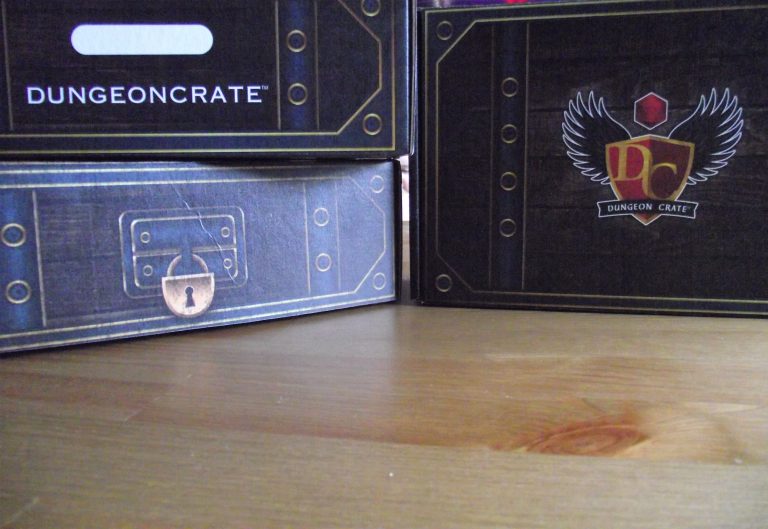 Dungeon Crate is a tabletop gaming crate that provides you with various items to further your game play experience. Crates often include, miniatures, markers, dice or dice related items, map pieces, and one shot encounters! They have various prepay options of month to month for $35.95 a month, 3 month prepay for $105.99 , and a 6 month prepay for $210.99! The more you prepay the more you save! In the US shipping is included! They do ship internationally with shipping fees calculated accordingly. Today I will be reviewing the April crate I received!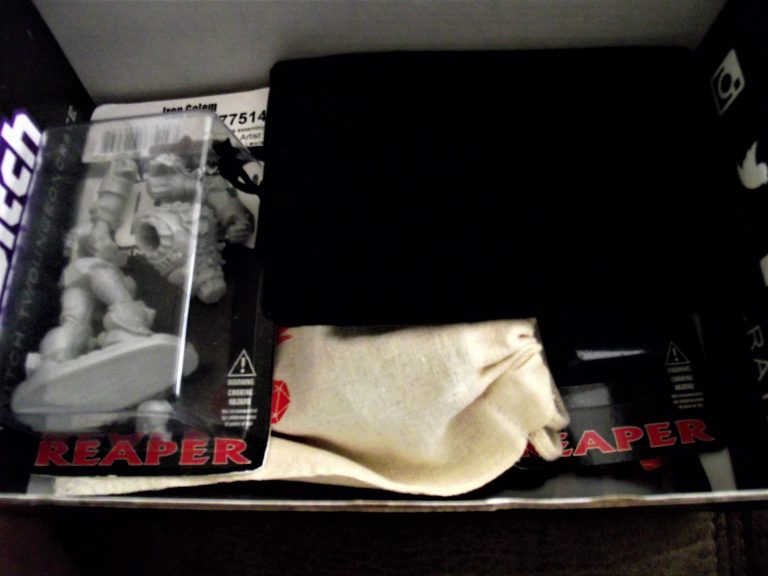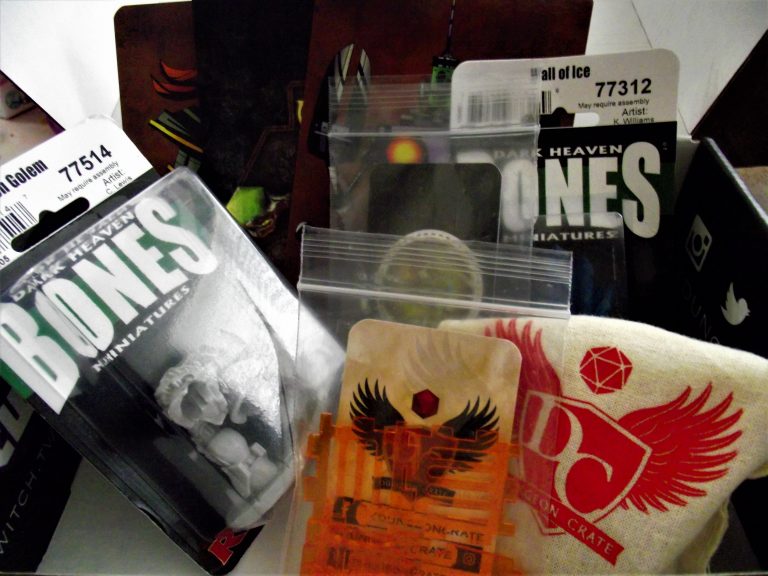 So the April box came quickly and in amazing condition. The box itself was adorable. It is designed to be like an actual treasure chest and its very well done. It has handles, a lock, hinges, the works really. I love the creativity that went into the box alone. The items in the box were packed in a way to keep them safe from potential damage. We all know what you are really here for though so onto the items!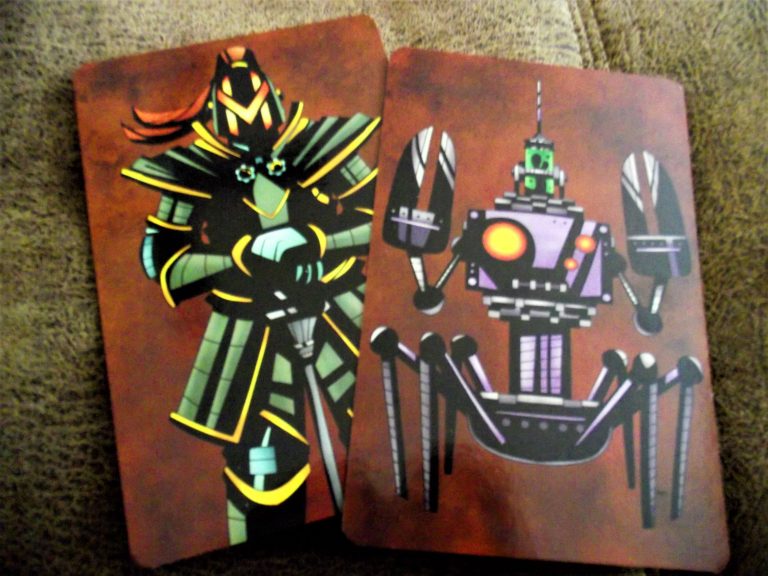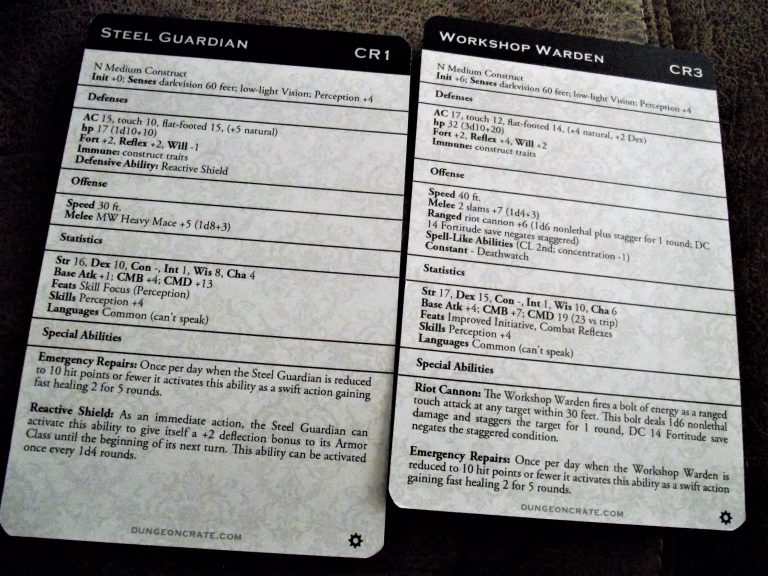 So each box has some type of stat card in it. This box includes these two that go along with the campaign provided, so in this instance they are related to the Mystery of the Mechanized (think mech-uh-nyzed for pronunciation) Manor. The cards are quite large and come with an image on one side and the stats on the other. They feel laminated and really sturdy which is great for standing the cards up. Looking at the pictures they look amazing. I mean how awesome are they! I wish all my cards could look this nice, instead I end up writing out my own most of the time. These are a great add to my collection.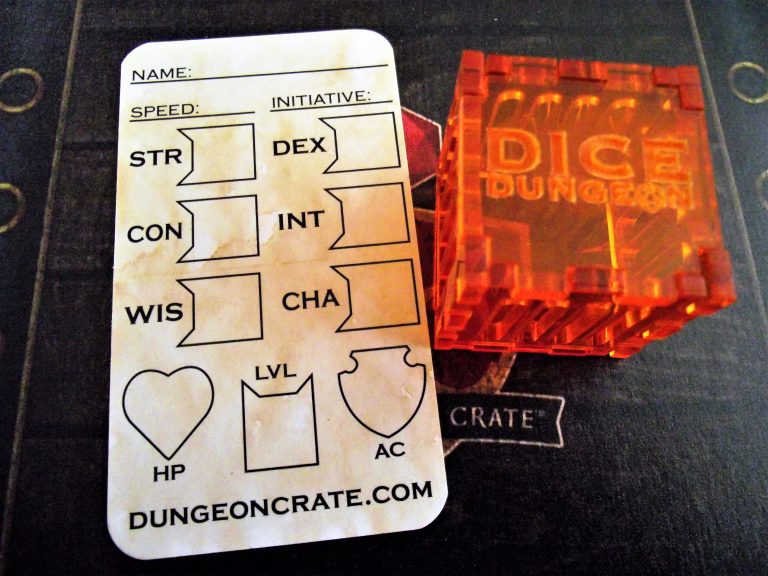 A good bit of humor in the box is this Dice Dungeon. Have you ever had a dice that no matter how hard you wish and try to get it behave just will not give you a good roll? Now you have a place to put it! It was incredibly easy to set up and the lid of the dice dungeon comes off and on really easily. It is the perfect size to hold a single regular sized die and just really makes me smile. There are just some days where you need this in your life.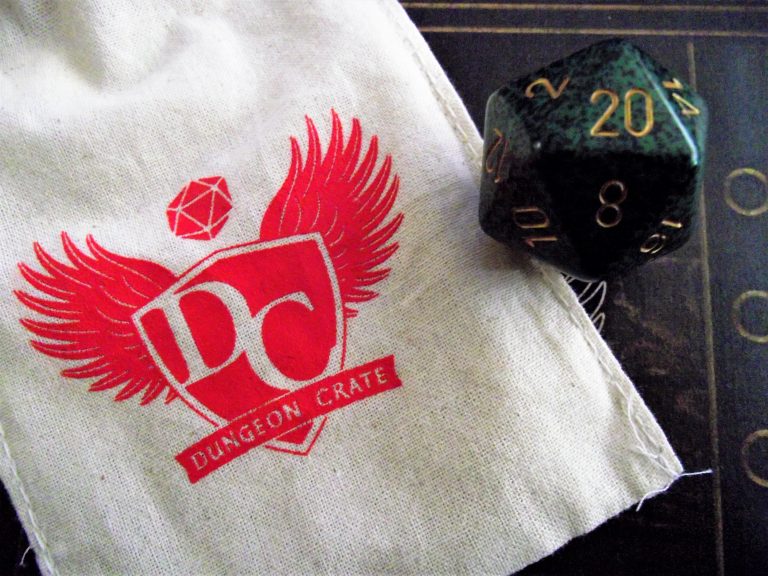 Next up in the April crate was this massive D20. I own at least 10 sets of dice but this is by far the largest die in my collection now. It is a green and black speckled color really gorgeous and pictures do not do it justice. The numbers are in a very complimentary gold color. I am so glad they chose a D20 for this dice because it is the most commonly used in Dungeons and Dragons. It will be easier to see  against the table with its large size. I am giddy with this die. Bonus! It comes with an extra cloth dice bag!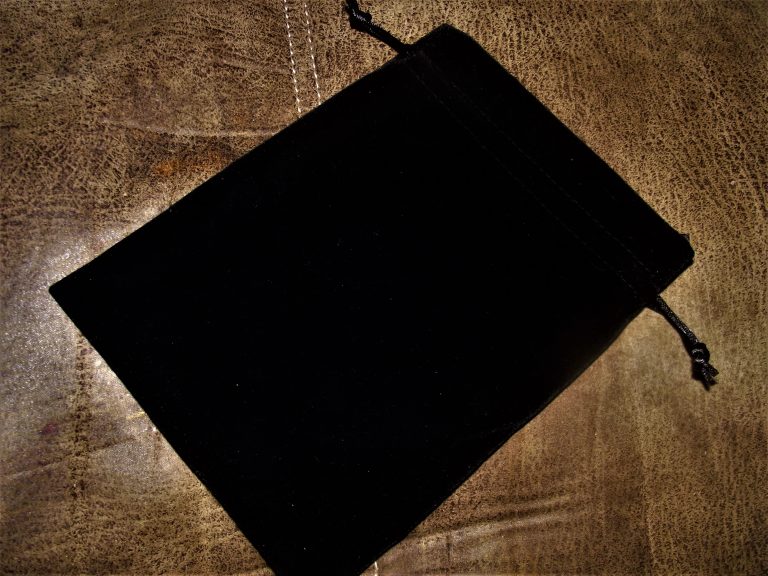 Coming off of the Dice topic, also in this crate is a gorgeous velvet dice bag. I love the silky feel of it. It is a black color inside and out but is really really sturdy. The best thing about this bag is that it is large enough to hold several sets of dice! I store my dice in individual sets at home with small tupperware but going to games, This will be significantly more useful.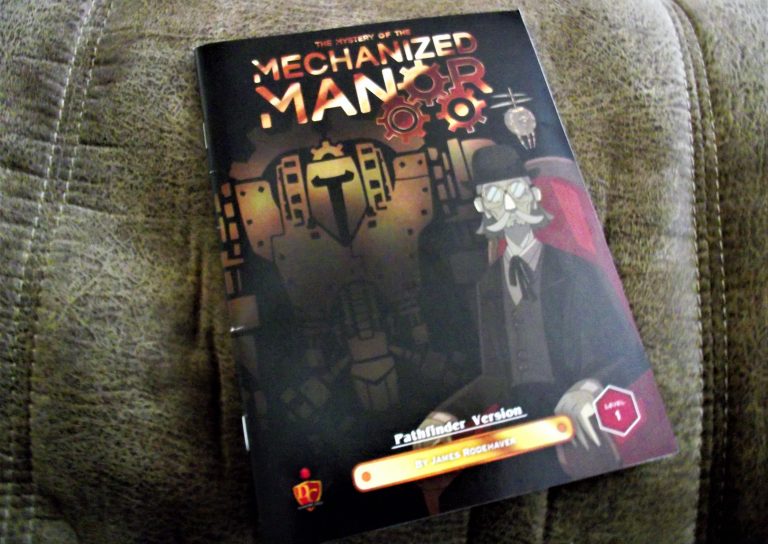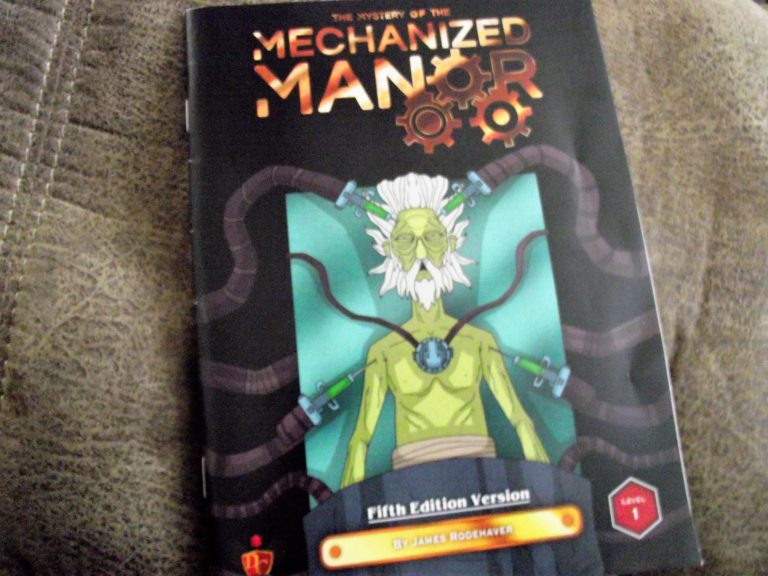 The Mystery of the Mechanized Manor is the campaign a majority of this box is based on. Two versions are included, the 5E version and the Pathfinder version. Personally, I will stick to 5E as it is what I am used to. However, if I am ever branching out I know I can use this to try! This campaign is written by James Rodehaver and is meant for level one characters. I love the premise of sibling rivalry trying to beat the traps to gain an inheritance. I also love the size of the group it is meant for. Parties of about 4-5 seem to play easier, and that is exactly the size it is written for! It includes everything you need with characters, story line, Bestiary, and gorgeous artwork. I am so excited to play through this with my friends and husband.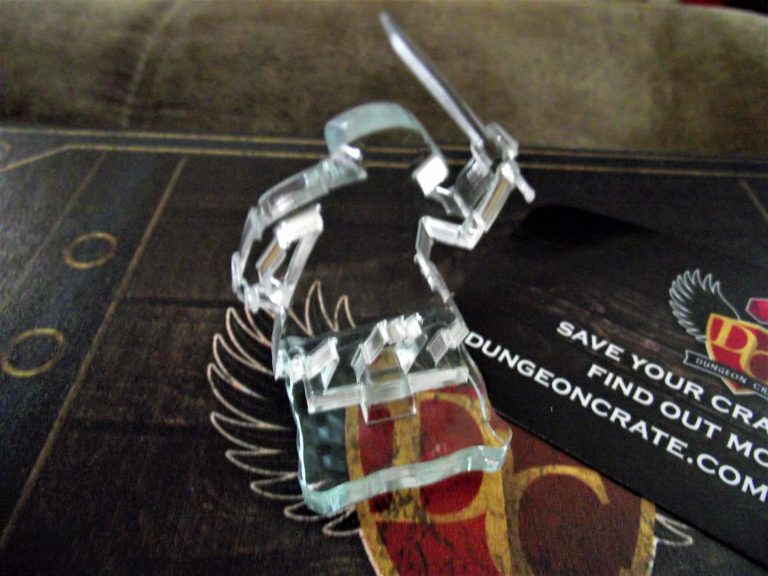 I play rogue a lot. It just kind of is where I most fall. So seeing this little rogue tracker is fantastic. It is perfect for when you are trying to be stealthy. The tracker also works for any character with invisibility or stealth in a pinch. It is about the size of my palm and is totally clear throughout. This also needs no glue to attach so it is easy to assemble and disassemble if needed! My games are going to be all the better because of this item.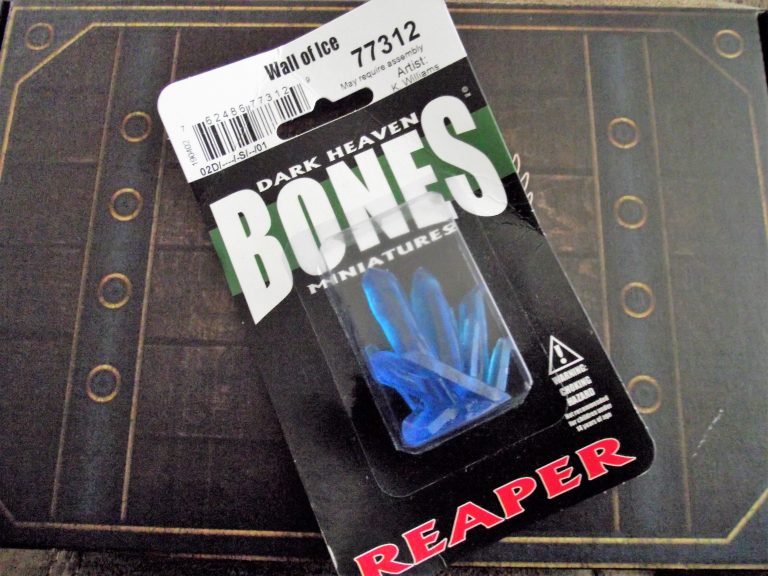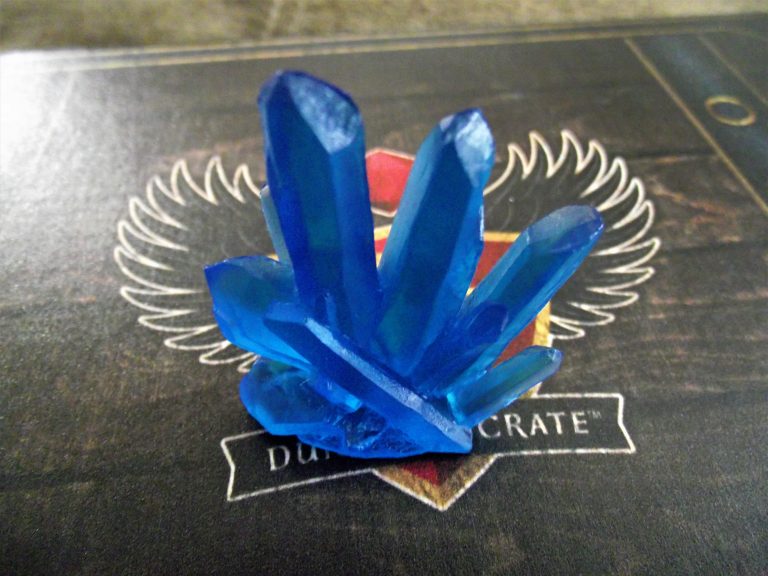 The next item in the box was this Dark Haven Bones wall of ice Reaper mini. It is a gorgeous blue mini that definitely does not require any paint. It is translucent and a little flexible. The way the light shines through definitely gives the impression of ice. It is roughly the same size as the rogue from earlier so it can easily fit into the wall of ice category as a great obstacle or as any terrain piece.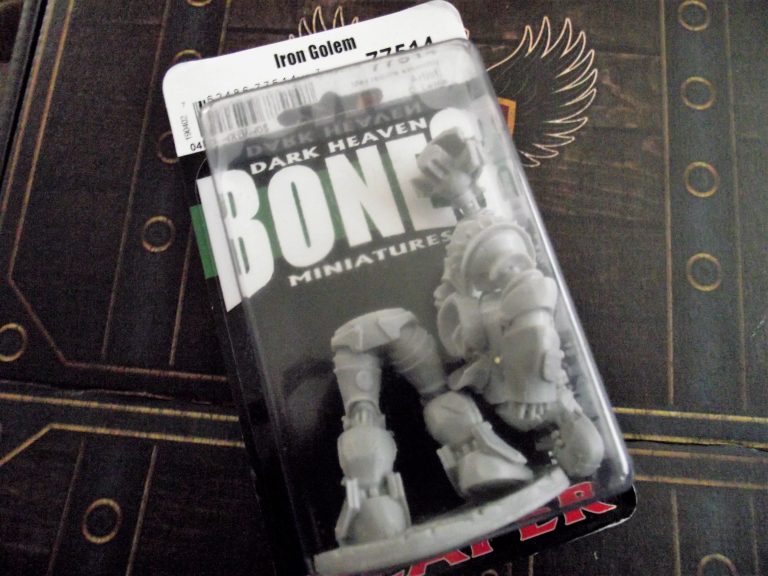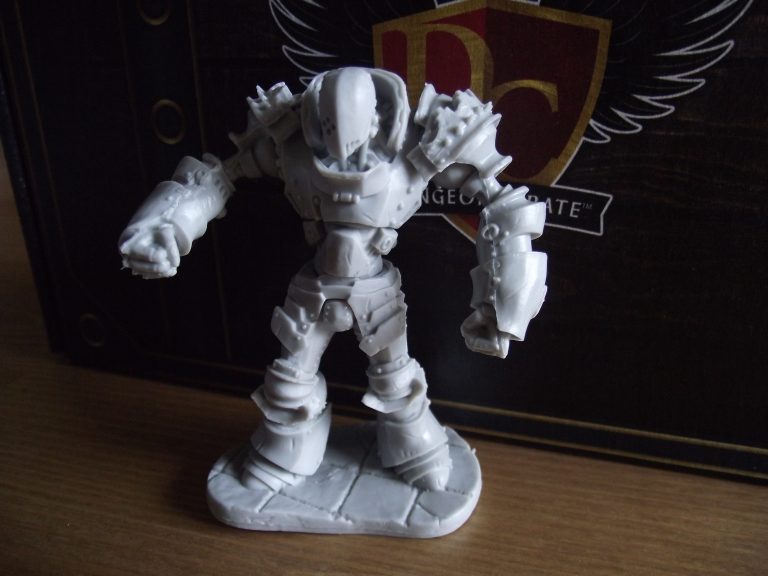 Another reaper mini! This one should not be classified as a mini! It is so large! This one is basically the size of my whole hand. It is one that requires assembly and a bit of glue to hold together but I love the detail on it. The Iron Golem comes pre-primed and ready to paint. I will have so much fun painting this. I started painting minis with Warhammer minis but this one seems like it should be easier to handle and paint. It is just my opinion but this mini is pretty perfect.
Dungeon Crate was no less than a nat20 for me. Such a win. I love ALL the items I received and it just amped up my excitement for my next game play day. I sent pictures of everything I received to one of my pbp groups and they immediately asked where to sign up! If you are as excited as they are check out this link! As a special bonus for our readers, use FINDASUBBOXDC for $5 off your first order!