Escape Monthly is a "vacation-in-a-box" subscription box, delivering luxury products inspired by a new vacation destination every month. Escape Monthly subscriptions start at $49.95/month but new Escape Monthly subscribers can save 20% off Escape Monthly boxes for life when you use Escape Monthly coupon code PARADISE at checkout, making each vacation box just $39.96 + free shipping.
For the January 2015 Escape Monthly box, we were taken to Portland, Oregon – Jewel of the Northwest." (Check out this sneak peek into the next Escape Monthly Nashville box!)
Escape Monthly boxes are sturdy cardboard gift boxes that are teal with white branding and illustrations. Under the "Vacation in a Box" front flap, it says "You Deserve It!"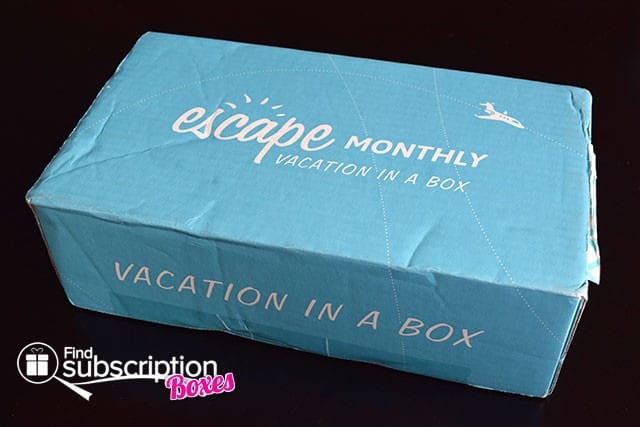 Escape Monthly includes a brochure every month that describes that month's featured destination and the products in the Escape Monthly Box.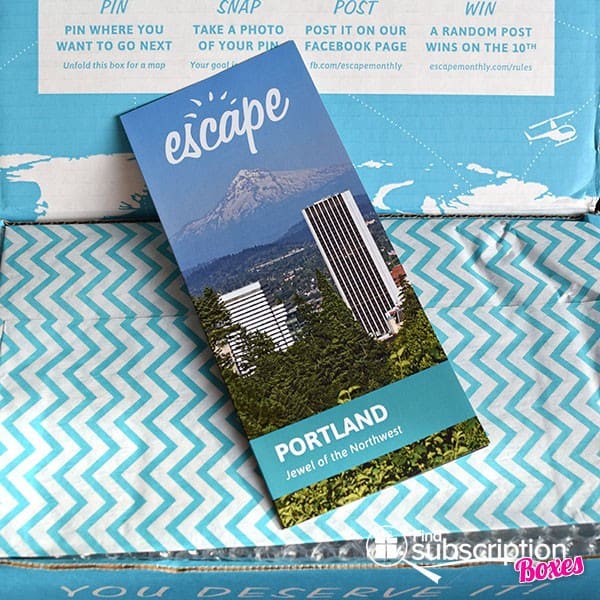 Under the brochure and the colorful tissue, was a layer of bubble wrap and the goodies in our January Escape Monthly Portland Box.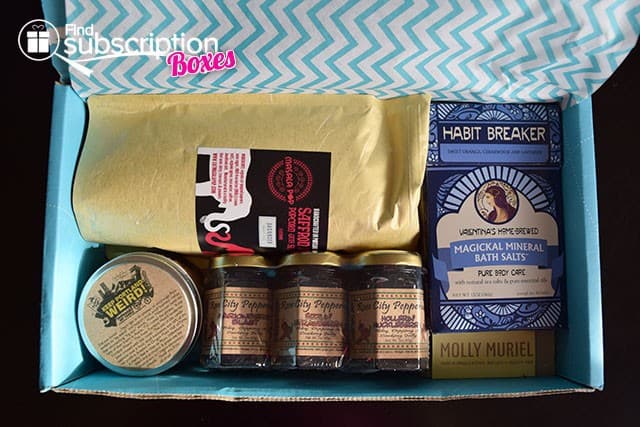 Inside the Escape Monthly January 2015 Portland Box
There were 7 items in our January 2015 Escape Monthly Portland Box.

1. Moon Portland Travel Guide, Retail Value: $17.00
Escape Monthly includes a travel guide for each month's vacation destination. This guide makes it easy to start planning your perfect Portland vacation.
2. Masala Pop Saffron Rose with Jacobsen Salt, Retail Value: $7.00
Jacobsen Salt and Masala Pop, two of Portland's artisan food makers, combine for a local spin on a traditional Indian delight, seasoned with salts harvested from the Oregon Coast.
3. Valentina's Hombrewed Habit-Breaker Magickal Mineral Bath Salts, Retail Value: $10.00
These luxurious bath salts combine essential oils to help you beat your bad habits.
4. Rose City Pepperheads Berry Trio, Retail Value: $7.00
Made with Marionberry, Strawberry, and Huckleberry, these special jellies also have Habanero peppers for a spicy kick!
5. Keep Portland Weird Candles, Retail Value: $14.00
Another item with a wonderful fragrance, these handcrafted soy candles are GMO-free and 100% naturally scented with no synthetic fragrance. We love the fresh lemongrass scent of this candle that really wakes up the senses.
6. Molly Muriel Butter Up Shea Butter Soap, Retail Value: $6.00
We could smell this soap before we opened the box – it is amazing! Handmade with all natural ingredients, this shea butter will help nurture and moisturize your skin.
7. Bonus Item! Portland Bee Balm, Retail Value: $3.00
Handmade with locally sourced beeswax, this balm will leave lips feeling rejuvenated.
Escape Monthly January 2015 Portland Box Review Wrap-Up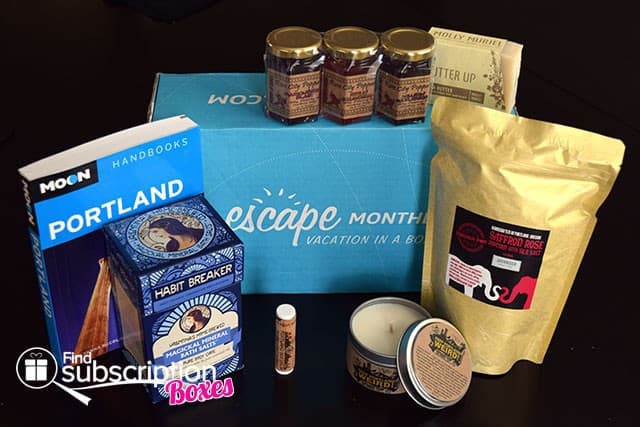 The January 2015 Escape Monthly Portland box is one of our favorite destination boxes so far. Each of the spa products were high quality, so luxurious, and simply smelled awesome. The popcorn was a fun twist on a familiar treat and we can't wait to try the spicy berry jellies. Portland certainly has a lot to offer and we were excited to experience what Escape Monthly shared in last month's box!
What was your favorite Escape Monthly Portland box item?