FabFitFun is a seasonal subscription box that sends out a mix of fitness, beauty, fashion, and wellness products. This is a very popular box because you receive over $200 worth of goodies for $49.99 per box. I loved the Winter abd Spring FabFitFun boxes, and today I will be reviewing their Summer box! If you love what you see, there is still time to sign up for the box.
My FabFitFun subscription arrived in a huge, wildly colorful box. I love the funky, tropical design!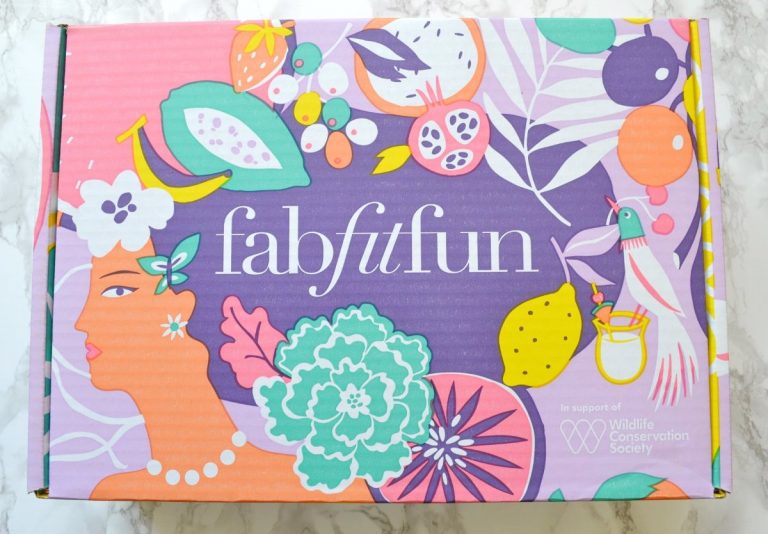 There is no packaging material inside, except for this piece of tissue paper. However, all of my items arrived in perfect condition.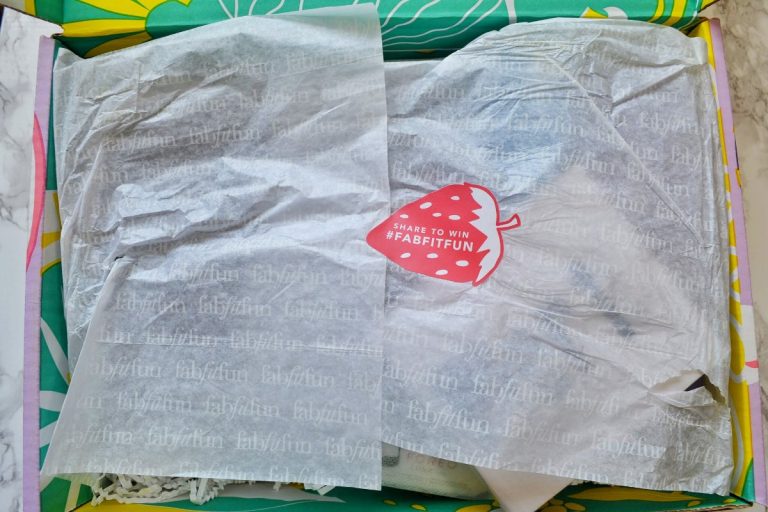 The first thing I saw when opening my FabFitFun was their newsletter, which is filled with information about the products and styling tips. I always love reading about each item as soon as I take it out of the box.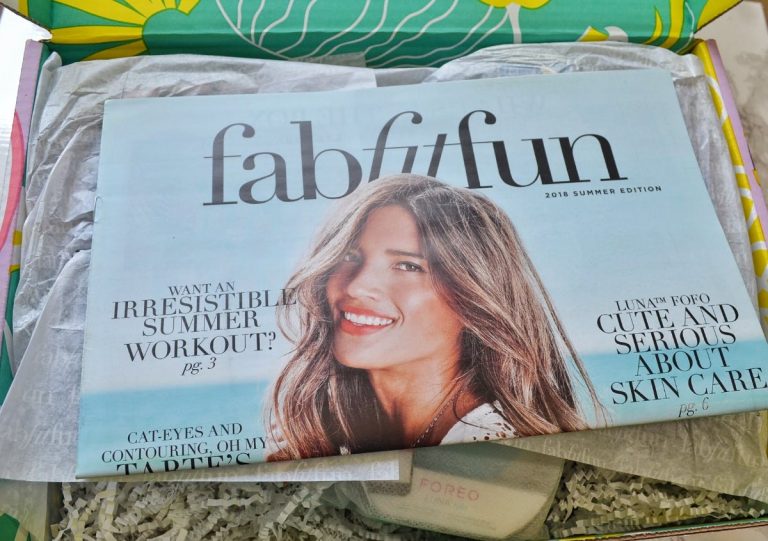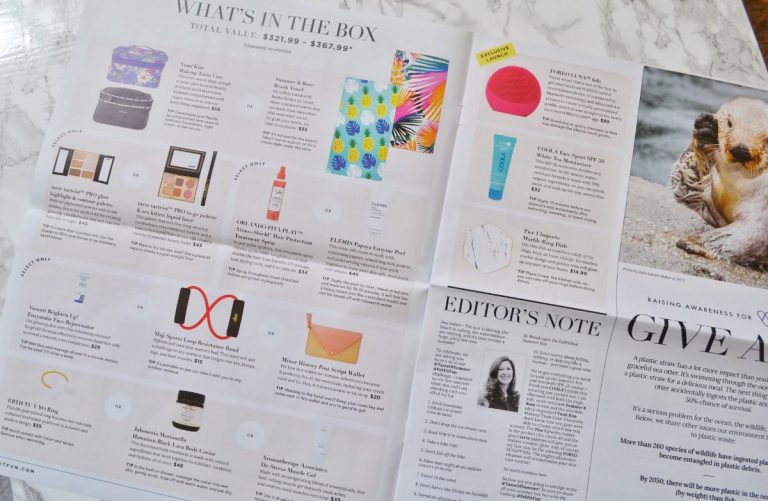 Here's a quick peek at what came inside my box: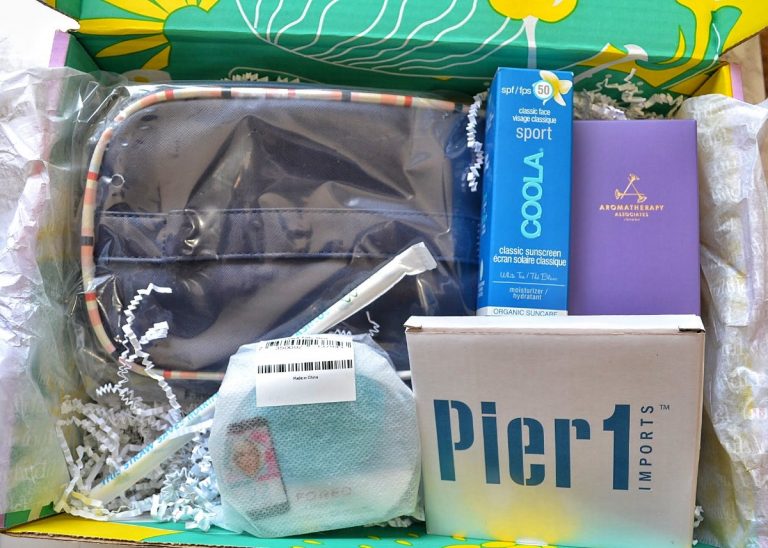 Now, let's take a look at the individual items.
Pier 1 Imports Marble Ring Dish ($14.99)
As you can probably tell from the background of my review photos, I love marble! So I am utterly thrilled to receive this too-cute marble ring dish with gold accents. It fits in the palm of my hand, and looks beautiful on my vanity. It is made of glazed ceramic, so it has a smooth and glossy finish.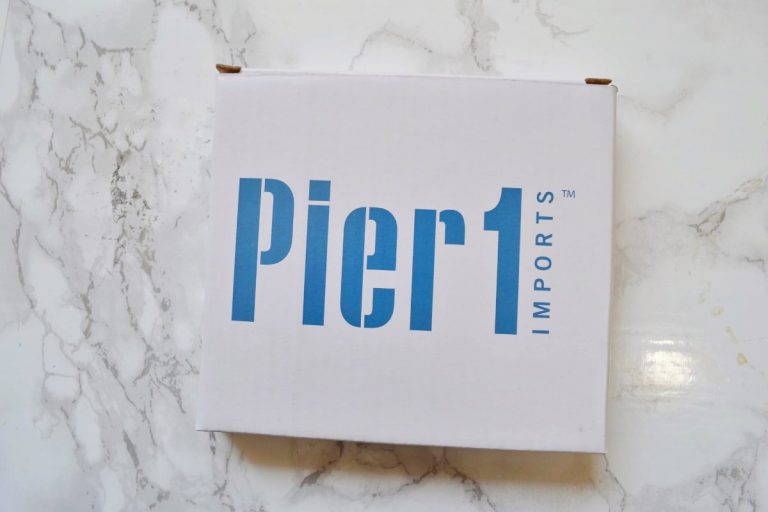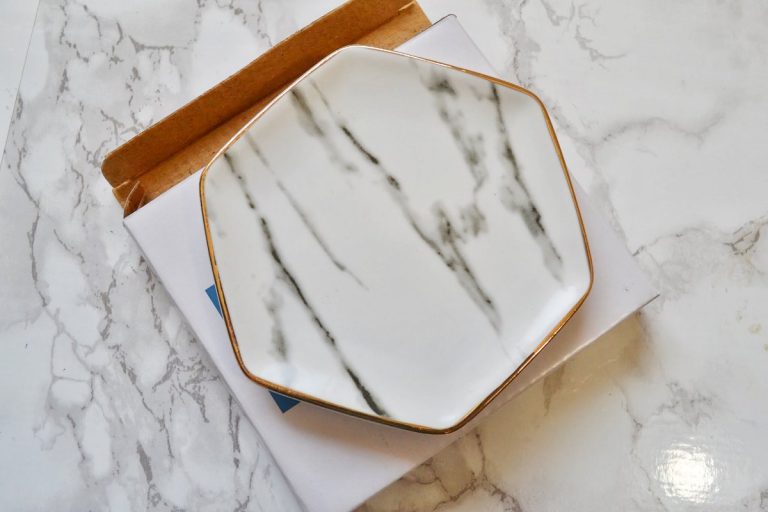 Orlando Pita Play Atmos-Shield Hair Protectant Spray ($34)
I actually did an Instagram collaboration with Orlando Pita Play a few months ago, and this was one of the products I tested out. I'm so happy that I received another bottle in the summer FabFitFun! This is a 10-in-1 thermal heat protection spray that protects your hair, seals split ends, and locks in moisture. I don't style my hair often, but I like to spray this in my hair before going outside. It protects my locks from UV rays and pollution, leaving my hair glossy even after a day out.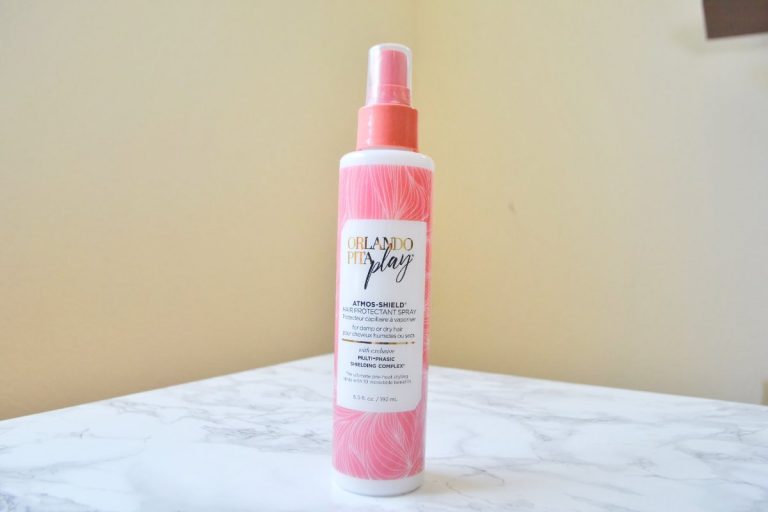 Maji Sports Loop Resistance Band – $15
This resistance band is made from natural rubber, and is a lightweight, portable exercise tool for working out while travelling. Or, you can use it at home – which is what I have been doing. I do not have a gym membership, so I usually do an hour of fitness Youtube videos each day. This resistance band is the perfect way to amp up my workouts! It isn't too resistant, and is perfect for a beginner like me.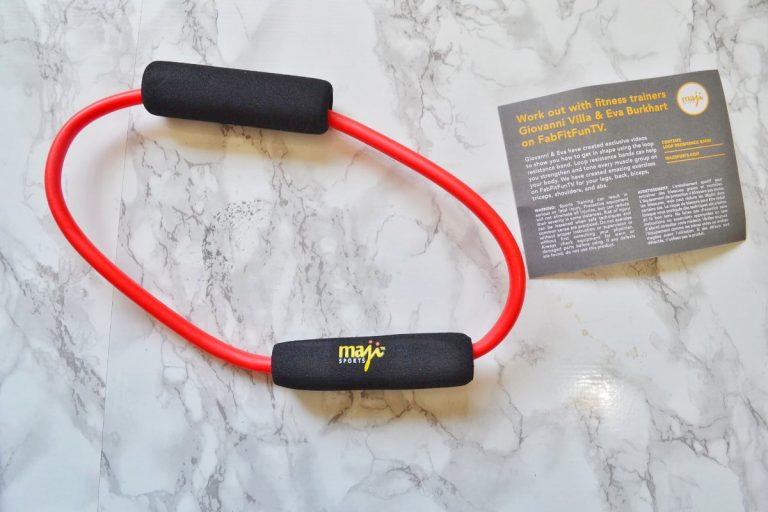 Aromatherapy Associates De-Stress Muscle Gel ($39)
Next, I received a muscle gel that is infused with rosemary, black pepper, lavender, and ginger essential oils. It cools your achy parts, and then gradually warms them for soothing relief. In a way, it's sort of like Icy Hot except less intense. The De-Stress Muscle Gel smells strongly of lavender, which I love! It seems to work quite well on the knots in my back, and I like rubbing it on my neck before bed. It completely releases my tension, and helps me get a good night's sleep.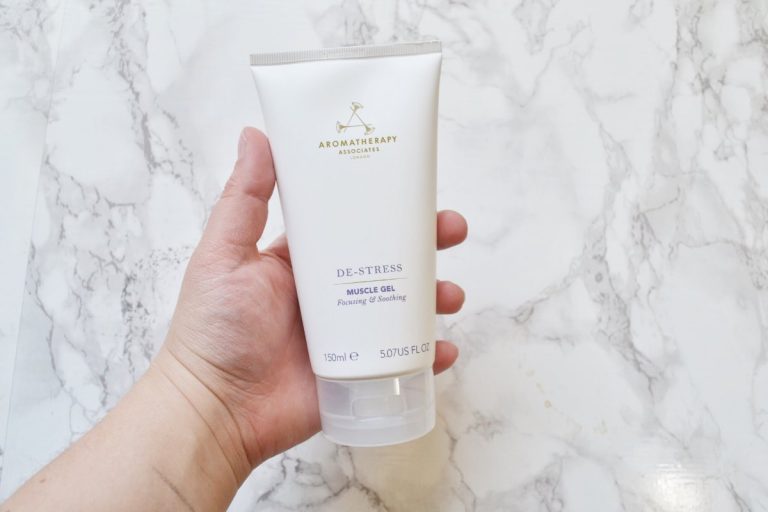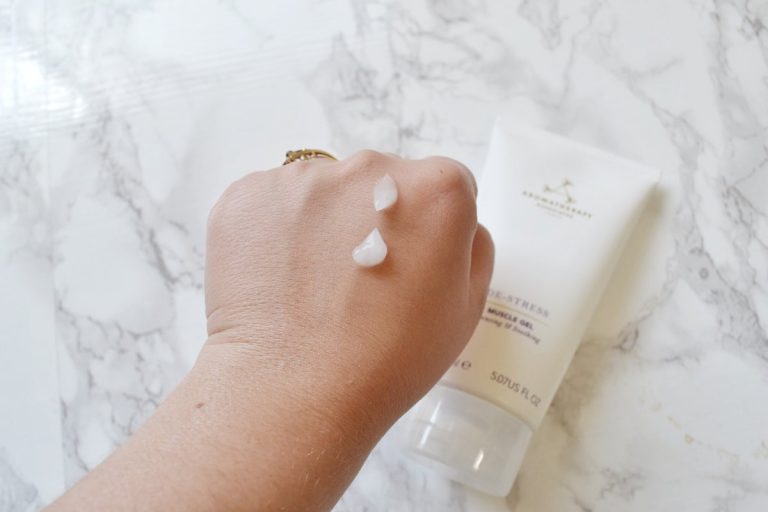 Coola Classic Sunscreen SPF 50 in White Tea ($32)
This organic sunscreen is perfect for summer! I always use at least SPF 50 sun protection when going out, so I've been putting this to good use. I took it with me to Six Flags last weekend, and didn't have even a hint of a burn afterwards. The Coola Classic suncreen doubles as a face moisturizer, and contains ingredients such as primrose and linseed oils to balance moisture and even your skin tone. It also has a really lovely white tea scent, which is much more pleasant than standard sunscreen smell.
Yumi Kim Makeup Train Case ($58)
I am so excited about this next item! The Yumi Kim Makeup Train Case was created in collaboration with FabFitFun, and subscribers received either a geometric or a floral pattern. I received the geometric pattern version, which I think is really cute. It has two zippered sections; the top has makeup brush holders, and the bottom is a large chamber. The bag is unstructured, so it compresses easily if you need to travel with it. Right now, I have it filled with my liquid lipsticks. I am amazed by how much makeup it can hold! The bag is really high quality as well; it's sturdy, and you can easily wipe makeup off of its PVC shell.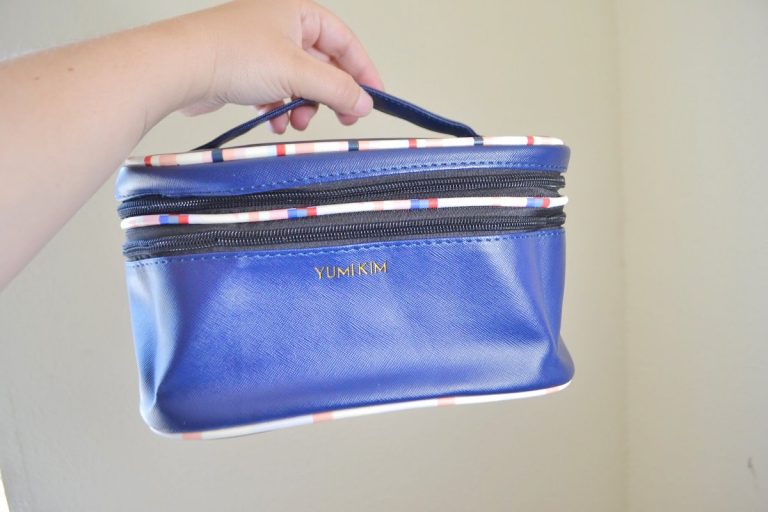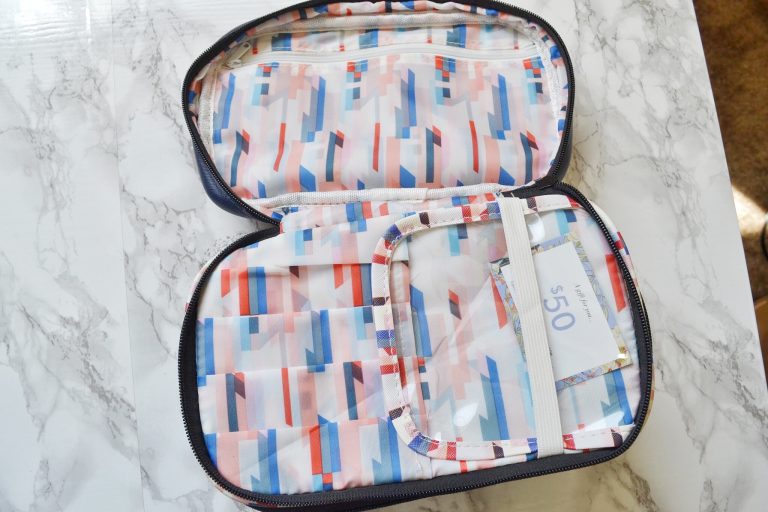 f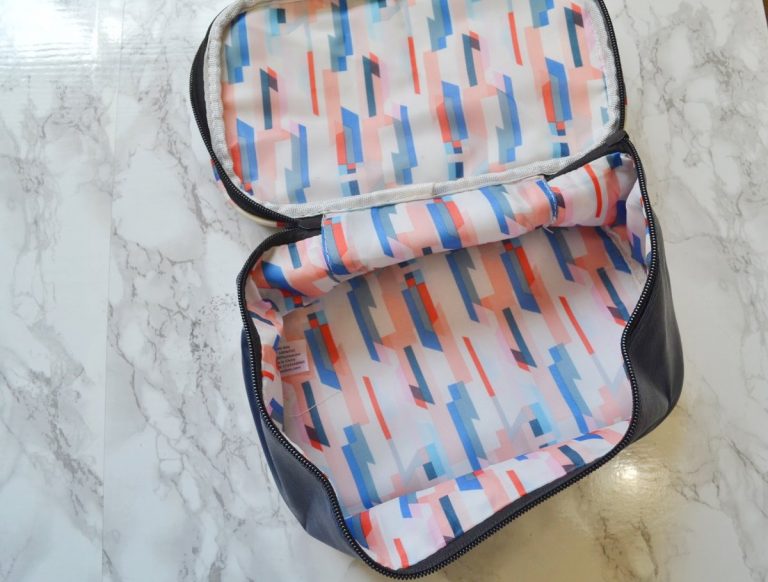 Foreo Luna Fofo ($89)
I have seen Foreo all over social media, so I am SO excited to finally get my hands on one! The Foreo Luna Fofo is a 2-in-1 beauty coach and cleansing brush that analyses your skin's moisture levels. You download the Foreo app, and turn on the device to connect it. The back of the brush has little sensors that you hold up to your face. It will show you how hydrated your skin is, and then you can start cleansing. The front of the brush is covered in little silicone fibers that pulse gently to remove dirt, oil, and dead skin cells without irritating your face. The brush pauses every fifteen seconds, to remind you to move on to another section of your face. The Luna Fofo is not rechargable, but it comes with an AAA battery that should last up to 500 uses. My face feels incredibly smooth after cleansing with this device, and it is probably my favorite item in the box.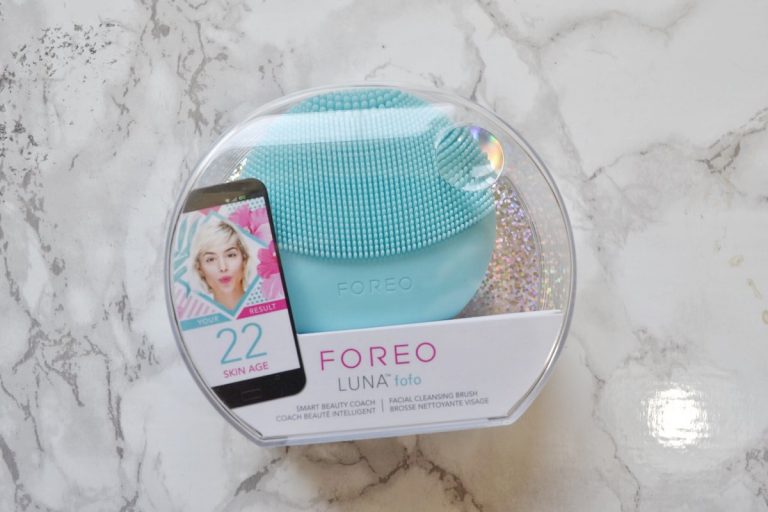 Look at those silicone fibers! They look pointy, but they are actually quite gentle.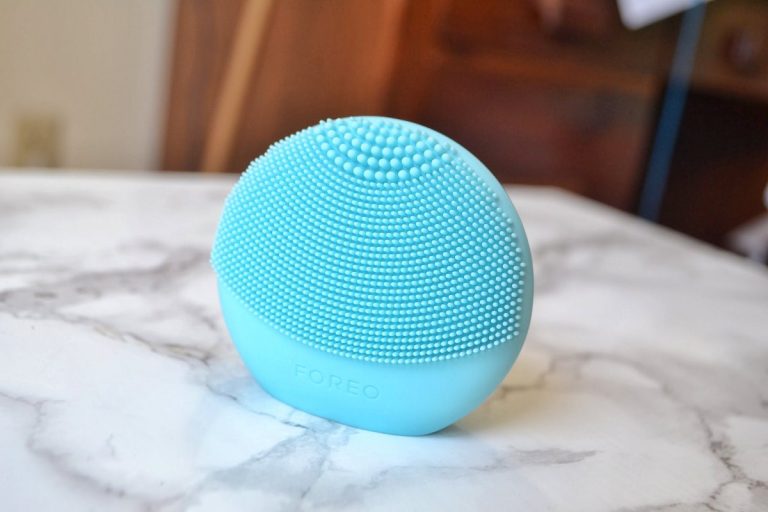 Here is a look at the Foreo app: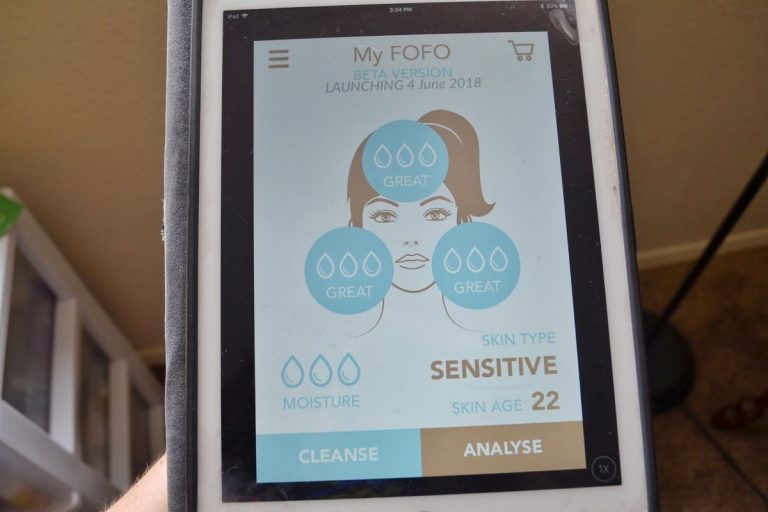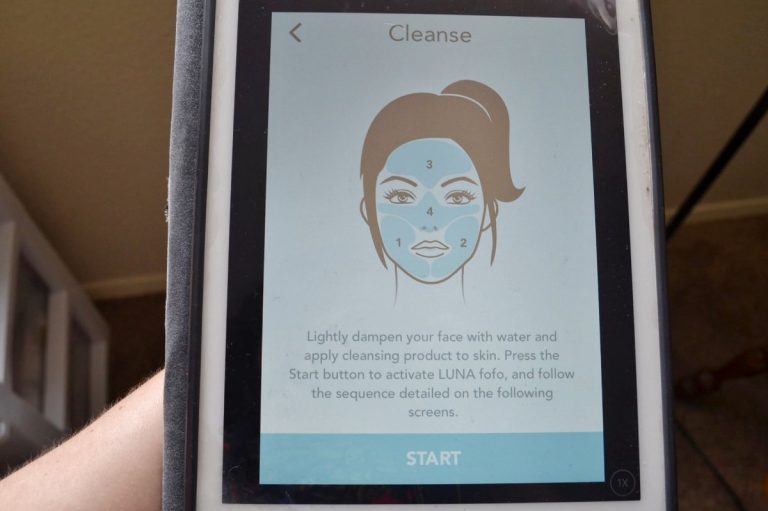 Bonus Item: Give A Sip Paper Straw
FabFitFun included this cute paper straw to raise awareness for the Give A Sip foundation. Give a Sip is supporting the bill to get rid of single use plastic straws in New York City. 71% of seabirds and 30% of turtles have been found with plastic in their stomachs. This bill is a big step towards reducing our plastic waste crisis. Head on over to www.giveasip.nyc to support their efforts. If you pledge to stop using plastic straws, they will send you a free paper straw!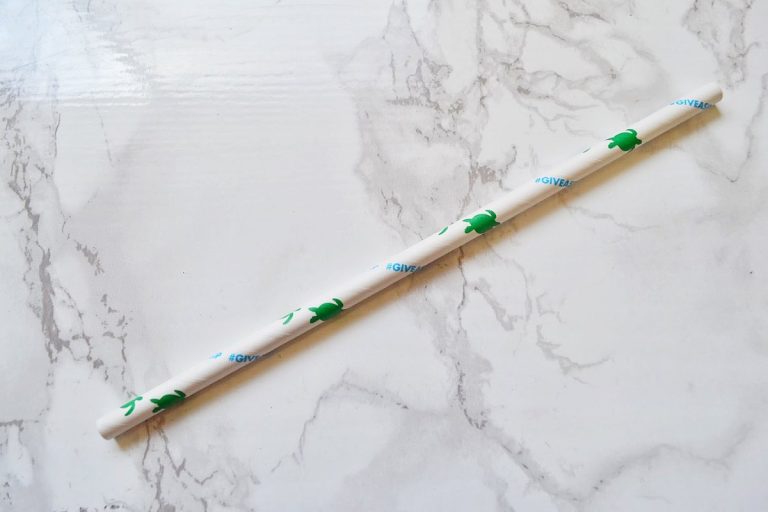 Wow, the value of this box was $282! This is why so many people love FabFitFun; they send you so many useful, high quality items that are worth way more than what you pay. I loved everything in the Summer box – especially the Foreo Luna Fofo and the Yumi Kim Makeup Train Case. I think FabFitFun did an excellent job capturing the summer theme in their products, and they will definitely come in handy over the next few months.